World Team League - 2022 Winter Season
by: Wax
The #1 spot switched hands once again in Week 8 as ONSYDE Gaming took down Dragon Phoenix Gaming in a battle at the top of the table. The key result was
OG.Maru's
2-0 victory over
DPG.herO
, which avenged his loss at DH: Atlanta and secured his team the victory.
The other key match of the week was KaiZi Gaming's victory over Team Liquid, which created clear separation between the playoff and non-playoff group. 8th place Team Liquid now have a lot of ground to make up, but they may yet qualify for the postseason thanks to their soft remaining schedule.
The key match of Week 9 could be KaiZi Gaming vs Team GP, with both teams currently just inside the playoffs cutoff line. Whoever loses the match could find themselves in a 1v1 race with Team Liquid for the final playoff spot.
Further up the table, PSISTORM Gaming vs Shopify Rebellion should be an exciting match between two teams that are aiming to crack the top three.
Week 8 Results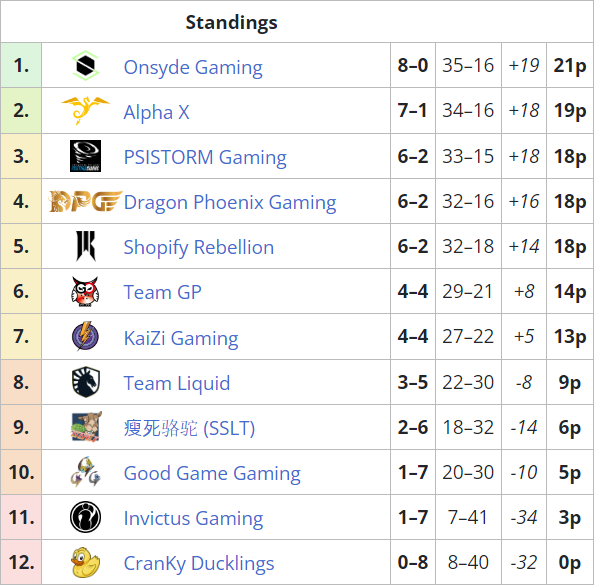 Top 7 teams qualify for the playoffs, bottom 2 teams must requalify.
Points are awarded as follows:

3 points for a victory in a series that does not require an ace match

2 points for a victory in a series that requires an ace-match

1 point for a loss in a series that requires an ace-match

0 points for a loss in a series that does not require an ace match
Invictus Gaming 1 - 5 Alpha X
Watch VOD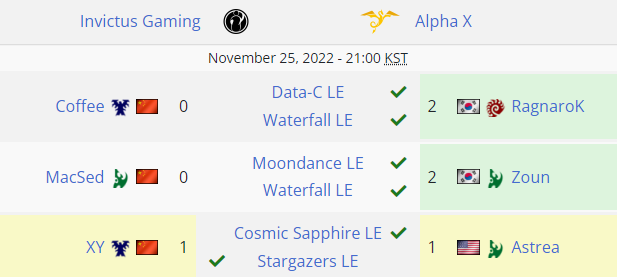 CranKy Ducklings 0 - 6 PSISTORM Gaming
Watch VOD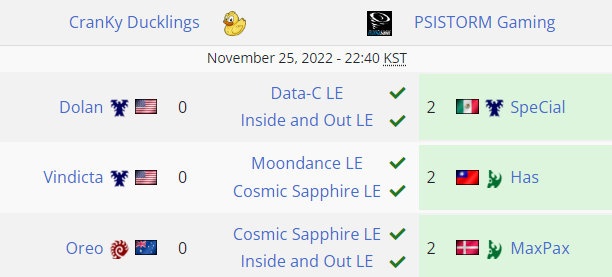 Team GP 5 - 1 瘦死骆驼 (SSLT)
Watch VOD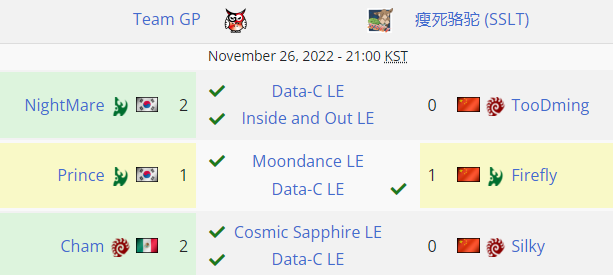 KaiZi Gaming 4 - 2 Team Liquid
Watch VOD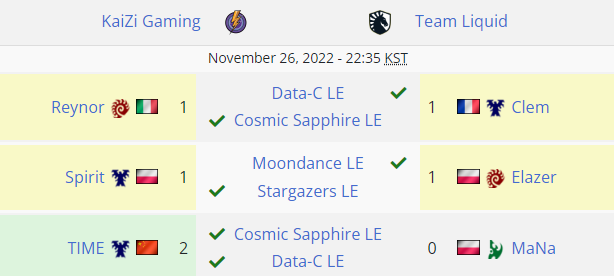 Good Game Gaming 2 - 4 Shopify Rebellion
Watch VOD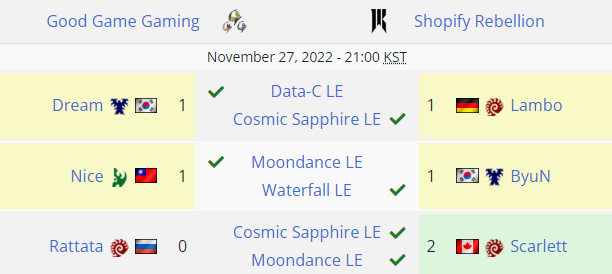 Dragon Phoenix Gaming 2 - 4 ONSYDE Gaming
Watch VOD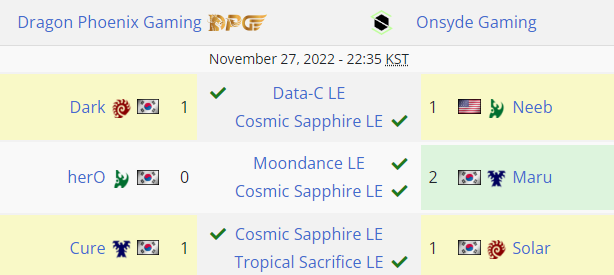 Weekly MVP Award: OG.Maru
It's hard to have a more MVP-worthy performance than this! Maru went head to head with opposing ace
DPG.herO
and took a decisive 2-0 individual victory, which made all the difference in his team's 4-2 overall series win. The only way he could have topped this performance was if the series had gone to an ace match and he took a 3-0.
Weekly MVP's:
Week 1: OG.Solar

Week 2: GP.Cham

Week 3: OG.Neeb

Week 4: OG.Maru

Week 5: SR.ByuN

Week 6: DPG.Dark

Week 7: αX.Astrea

Week 8: OG.Maru
Week 9 Preview
Friday, Dec 02 12:00pm GMT (GMT+00:00) Matches
CranKy Ducklings vs Dragon Phoenix Gaming

Dolan
< Inside and Out>

Cure

Vindicta
< Tropical Sacrifice >

Dark

PattyMac
< Data-C >

herO
Ace Match:
< Stargazers >
Those poor Ducklings! They would have hoped to see Jieshi in the opposing line-up, but DPG have decided to take no mercy on the last place squad and play a full strength side with all three GSL champions. There's really no rhyme or reason as to when DPG play their three champions—you'd think they'd have been better off playing that line-up against Shopify in Week 4 and playing Jieshi against the Ducklings—so all I can say is that the Ducklings have gotten terribly unlucky.
With the Ducklings' no-sweep streak getting broken last week, I don't expect things to get any better for them here.
Prediction: Dragon Phoenix Gaming 6
- 0 CranKy Ducklings
PSISTORM Gaming vs Shopify Rebellion

SpeCial
< Inside and Out>

ByuN

GuMiho
< Tropical Sacrifice >

Scarlett

MaxPax
< Data-C >

Harstem
Ace Match:
< Stargazers >
#3 PSISTORM and #5 Shopify are tied at 18 total points, with a map differential of four being the only thing separating the two teams. Just as they're barely separated in the standings, this head-to-head match looks to be a very tight affair as well.
The two sides seem to have split the mirror matches: ByuN should be a heavy favorite against SpeCial while PvP maestro MaxPax has a big edge on Harstem. Still, both Harstem and SpeCial are tricky enough to take a map with a well-crafted cheese, and either player stealing a 1-1 would be a huge boon to their side.
The big swing match is in the middle, where GuMiho faces Scarlett. This match-up feels like a complete toss-up, as both players' form fluctuates heavily on a match-to-match basis. I could easily see Scarlett's defensive micro fail her on the day, with droves of Drones going down to Hellion run-bys and Battlecruisers. I can also just as easily see her shutting down all of GuMiho's harassment and winning in straight-up games.
Ultimately, I see this one going to an ace-match, where I expect to see MaxPax go up against ByuN. While both players should be very familiar with each other from their frequent clashes in the ESL Open NA cups, ByuN does happen to have the edge in recent head-to-heads. I'll latch onto that data point and predict Shopify to take a narrow victory.
Prediction: Shopify Rebellion 4
- 3 PSISTORM Gaming
Saturday, Dec 03 12:00pm GMT (GMT+00:00) Matches
瘦死骆驼 (SSLT) vs ONSYDE Gaming

Silky
< Inside and Out>

Solar

Toodming
< Tropical Sacrifice >

Rex

Firefly
< Data-C >

Neeb
Ace Match:
< Stargazers >
Unlike DPG above, ONSYDE Gaming have made the 'smart' move of choosing their game against SSLT to rest ace player Maru.
But is the move really all that sensible? SSLT have shown themselves to be a tier above CranKy Ducklings and Invictus Gaming, and you really can't take the full three points for granted against them. Ace player Firefly even made it all the way to the ESL Open Korean cup finals this week (beating GuMiho, Classic, and Solar along the way), suggesting that his strong WTL performances weren't a seasonal fluke.
As it stands now, I see Toodming vs Rex and Firefly and Firefly vs Neeb as being likely 1-1 ties, which leaves Solar vs Silky as the key match-up. Solar
should
take the 2-0 and get his team the victory, but ONSYDE Gaming are in danger of dropping a point (or more!) if things go even slightly askew.
Prediction: ONSYDE Gaming 4
- 2 SSLT
Invictus Gaming vs Team Liquid

Coffee
< Inside and Out>

Elazer

MacSed
< Tropical Sacrifice >

Clem

XY
< Data-C >

Kelazhur
Ace Match:
< Stargazers >
Team Liquid are 4 points out of a playoff spot at the moment but have the benefit of a fairly easy remaining schedule. After playing iG and SSLT, they'll head into what's likely to be a do-or-die match against PSISTORM in the final week.
iG is definitely the easiest match of those final three legs, where Liquid should expect to get a full three points. With neither Clem or Elazer drawing mirror match-ups, there seem to be very few variables that will allow an upset. Still, Liquid would be wise to keep the
2021 Summer Season
in mind, where iG managed to drag them all the way to an ace match.
Prediction: Team Liquid 5
- 1 Invictus Gaming
Sunday, Dec 04 12:00pm GMT (GMT+00:00) Matches
Alpha X vs Good Game Gaming

Astrea
< Inside and Out>

Dream

RagnaroK
< Tropical Sacrifice >

Cyan

Zoun
< Data-C >

Rattata
Ace Match:
< Stargazers >
GGG would have had a decent chance of upsetting Alpha X had they drawn the correct match-ups but things have not broken in their favor.
As usual, Dream is their best chance of getting a 2-0, and things should be close between him and Astrea. However, GGG would have really hoped for their last two match-ups to be swapped so they would have the benefit of mirror variance—as it stands, both RagnaroK and Zoun look like heavy favorites to take down their opponents.
I'm going to pick Rattata as the player who could possibly make things a bit scary for Alpha X (if they haven't already won with a 4-0 by then). Zoun is a strong late-game player, but he could be vulnerable to a well-planned all-in from the GGG Zerg.
Prediction: Alpha X 4
- 2 Good Game Gaming
Team GP vs KaiZi Gaming

NightMare
< Inside and Out>

Spirit

Prince
< Tropical Sacrifice >

TIME

Ryung
< Data-C >

Reynor
Ace Match:
< Stargazers >
It's nut-cutting time for #6 Team GP and #7 KaiZi Gaming as they look to secure their playoff spots.
The road ahead is much tougher for Team GP, who have to go through KaiZi Gaming, DPG, and GGG. One victory would probably see them through to the playoffs, but there's definitely a scenario where they go 0-3 and barely miss out. Things are easier for KaiZi Gaming, who face Team GP, iG, and DPG at the very end. But considering their underwhelming showings this season, you can't rule out a worst case elimination scenario for them either.
NightMare already had a slight edge against Spirit going by their performances in WTL Winter, but he might actually be favored to take a 2-0 after his incredible, foreigner-killing run at DH: Atlanta. Results from DH: Atlanta shine a favorable light on Team GP in match two as well, though for a different reason. TIME had an absolutely dreadful performance where he was eliminated without a single map win, which makes me wonder if a 1-1 tie is the most likely result against the surging Prince.
Although KaiZi faces some peril in the first two matches, the final match seems to be leaning heavily in their favor. While it's good to see Ryung—their ostensible ace player—finally enter the fray after a mysterious absence, he faces one of the cruelest 'welcome back' matches possible. He's stuck playing his worst match-up of TvZ against a ZvT monster in Reynor, and it's hard to see this being anything but a 2-0 (barring the cheesiest of cheeses).
Prediction: KaiZi Gaming 4
- 2 Team GP
---
Credits and acknowledgements

Writer: Wax
Stats: Aligulac.com & Liquipedia
Images: SCBoy