World Team League - 2022 Winter Season
by: Wax
We're back with the World Team League five weeks through the Winter Season, where things haven't played out quite as expected. Alpha X has a tenuous grip on the first place spot, but ONSYDE Gaming and DPG are following closely behind. At the middle of the table, Team GP has made a surprise run to the 6th place spot—one above a struggling KaiZi Gaming. The bottom of the standings is mostly as expected, aside from a Team Liquid squad that has gotten off to a dangerously sluggish start.
How will each team's fortunes change in the second half? Week 6 matches will be played during Nov 7-9, with Alpha X vs KaiZi and ONSYDE vs Liquid being the key matches to keep an eye on.
Midseason Review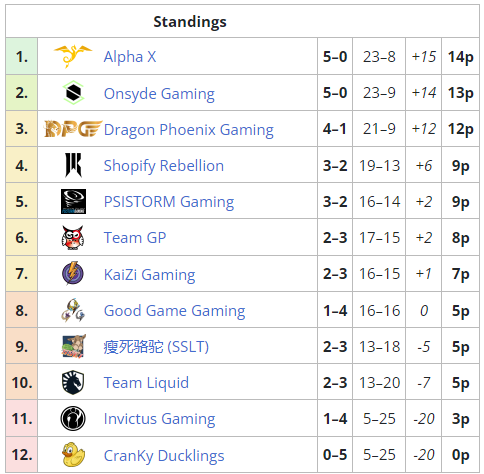 Top 7 teams qualify for the playoffs, bottom 2 teams must requalify.
Points are awarded as follows:

3 points for a victory in a series that does not require an ace match

2 points for a victory in a series that requires an ace-match

1 point for a loss in a series that requires an ace-match

0 points for a loss in a series that does not require an ace match
Alpha X and ONSYDE Gaming on top—Will it last?
Surprise, surprise? Five weeks through the regular season Alpha X (5-0) stands in first place after earning 14 out of 15 possible points, while newcomers ONSYDE Gaming (5-0) trail behind them with 13 points. Both rosters have put in strong all-around performances, with
αX.Astrea
(8-3 map record) standing out for the Golden Dragons while
OG.Solar
(10-1 map record) has led the way for ONSYDE Gaming.
But will it last? Consider the opponents the two teams have beaten so far:
Alpha X wins:
vs Team GP, Team Liquid, CranKy Ducklings, PSISTORM, KaiZi Gaming
ONSYDE wins:
: vs Shopify, CranKy Ducklings, Good Game Gaming, KaiZi Gaming, Invictus Gaming
While it wasn't exactly a cakewalk, both teams have profited from playing the easier half of their schedules so far. Remember,
last season
saw Team NV leap ahead to the front of the rankings due to an easy first-half schedule, only to fall to the middle of the pack after a dismal second-half. That same season, DPG limped through most of the regular season with a typically lackadaisical effort, only to clutch out a #1 finish in the final week.
It may be unwise to read too deeply into ONSYDE's strong start, but there's a chance they continue to roll in the second half. After a summer slump, Solar has returned to his old status as one of the absolute best players in SCBOY Teamleague history, and he's essentially a second ace player when he's playing at that level.
Also, key player
OG.Neeb
(4-2 map record) has played in three out of five matches, despite fears that his university schedule would affect his participation. I'm assuming the weekend scheduling of WTL matches is what's allowing Neeb to play WTL, unlike other events where he's ramped down his activities. If that's the case, ONSYDE Gaming are in luck—almost all of their remaining matches are scheduled for Sat/Sun without a single Friday match.
As for Alpha X, I expect them to fall off slightly in the second half of the season, but still enter the playoffs with a high seed.
αX.Astrea
and
αX.RagnaroK
(7-2) have kept up their high-level performances from WTL Summer, and the 5-0 buffer makes me think they'll clinch at least a top four finish in the regular season.
Team GP: Miracle, Part 2?
One of the best stories in the history of the SCBOY Team Leagues was Team GP's run in the
2021 Winter Season
, making an improbable push for the playoffs with what seemed like one of the weakest rosters in the league. Even though Team GP were denied a playoff spot in the end, they bucked the WTL trend where team performance is fairly predictable based on a team's roster.
The Gon Pack fell back to earth in WTL Summer, finishing in 9th place—just around where they were 'supposed' to be. But if anyone assumed their miracle-making days were done for good, think again: Team GP is currently hanging in the upper half of the table in 6th place.
Several factors have gone into Team GP's run so far.
GP.Cham
(6-2) and
GP.Prince
(5-6) have bounced back from their horrendous Summer seasons, where both players recorded sub 25% win-rates. New signee
GP.NightMare
has been solid as well, putting up a 6-5 record. While they've definitely benefited from an easy schedule so far, they still managed to pick up a quality 4-2 win against Shopify, and pushed both Alpha X and TL to ace matches in losing efforts.
The most surprising thing is that Team GP is doing this with
GP.Ryung
(0-2)—the team's ace player in the last two seasons—playing in only a single match. On one hand, this is encouraging, as it shows how much better the rest of the roster has played. On the other hand, it's quite peculiar that Ryung has played just once, despite being active in some other online events. If a full strength Ryung becomes a regular player for the rest of the season, Team GP has a great chance of making the playoffs for the first time. But if Ryung continues to be semi-inactive, then I see Team GP narrowly missing out yet again.
Reading the panic meter: KaiZi Gaming and Team Liquid
Now that we've talked about the pleasant surprises from the early season, let's move on to some of the underperforming teams.
KaiZi Gaming is surely the most disappointing team so far, currently standing in 7th place with just 7 points out of 15 possible. I knew they'd take a hit from losing Solar to ONSYDE Gaming, but I never imagined it would be this hard of a blow. While
KZ.TIME
(6-5) and
KZ.Spirit
(5-5) haven't exactly lit the world on fire, they've pulled their weight for the most part. The big problem is with ace player
KZ.Reynor
, who's only 5-5 so far (five 1-1 draws). That's a massive fall-off from the Summer season, where he was TL.net's second place candidate for regular season MVP after putting up a 16-4 record.
Now, Reynor has drawn three ZvZ's, and you can excuse him somewhat for going 1-1 in all of those high-volatility matches. However, he also went 1-1 against both Dream and GuMiho, players he 'should' be expected to grab 2-0's against. There's no doubting how good Reynor can be at his best—he's a former IEM World Champion, after all. However, Reynor is prone to fluctuations in form, and KaiZi Gaming could be in deep trouble if he can't recover from this minor slump.
The other big letdown is Team Liquid, who are in 10th place with 5 points. By now, we've come to lower our expectations for
Liquid`Clem
(8-5) in the WTL, where he can't play at his EU-champion level for whatever reason (it's not just the number of strong TvT players—he has struggled in the other match-ups as well). Even so, he has still played at a high enough level where TL
should
be a playoff team if he can get a reasonable amount of help from his teammates.
Unfortunately, Liquid's key #2 player
Liquid.Elazer
has gotten off to a slow start with a 3-5 record, while
Liquid`Kelazhur
(1-7) and
Liquid`MaNa
(1-3) have been poor as well. This is particularly disappointing because Elazer gave the team a huge boost when he signed mid-way through the previous season, putting up a 9-3 record in a limited number of matches. Optimistically, one might even have hoped that Liquid could push for a 4~5 seed if Clem and Elazer played a full season together. Alas, that hope seems to have gone up in smoke. If Liquid can't right the ship in the second half, they'll be in real danger of ceding the final playoff spot to Team GP or Good Game Gaming.
Week 6 Preview
Monday, Nov 07 12:00pm GMT (GMT+00:00) Matches
Invictus Gaming vs Team GP

Coffee
< Tropical Sacrifice >

Prince

MacSed
< Moondance >

Cham

XY
< Cosmic Sapphire >

NightMare
Ace Match:
< Waterfall >
Invictus Gaming's return to the WTL has been rough so far, as they're in 11th place with a -20 map differential. That makes this something of a litmus test for Team GP: If they smash iG, I'd feel more comfortable about calling them a real playoff contender. But if they struggle against iG or get pushed to an ace match, then I'd start to feel like their strong start was a fluke.
I'm going to go with a middle of the road prediction here and say Team GP take the victory, but not by an overwhelming margin.
Prediction: Team GP 4
- 2 Invictus Gaming
KaiZi Gaming vs CranKy Ducklings

TIME
< Tropical Sacrifice >

Dolan

Reynor
< Moondance >

PattyMac

Spirit
< Cosmic Sapphire >

Vindicta
Ace Match:
< Waterfall >
CranKy Duckling's debut season in the WTL has been brutal as expected, and they are currently in last place with a -20 map differential (tied with iG for worst). What's even scarier for the Ducklings is that they've arrived at this position after having played both SSLT and iG—the two other candidates for last place. Things are only going to get harder from here on out.
There's virtually a zero chance of the Ducklings winning here, but perhaps they'll be able to salvage a map. They still haven't suffered a 0-6 loss yet—perhaps they can keep the no-sweep streak going?
Prediction: KaiZi Gaming 5
- 1 CranKy Ducklings
Tuesday, Nov 08 12:00pm GMT (GMT+00:00) Matches
Dragon Phoenix Gaming vs Alpha X

herO
< Tropical Sacrifice >

Zoun

Dark
< Moondance >

RagnaroK

Cure
< Cosmic Sapphire >

Astrea
Ace Match:
< Waterfall >
As usual, DPG are trudging along in the regular season at what seems like 70% effort level, not even playing full strength line-ups every week (to the credit of substitute player
DPG.Jieshi
, he's 4-4 in his matches). And yet, they're still 3rd place in the standings with a 4-1 record, and are just 2 points behind first place Alpha X.
Perhaps due to the opportunity to take first place, or perhaps simply due to the empty tournament schedule at the moment, DPG are bringing a full strength line-up this week.
Dark vs RagnaroK and Cure vs Astrea look like matches where Alpha X can reasonably hope to steal a 1-1, or even a 2-0 if everything goes well. However, they're hamstrung by drawing Zoun in his worst match-up of PvP into one of the world's best PvP players in herO. Unless RagnaroK and Astrea are absolutely incredible on the day, this match should go DPG's way.
Prediction: Dragon Phoenix Gaming 4
- 2 Alpha X
Good Game Gaming vs PSISTORM Gaming

Nice
< Tropical Sacrifice >

GuMiho

Rattata
< Moondance >

Gerald

Dream
< Cosmic Sapphire >

MaxPax
Ace Match:
< Waterfall >
GGG suffered a surprise 3-4 upset at the hands of SSLT in the previous week, but they have a chance to pull off a similar upset for themselves against PSISTORM Gaming.
Despite their continued improvement throughout 2022, GuMiho and MaxPax still aren't the most consistent players in the WTL—MaxPax's 0-2 against Zoun in week 4 was an especially telling event. Nice and Dream might be the underdogs in their match-ups, but they both have a decent chance of ecking out a 1-1.
The key match will be Rattata vs Gerald: Both players are solid supporting players in the WTL, and it wouldn't be surprising to see a 2-0 result go either way.
Prediction: PSISTORM Gaming 4
- 3 Good Game Gaming
Wednesday, Nov 09 12:00pm GMT (GMT+00:00) Matches
Shopify Rebellion vs 瘦死骆驼 (SSLT)

Scarlett
< Tropical Sacrifice >

Firefly

Lambo
< Moondance >

Silky

ByuN
< Cosmic Sapphire >

TooDming
Ace Match:
< Waterfall >
SSLT come into this match on the back of a clutch 4-3 victory against GGG, where Firefly went 3-0 (2-0 against Nice, 1-0 against Dream) to lead his team to victory. While that was a great result that will likely save them from finishing in the bottom two (the relegation zone), I'm still doubtful of their chances against the real playoff contenders in the WTL. Indeed, they've lost by 1-5 scores to Alpha X and PSISTORM, and only managed a 2-4 against DPG due to Jieshi being played instead of Cure.
I don't think that trend of losing to playoff teams is going to change here, as SSLT is outgunned in all of the match-ups against the Rebellion. Perhaps Silky could take a map against Lambo to prevent a sweep?
Prediction: Shopify Rebellion 5
- 1 SSLT
ONSYDE Gaming vs Team Liquid

Rex
< Tropical Sacrifice >

Elazer

Maru
< Moondance >

Kelazhur

Solar
< Cosmic Sapphire >

Clem
Ace Match:
< Waterfall >
The season has been awful for Liquid thus far, but they've been given an incredible opportunity to turn things around. Neeb has been pulled from the line-up for this Wednesday match (ONSYDE's last non-weekend match of the season), with the 1-5 Rex playing in his place. Also, Liquid have the benefit of drawing Kelazhur onto Maru in a textbook
nonge
situation, where you cede a victory to the enemy ace but increase the chances of your other players winning.
Despite the favorable circumstances, victory is hardly assured for the boys in blue. Solar receives a significant buff when playing in the WTL, whereas Clem rarely seems to play at 100% of his abilities in the tournament. Also, while Elazer is favored against Rex, how much of a favorite can one really be in a ZvZ?
At the end of the day, I think Liquid will play well enough to force an ace-match, but ultimately be bested by the TvT master Maru.
Prediction: ONSYDE Gaming 4
- 3 Team Liquid
---
Credits and acknowledgements

Writer: Wax
Stats: Aligulac.com & Liquipedia
Images: SCBoy