Playoffs Preview
Team NV
Kwangdong Freecs
PSISTORM Gaming
Shopify Rebellion
Alpha X
KaiZi Gaming
Dragon Phoenix Gaming
Schedule and standings on
Liquipedia
World Team League - 2022 Summer Season
by: Wax
After eleven rounds of regular season play, it's finally time for the World Team League playoffs. Seven teams will enter the postseason gauntlet, with Team NV starting from the bottom while defending champions Dragon Phoenix Gaming await at the very top.
Who will survive the gauntlet to challenge DPG for the championship?

Schedule
Rounds 1 & 2: Friday, Aug 12 11:00am GMT (GMT+00:00)

Rounds 3 & 4: Saturday, Aug 13 11:00am GMT (GMT+00:00)

Semis and grand final: Sunday, Aug 14 11:00am GMT (GMT+00:00)
Deciphering the Format
The WTL playoffs format is notoriously complicated, so we'll try to break it down as we do every season.
It's easiest to think of WTL as having a
LOSE CONDITION
rather than a win condition. Each team has four 'lives,' and the first team to reach zero lives loses the match.
As in the regular season, the teams play a series of best-of-two matches. Only the initial players for each team are predetermined, while the remaining players are chosen as the match progresses. If a player wins a series 2-0, the winner remains and plays in another match against the opposing team's next selected player—this is similar to the all-kill format used in other leagues. But if the result of a series is a 1-1 tie,
both players are eliminated
and both teams must send out a new player.
Each team is allowed a single revive during a match, where an eliminated player can return to play. The match ends once a team has lost all four lives and is defeated.
There is a rare scenario where both teams can go down to zero lives simultaneously: a 1-1 tie when both teams are down to their last life (the team that goes up 1-0 first does NOT win automatically; the second game of the series must be played). In that case, a single BO1 ace-match is played to decide the outcome of the series.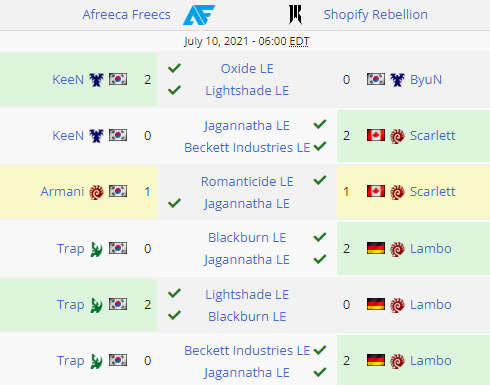 This format is awesome once you understand it, we swear.
Alright, let's break down the teams that are playing.
Team NV (#7 seed): 18 points, 6-5 record, +12 map differential
Roster and regular season records:

Team NV held the #1 spot for the first half of the season thanks to an easy initial schedule, but really fell apart in the second half once they had to face the stronger, playoff-level teams. Some of this pain was self-inflicted, as they played NightMare in a few too many matches. But it was also due to mediocre performances from DRG and Creator, who seemed to save their best play for GSL Code S.
Creator made it as far as the Code S finals this year, but he struggled to consistently play at that level in other events. Similarly, DongRaeGu blazed his way to consecutive top six finishes in Code S, but has been a far worse player in other competitions. The saving grace for Team NV is Bunny, who lit up the WTL with a fantastic 14-6 performance while also making a top four run in Code S. The highlight of Bunny's season was his 3-0 against #1 seed DPG, where he took down both Dark and Rogue. He's the one steady force on the team, and the player I expect to be the most reliable in the playoffs.
Because of Creator and DRG's inconsistency, Team NV is the team that has the biggest gap between best and worst outcomes. We're currently in the break period between Code S Seasons, so you would expect Creator and DRG to focus solely on WTL and play at 100% of their abilities. If they can do that, then Team NV should be a top three team at least, and maybe even longshot title contenders. However, if Creator and DRG can't play at their GSL level, even a first round exit is possible.
Kwangdong Freecs (#6 seed): 19 points, 8-3 record, +3 map differential
Roster and regular season records:

If I had told you before the start of the season that KeeN would be a contender for most disappointing player in the league, soO would plateau as a mid-tier player, and that Trap would inexplicably be benched for four out of eleven weeks, where would you have expected KDF to finish? Probably not as high as 6th place, in the upper half of the league.
However, thanks to a very solid season from Armani, and some truly awful showings from Liquid and Team NV, the Freecs have somehow limped into the playoffs as the #6 seed. Though Armani didn't have any spectacular performances, he was a very steady hand who
didn't give up a single 0-2 loss
during the entire season (he also gave up a lot of 1-1 ties where he was favored to win 2-0, but let's not get greedy here).
Now that we're in the playoffs, you expect Afreeca to bench KeeN and stick with a three-man squad of Trap, Armani, and soO. That line-up may not inspire much excitement, but it's a pretty decent team that could win a round or two.
Unfortunately, it's looking like Trap might not even be available at all. The Freecs' ostensible ace was conspicuously missing from the WTL line-ups in the final two weeks of play, declined to participate in the recent Code S qualifiers, and hasn't played a single competitive tournament match
since June
. All of that points to Trap winding down in preparation for mandatory military service.
The best case scenario for the Freecs is that Trap tries to go out with a bang in the WTL playoffs, practicing hard for what could be his final major event. Obviously, the worst case scenario would be Trap not playing at all, forcing the Freecs to bring KeeN or aLive into the line-up. But even if Trap does play, there's no guarantee that he's in good form—he was already slumping in 2022, and his focus may not be on StarCraft II if he's looking to enjoy his last few weeks of freedom (rather understandable).
Thus, it's hard to make any projections for the Freecs right now, as so much depends on Trap's condition and whether or not he plays at all.
PSISTORM Gaming (#5 seed): 22 points, 8-3 record, +8 map differential
Roster and regular season records:

PSISTORM Gaming are my darkhorse pick to make a deep run in the playoffs, as the team finished the regular season on a five-match winning streak.
Two of the key players are building up steam at the perfect time. MaxPax is becoming even more dominant in online play, crushing nearly everyone he meets in ESL Open Cups. GuMiho seems to have gotten over a brief summer setback, and has continued his rapid improvement after returning from the military.
On the other hand, Gerald has been playing very poorly in the last month or so, which is a huge disappointment after he looked like one of Europe's most improved players in the first half of 2022. Fortunately for PSISTORM, they have the luxury of not playing Gerald at all if they see fit, as SpeCial is their default third option. Juanito is hard to rate, as he's always been a wildly inconsistent player in big events. Just recently, he managed to eliminate Clem from TSL9 but also failed to make it through the GSL qualifiers a few days later.
In the end, I think PSISTORM's success will largely hinge on MaxPax's performance. GuMiho and SpeCial are perfect complimentary players—their unorthodox builds giving them a great chance to steal a 1-1 tie against stronger players—but they'd need to be having an especially inspired day to pull off a streak of wins. On the other hand, MaxPax has absolutely been killing it in the ESL Open Cups, sometimes winning without dropping a single map. The best version of MaxPax could carry this team to a top three finish, but I'm also worried about his tendency to underperform in bigger events.
Shopify Rebellion (#4 seed): 23 points, 8-3 record, +15 map differential
Roster and regular season records:

The Shopify Rebellion seems to have taken over Alpha X's old position as a team of players who perform better in the WTL compared to individual events. 2022 hasn't been great for Scarlett, Harstem, or ByuN in terms of solo tournaments, but they've been fantastic in WTL. ByuN was my pick for best Terran of the regular season, Scarlett was my runner-up Zerg, and Harstem was one of the top five Protosses. Thanks to them, the Rebellion were in contention for the #1 seed until week 10, when they suffered an unfortunate 0-6 loss to Alpha X where the 'retired' TLO had to replace ByuN at the last minute (due to illness).
While Lambo had a very disappointing season with a 2-8 record, I have reason to believe that he'll have more success in the playoffs. He was vocally disappointed when the WTL changed to a random maps format, preventing him from preparing for a specific map and opponent (the change was made to reduce the frequency of mirror match-ups). That aspect of preparation is restored in the playoffs, as he'll be able to wait for a specific opponent and be deployed as a Proleague-style 'sniper.'
Overall, the Rebellion are a very strong all-around squad without any major weaknesses. The biggest issue is that they also don't have any major strengths. A super-ace is the single biggest asset you can have in this format—it's nice to grind out wins through collective effort, but it's even nicer if a single player can knock off three of the opponent's lives by himself.
At best, I can see the Rebellion getting past KaiZi Gaming due to Lambo and Scarlett's prowess in ZvZ, but I don't think they have the firepower to take down DPG and win the championship.
Alpha X (#3 seed): 25 points, 8-3 record, +21 map differential
Roster and regular season records:

In 2022, Alpha X players have leveled up from being players who perform better in teamleagues to being players who are excellent in individual and group events alike. RagnaroK's adoption of a trickster style helped him earn two top six finishes in GSL Code S, matching his status as one of the best Zergs in the WTL. Astrea recently had a breakout performance at HomeStory Cup, defeating Reynor and Neeb on his way to a third place finish. As for Zoun, he's always been the Alpha X player with the best balance between team and individual performances, and he continues to be a reliable presence for them.
I wonder if these improvements will be enough to take Alpha X over the top and finally win a championship. Remember,
'If everything goes right'
is still a hypothetical for the other underdog teams, but Alpha X have already made it a reality in the past. They came within a single map of winning the
Fall 2020 season
, even upsetting Jin Air and DPG along the way. Everyone on the team has improved substantially since then, making this a golden opportunity for the Golden Dragons.
KaiZi Gaming (#2 seed): 26 points, 9-2 record, +19 map differential
Roster and regular season records:

A super-ace is often all it takes to win a championship, and KaiZi Gaming might have the super-est ace of all in the form of Reynor. He did his best Maru impression by putting up a ridiculous 80% win-rate during the regular season, and he very nearly dragged KaiZi Gaming to a first place finish.
Sure, his aura as the unassailable, most fearsome player in the league was shattered in week eleven, when he lost 0-2 to herO and was subsequently benched for the ace match (we don't know whose decision this was). However, Reynor salvaged his pride last week by winning 2-1 over herO in TSL9, making it feel like a toss-up as to who's truly the best player in the league. Reynor seemed much more comfortable going up against the new 'herO-style' of PvZ after just a few days of practicing in Korea, so it will be very intriguing to see how a potential rubber-match goes in the WTL grand finals.
In terms of supporting cast, KaiZi Gaming have definitely taken a blow due to Solar's 2022 decline. However, just like Reynor, he's recently given us reason to be optimistic again, beating both Dark and ByuN on the way to an ESL Open Cup win. In any case, any falloff from Solar is mitigated by a sharp rise from TIME. While he wasn't able to travel to HomeStory Cup or DreamHack due to the difficulty of flying out of China at the moment, he's been on an absolute tear in online events like ESL Cups and TSL9.
All-in-all, I really like KZ's three-player line-up (while Spirit is a capable rotation player, I don't see him realistically getting a chance to play when TIME has been on fire lately). TIME is playing some of his best StarCraft ever at the moment, and he has potential to go on a kill-streak if he's feeling it on Sunday. Solar might be in the midst of a slump, but he's still invaluable ZvZ-protection for Reynor as he can go 1-1 against any Zerg. Finally, I'm cautiously going to say that Reynor is still the best player in the entire tournament, and the best player often wins the championship.
Dragon Phoenix Gaming (#1 seed): 26 points, 8-3 record, +28 map differential
Roster and regular season records:

Oh, how the rich get richer! Many teams have signed military returnees in the last few years, but somehow it was the super-team DPG that ended up with herO, the single best returnee in StarCraft II history. Thanks to herO's transformation into an elite player and Code S champion, DPG were able to overcome the retirement of Zest, a disappointing season from Dark, some embarrassing mid-season losses, and ultimately pull a first place finish out of their a**.
Even as I give Reynor the nod as the best overall player in the WTL, the difference between him and herO is marginal at best. However, the difference between the rest of the roster is massive, as DPG have three other Code S champions in Rogue, Cure, and Dark. On paper, DPG would be overwhelming favorites to retain their title, but there are enough extenuating circumstances to make them seem at least a little bit vulnerable.
For one, Dark is playing quite poorly outside of major tournaments, putting up a 5-5 record in the WTL and struggling in ESL Open Cups as well. You can't even say he'll 'turn it on' for the playoffs, as he's been a good-but-not-great player in past WTL postseasons. Second, while Cure put in a solid regular season shift with a 10-4 record, he has definitely slumped from his Code S-winning peak, and isn't a clear-cut favorite against the other teams' supporting players anymore.
Last, and most importantly, Rogue is in a similar situation as Trap where he seems to be facing impending military service. Rogue also skipped the recent Code S qualifiers, leading to the same kind of speculation about his future. But unlike Trap, who hasn't played a competitive match since June, Rogue has stayed active in other events such as the WTL and WardiTV Summer Championship, indicating that he's going to fight it out until the very end. Also, unlike Dark, Rogue's killer instinct actually does activate in the WTL/SCBOY Team Leagues, and he's come through with clutch performances in multiple playoff series over the years.
While I'm being somewhat speculative about Rogue, I think the combination of herO + playoffs Rogue is just overpowered. It almost doesn't matter who the third player is, but in this case, it will be a Code S champion. Barring an absolutely incendiary performance from Reynor or the most remarkable conjuration of teamleague magic from Alpha X, DPG should defend their championship.
Prediction:Team NV >
Kwangdong Freecs
PSISTORM Gaming >
Team NV
PSISTORM Gaming >
Shopify Rebellion
Alpha X >
PSISTORM Gaming
KaiZi Gaming >
Alpha X
Dragon Phoenix Gaming >
KaiZi Gaming
Dragon Phoenix Gaming win the WTL Summer championship.
---
Credits and acknowledgements

Writer: Wax
Stats: Aligulac.com & Liquipedia
Images: SCBoy