World Team League - 2022 Summer Season
by: Wax
The WTL went into the Valencia break week on a high note, delivering two high-end series that went all the way to the ace match. First, Shopify Rebellion scored a very impressive reverse-sweep against Dragon Phoenix Gaming, keeping the two teams right next to each other in the standings. Then, Alpha X and Team NV followed that with their own seven-game thriller, with the Golden Dragons just barely coming out with a victory. In the midst of this chaos, KaiZi managed to slip through with a 5-1 win against Platinum Heroes to claim the #1 spot.
The competition at the top of the table should be extremely fierce in the last two weeks of regular season play, as KaiZi currently lead with 22 points while DPG, Shopify, and Alpha X are all tied at 21 points. Map score could play a huge role in tiebreakers as well, which makes it important for the teams to try and win every single remaining map.
KaiZi and DPG have the benefit of playing relatively easy matches against SSLT and Team GP this week, but Shopify and Alpha X will be going head-to-head in a key match for playoff seeding.
Week 9 Results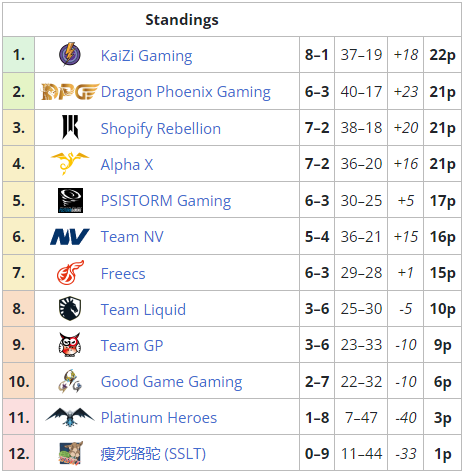 Top 7 teams qualify for the playoffs.
Points are awarded as follows:

3 points for a victory in a series that does not require an ace match

2 points for a victory in a series that requires an ace-match

1 point for a loss in a series that requires an ace-match

0 points for a loss in a series that does not require an ace match
Dragon Phoenix Gaming 3 - 4 Shopify Rebellion
Watch VOD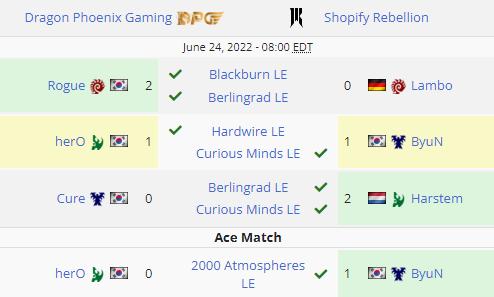 Week 9 started off with slobberknocker as the Shopify Rebellion took an incredible 4-3 reverse-sweep victory over Dragon Phoenix Gaming to keep the top teams clustered extremely closely together in the standings.
At least the start of the series was good for DPG, as
DPG.Rogue
took a fast victory over
SR.Lambo
on Blackburn by blind-countering a fast gold-expansion with a pool-first build. The two players engaged in a more conventional Roach-Ravager war in game two, with Rogue emerging victorious and putting his team up 2-0.
DPG seemed to be cruising to victory when
DPG.herO
took the first map off
SR.ByuN
to put his team on match point. herO played solid defense on Hardwire, defending a variety of pushes and drops from ByuN before marching to victory. However, ByuN was able to win on the next map of Curious Minds to start the Rebellion's… well, Rebellion. ByuN's hyper-aggressive play was more effective on the smaller battlefield, and herO was forced to GG out against waves of Terran infantry.
SR.Harstem
then came through with a clutch 2-0 against
DPG.Cure
to tie the series and force an ace match. Game 1 on Berlingrad was just a fantastic all around performance from Harstem, starting with a total shutdown of a mine-drop, and ending with a clinical dissection with Stalker-Disruptor. Harstem continued to vibe on Curious Minds, dealing early-game damage with Oracles and then fending off Cure's bio attacks to secure another victory.
Shopify and DPG are the two WTL teams with the widest range of ace options, but this time they went with the relatively predictable choice of herO vs ByuN. herO played a Phoenix opener on 2000 Atmospheres, but couldn't get much harassment done thanks to ByuN's solid defense. Instead, herO's poking around only caused him to lose crucial Phoenixes against Mines and roving Marines. This gave ByuN a brief window to strike with Marine-Cyclone-Medivac just as herO was making a transition to Templars, and this well-timed attack was enough to win Shopify the series.
KaiZi Gaming 5 - 1 Platinum Heroes
Watch VOD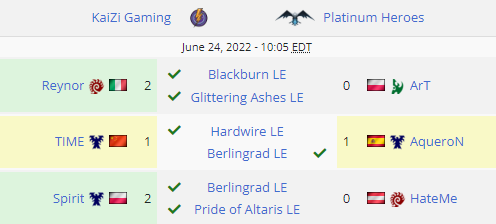 The series opened with one of the bigger mismatches of the season in
PH.ArT
vs
KZ.Reynor
, which ended in a predictable 2-0 for the Italian Zerg. There wasn't much that was notable about the series, though Reynor did use some cheeky offensive-Hatchery tactics on the second map of Glittering Ashes.
The Heroes did manage to avoid the sweep, however, as
PH.Aqueron
took a 1-1 tie off of
KZ.TIME
. Game one saw Acqueron go for a 2-Barracks proxy-Reaper rush, only for him to get denied by TIME and lose in a macro game. However, the Spanish Terran's second cheese attempt went way better, with his proxy-
everything
Reaper + Hellion drop winning him game two.
Unfortunately for the Heroes,
PH.HateMe
couldn't pull off any miracles against
KZ.Spirit
as the Polish Terran cleaned up with a fairly straight-forward 2-0 (he did get fancy with a fast-BC into bio build in game two).
Alpha X 4 - 3 Team NV

Watch VOD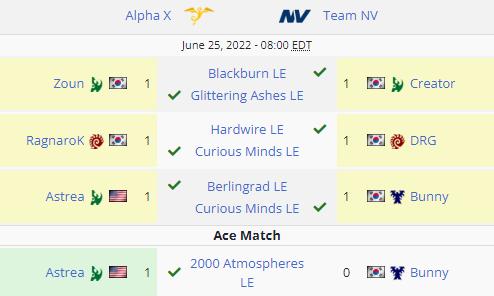 Shopify and DPG passed the baton on to Alpha X and Team NV as we got another seven-map battle at the top of the table. The story of this series was the complete opposite of Shopify vs DPG, however, as these evenly matched teams delivered 1-1 draws all the way up to the ace match.
The series began with
NV.Creator
and
αX.Zoun
facing off in a rare non-Phoenix game on Blackburn. Creator proved to be the superior skirmisher in the ensuing ground war, taking better trades before overwhelming Zoun with a massive, little-bit-of-everything army. Zoun tied the series up on Glittering Ashes, getting an advantage with heavy Blink Stalker pressure and then finishing Creator with a superior tech army.
NV.DongRaeGu
briefly put his team ahead by winning his first game against
αX.RagnaroK
, nullifying his opponent's investment in Ling-Bane pressure and then walking all over him with a superior Roach count. However, RagnaroK quickly tied things up on Curious Minds by winning the early Ling wars and finishing DRG with a big Roach-Ravager-Ling attack.
Alpha X then got their first lead of the series as
αX.Astrea
was able to take down
NV.Bunny
on Berlingrad. Astrea seemed to take a comfortable lead with his early Blink-Stalker pressure, but some nice drops from Bunny helped keep him in the game. However, Astrea had still accrued enough of an initial advantage to overpower Bunny with a big frontal attack. Things went a lot better for Bunny on Curious Minds, with his early 3-Barracks strike dealing a huge amount of damage and letting him stroll to victory.
Team NV and Alpha X are also two teams with a wide range of ace choices, but they decided to send out Astrea and Bunny right back out on 2000 Atmosphere's to extend their BO2 into a full BO3. During Bunny's recent rise, he managed to curb his tendency of going for risky YOLO drops into his opponent's main. However, that habit returned in this game, and it didn't work in his favor. A failed 4-Medivac drop in the early/mid-game gave Astrea an enormous amount of map control, and the Alpha X Protoss didn't squander this advantage. Astrea calmly snowballed his lead by expanding while launching calculated attacks, and eventually Bunny had no choice but to GG out to a superior Protoss army.
Team Liquid 6 - 0 SSLT (瘦死骆驼)
Watch VOD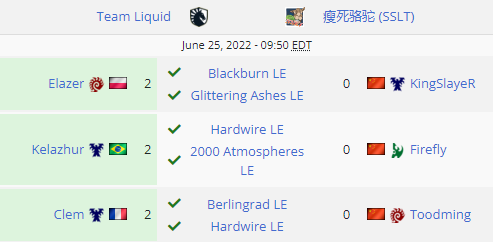 Liquid managed to take the only sweep of the week, keeping SSLT at the bottom of the table in the process.
SSLT.KingSlayeR
got a chance to make his season debut in the first match, but ended up falling 0-2 to
Liquid`Elazer
. Besides a cheeky 2-Starport BC rush on Glittering Ashes, there wasn't much to note in this one-sided series.
Liquid`Kelazhur
was the next Liquid player to get a 2-0, taking down SSLT's ace player
SSLT.Firefly
. Both games saw Kelazhur weather the storm against Firefly's low-econ aggressive style as he secured the full three points for Liquid.
Liquid`Clem
then ran up the score on
SSLT.Toodming
with a final 2-0 to close things out. The frequently cheesy Toodming actually played two macro games this time around, but this 'mind game' didn't do him any favors as Clem completed the 6-0 sweep.
Kwangdong Freecs 4 - 2 Good Game Gaming
Watch VOD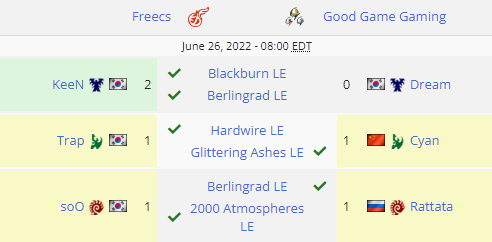 The series opened up with
GGG.Cyan
putting up a good fight against
KDF.Trap
on Hardwire, going blow for blow with the Freecs ace up until the fifteen minute mark. Unfortunately for Cyan, he wasn't able to keep up with Trap's battle micro forever, and was eventually overrun by enemy forces. Combat micro was also the key factor in game two on Glittering Ashes, but this time it was Cyan who came out on top. A well-placed Stasis Trap allowed Cyan to triumph in an important Blink Stalker vs Blink Stalker fight, and he rode that army advantage to victory.
GGG.Rattata
kept his team's momentum going against
KDF.soO,
beating the Roach-Ravager master at his own game and winning the first map of Berlingrad. soO's Roach-Ravager may have failed him but his Ling-Bane didn't, as he won the knife fight on 2000 Atmospheres to tie the series 2-2.
The outlook seemed grim for the Freecs as the winless
KDF.KeeN
(0-10 at that point) went up against GGG's ace player in
GGG.Dream
. But KeeN's week 8 match against ByuN had shown his TvT skill was much better than his record suggested, and he redeemed himself in a big way by taking a clutch 2-0 victory to swing the series.
Game one on Blackburn was a non-stop bloodbath for nearly 18 minutes, with both Terrans playing a high-tempo, aggressive style to try and again an advantage. Ultimately, it was KeeN who found himself with a slight edge, and he kept piling on the pressure until Dream was forced to GG. Game two on Berlingrad was also action-packed (though not quite as much as game one), starting with proxy 2-Barracks from Dream and developing into a classic mech (KeeN) vs bio (Dream) war. KeeN played a rather dynamic mech style—even dropping mass Hellbats on top of his opponent's infantry—which kept the game from bogging down compared to other mech games. Ultimately, Dream couldn't deal with the sheer firepower of the opposing mech army, and GG'd out after losing a handful of key battles.
PSISTORM Gaming 4 - 2 Team GP
Watch VOD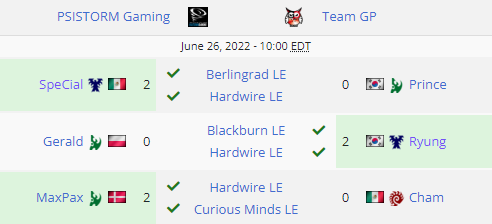 The series began with several honorable macro games, as
PSISTORM.SpeCial
took down
GP.Prince
while
GP.Ryung
hit back with a 2-0 against
PSISTORM.Gerald
. SpeCial vs Prince on Hardwire was the most entertaining of these four initial contests, as the two players built up to late-game tech before bringing each other back down to the bronze age in a series of frantic basetrades. SpeCial had the advantage in the rebuilding phase and managed to secure the victory.
PSISTORM.MaxPax
tried to change the tenor of the series with a Carrier rush against
GP.Cham
on Hardwire, but the mysterious Dane also ended up getting roped into a noble macro contest. Cham was able to actually fight quite evenly with Lair-tech units for a surprisingly long time, but eventually the Protoss deathball grew too powerful for him to stop.
Finally, someone got a bit of cheese going in the sixth and final game, as MaxPax pulled out a 6-Gate Glaive Adept build on Curious Minds. This early strike crippled Cham's economy, forcing the team GP Zerg into a desperate counter-attack. However, MaxPax had Disruptors ready in time to defend, forcing Cham to surrender the series ending GG.
This week's award came down to the two heroes of Shopify's reverse sweep against DPG: Harstem and ByuN. Harstem's clutch 2-0 against Cure allowed his team to come back from 1-3 and tie the series, giving them one final shot in the ace match. ByuN was the player who actually won the ace match against herO, but he had a worse aggregate map score than Harstem as he went 1-1 against herO in his initial match.
I'll usually pick the 2-0 player over the 2-1 player, except if the 2-1 player beat a significantly better opponent. In this case, I had a hard time deciding if the difference between herO and Cure was large enough for me to pick ByuN as the MVP. On one hand, herO is clearly the best Protoss player in the world right now, while Cure is clearly in the middle of a slump. Yet, when you consider herO's lack of success in major tournaments, you have to wonder if he's
really
in a different class from Cure if you strip them down to their bones. And, at least in the WTL, Cure had been the better player, with a 9-1 map score prior to the match against Shopify (11-5 for herO).
If it had been a 2-1 against Reynor I would have raised herO's hand, but in this case I decided to give Harstem's 2-0 the nod. Congratulations, Harstem! You're the first two-time weekly MVP of the season!
Weekly MVP's:
Week 9: SR.Harstem

Week 8: KZ.Reynor

Week 7: KDF.Trap

Week 6: NV.Bunny

Week 5: DPG.Rogue

Week 4: KDF.Armani

Week 3: GP.Ryung

Week 2: KZ.TIME

Week 1: SR.Harstem
Week 10 Preview
Friday, Jul 08 12:00pm GMT (GMT+00:00) Matches
SSLT (瘦死骆驼) vs KaiZi Gaming

TooDming < Waterfall > Solar
Silky < Data-C > Spirit
Firefly < Inside and Out > Hyperion

Ace Match: < Tropical Sacrifice >
On the face of it, I understand KaiZi's decision to rest Reynor against the winless SSLT. However, given how closely packed the top four teams are, and given the growing chance that map-score tiebreakers will come into play, I can't help but wonder if the decision to field Hyperion will end up biting KaiZi in the butt.
Fine, rest Reynor. But what about TIME? Wasn't he available to fill his spot? As it stands, Firefly vs Hyperion is the rare match for SSLT where they're actually a huge favorite on Aligulac, and a 2-0 seems to be the most likely score. Betting on Solar and Spirit to go 4-0 is very risky—KZ are only in 1st place by a single point, and merely being forced to an ace match would wipe that advantage away. Perhaps there's a good reason for this roster decision from KaiZi (Chinese fans please inform us in the replies), but I'm quite puzzled ahead of this match.
Prediction: KaiZi Gaming 4
- 2 SSLT
Good Game Gaming vs PSISTORM Gaming

Cyan < Waterfall > GuMiho
Dream < Data-C > SpeCial
Rattata < Inside and Out > MaxPax

Ace Match: < Tropical Sacrifice >
While GGG are basically locked into a 8th-10th place finish (not in the playoffs but not relegated), PSISTORM still have quite a bit to play for. Their final match of the season is against Alpha X, so they can still seize the #4 seed if they win their final two matches (and if a few other results go their way).
Fortunately for PSISTORM, they seem to be in a winning position against GGG. The GuMiho vs Cyan and MaxPax vs Rattata match-ups clearly favor them, and after DH Valencia, I think SpeCial vs Dream favors PSISTORM as well. The Mexican Terran had a solid TvT showing, managing to split two series against Bunny (going a combined 2-2 in maps), beat uThermal 3-0, and just barely losing to Clem 2-3. Moreover, the new map pool seems quite mech friendly, which allows SpeCial to get into his preferred composition much more easily. On the other hand, Dream seems to be on quite the slide in the last few weeks, ever since having to forfeit a GSL qualifier match due to wrist pain (allegedly). He's no longer the reliable WTL ace he once was, and I don't think he'll be able to save GGG from defeat here.
Prediction: PSISTORM Gaming 5
-1 Good Game Gaming
Saturday, Jul 09 12:00pm GMT (GMT+00:00) Matches
Dragon Phoenix Gaming vs Team GP

Cure < Waterfall > Ryung
Rogue < Data-C > Prince
herO < Inside and Out > Cham

Ace Match: < Tropical Sacrifice >
DPG have constantly dropped the ball this season, and what seemed like a guaranteed 1st place finish now seems to be in serious danger. I can't say this match vs Team GP is a 'must win'—DPG might just blast their way through the playoffs again, seeding be damned—but I figure they'd really like to salvage some of their pride.
These match-ups are looking pretty brutal for Team GP, with Prince having to play Aligulac's #4 ZvP player in Rogue and Cham having to play the #1 PvZ player in herO. The one match they can be hopeful about is Ryung vs Cure, as Ryung
always
seems to have a fighting chance in the Terran mirror. But even then, that will probably only be good enough to salvage a map or two in a losing effort.
Prediction: Dragon Phoenix Gaming 5
- 1 Team GP
Team NV vs Team Liquid

Creator < Waterfall > Kelazhur
NightMare < Data-C > Elazer
DongRaeGu < Inside and Out > Clem

Ace Match: < Tropical Sacrifice >
With Bunny being forced to linger in Europe due to COVID (you can't enter Korea without a negative PCR test), Team NV have been forced to deploy NightMare in less than ideal circumstances. For Liquid, this has turned from an uphill battle into a very winnable match—perhaps even one where they are the favorites.
First off, it worked out very well for Liquid that NV is forced to 'waste' their strongest player in Creator on Kelazhur. The Brazilian Terran is the exact kind of player who you want to play this sacrificial role, as he can play a high-variance style that gives him a chance of taking at least a map.
Elazer vs NightMare is the match that really changed Liquid's fortunes, as Elazer would have been a moderate to heavy underdog against the fearsome Bunny. Now, the tables are flipped, with Elazer looking like the heavy favorite instead.
It feels weird to say this about anyone playing ZvT against Clem, but I think DRG could be the lifeline for Team NV. ZvT has been by far his best match-up since his return from military service (and before it, really), whereas Clem's TvZ isn't quite at that totally invincible level it was a year ago. Clem is for sure favorite here, but DRG could very well take the map that secures Team NV the victory, or at least forces an ace match.
Prediction: Team Liquid 4
- 3 Team NV
Sunday, Jul 10 12:00pm GMT (GMT+00:00) Matches
Platinum Heroes vs Kwangdong Freecs

HateMe < Waterfall > KeeN
Aqueron < Data-C > Armani
ArT < Inside and Out > soO

Ace Match: < Tropical Sacrifice >
It looks like everyone is resting players this week, as the Kwangdong Freecs have decided to give Trap a break against the 1-8 Platinum Heroes. Unlike KaiZi Gaming, I'm not that concerned for the Freecs. The way the standings look, they
probably
won't have to worry about map-score tiebreakers. Also, their current line-up is fully capable of getting the 6-0 anyway, so it might be better to get KeeN and Armani out there to let them build some more momentum and confidence ahead of the playoffs.
As for the Heroes, it seems like they were happy with last week's performance against KaiZi Gaming as they've brought back the exact same line-up. This is only the second time this season the Heroes have done this (week 1-2 being the last), so it's nice to see that they had something positive to take away from the match despite the 1-5 loss. Still, I don't think that's going to help them stave off a loss against the Freecs.
Prediction: Kwangdong Freecs 5
- 1 Platinum Heroes
Shopify Rebellion vs Alpha X

Scarlett < Waterfall > Zoun
ByuN < Data-C > RagnaroK
Lambo < Inside and Out > Astrea

Ace Match: < Tropical Sacrifice >
WTL has saved the best for last as #3 Shopify Rebellion go up against #4 Alpha X. Both teams are still capable of finishing in first place, but in order to do so, they must absolutely win this upcoming match.
Honestly, these two teams feel like mirror images of each other, coming into the WTL with a 'whole is greater than the sum of its parts' approach and wildly exceeding expectations. Amusingly enough, Aligulac sees all three match-ups as being extremely even, with all of them falling within five percentage points of being 50/50. Zoun has the slight edge on Scarlett at 53/47 (in a BO1), ByuN leads RagnaroK 54/46, and Lambo has a 53/47 advantage against Astrea according to the stats website. Yup, it seems like this one could be headed to an ace match!
The ace match mind games should be very intense. Shopify have the most well-rounded option in ByuN, who isn't especially weak or strong in any match-up. However, I think Alpha X have the better best-case ace player in RagnaroK, as long as he draws ZvP or ZvT. Unfortunately, his ZvZ is rather suspect, which makes you wonder if Shopify will gamble on sending out Lambo or Scarlett. Conversely, sending out a Terran on Tropical Sacrifice could be
too
obvious of a move for Shopify, which invites Alpha X to snipe ByuN with a well-prepared strat.
Overall, I see this match as being very even, but I'm going to give Alpha X a slight edge. I think RagnaroK is the strongest ace card available, and I don't think Shopify will take the risk of trying to snipe him with a Zerg when Zoun and Astrea are still looming on the bench. If it goes to an ace match, I think it will end up being RagnaroK vs ByuN, and I predict RagnaroK to win.
Prediction: Alpha X 4
- 3 Shopify Rebellion
---
Credits and acknowledgements

Writer: Wax
Stats: Aligulac.com & Liquipedia
Images: SCBoy