Disasterpiece Theater #5
The One Where Everyone is Wrong: Neeb vs Rogue
By: Mizenhauer
Welcome back to Disasterpiece Theater! After delving into horror of Swarm Hosts last episode, we have even more late-game awfulness for you today. However, you might be quite surprised at the game that was selected...
The Setting: 2017 and the Rise of Neeb
2017 might represent the apex of Legacy of the Void. We saw players in completely different stages of their career crowned champion, whether it was newcomer Neeb becoming the best foreigner in the game by winning three titles on the WCS Circuit, or veteran INnoVatioN claiming his third Code S title after a two year drought. We watched familiar names return to the limelight as soO reached a pair of Code S finals, albeit with predictable results. We witnessed the ascension of TY, who won the first two championships of his career, and we followed Stats' emergence as Korea's best Protoss as he lifted the trophies in SSL and GSL.
The entire year culminated at the WCS Global Finals. Held in Anaheim, California, it promised immortal fame, the chance to take some really awkward photos with the Gosu Trophy, and a $700,000 dollar prize pool—a purse never before seen in StarCraft II history.
And, while prestigious events sometimes fail to live up to the hype, 2017's edition of the Global Championship embraced the spirit of the year and gave us plenty to remember. Who could forget how SpeCial actually topped his round of 16 group with wins over
TY
and
Stats
, sending Stats crashing out along the way? How about
TY's reverse sweep loss to Rogue
in the semifinals, featuring the infamous five-Engineering Bay wall? Or how about herO's perfect decision-making that led to one of the
most underrated comebacks
in history?
Yet, amid all these highlight moments, there's one match that I wish I could forget:

Neeb
vs

Rogue
on Mech Depot. The fifty-three minute group stage match 'featured' a mined out map, a thirty odd minute stretch of armies purposely refusing to fight, a boatload of abused workers, and an ending so disgusting that I regretted penning this article in the first place.
Or am I just talking to myself here? A casual perusal of the YouTube comments seem to cast the series in a very different light. Remarks range from garbled outpourings of enthusiasm:
"Oooooooooh wow that game #3, crazy crazy crazy intense!!! Just watched Katowice 2018 where Rogue steamrolls Neeb and I can't believe this is the same player, the outcome and matches are sooooo different!"
to the more succinct but no better punctuated plaudits:
Best. game/match. ever.
As I continued to make my way through the comments, I became increasingly concerned that I might have been watching the wrong game all along. What I had seen was nauseating, unsettling, and beyond boring. But, now anonymous commenters—nay, my fellow fans—were trying to convince me that this particular game was incredible. So incredible, in fact, that they made it one of the most watched StarCraft II games on YouTube, and the second most watched VOD from BlizzCon 2017 after the grand finals.
I needed to confirm that I was correct, both for my own ego and on behalf of some of the more jaded and elitist fans with similarly discerning taste when it came to StarCraft II history. With that in mind I sat down and began to parse the good from the bad, the highlights from the lowlights, in an effort to prove that the aspect the community loved the most about this game was actually the worst part all along.
The Match: Neeb vs Rogue - Mech Depot
And so the torment begins.
After splitting the first two games on Ascension to Aiur and Abyssal Reef, Neeb and Rogue opened with perfectly ordinary builds in the rubber match on Mech Depot. Neeb fished into Rogue's natural with an Adept and followed it up with more Adepts backed by a pair of Oracles. This forced the usual defensive Zerglings from Rogue, who held off the aggression with aplomb by losing only three workers. Why am I highlighting these mundane and almost entirely inconsequential early game exchanges? Because that actually counted as an interesting occurrence in this game.
Neeb added a third base and two more Stargates for triple Oracle production, which you may recall was once standard in PvZ. Rogue kept it standard as well, droning up and producing plenty of Hydras and Zerglings. Both players managed to delay each other slightly on their initial attempts to take fourth bases, but mass Stasis Wards and Rogue's healthy Hydra count made it so neither player could really launch a threatening attack.
With both players recognizing their inability to do meaningful damage, they swiftly transitioned into late game mode. Neeb started a Mothership before the 11 minute mark and sacrificed his Stalkers to make room for Carriers, while Rogue's swift Hive enabled him to get Infestors, Ultralisks, and every upgrade under the sun.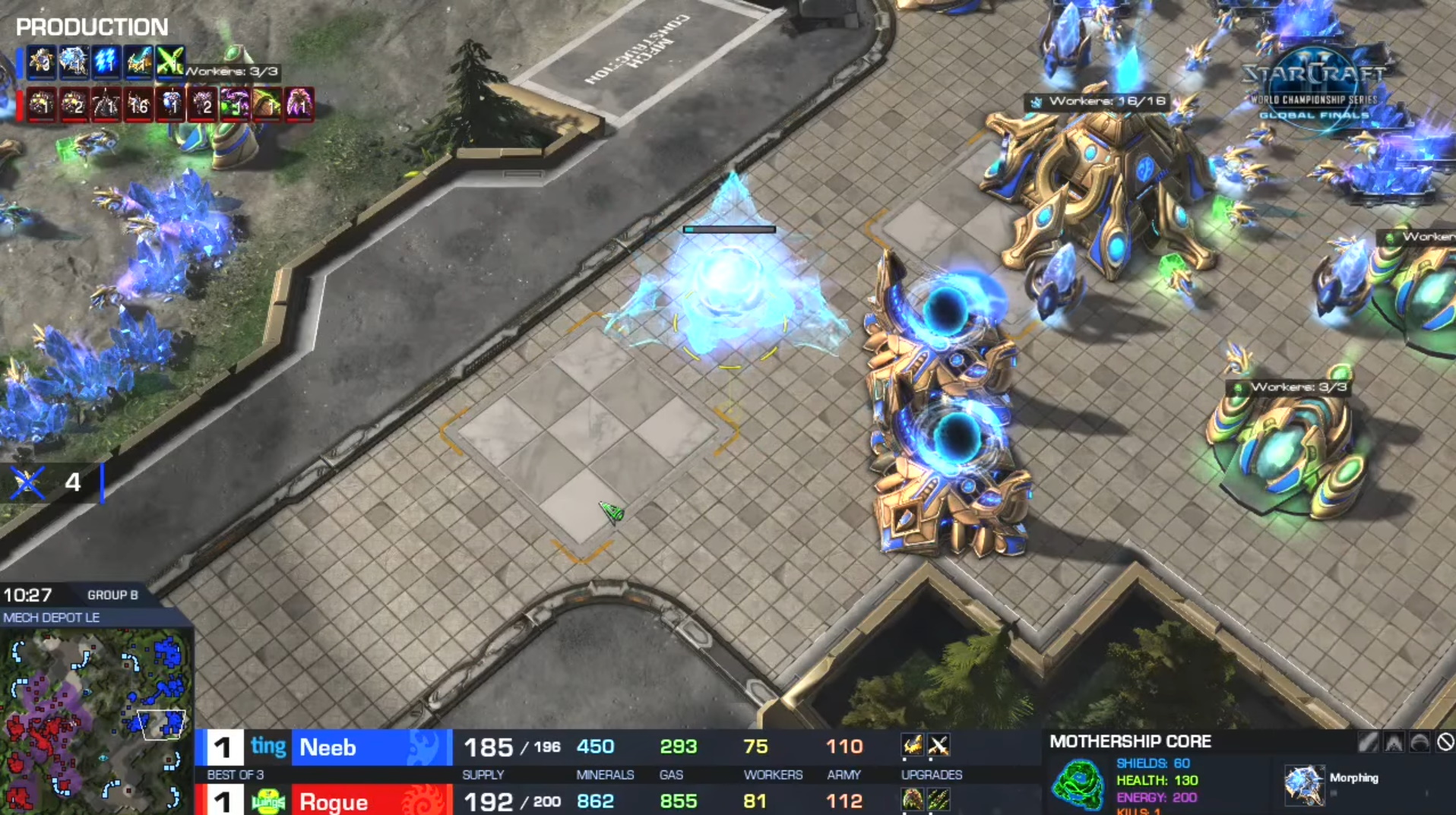 Neeb: "So we'll just sit here and fight later?"
Rogue: "Sure. I'll be available in about an hour."
Both players' armies grew to be incredibly powerful yet expensive, and neither player was eager to risk their main force with a move across the map. Thus the two players fought around the fringes of each other's territory, sacrificing small detachments of units to perform worker harassment, pick off any units that were out of place, or tear down frontier expansions. These movements were engaging for a brief period, but by the 18 minute mark, it became clear that these were just token actions that weren't really swinging the outcome of the game. The match was destined to continue for a very long time.
One might have expected the banks to start to balloon, but Neeb and Rogue were actually relatively cash-strapped due to their huge investment in static defenses, as well as their expenditures on the aforementioned harassment. The low resource reserves contributed to the ongoing stalemate, with both players disincentivized from sending their main armies forward when one mistake might spell the end.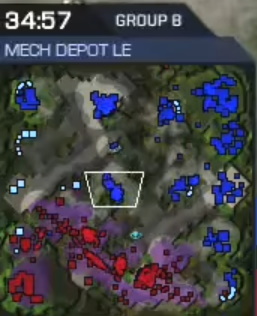 Both players seem remarkably comfortable hanging out on their side of the map despite the fact that the number of minerals and gas in their territory took a nosedive
Continued Baneling drop harassment from Rogue brought Neeb's worker count down into the 30's, which Rogue may have believed would trigger Neeb to take some initiative and try to swing momentum back in his favor (or, really, get momentum going in any direction at all). And for a moment it actually did, with Neeb crossing the halfway line on the map with his main fleet to encroach on the edges of Zerg territory. However, it was mostly just posturing in the end, and Neeb was content to nope out with recall when Corruptors got close. Rogue declined to give chase, finding it too risky to fight without the support of his many Spore Colonies.
This pattern continued a few more times, with Neeb being bold enough to use his golden armada to burn down exterior bases, but retreating at the prospect of a proper fight. Rogue and Neeb seemed perfectly fine with an endless cycle of building, losing, and rebuilding their sixth, seventh or eighth bases over and over, knowing that the game would last long enough for them to
eventually
mine those bases out.
The end objective to all of this seemed to be securing the smallest expansion advantage through all this maneuvering, even if it was just a single base, and using that resource advantage to win in a game of attrition. Effectively, the two players were trying to play in a manner that removed the most exciting win condition of StarCraft II: wipe out the opponent's army.
Yes, Neeb and Rogue needed to do a lot of skillful maneuvering to draw each other's armies out of position and expose those exterior expansions to harassment. Yes, they probably would have picked lesser players apart in quick fashion. But in this game, the two players were so evenly matched as to create a stalemate where there was little net gain or loss. After a certain number of lose-rebuild cycles at the same expansions, it raised the question: what's the point of skillful moves if they're not interesting?
Along those lines, even the second biggest strategic move of the game was made to seem dull. At around the 30 minute mark, Rogue saw that Neeb was out of position and committed his Brood Lords to destroy Neeb's richest expansion. This was one of the few bases that Neeb wasn't able to recover, and Rogue ended up taking it for himself. In the big picture, this was a hugely important base for Rogue, allowing him to effectively achieve 50/50 resource parity for the game.
But in the flow of things, it just looked like more window dressing, more pointless building removal around the edges. Neeb responded by destroying mostly mined out Zerg bases on the opposite end of the map, recalling the instant he saw Rogue's army approaching. Rogue was totally content to concede those bases anyway, as he had mostly gleaned whatever resources he could already.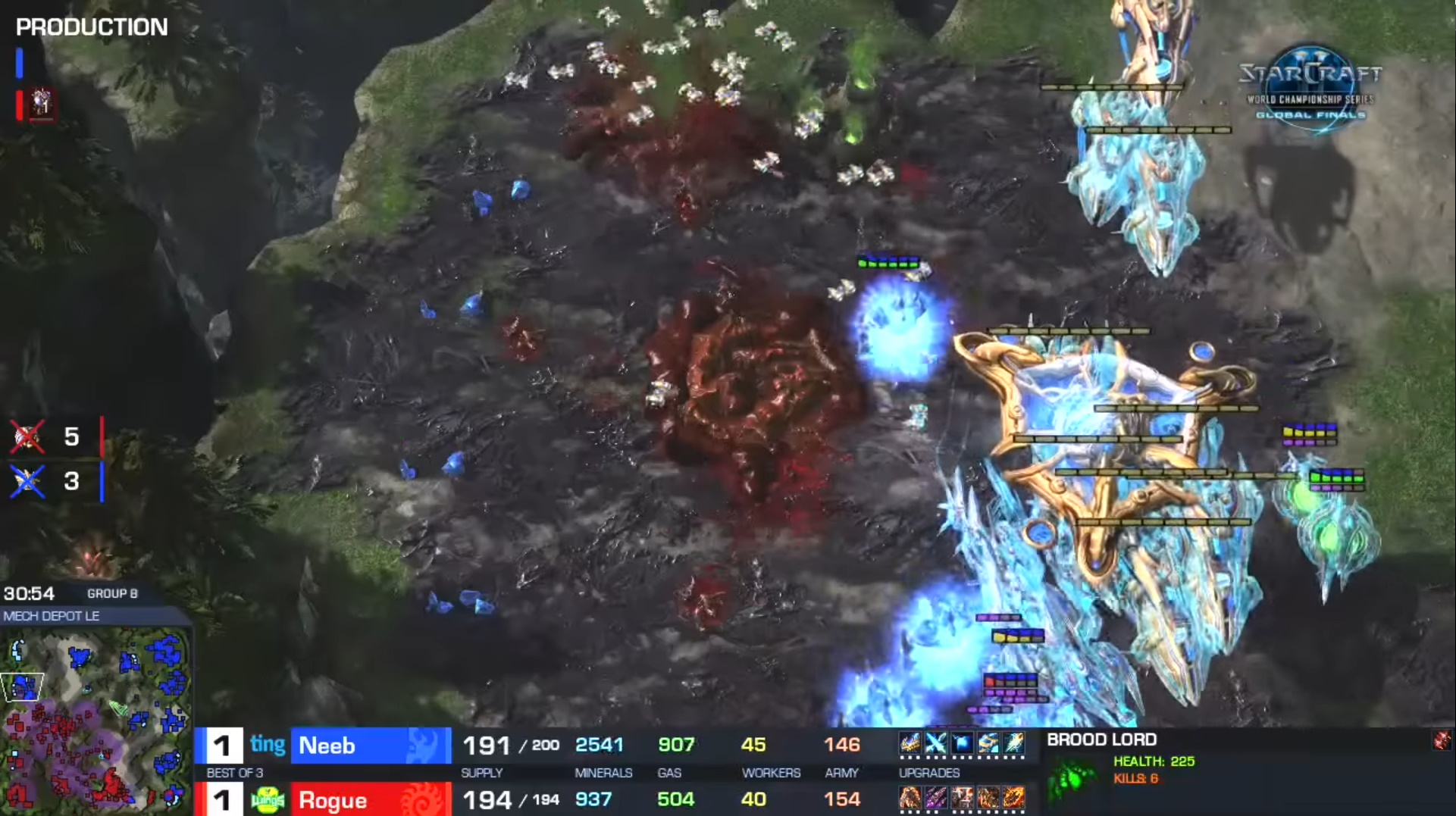 Rogue embraces his inner nihilist, sacrificing one of the few bases on the map with gas in favor of sitting in the corner with much of his army. Nothing matters! NOTHING!
At around the 40 minute mark, the game
really
slowed to a crawl. There were no neutral expansions left to fight over, and the amount of territory to be covered on defense has shrunk dramatically. Between an endless number of Changelings and constant tags with Oracles, both players had near perfect knowledge of their opponent's positioning. None of the maneuvering and harassing around the margins was valid anymore—the two players had finally been forced to chase the victory condition of wiping out the opponent's army. No amount of ingenuity, creativity or multitasking could overcome the fact nothing in the game had any value other than the one final fight.
However, fields of Spore Colonies and Cannons made it so neither player could make the first move. We were staring at a game where the only way another player could win was by making a fatal mistake. Neeb and Rogue's armies ended up drifting around toothlessly, never near their opponent.
At the 44 minute mark, Neeb made perhaps the most famous play of his career, sacrificing all but one worker to reach 199 army supply.
Now, this needs addressing. Yes, it was an inspired move considering the state of the game. Yes, it shows a great degree of awareness from Neeb. Yes, 199 army supply makes a game memorable by default. The problem is, going back to the original point of this article, it reinforced the game being memorable for all the wrong reasons. After Neeb went to 199 army supply, it still took
eight more minutes
—the duration of a short StarCraft II game—for this move to pay off. It actually removed the importance of everything else on the map as Neeb could no longer mine and made both players players even more reluctant to engage each other. Instead of making the game more interesting and more complex, all Neeb's move did was guarantee that an already stagnant game was going to become a morass unlike any we had ever seen.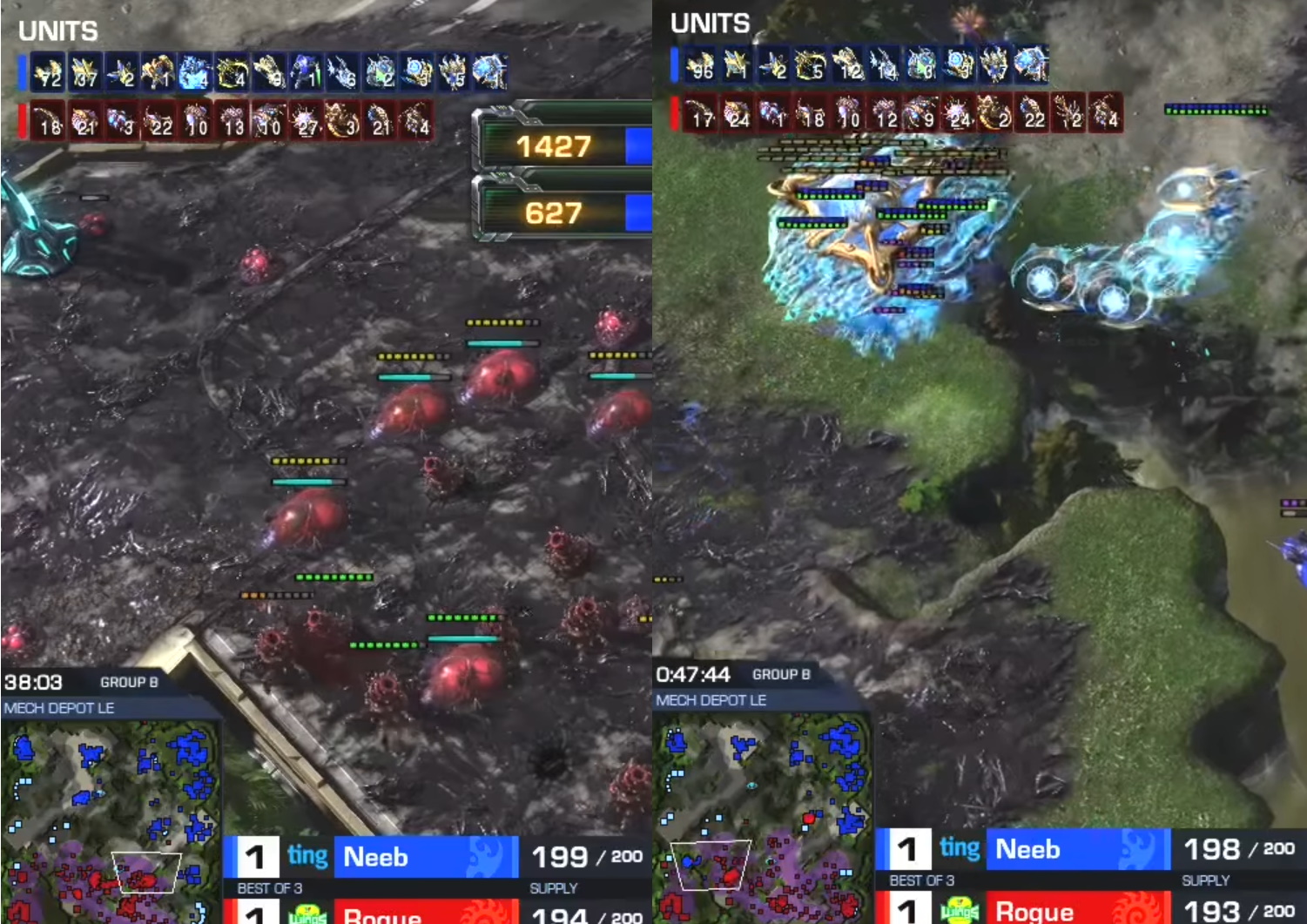 Despite ten minutes passing, the only real difference in armies is Neeb turning 36 probes into a few extra carriers
For all their best efforts to grind out an edge in terms of resources and cost efficiency, Neeb and Rogue had lost almost the exact same number of resources toward the 49 minute mark (58,693 for Neeb, 60,018 for Rogue, according to the display at the 49:16). Artosis summed up the situation by saying "Rogue will not attack and Neeb will not attack." In one of the more amusing instances of the Artosis curse, the armies actually crossed paths a few moments later. Infestors Fungaled and High Templars Stormed in the prelude to a major battle, but both players backed off as if to taunt the GSL caster and the viewers.
But soon after the tease, the real conclusion came. With Rogue's holdings reduced to the bottom right corner of the map, it was clear that a fight was going to have to occur to actually end the game. Both players had mined all they could. They had lost nearly everything by prioritizing their units over buildings, mining or tech. They had whittled away their funds to the point that Neeb could not even make a Sentry due to his lack of gas. The players were going to have to engage each other eventually. The only question remaining was, would the fight live up to over fifty minutes of minutes of nothing that had preceded it? The answer was: it would not.
Because, for all the massive tracts of empty space on Mech Depot, and for all the time the players had to think about how to approach the deciding battle, somehow Rogue decided to commit his forces at a ramp toward the bottom-right corner of the map. This might sound like an unimportant detail, but it was absolutely pivotal in deciding the fight. Where Neeb's army was almost fully composed of air units (five High Templars and three Zealots were the only fighting units he had that had legs), Rogue's mixed army was built upon a backbone of 29 Infestors. As he charged into the final fight, he must have realized his critical mistake.
Fungal Growths landed on Void Rays, Storms showered Corruptors as they tried to focus down Carriers, the Mothership got yanked forward and…wait…what were the Infestors doing? It was hard to notice with all the different animations covering the screen, but if one looked closely, they would see that the front row of Infestors had formed a blockade at the ramp. Since Neural Parasite locks the Infestor in place until the mind control effect is severed, the Infestors that were actually in range of Neeb's units created a wall that blocked the Infestors in the back.
Instead of throwing out Neurals on every unit in Neeb's irreplaceable fleet, about half of the Infestors were not even participating in the fight. They were just moving from side to side as Rogue's Corruptors melted beneath the combined onslaught of Void Rays and Storms. Even when the Infestors began to die one by one, allowing another Infestor to move forward and replace it, Rogue was never able to bring more than a few to bear at once. This heavily swung the fight in Neeb's favor, and, after waiting 52 minutes and 22 seconds for the final, decisive fight, it was all over in less than 40 seconds. Rogue's ultralisks sat flaccidly on the map with nothing to attack, Spores watched unburrowed beneath the warring flying units, and Infestors clambered to get involved as Rogue's composure dissolved in an instant.
All of Rogue's patience (unwillingness to attack), careful planning (sacrificing nearly every building without any response because who cares about fighting over things that do not matter), and the fact that he had assembled the perfect army (because the one thing StarCraft II fans have eternally called for is more deathballs) went out the window as he botched the one opportunity he and Neeb had been building towards for so long. It was a miserable sight, a complete let down, and anticlimactic beyond expression. However, ironically, it was the best way for the game to end. Neeb and Rogue had spent over fifty minutes building toward one single moment, and when it came time to actually decide the winner, Rogue bungled the epic conclusion we were owed.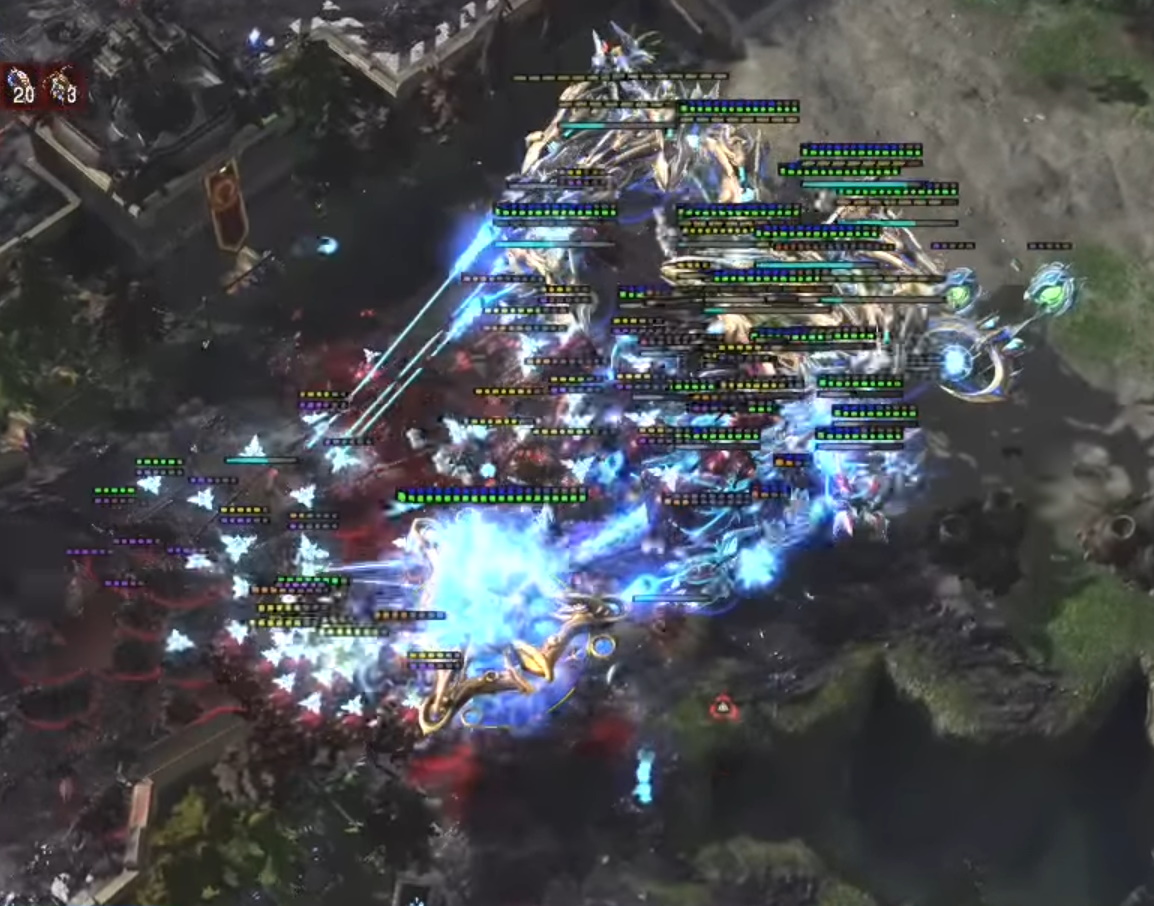 Even as a Zerg player it is nice to see Infestors ruining their owners good time for once
So, what am I to say about this total mockery of a game when the general opinion is that it was incredible? I cannot deny that its extreme length makes it unique among world championship games. I cannot deny that both players demonstrated extreme patience in trying to win. I cannot deny that Neeb showed vision by sacrificing his workers to max out on army supply. I cannot rebuff any of it on a surface level.
The problem is that just because a game is long does not mean it is exciting. I would argue that the essence of StarCraft II is beating your opponent through combat, not through real estate acquisition and the balance sheet tabulating. This was a 52 minute exercise in sticking to a single gameplan—that gameplan just happened to be the most boring one possible.
In the end, even I will admit this game is memorable. After all, why would I bring it up nearly five years removed from BlizzCon 2017 if it was not? The fact is something does not need to be good to be memorable. It does not need to be exciting to stick in our memory. It does not need to feature thrilling battles or huge swings in momentum. All it needs to do is be different enough to stand out. And, boy does this game stand out, unfortunately for all the wrong reasons.
---
Credits and acknowledgements
Written by:
Mizenhauer
Editor:
Wax
Images: Blizzard