The Final Week:
Who Will Qualify for the IEM Katowice Group Stage?
by: Wax
As we head into the final week of the ESL Pro Tour 'regular season,' there are a handful of
IEM Katowice 2022
spots that are still up in air. Some players like Lambo, ShoWTimE, DongRaeGu, Elazer, and RagnaroK are looking to qualify directly for the group stage (round of 24), bypassing the treacherous play-in stage (round of 36). Others like SKillous and herO, would be more than happy to brave the play-ins—but need a stroke of good luck to usher them in. Let's break down what's on the line in the final week of pre-Katowice play in the ESL Pro Tour.
First, since reading is hard, the TL;DR:
Lambo and ShoWTimE are directly competing for Europe's final RO24 seed (6th place), but can only earn points in the final week of ESL Open Cups.

DongRaeGu has a good chance at securing a RO24 seed via wildcard (player with most points that doesn't have an RO24 seed) with even a mediocre DHM Last Chance performance.

Elazer and/or RagnaroK can earn a RO24 seed if they make a very deep run at DHM Last Chance.

Whoever finishes lower between Lambo/ShoWTimE can still get into the RO24 via wildcard if DongRaeGu, Elazer, and RagnaroK all do poorly at DHM Last Chance.

As the points currently stand, there might be a very tight wildcard race between DRG and [ShoWTimE/Lambo].

SKillous and herO can earn a RO36 spot if a player from their regional wins the wild card (RO36 spot rolls down).
Alright, if you want to stay around for the more detailed breakdown...
Where we stand: The EPT landscape headed into the final week
IEM Katowice qualification has effectively wrapped up in North America, Latin America, Taiwan/Hong Kong/Macau/Japan, and Oceania & Rest of Asia. Here's the list of players who qualified:
North America
RO24: Scarlett, Neeb

RO36: Astrea
Latin America
:
RO24: SpeCial

RO36: Kelazhur
China
:
Taiwan/Hong Kong/Macau/Japan
:
RO24: None

RO36: Nice, Has
Oceania & Rest of Asia
:
While qualification has been largely determined in Korea and Europe, there are a few key spots that are still being contested. Here's how things stand in KR and EU at the moment:
Note: Korea's points race is complicated by the fact that some players will be unable to compete due to military service or retirement. For the sake of this article, I have additionally removed Zest and Hurricane from the standings. Zest has consistently implied that he will not be competing at Katowice throughout 2021, while Hurricane has been inactive since mid 2021.
Europe
Confirmed RO24 (2 DHM season champions + 4 highest points): Serral, Clem, Reynor, HeroMarine, MaxPax

Confirmed RO36: MarineLord

Possible RO24/minimum RO36: Lambo, ShoWTimE, Elazer

Possible RO36: SKillous
Korea
Confirmed RO24 – (3 Code S champions + 1 DHM season champion + 5 highest points): Rogue, Trap, Maru, Dark, Cure, Bunny, Solar, Dream

Confirmed RO36: ByuN, Armani, Creator, Percival, KeeN

Possible RO24/Minimum RO36: Zoun, RagnaroK, DongRaeGu

Possible RO36: herO, Classic
Remaining tournaments that give points:
ESL Weekly Cup (KR/EU/NA) #105: Jan 9-10

This is the final week of tournaments that will award points before the standings lock (subsequent cups will award prize money but no points until the start of the '22-'23 season).

Points: 1st place - 10 points, 2nd place - 5 points, 3rd/4th - 2 points



DreamHack Masters: Last Chance: Jan 11-16

This is the final EPT point-giving tournament before IEM Katowice.

Points: 1st place - 450 points, 2nd place - 300 points, 3rd/4th - 190 points, 5th-8th: 120 points, 9th-12th: 75 points, 13th-16th: 40 points
The
'Global Wildcard'
(not what it's officially called, but that's what makes sense to me) is what makes the qualification scenarios complicated. Once all of the RO24 seeds based on GSL championships (3), and DHM season championships *(3) and EPT points within regions (13) have been awarded, one final RO24 'wildcard' spot is given to the player with the most EPT points who did not qualify through any other method. The wildcard winner's RO36 spot rolls down to the next player in the rankings, effectively giving their region another RO36 spot.
For instance, IEM Katowice 2021 saw Solar miss the RO24 cutoff within the Korean rankings as he finished in 11th place with 1340 points. However, those 1340 points were the highest among players not qualified for the RO24, and he was awarded the wild card. His previous RO36 seed rolled down to Hurricane as a result.
With that very important wrinkle in mind, let's look at the relevant rankings for Korea, Europe, and the combined regions, and break down the stakes for our contestants headed into the final week: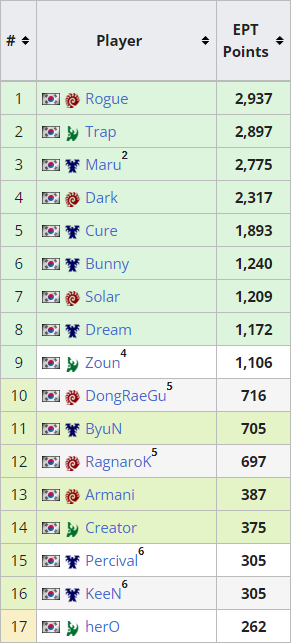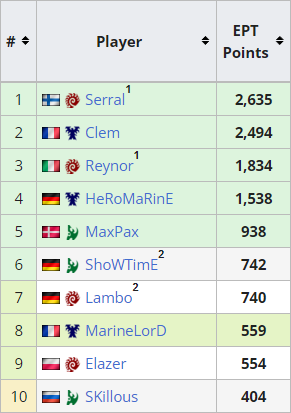 Zest and Hurricane, alongside other players who have officially retired or are fulfilling military service have been removed from the rankings.
Current global wildcard standings:
#1: Zoun - 1106 points*

#2: ShoWTimE - 742 points

#3: Lambo - 740 points

#4: DongRaegu - 716 points

#5: ByuN - 705 points

#6: RagnaroK - 697 points

#7: Nice - 671 points

#8: MarineLord - 559 points

#9: Elazer - 552 points

*Zoun is extremely likely to qualify through the Korean rankings and be taken off the wildcard list. DRG or RagnaroK must win the DHM Last Chance championship for Zoun to advance via wild card. Either way, Zoun is guaranteed a RO24 spot.
Going all-in at DHM Last Chance: DongRaeGu (716 points), Elazer (554 points), RagnaroK (697 points)
Among the players who can change their fortunes in the final week of regular EPT play, these three are the only ones who qualified for the potential points bonanza at DHM: Last Chance.
The RO24 cutoff in Europe is 6th place, which leaves
Elazer
(#9, 554 points) trailing far behind Lambo (#7, 740 points) and ShoWTimE (#6, 742). However, the 190 points from a top four finish at DHM Last Chance would put Elazer right back in the mix, whereas second place or higher would see him vault over his German rivals. While top four is a long shot for Elazer, it's not out of the question. He's been drawn into a RO16 group with Rogue, TIME, and Zest—not the most consistent players in the world—and he has a puncher's chance of advancing. If he could draw a lucky RO8 match-up after that, then he could nab a Katowice group seed in dramatic fashion.
Elazer might want to get a few more points from the final week of ESL Open Cups as a buffer. It would be a shame if Elazer actually did make an underdog run to the top four of DHM Last Chance, only to fall a few points short of ShoWTimE/Lambo due to their ESL weekly cup performances.
While Korea's internal standings can technically change, the current seeds seem
extremely
likely to hold until the very end. Zoun (#9th, 1106 points) currently holds the final RO24 group stage seed (assuming Zest forfeits due to military as mentioned above).
DongRaeGu
(#10, 716 points) and
RagnaroK
(#12, 697 points) are qualified for DHM Last Chance while Zoun is not, so they technically have a chance to overtake him. Unfortunately, the point gap for them is so large that they would have to win the tournament outright to do so.
A more realistic RO24 qualification scenario for these two is simply getting enough points to cinch the global wildcard. At the moment that would go to ShoWTimE (742 points), but DongRaeGu (716) will
very
likely surpass him with a top eight finish (+80 points) at Last Chance or better. The situation is similar for RagnaroK (697 points), though he would have to hope DongRaeGu performs worse than him at the same time.
At this point, one might even see DongRaeGu as the favorite to overtake Lambo/ShoWTimE and win the global wildcard. Even a 3rd place elimination from the group stage (meaning he just has to win one BO3 series) would give him 35 more EPT points for a total of 751. If I had to guess, this is where the closest competition in the standings will occur: whoever finishes #7 in Europe vs DongRaeGu for the wildcard at the 750~760 points range. On that note…
Grinding the weeklies and hoping everyone else fails: ShoWTimE (742 points), Lambo (740 points)
Barring an incredible run from Elazer at DHM: Last Chance, whoever finishes with more points between
Lambo
and
ShoWTimE
will claim Europe's final RO24 seed as the sixth place regional player. With neither player qualified for DHM Last Chance, they need to grab as many EPT points as possible in the last week of ESL Open Cups. While the two players pulled double duty in AM/EU in the previous weeks, neither bothered to give Korea a shot. The KR cup is an unpredictable tournament that can be shockingly weak or ludicrously strong depending on who decides to participate—even NightMare has been a runner-up—so the two Germans might want to put their Zest-hats on and give the cup triple a try in the final week. Even the +2 points from a top four finish in Korea might end up making a difference, given how close it is between the two.
Interestingly enough,
both
Lambo and ShoWTimE can cinch a RO24 spot due to the global wildcard, as mentioned above. If none of Elazer, RagnaroK, and DongRaeGu can earn enough points at DHM Last Chance to surpass whoever finishes lower between ShoWTimE/Lambo, then that player would still get a RO24 spot as the wildcard. Conversely, there are very rare scenarios involving Elazer winning DHM Last Chance out right where
neither
ShoWTimE nor Lambo make the RO24. In any case, Lambo and ShoWTimE are highly incentivized to go all-out in the final EPT weeklies, as they have a very high chance of cinching an RO24 spot by their own merit.
Lurking around for an RO36 spot: herO (262 points) and SKillous (404 points)
Finally, we have two players who can gain an indirect windfall benefit due to the wildcard.
SKillous
and
herO
are the two players who are one rank outside of RO36 play-in stage qualification in their regions. If a player from their region wins the wildcard, then one more RO36 spot would roll down to them. Neither SKillous nor herO can actually improve their chances themselves—they can only stand by to see what happens.
---
Credits and acknowledgements

Writer: Wax
Stats: Aligulac.com & Liquipedia
Images & screen captures: ESL, Liquipedia