2021 AfreecaTV GSL Super Tournament 3


The final day of Super Tournament 3 looks to be a Terran vs Zerg extravaganza, with

Cure vs

Rogue and

Solar vs

Maru being set as our semifinal matches.

The Super Tournament will conclude on Thursday, Dec 02 8:00am GMT (GMT+00:00) with the semifinals and grand finals, bringing an end to the 2021 GSL season.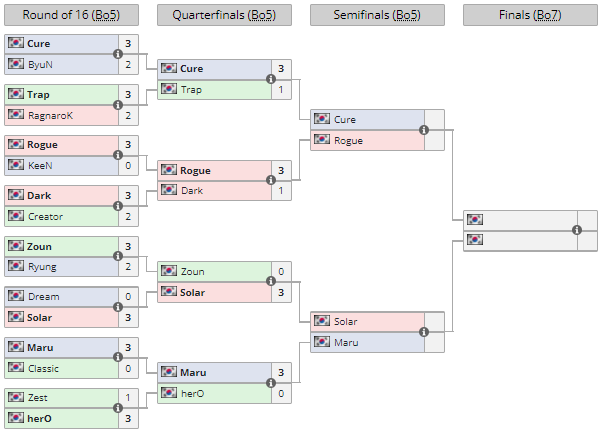 The quarterfinal matches came up on the cheesy side, starting with

Rogue and his 3-1 victory over

Dark. The first map on Blackburn was quite the spectacle, with Rogue no-scout countering Dark's fast gold expansion with his own gold expansion... directly behind Dark's own gold minerals! Yet, despite destroying Dark's fast gold base with Spine Crawlers from his proxy-hatch/expansion, it took Rogue quite a while to close the game out. Dark somehow forced Rogue into a 20+ minute macro game before finally tapping out due to the resource disadvantage. The rest of the games in the series were rather quick and one-sided, with the success or failure of all-ins determining the victor.



Cure vs

Trap picked up where their GSL semifinals series left off, with proxy-tactics figuring heavily on both sides. Still, not all the games were directly decided by who got a leg up in the early mind-games, and Cure took his 3-1 victory with all-around superior play. All-in-all, it was a series that once again reminded us of how different GSL matches and all other tournament matches can look.

Is the wife-buff for real? With his wife in attendance for his second straight match (the AfreecaTV studio recently opened back up),

Solar took his second 3-0 sweep of the tournament against

Zoun. No Queen-walks were required to defeat the 2-Stargate style, as Solar overpowered Zoun with great control of his Viper-Brood Lord-Hydra swarm in one game, and with Muta-Corruptor in another. Zoun tried to throw in one of his oft-used strategies in [Disruptor-drop -> Colossus all-in], but Solar was perfect on defense as well.

Finally,

Maru took his expected 3-0 sweep over

herO, but the DPG Protoss did manage to keep Maru on his toes with a variety of unorthodox openers. Despite herO's intent to flummox Maru early, the most memorable game of the series was a 30+ minute split-map war. Having given up the smallest of early leads to herO on Glittering Ashes, Maru seemed to think 'f*** it' and switched to all-out turtle mode. As is most often the case when Maru turtles, his opponent couldn't find a way to unlock the Terran defenses and was eventually worn down.