World Team League - 2021 Winter Season
by: Wax
With over half the regular season in the books, it seems safe to say the Rebellion is for real. The upstarts from Shopify took an ace match victory over KaiZi in week six, maintaining their position at the top of the table. With matches against DPG and Team NV in the second half, Shopify may find it hard to hold onto that perch—but at the very least, the once-underdogs seem assured of a high playoff seed.
Meanwhile, Afreeca Freecs took a pivotal victory in week six, defeating Dragon Phoenix Gaming in an ace match to remain in the playoff mix. While it's too early to say the Freecs have weathered the storm, it was an encouraging win after a series of underwhelming early season performances.
Another team that continued to build momentum was the delightful Team GP. The Gon Pack continued to be the clutchest among the clutch, winning its fourth ace match of the season against PSISTORM Gaming. Team GP are only a handful of points above the playoff cutoff, and there's a decent chance that the clock will strike midnight in the second half. But any fans with a heart will hope that the fairy tale keeps going.
Week seven sees the playoff race heat up for teams on the bubble, with Team GP, TL, Afreeca, Alpha X, and PSISTORM all desperate to gain whatever points they can.
Week seven matches have been rescheduled to Nov 16-18 due to DreamHack Masters: Winter
Week 6 Results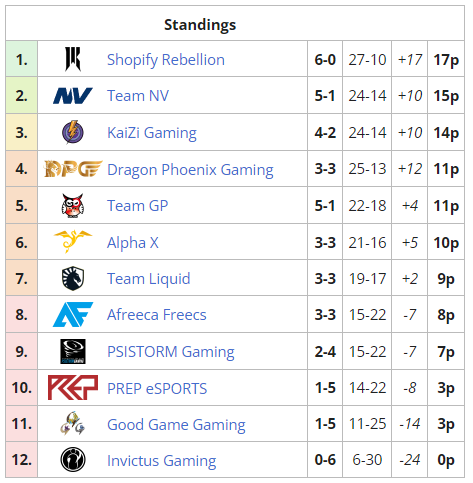 Top 7 teams qualify for the playoffs.
Points are awarded as follows:

3 points for a victory in a series that does not require an ace match

2 points for a victory in a series that requires an ace-match

1 point for a loss in a series that requires an ace-match

0 points for a loss in a series that does not require an ace match
KaiZi Gaming 3 - 4 Shopify Rebellion
Watch VOD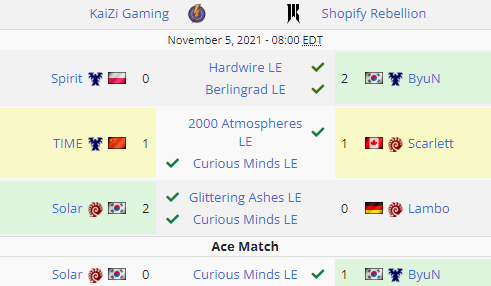 Shopify prevailed in a clash between the #1 and #2 teams in the league, opening up a 2 point lead on KaiZi Gaming.
SR.ByuN
got his team off to a strong start by taking two maps off
KZ.Spirit
in straight-forward fashion. Both games saw Spirit try to duel ByuN in mid-game Marine-Tank wars, but ultimately fall behind to the Korean speedster in both pace and positioning.
SR.Scarlett
then put the Rebellion at match point with a victory over
KZ.TIME
on 2000 Atmospheres, using Muta-Ling-Bane to dominate the map before finishing her opponent off with Ultralisks. However, Scarlett could not apply the
coup de grâce
on Curious Minds, instead spending most of the game being battered by TIME's infantry marches until she had to surrender.
KZ.Solar
showed Korean ZvZ was stronger than European ZvZ on the night, taking down
SR.Lambo
and setting the table for a potential comeback victory. Lambo's attempt to play a Mutalisk-based style backfired in game one, as he was unable to contain Solar's Hydra-Infestor-Roach swarm and GG'd out to its superior firepower. The German Zerg had a chance to finish KaiZi off after taking a small early game lead with a Zergling-Baneling attack in game two, but he Droned up too hard and ended up surrendering to Solar's decisive Roach strike.
Shopify brought
SR.ByuN
back out for the ace match on Curious Minds, while KaiZi unsurprisingly gave
KZ.Solar
the nod. A reverse-sweep seemed to be within Solar's grasp after he deflected ByuN's early Hellbat push, putting himself in a great economic situation. However, Solar was painfully indecisive and sloppy when ByuN moved out with Marines and Tanks, bleeding away units before finally committing to a belated defensive battle. ByuN was able to smash through the Zerg forces and Shopify breathed a sigh of relief.
Team GP 4 - 3 PSISTORM Gaming
Watch VOD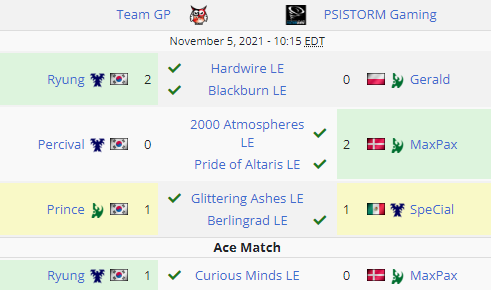 Loveable underdogs Team GP continued their magical run, winning a fourth ace match victory with a fourth different ace player.
GP.Ryung's
trickery allowed him to draw first blood in his match against
PSISTORM.Gerald
, going for a 'fake' expansion while hiding a quick second Barracks for a fast Marine-Marauder attack. Gerald simply did not see this coming, and was forced to GG out quickly to the early assault. The Polish Protoss was the one trying to get one over on his opponent in game two, opening with an unusual fast Void Ray build. This didn't quite have the intended result, and Gerald ended up being dragged into a longer macro game with Ryung. After battling it out all over Blackburn in a close fight, Ryung's late addition of Liberators was able to turn the tide and put Team GP up 2-0.
GP.Percival
also brought some more cheese to the table in his battle against PSISTORM's ace
MaxPax
, striking early with a proxy-Starport Hellion drop to do major economic damage. While MaxPax was able to inflict some damage of his own with his Blink Stalkers, he still faced an uphill battle headed into the mid-game. Still, MaxPax was able to show why he's one of the fastest rising Protoss players in the world, holding out against wave after wave of Terran attacks. Eventually, the arrival of Disruptors swung the momentum in MaxPax's favor, and he was able to rout the Terran armies to win game one.
It seemed that Percival's takeaway from game one was that his cheese hadn't been extreme enough, as he went for a 3-Barracks all-in strategy (with two hidden out on the map) in game two. Unfortunately for Team GP, MaxPax sensed something was amiss, and readied the Sentries and Shield Batteries needed to execute a game-winning defense.
Team GP's penchant for zany strategies continued to be on display in the next match. Due to a brilliant read by
GP.Prince,
or perhaps simply because of dumb luck, the Protoss player's fast Void Rays ended up hard-countering
PSISTORM.SpeCial's
attempt to play Battlecruisers into mech. SpeCial was basically doomed from the start, and ended up GG'ing out against an overwhelming force of Void Rays and Carriers. Bio-based TvP went much better for SpeCial in the following game, where in the absence of any significant early game swings, he was able to overpower Prince in the mid-game.
In the ace match,
MaxPax
was the obvious choice from PSISTORM as their final champion, whereas Team GP decided to field their fourth different ace player in
GP.RyunG
(while Team GP technically have other players on their roster, this means that every player who has actually played in WTL has also been fielded in a ace match).
MaxPax seemed to get off to a reasonable start, deflecting RyunG's mine drop and follow-up Banshee harassment without taking major damage. However, when the Banshees joined up with Ryung's Tanks and Marines, it presented a powerful early-game threat. The attack was so potent, in fact, that MaxPax was unable to handle it at all, and GG'd out to give Team GP yet another dramatic victory.
Invictus Gaming 1 - 5 Alpha X
Watch VOD (CN)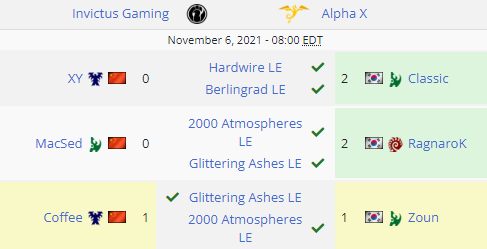 After a feisty performance that yielded them two maps against Team NV, Invictus Gaming returned to their 1-5 ways against the Golden Dragons from Alpha X.
αX.Classic
was up to his tricky ways against
iG.XY
, going for a 2-gate (one proxied) strategy off one base with a follow-up Stargate. Is the strategy any good? We didn't get to decide, as the game was effectively over when XY flew his full Medivac straight into Stalkers and Phoenixes. The second game only went marginally better for XY, as his Mine-drop into Tank-push strategy was summarily dispatched by Classic's defensive Phoenixes.
iG.MacSed
brought 2-Stargate Void Rays to bear in two games against
αX.RagnaroK
, which the Alpha X Zerg responded to by taking him out with two different Queen-walk strategies. The first one on 2000 Atmospheres was of the vanilla variety, inflicting heavy damage at around the six-minute mark. The game ended up dragging out for quite a while after that, with RagnaroK taking his sweet time finishing MacSed off. RagnaroK's second Queen Walk came later at nine-minutes, pairing Queens with Corruptors to smash a semi-assembled Sky-toss army.
After a rough start to the season,
iG.Coffee
managed to take a map for Invictus Gaming for a third straight week. This time,
αX.Zoun
was the victim, falling to Coffee's fast Marine-Tank push with a delayed starport. Despite being able to sneak in a hidden third base, Zoun was unable to break through the Bunker-Tank containment line set up outside his base and GG'd. Still, Zoun would have the last word, as he took the sixth and final map. After inflicting a huge amount of SCV damage with what seemed like throwaway Blink-Stalker harassment, Zoun snowballed his economic lead into an easy win.
PREP eSPORTS 2 - 4 Team Liquid
Watch VOD (CN)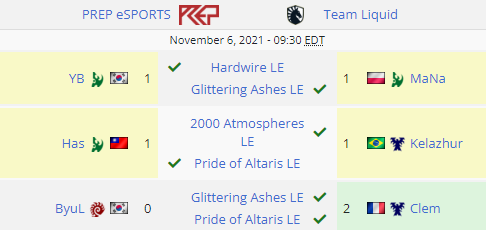 Though PREP eSPORTS ended up conceding their fifth straight loss with a 2-4 against Team Liquid, they might be able to take some heart from ByuL's valiant effort against Clem. Similar to his match against Cure, ByuL kept things surprisingly close against a top-tier player—he might be someone to look out for in the months to come.
But before we can get to Clem vs ByuL, we have to start with
PREP.YB
vs
Liquid`MaNa
. YB also put in a good performance for PREP eSPORTS, taking game one by overpowering MaNa with a superior Stalker-Immortal force. The former CJ player seemed like he was on the verge of 2-0 in game two, with his Adept-Immortal-Archon composition seemingly countering MaNa's conventional Zealot-Immortal-Archon in the mid-game. However, the clutch arrival of MaNa's Disruptor saved the day for Team Liquid, with a huge Purification Nova wiping out the Adepts and allowing MaNa to tie the series.
Liquid`Kelazhur
brought out one of the strategies from the previous day against
PREP.Has
, going for a 'fake' expansion into a fast 2-Barracks Marine-Marauder attack similar to GP.Ryung's. On the other side of the map, Has was going for a cheesy strategy of his own, proxying a Gateway to go for some 3-Gateway pressure. While both players ended up taking some damage, this low-econ skirmishing ended up favoring Kelazhur who won easily once Stim and Medivacs kicked in.
Has got his revenge in a very Has-esque way in game two, starting with two proxy-Gateways and a proxy-Stargate, then half-committing to a Void Ray all-in, before finally changing his mind and expanding to play out a normal-ish game. Whether it was planned beforehand or improvised on the fly, this series of weird decisions discombobulated Kelazhur, who ended up losing to a slew of Stalkers and Void Rays.
Expected to get crushed by
Liquid`Clem,
PREP.ByuL
scored something of a moral victory by forcing two, thirty-minute games out of the Liquid ace in losing efforts. ByuL looked very comfortable playing with swarming Lair-stage compositions—even taking a huge lead on the Zerg-favored Pride of Altaris—but was outmatched once he was forced to transition to Lurker-based armies in the late-game. Clem was able to get ridiculous value out of his Ghosts, out-trading his opponent and eventually bleeding him dry in both games.
ByuL's play was actually quite reminiscent of DongRaeGu, another Lair-stage TvZ master from a bygone era. Both players have looked dominant in mid-game TvZ, but fall apart when using Hive units against turtling Terrans.
Dragon Phoenix Gaming 3 - 4 Afreeca Freecs
Watch VOD (CN)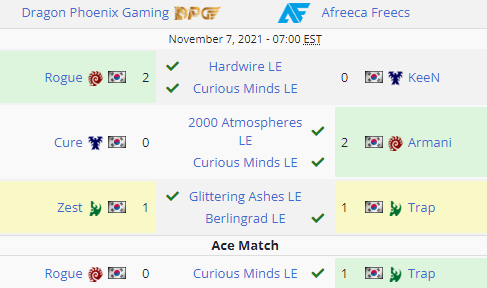 Armani's inability to support Trap had much to do Afreeca's struggles in previous weeks, but he finally came up with a clutch performances to help deliver a major upset victory for the Freecs.
The series started inauspiciously for the Freecs, with
AF.KeeN
getting bowled over by
DPG.Rogue's
Roach-Ravager on Hardwire. KeeN managed to get ahead with good Hellion-Banshee harassment in game two, but gave that lead back to a massive Ling-Baneling run-by that completely swung the momentum in Rogue's favor. From there, it was all too easy for Rogue to lock in the 2-0 start.
Facing a daunting challenge in reigning Code S champion
DPG.Cure
,
AF.Armani
managed to dig deep and rescue his team with a fantastic performance (perhaps with an assist from a dodgy Cure). Game one on 2000 Atmospheres looked like it was headed to an easy victory for Cure, who seemed completely comfortable going to the late-game after his mid-game mine-drops inflicted brutal damage on Armani's Drone lines. However, Cure ended up showing mind-bogglingly sloppy army control against Armani's Lurkers, which ended up with him losing to the first major Zerg attack.
Armani then finished the job on Curious Minds, going for a Roach-Ravager all-in with a dropper-lord full of Queens in support. This worked beautifully against Cure's Hellion-Banshee opener, giving Armani the 2-0 win to tie the series.
DPG.Zest
put the Freecs up against the ropes, scoring a one-sided victory against
AF.Trap
following the success of his proxy-Oracles. However, Trap was able to recover in game two, outmaneuvering his opponent in the deadly disruptor dance to force an ace match.
AF.Trap
was immediately sent back into action for the ace match, while DPG decided it was
DPG.Rogue's
turn to try and finish the job this time around—remember, Dark infamously lost to Cham in the week 1 ace match against Team GP. Unfortunately for Rogue and DPG, he wasn't able to do a much better job.
Trap turned to a variant of a strategy that had been popular during the summer, starting with a Disruptor drop, adding a Colossus, and following with a 2-base timing attack. Trap's initial harassment worked beautifully to soften Rogue up, which allowed him to finish the DPG ace off with the follow-up attack.
Team NV 5 - 1 Good Game Gaming
Watch VOD (CN)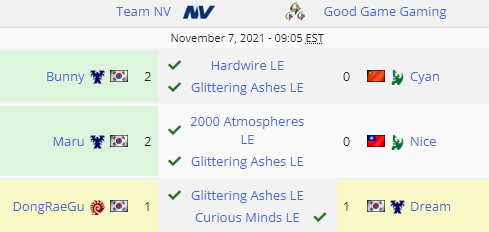 Drawing a number of favorable match-ups, Team NV were able to easily take care of business against Good Gaming Gaming and climb to #2 in the rankings.
NV.Bunny
didn't have much trouble dispatching new DHM China champion
GGG.Cyan
, taking a quick 2-0 win. Game one saw Cyan unable to achieve much with his 4-Gate Blink-Stalker attack, which led to a rather straight-forward loss once Bunny gathered his army and marched out (a backdoor drop that killed key High Templar helped). Cyan then tried to make a defensive Stargate build work against Bunny in game two, but couldn't quite get splash damage units in time to survive Bunny's infantry onslaught.
GGG.Nice
got off to a curious start against
NV.Maru
by deploying a bit of deception (intentionally or not), responding to an Engineering Bay block by taking his expansion Nexus at his third base. Not seeing a Nexus early, Maru was led to believe an all-in must be coming, which he hastily scrambled to defend. Regardless of this wonky start, Maru couldn't be stopped from doing Maru things, and he still won with mid-game bio attacks.
A similar early-game scenario ensued in game two, but only this time, Maru actually scouted Nice's Nexus at his third base. Maru took advantage of Nice's spread-out positioning by simply running Hellions straight into the Protoss main, taking out several Probes. It's already hard enough to beat Maru when you're on even footing, so you can imagine how this game ended.
GGG.Dream's
streak of overly predictable proxy-Barracks strategies continued, as he attempted a 3-Barracks variety against DongRaeGu on Glittering Ashes. An early Drone scout alerted DRG to the threat, so he was able to hold it off without much trouble. DRG actually got a little lax about his defense against the second wave of Marines + SCVs, but still had enough Roaches out in time to hold on for the win.
The second game proceeded in similarly one-sided fashion, this time with DongRaeGu unable to get much done with an early Roach poke. Dream countered with some effective Banshee harassment, following with an infantry push to take an easy win.
After weeks of lackluster showings,
AF.Armani
redeemed himself by coming up with a critical 2-0 victory against Code S Champion DPG.Cure. While Cure's play was somewhat sloppy, it was still a high-quality win against a championship-tier player that led to a team victory.
In terms of net map score, Armani was actually outdone by both
SR.ByuN
and
GP.Ryung
who both notched 3-0 records—2-0 Spirit, 1-0 Solar for ByuN, and 2-0 Gerald, 1-0 MaxPax for Ryung. However, not all wins are created equal—at least in my system of judging "value" for weekly MVP—and I would argue that Armani's 2-0 against Cure was a more impressive and meaningful accomplishment.
Another worthy candidate was
AF.Trap
, who went 1-1 with DPG.Zest before defeating DPG.Rogue in the ace match. I consider Rogue, Zest, and Cure to be similarly difficult opponents for the sake of the MVP award, so I valued Armani's 2-0 as a greater contribution than Trap's 2-1.
Weekly MVP's
Week 1: GP.Cham

Week 2: NV.Bunny

Week 3: PSISTORM.MaxPax

Week 4: GP.Prince

Week 5: AF.Trap

Week 6: AF.Armani
Week 7 Preview
Tuesday, Nov 16 12:00pm GMT (GMT+00:00) Matches
You would have expected this to be a full-out revenge match for DPG, considering that they lost to Team NV in the grand finals of WTL Summer. Instead, they've made the perplexing move to bring herO out for a spin—a move that might very well backfire as he faces the deadly Maru.
Even if herO is doomed to a 0-2, DPG might still take this series anyway. Dark is an incredible ZvT player, and even the recently surging Bunny would be hard pressed to beat him. DPG is also fortunate to draw a DongRaeGu in his worst match-up of ZvP, with Zest seeming very likely to score a 2-0.
If DPG had just placed Cure or Rogue in the middle spot, then this would have been a slam dunk series of match-ups for them. Instead, they've opened themselves up to a lot of unnecessary risk.
Prediction:
Team NV 2 -
4 Dragon Phoenix Gaming
KaiZi Gaming vs PREP eSPORTS
Solar
< Curious Minds >
Has
Spirit
< Blackburn >
ByuL
TIME
< Berlingrad >
YB
Ace Match
:
< Hardwire >
This is a surprisingly tricky match for KaiZi, though I expect them to escape with the win.
Has has been excellent so far in his debut WTL season (7-3 record), and his bizarre strategies seem to guarantee him at least one map win against anyone. While he's lucked out a bit in terms of opponents, I feel like he could steal a map off Solar here.
Maybe it's just me, but I've really liked what I've seen from ByuL despite his awful record (1-7). His ZvT has looked extremely strong at times, and it feels like he was unlucky to face juggernauts like Cure and Clem. This match against Spirit will help better calibrate my opinion, but my gut feeling is to say ByuL will take the 2-0.
YB got a solid win on the board against MaNa last week, but his overall performances so far have been underwhelming. On the other hand, TIME's TvP hasn't looked so hot lately, either. I feel like TIME should be favored here, but a 1-1 tie wouldn't shock me.
In any case, if this goes to an ace match, I think Solar will be able to take care of business.
Prediction: KaiZi Gaming 4
- 3 PREP eSPORTS
Wednesday, Nov 17 12:00pm GMT (GMT+00:00) Matches
Shopify will look to bank one more 'easy' win before they head into a closing stretch that includes potentially tough matches against TL, Team NV, and DPG.
The match-ups look absolutely atrocious for Invictus Gaming, with ByuN seeming to have shored up his TvT, Lambo being a strong ZvP player as ever, and Scarlett being in great overall form as of late. Honestly, it's hard to think of a match-up configuration that would have favored iG—this was always going to be a tough match. Still, given Scarlett's occasionally shaky early-game defense and the placement of her match in the potential 'garbage time' slot, I think Coffee will keep his tie-streak alive for another week.
Prediction: Shopify Rebellion 5
- 1 Invictus Gaming
Aligulac.com sees Harstem as a slight favorite against Nice, while the ratings website rates MaNa vs Rattata as nearly dead even. On the whole, I see 2-2 being the most likely outcome coming out of those matches.
Normally, Clem drawing a TvT against a Korean Terran would have been cause for alarm, but Dream has looked rather mediocre since the conclusion of Code S Season 3 and has been especially disappointing in WTL. While Dream was once one of the heroes of the SCBOY Team Leagues, I don't think he's in a position to trouble Clem now.
Prediction: Team Liquid 4
- 2 Good Game Gaming
Thursday, Nov 18 12:00pm GMT (GMT+00:00) Matches
As said above, any fan with a heart is morally obliged to cheer for Team GP and hope they keep their miraculous run going. There's really no good explanation as to how they've managed to put up a 5-1 record with four ace match victories, except to assume there's some benevolent, magical force watching over them.
Prediction:
Afreeca Freecs 3 -
4 Team GP
This is an incredibly important match for PSISTORM Gaming, as they could gain points at the expense of a direct competitor for a playoff spot.
In that regard, it's a bit of a surprise to see GuMiho return to the roster after being benched for a few weeks. Sadly, the GuMigod has been largely disappointing in his return, and has a 0-4 record in WTL. Having to face RagnaroK—who he lost to twice in the recent Super Tournament qualifiers—is hardly the return match he would have hoped for.
MaxPax vs Astrea is an intriguing battle between two of the top PvP players from their regions, both of whom are more than willing to make things weird and cheesy. Their duel during the summer season ended in a 1-1 tie, and it feels like we're headed to the same result.
While SpeCial's attempt to show us mech TvP was foiled by Prince's even weirder Skytoss strategy in week 6, it shouldn't distract from the fact that SpeCial is enjoying one of the better TvP stretches in his career. Even against a formidable player like Zoun, I think he'll be able to force the 1-1 tie.
Prediction: Alpha X 4
- 2 PSISTORM Gaming
---
Credits and acknowledgements

Writer: Wax
Stats: Aligulac.com & Liquipedia
Images: SCBoy