World Team League - 2021 Winter Season
by: Wax
Three weeks in, WTL Winter seems to be the most exciting incarnation of the SCBOY team league yet, with the rankings thrown into complete disarray due to a series of unbelievable upsets.
Team GP was at the center of the storm yet again, following its week one upset over Dragon Phoenix Gaming with a victory over KaiZi Gaming as well. PSISTORM Gaming got in on the underdog action as well, taking a 4-2 victory over Afreeca Freecs—though some may suspect that Afreeca Freecs is a sheep in wolf's clothing.
For now, Shopify Rebellion has risen to the top of the melee, one point clear of Team NV (the only title favorite that is performing as expected). However, considering that Shopify has faced a relatively easy slate of games so far, its fortunes could be subject to drastic change.
Week four of WTL has been rescheduled to October 25-27 at 12:00 GMT (+00:00) to avoid conflicts with StayAt HomeStory Cup. Week five will be played on its normal Fri-Sun schedule (Oct 29-31).

Also, WTL will be switching to the new ladder maps in week four, with Frost, Oblivion and Overgrowth leaving the pool.
Week 3 Results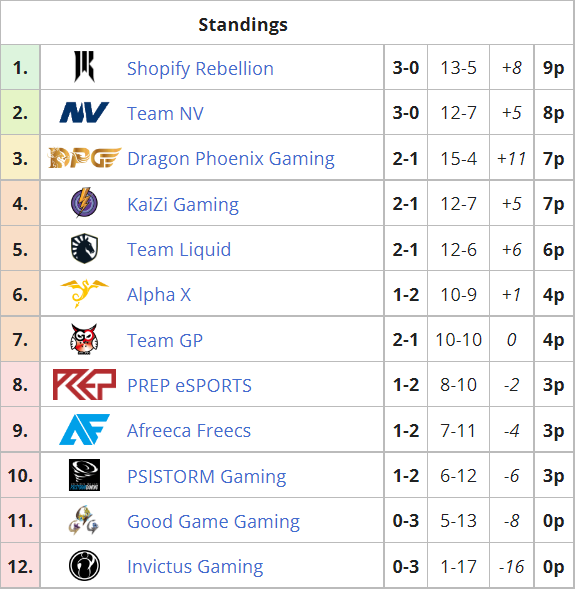 Top 7 teams qualify for the playoffs.
Points are awarded as follows:

3 points for a victory in a series that does not require an ace match

2 points for a victory in a series that requires an ace-match

1 point for a loss in a series that requires an ace-match

0 points for a loss in a series that does not require an ace match
Team NV 4 - 2 PREP eSPORTS
Watch VOD (CN)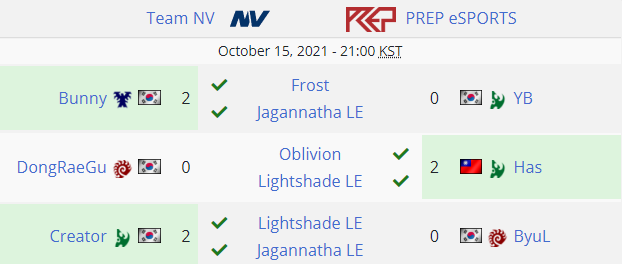 Unlike some other players that we'll get to later,
PREP.YB
didn't try to take full advantage of the last week of Frost, instead going for a 'regular' 2-base Chargelot all-in against
NV.Bunny
. Alas, the drastic stratagem failed to do fatal damage, and YB GG'd out after his all-in ran out of steam. YB's attempt to go for a THREE-base Chargelot all-in didn't go much better in the next game, and Bunny put Team NV up 2-0 to start.
Despite the bad start, PREP tied things up in short order as
PREP.Has
took a 2-0 against
NV.DongRaeGu
. Though DRG had shown improved early game defense in recent games, he wasn't able to handle Has' cannon-rush into proxy-Void Ray on the first map. The clever strategy used cannons to take out the initial expansion Hatchery, with Void Rays then destroying the replacement expansion at the Zerg third (the Void Rays being well-timed to kill the Hatchery before Queens and Ravagers could bust out of the Zerg main). DongRaeGu tried to get Has back with a 12-pool on Lightshade, but Has showed some surprisingly good defensive micro (apologies to Has for the backhanded compliment) to survive with a significant lead. DongRaeGu went for a desperation follow-up all-in with Ravagers, but surrendered after being repulsed yet again.
Fortunately for Team NV, they could rely on
NV.Creator
to continue his recent run of good form as he 2-0'd
PREP.ByuL
to lock in the win. Creator took the first game in a protracted game on Lightshade, eventually forcing ByuL to take a losing basetrade with Hydra-Lurker against a Carrier-based Protoss force. Creator then closed things out on Jagannatha, making a decisive strike with Stalker-Disruptor to annihilate ByuL's Brood Lords and their Baneling escort.
Shopify Rebellion 5 - 1 Good Game Gaming
Watch VOD (CN) Part 1 - Part 2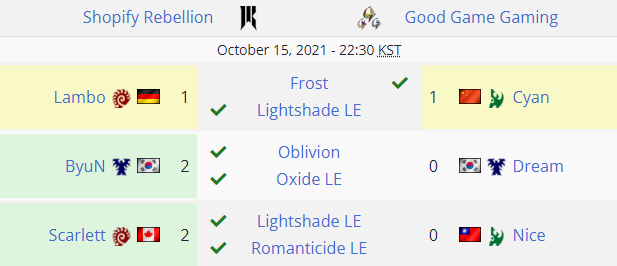 GGG drew first blood in the match, as
GGG.Cyan
leveraged diagonal start positions on Frost to play a greedy 2-Stargate build into fast Skytoss.
SR.Lambo
went for a kind of delayed Queenwalk at around the nine-minute mark in the game, which achieved marginal success but ultimately put him behind against his high-tech opponent. Lambo tried to make a belated transition to Hive tech units, but was forced to GG out to a Skytoss armada backed by plenty of Psi Storms. Cyan changed his focus to the early-game on Lightshade, but failed to get much done with his early Oracle + Adept harassment. This allowed Lambo to get the economy and tech advantage this time around, and he trampled over a Stalker-centric force with his Hydralisks and Lurkers.
Sadly for GGG, Cyan's single point was all the team would take on the day as Shopify's players would win out in the remaining matches.
SR.ByuN
started his series against
GGG.Dream
by piloting his 2-Rax Reapers to an early lead on Oblivion, and then took all the steam out of Dream's attempts at a comeback with stinging mid-game drops. The next game on Oxide saw the two players start on more even footing, but ByuN seized the lead with a diversionary drop followed by Tank push. Dream struggled to keep pace with ByuN once he ceded the initiative to his foe, and eventually GG'd out after a failed desperation push.
SR.Scarlett
landed the knockout blow in the following game, where
GGG.Nice
let his guard down and allowed Zerglings slip into his main despite scouting his opponent's pool-first build. Scarlett repaid the favor by allowing some Adepts to slip in and cull a handful of Drones, but it was only a minor nuisance before she ended the game with a Queen-Ravager walk. With all three points already in Shopify's hands, the two players headed to Romanticide to play for map differential and pride. One of those 'classic' Scarlett late-game ZvP's ensued (forcing the VOD to be split into two parts; part two being SOLELY this game), and her considerable experience in such scenarios shined as she ground out a win.
Afreeca Freecs 2 - 4 PSISTORM Gaming
Watch VOD (CN)
After eating a demoralizing 0-6 defeat at the hands of Team Liquid in week two, PSISTORM Gaming bounced back with a huge win against the Afreeca Freecs.
It all started with
PSISTORM.SpeCial
getting a 1-1 tie against former housemate
AF.Armani.
The Afreeca Zerg's Gas-Pool opener on Frost could have been a winning gamble against SpeCial's no-scout start on Frost... ....if only Armani had worker-scouted himself! Instead, Armani ended up sending his Zerglings in the wrong direction initially, giving SpeCial just enough time to complete his low-ground expansion. While SpeCial could have effectively ended the game with his Hellbat counter-attack, he had to settle for 'merely' doing solid damage. SpeCial put a chokehold on Armani from there on out, keeping him pinned in one quadrant of the map with Bio-Mine. Even the arrival of Lurkers couldn't change Armani's fortunes as SpeCial rolled to a win.
Armani decided to go for the full old-maps package by picking Overgrowth as the second map, which SpeCial responded to by going for a proxy 2-Barracks all-in. Armani's Overlord scout caught the cheese early, however, allowing him to pull Drones early to execute a reasonably solid defense. SpeCial tried to go for a greedy double-expansion with fast BC's to try and come back from his deficit, but a Ling-Ravager attack followed by Corruptors brought an end to his campaign.
A duel between PvP masters from Korea and Europe ended in a decisive victory for
PSISTORM.MaxPax
, which turned out to be pivotal in PSISTORM's 4-2 victory. The young Dane went for his tried and true Stargate expansion in game one, which
AF.Trap
responded to with some one-Gate pressure with an offensive Shield Battery. Calm defense from MaxPax allowed him to brush off the early attack, and he subsequently took control of the game with Phoenixes. Trap's Blink-Stalker follow-up came too late and with too few units, running up against a sturdy Immortal-backed defense. Once MaxPax added Chargelots and Archons to his Immortals, it was all over for Trap. Even without the benefit of a ramped-off natural, MaxPax decided to go for another 1-Gate expansion on Jagannatha. His decision to go for a quick Immortal follow-up allowed him to defend easily against Trap's 1-base Blink Stalkers, and he once again strolled to victory with his superior force.
AF.KeeN
gave his team one last glimmer of hope on Lightshade, where his two-prong drop and frontal attack caused
PSISTORM.Gerald
to collapse on defense. However, KeeN was unable to force the ace match, as Gerald came through with a series-clinching victory on Blackburn. After fending off KeeN's Mine-drop and follow-up Tank-push, Gerald put together a powerful Chargelot-Disruptor-Colossus army that ended the game and the series.
Dragon Phoenix Gaming 6 - 0 Invictus Gaming
Watch VOD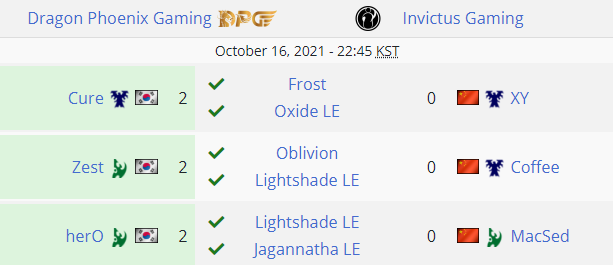 Regrettably, for fans who wanted to see entertaining StarCraft, the moral victory-seeking version of Invictus Gaming failed to show up to their match with Dragon Phoenix Gaming.
DPG.Cure
and
DPG.Zest
did a speed-run past
iG.XY
and
iG.Coffee
, securing all three points with a quick 4-0.
The games got slightly more interesting when
iG.MacSed
went up against
DPG.herO
, with the Chinese veteran actually taking a lead with herO's own signature unit of Blink Stalkers in game one. However, herO proved to be plenty good at wielding a different Protoss weapon in the form of Disruptors, and he thoroughly purified MacSed to lock in the 6-0 result.
Team Liquid 4 - 2 Alpha X
Watch VOD (EN)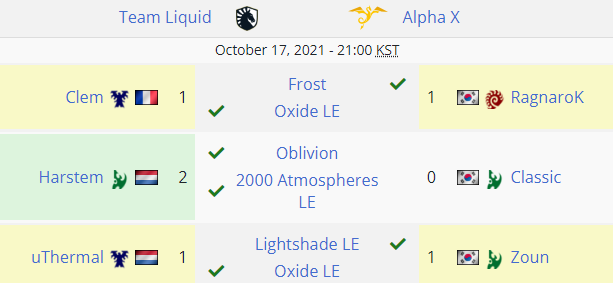 αX.RagnaroK
was one of the last players to benefit from the WTL's misadventures with ancient maps, as he picked up an easy first win against
Liquid`Clem
after drawing diagonal positions on Frost. Even the fearsome Frenchman had trouble crossing the halfway point of the sprawling four-player map, and was eventually swarmed over by mass Ultra-Ling-Bane. Clem didn't seem concerned about proving he was a better macro player on a 'fair' map, however, as he quickly evened up the series with a surprise 4-Barracks + SCV all-in (after expand) on Oxide.
The next series started off with a short but fiery game, with
Liquid`Harstem's
1-base Blink Stalker trying to take down
αX.Classic's
Stargate expansion. While Classic stayed in the game thanks to a couple of huge Stasis Traps in Harstem's mineral line, he was unable to overcome the continuing onslaught over Stalkers in the end. Harstem had an easier path to his second win of the series, using persistent Oracle harassment to gain an edge over Classic as they played out an otherwise normal macro game. Harstem finished things off with an advantageous basetrade, passing the baton to uThermal with Liquid up 3-1.
αX.Zoun
managed to keep his team alive for one more map, taking down
Liquid`uThermal
initially on Lightshade. Despite some early game slip-ups, the Alpha X ace managed to drag things out into a longer macro game, where his Disruptor-Colossus based army was able to over
tool
power the Terran bio. Liquid didn't have to sweat an ace match, however, as uThermal took care of business on Oxide. His proxy-Starport Hellion drop hit before Zoun's proxy-Gate Stalker attack, doing major Probe damage and taking the oomph out of the Protoss strike. uThermal was able to safely consolidate his lead into a GG from Zoun, securing the 4-2 win for Liquid on the day.
KaiZi Gaming 3 - 4 Team GP
Watch VOD (EN)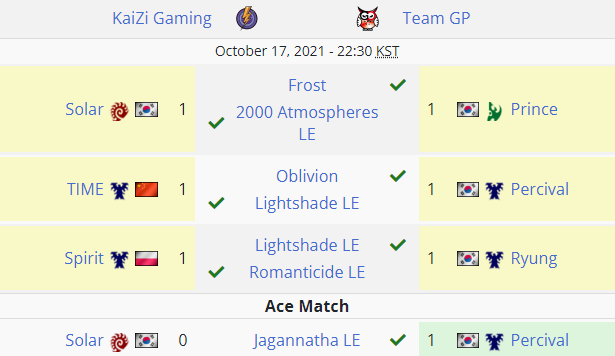 After scoring an unbelievable upset against Dragon Phoenix Gaming in week one, Team GP took down the other half of the Chinese power duo in week three. If Cham was the unlikely hero against DPG, this time it was Percival who punched several classes above his weight to throw the WTL into chaos.
GP.Prince
laid the foundations for the upset of the week by stealing a map against
KZ.Solar
to start the series. Starting on vertical positions on Frost (a point that would become very important later), Prince invested heavily into a cannon rush to destroy Solar's expansion. It turned out to be a worthwhile expenditure as Prince deftly transitioned into a surprisingly normal 2-Stargate Void Ray build, and then rushed directly into Skytoss while Solar was still trying to get his economy off the ground.
On another map, Solar might have been able to fight back once he started mass-Hydralisks production, but he found himself crippled by the vertical start positions. Prince had smartly made a round of Tempests before Carriers, and placed them on top of Frost's enormous equatorial ravine to nullify Solar's standard fourth base. Solar wasted precious time and resources trying to protect his fourth against the Tempests before finally giving up and establishing expansions at other starting locations—meanwhile Prince's Golden Armada only grew stronger. Once the deadly force of Carrier-Templar-Void Ray came knocking, Solar had no choice but to surrender the GG. It wouldn't be a proper Protossing without a bit of friendly (?) BM, and Prince capped things off by
holding up a piece of paper with the letters "EZ" written on it.
Prince had another cheeky strategy in mind in game two, but his proxy Pylon was discovered early and forced him to play a rather unremarkable 4-Gate Glaive Adept build instead. Or, at least it seemed unremarkable against Solar's solid defense, followed by a counter-attack which brought the score back to 1-1.
GP.Percival
kept the ball rolling for Team GP, taking down
KZ.TIME
on the next map. TIME's 2-Rax proxy Reapers couldn't dent Percival's 1-Rax 1-Fact opener at all, with the Team GP Terran even winning a Reaper-Hellion skirmish later on. Percival snowballed his lead beautifully, using his tech advantage to finish TIME with a quick Raven-Tank-Viking push. Percival looked like he might beat TIME with his own strategy in game two, as his 2-Rax Reapers forced an early cancel on TIME's expansion CC. However, when the balance sheets were settled, the game was actually in a fairly even situation. TIME ended up being the Terran to inflict crucial early-game damage, evading Percival's patrols and landing a deadly Marine-Tank drop from two Medivacs. TIME jumped out to a huge lead after killing twelve SCVs, after which he showed he could also close out games in clinical fashion.
GP.Ryung
capitalized on his teammates' good work in the following game, putting his team on match point by defeating
KZ.Spirit
. Ryung's Tank drop/harass opener inflicted quite a bit of damage to Spirit, which allowed the Team GP Terran to keep up the pressure with additional Tanks and reinforcements. This offensive ended up being too much for Spirit to handle, and he GG'd out of a surprisingly quick game. As with his teammates, Spirit was able to recover to a 1-1 draw after losing his initial match. Spirit outdueled Ryung in a straight-up macro game on Romanticide, with his control of the skies being the key to forcing an ace match.
By just forcing a point and stealing an ace match, Team GP had already achieved a massive success. But far from being content with that, Team GP actually went all the way and pulled off the ace match upset. The conquering hero was
GP.Percival
, who was sent out to face
KZ.Solar
on Jagannatha. Initially, it seemed like Solar might cruise to an easy win, as his early Baneling nest allowed him to shut down Percival's Hellbat rush with ease. Unfortunately for Solar, he didn't see Percival's follow-up Widow Mine drops (with Drilling Claws) coming, and he took crippling Drone damage just as he was about to establish a strong economy.
Percival took that opportunity to start a series of relentless attacks, pushing on the ground while continuing to drop Widow Mines from the air. Solar showed his class by just barely holding the line on defense, sending back wave after wave of Terran invaders while inching up to Lurker tech. The KZ ace actually fought his way into a position where one mistake from Percival might allow him to pull off a comeback... ...but Percival wouldn't make such a mistake. Instead, he methodically grinded Solar down until victory was all but assured, and even dropped a pair of
Manner Mules
to put his signature on Team GP's second momentous win.
Weekly MVP Award: PSISTORM.MaxPax
The MVP award for week three came down to a two-way race between
PSISTORM.MaxPax
and
GP.Percival
, both of whom contributed hugely to their teams' major upsets.
MaxPax won an unofficial battle of world PvP supremacy against Trap, with his 2-0 victory being the tipping point in PSISTORM Gaming's 4-2 victory over Afreeca Freecs. On the other hand, Percival went 2-1 in Team GP's 4-3 victory over KaiZi Gaming, tying TIME 1-1 and then defeating Solar 1-0 in the ace match.
While Percival's victory was certainly more dramatic, I think MaxPax scored the higher 'quality' victory. TIME and Solar are certainly good players—especially the latter in the case of Chinese Team Leagues—but they're not
quite
on Trap's level. Also, Trap is arguably the best PvP player in the world (even if he's fallen off a bit since the summer), which is even more credit earned for MaxPax.
If we gave a weekly TEAM MVP award, Team GP certainly would have taken the honors. However, this being an individual award, I have to give the nod to MaxPax.
Weekly MVP's
Week 1: GP.Cham

Week 2: AF.Bunny

Week 3: PSISTORM.MaxPax
Week 4 Preview
Monday, Oct 25 12:00pm GMT (GMT+00:00) Matches
There's some wonky history between the players involved in this match-up, which gives Alpha X a better chance that one might think at first glance.
If you recall, RagnaroK scored a 3-0 over Cure in Code A Season 2, which was the impetus for Cure changing his GSL approach to be more strategic/cheesy. While that ultimately paid off in Cure winning a Code S title, I don't think he's going to show any gratitude to RagnaroK here.
As for Rogue vs Classic, who can forget Classic's Shadow-stride into the sunset at BlizzCon 2019? While one would think a military-rusted Classic wouldn't stand a chance in this rematch, he's actually won two recent matches against Rogue in AfreecaTV World and at StayAt HomeStory Cup. This one smells like a draw.
Finally, Dark goes up against Zoun, a player who bizarrely seemed to have his number for a few weeks during the summer. Dark got a modicum of revenge in June's TSL7 with a 3-2 victory, but it wasn't exactly a convincing performance. I see this one going to a draw as well, but Zoun might force an ace-match if he really is Dark's kryptonite.
Prediction: Dragon Phoenix Gaming 4
- 2 Alpha X
The initial two matches seem awfully even, and I get the feeling that we'll conclude them with the series tied 2-2.
A few months ago, I'd have expected Clem to win easily in the pivotal match against Solar, but his recent TvZ losses have made me more optimistic about Solar's chances. Clem's 2-0 loss to DongRaeGu in week 1, and his map loss to RagnaroK in week 3 (albeit, on diagonal Frost) suggest that you don't have to be an S+ tier player to steal a series against Clem, and Solar could be up to that task. I'll predict Solar to tie the regular match, but still lose in the ace match.
Prediction:
KaiZi Gaming 3 -
4 Team Liquid
Tuesday, Oct 26 12:00pm GMT (GMT+00:00) Matches
Lambo and Trap meet again at an interesting juncture, with both players having fallen off from their summer peaks. Back then, Lambo Queen-walked his way past Trap's overly predictable style, leading Shopify to an upset victory against Afreeca in the WTL Summer Playoffs. In this burgeoning WTL rivalry, I see a 1-1 tie as the most likely outcome.
ByuN's TvT might be highly inconsistent as of late, so he's fortunate to face another inconsistent player in KeeN. While KeeN has shown rare flashes of top-tier play, it's hard to rate him as anything more than a fringe Code S player at the moment. It's not like ByuN is lighting up the GSL either, but he should still be able to take this match.
Armani has been in rather poor form since being eliminated from Code A Season 3, whereas Scarlett looked to be in great shape when she won DHM North America. I'm picking Scarlett to win this series and keep Shopify on top of the rankings for now.
Prediction: Shopify Rebellion 4
- 2 Afreeca Freecs
Team GP has been the delight of this season so far, toppling titans and vertically maneuvering its way up the rankings. Despite this, I'm predicting a loss for the underdog squad this week against Team NV, though I desperately hope I'm wrong.
To start, Percival should be ridiculously outmatched against his former mentor in Maru, who has been literally undefeated in TvT since TY went to the military.
Cham vs DongRaeGu seems like Team GP's best chance to muck things up, seeing as the Mexican Zerg took down both Rogue and Dark in GP's miracle match against DPG. Still, Cham followed that with a 0-2 loss to Scarlett in the following week, so it remains hard to judge what his real ZvZ level is. I'll say this one goes 1-1.
Creator has been in fantastic form in online cups lately, but you have to wonder if it will translate to a 2-0 against the cunning Prince. The team GP Protoss might be one-dimensional, but last week he showed us he
really
knows how to craft a strategy and abuse a map. With the advantage of playing on relatively fresh maps, he might be able to take a 1-1 tie.
Prediction: Team NV 5
- 1 Team GP
Wednesday, Oct 27 12:00pm GMT (GMT+00:00) Matches
Invictus Gaming vs Good Game Gaming
XY
< Pride of Altaris >
Dream
Coffee
< Glittering Ashes >
Vanya
MacSed
< Hardwire >
Nice
Ace Match
:
< Berlingrad >
It's been a pretty brutal season for Invictus Gaming so far, with its players only winning a single map in three matches. Considering that the PREP eSPORTS line-up of Bly, Has, and Puzzle was able to score a 6-0 against iG in week one, you have to be fearful that the GGG line-up of Vanya, Nice, and Dream (equal or better in every position) will inflict the same kind of punishment.
Still, MacSed has put up some decent resistance for iG in his previous outings, so I'll pick him to recover at least a map.
Prediction:
Invictus Gaming 1 -
5 Good Game Gaming
PREP eSPORTS have decided to go back to the chaos line-up in week four, sending out both Has and Bly. However, they both have difficult assignments in MaxPax and SpeCial, and I think the result of those matches will be 3-1 in favor of PSISTORM.
Gerald vs Puzzle is an interesting swing match—Aligulac gives Gerald a significant advantage, but I feel like Puzzle's rating hasn't caught up to his recent results where he tied Hellraiser and beat players such as SKillous, TriGGeR, and goblin. If we take them to be reasonable-ish proxies for Gerald, this should be a tie, if not a straight up win for Puzzle.
Prediction:
PREP eSPORTS 2 -
4 PSISTORM Gaming
---
Credits and acknowledgements

Writer: Wax
Stats: Aligulac.com & Liquipedia
Images: SCBoy