World Team League - 2021 Summer Season
by: TheOneAboveU
WTL returns from its halfway break with a pair of exciting Sunday matches. Alpha X will take on the Shopify Rebellion in a match that will be absolutely crucial for both team's playoff campaigns. If the Golden Dragons fail to take three clean points off the Rebels, their chance of making the playoffs will become very bleak indeed. Then, Team Liquid's three match winning streak will face its toughest obstacle yet in the undefeated Team NV. In Week 6, eXoN were able to take advantage of NV's decision to field a less-than-full strength squad, stealing a point off the Korean titans. Can TL hope to do the same against a fully activated Team NV roster?
Afreeca, DPG and KaiZi are also fielding full-strength squads, which bodes poorly for their mid-low table opponents. With teams like GGG and eXoN having proven they're far from being free points dispensers, this seems like the prudent move from the championship contender teams. Also, Week 7 will see one of the winless streaks end, as Invictus Gaming and Team LP will face each other in a head-to-head match.
We left off in Week 6 with the Afreeca Freecs overtaking Team NV for the #1 spot. It was the aforementioned eXoN who changed the rankings, putting in a strong performance against an initially Maru-less Team NV to force an ace match. But the Korean team pulled out the desperation 'any player on the roster can play the ace match' card, sending out Maru to save the day and recover two points. Meanwhile, a clean victory by the Freecs over Alpha X was enough to put them equal with Team NV on points, but win the tie-breaker on map score differential.
Otherwise, expected wins for Dragon Phoenix Gaming, KaiZi Gaming and Shopify Rebellion ensured that the top five teams stayed close together, while also clearly pulling away from the rest of the competition. Still, Team Liquid's victory over Team GP kept them in the prime pursuing position—the future Week 9 match between Shopify and TL might end up being the most important match of the regular season.
*Please note, the WTL has scheduled a match day for Thursday instead of Friday this week, the rest of the series take place on Saturday and Sunday as usual.
Catch the WTL 2021 Summer Season on the streams of Wardi and CreightonOlsen every Friday, Saturday and Sunday at 12:00 GMT (+00:00)!
Week 7 Preview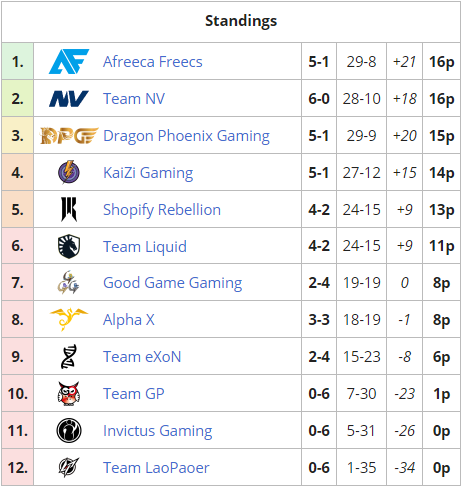 Top 5 teams qualify for the playoffs.
Points are awarded as follows:

3 points for a normal victory in a series that does not require an ace match

2 points for a victory in a series that requires an ace-match

1 point for a loss in a series that requires an ace-match

0 points for a loss in a series that does not require an ace match
Thursday, May 13 11:00am GMT (GMT+00:00) Matches

Team LP vs.

Invictus Gaming


Wanted
< Oxide >


Coffee


mymy
< Beckett Industries >


XY


JieShi
< Jagannatha >


MacSed
Ace:
< Romanticide >
Perhaps the two lowest ranked teams of the league won't show the highest level of matches in their clash, but with this series likely deciding who will end up in last place, we can expect the players to give it their best shot. With how the line-ups turned out, we may even be in for a close fight and an ace match to wrap things up.
LP.Wanted
is the favorite over
iG.Coffee
going by their history, having bested the Terran with 2-0 scores in their last four meetings. The Zerg player hasn't really played in any tournament this year outside of the WTL, making his current form in TvZ quite a mystery to everyone. Coffee isn't fantastic in the match-up, but can hold his own even against strong opponents for a time, so in a standard situation he should be favored.
While
LP.mymy
showed some promise during his debut against DPG.Cure, playing a pretty solid macro game, he's up against a fearsome opponent in
iG.XY
—the mighty KZ.TIME-killer. The veteran Terran player should be able to secure two maps here for his team, though mymy has some outsider chances to perhaps steal a win if his opponent becomes too overconfident during a game.
Compared to the previous season, it feels like both
LP.JieShi
and
iG.MacSed
have taken two steps backwards in their abilities, but that shouldn't have much impact on their direct duel. With merely a
tiny historical advantage
for MacSed being weighed against JieShi's usually stronger PvP match-up, we should be in for a pretty close duel between these two Protoss players. It's likely that Invictus Gaming may have a small advantage going into this, so the pressure might be on JieShi in this one.
Prediction:
Team LP 3-
4 Invictus Gaming

Team eXoN vs.

KaiZi Gaming


Gerald
< Oxide >


Solar


SpeCial
< Beckett Industries >


INnoVation


MaxPax
< Jagannatha >


TIME
Ace:
< Romanticide >
An ESL Open Cup Americas classic is opening up this series, with
eXoN.Gerald
and
KZ.Solar
being frequent opponents in the weekly online tournament. It's no surprise then, that the Korean heavily dominates their
historical record
with the Polish player only having won a single series against Solar over the course of his career, losing two duels with altogether five maps in May alone. Gerald could steal a map here, but with how fantastic Solar's ZvP form is at the moment a clean win for the Zerg seems to be more probable.
Despite being known for his excellent TvT,
eXoN.SpeCial
sports an
overall miserable record
against
KZ.INnoVation
. Funnily enough, he actually leads 2-1 in team matches, scoring big for Mexico during a past Nation Wars event. More relevant, though, might be their last meeting at IEM Katowice, where the Korean was able to claim a 2-1 victory, as well as the generally great performances the Machine puts up in WTL. Say what you want about his lack of individual results recently, he's been showing up for his team every week, currently being the top scorer of the league with a 5-1 TvT record compared to SpeCial's 1-3. Can the Mexican take a map? Sure, he has the skill to do it. INnoVation winning seems more likely, however.
It's going to be the first ever meeting between
eXoN.MaxPax
and
KZ.TIME
, coming after both players got handed some crushing defeats in the previous week—though TIME's unexpectedly clear loss to GGG.Cyan weighs much more heavily than MaxPax being outclassed by NV.Maru. In general, the Chinese player's TvP is quite strong and he should be able to overpower his Danish opponent in any situation, despite the youngster becoming stronger and stronger in macro games as time goes on. Surely, TIME has also heard of MaxPax' reputation for playing some rather creative openings, so as long as he scouts carefully he should keep the reins in his hands and not suffer another 0-2 here.
Prediction:
Team eXoN 2-
4 KaiZi Gaming
Saturday, May 15 12:00pm GMT (GMT+00:00) Matches

Afreeca Freecs vs.

Good Game Gaming


Trap
< Oxide >


Dream


TY
< Beckett Industries >


Patience


Armani
< Jagannatha >


Cyan
Ace:
< Romanticide >
Saturday will start off with a match between Code S semifinalists
AF.Trap
and
GGG.Dream
, which—taking a peek at the
stats
—doesn't actually look that enticing. Trap commands a massive lead over the Terran in 2021, winning six out of seven series with a great advantage in map score. That said, Dream has been very consistent at taking maps from the Protoss in these duels and with WTL's format that's all that really matters in many cases. In this one, though, Good Game Gaming ideally need him to win two maps to have a shot at gaining points and a result such as this looks exceedingly unlikely.
GGG.Patience
may have a better shot at securing a map here than simply weighing his name against
AF.TY
's might suggest. The Protoss has won the latest two duels with the Terran, including a close 3-2 bout in 2021, though TY still commands the
advantage
historically, momentarily and generally by simply being the much more skilled player of the two. Still, he didn't look convincing against Alpha X in the previous week and seems to generally not fare all too well in the WTL, while Patience has his brilliant moments here from time to time. Naturally, that's not exactly making him reliable.
If GGG have not forced an ace match by this point, things will be looking quite bleak for them:
GGG.Cyan
may have surprised the world by taking down KZ.TIME cleanly, but how probable is it that he can defy the odds for a second time in a row? Because that's exactly what he'll have to do against
AF.Armani
, who essentially possesses as one-sided a
personal record
against the Protoss as TIME did in the previous week, including two 2-0 victories in the current year. Furthermore, Cyan's PvT is his best match-up at the moment, making his win over TIME the culmination of a longer trend, whereas his PvZ does not have quite the same force behind it. Armani's ZvP isn't all too successful either, but is still in a much more solid place, which should enable him two close things out for Afreeca here if it hasn't already been done by then.
Prediction: Afreeca Freecs 4
-2 Good Game Gaming

Team GP vs.

Dragon Phoenix Gaming


Prince
< Oxide >


Rogue


Ryung
< Beckett Industries >


Dark


Rex
< Jagannatha >


Zest
Ace:
< Romanticide >
There should not be much of a doubt about the results of this series, though perhaps
GP.Prince
can actually use
DPG.Rogue
's traditional post-championship laziness to his advantage. Rogue vowed to not fall into that particular pit in Code S, but admitted he'd be taking the upcoming Super Tournament easy. As you might imagine, the odds heavily favor the freshly baked Code S champion over his opponent, with Rogue's notorious resistance to cheese aiding him in addition to his vast advantage in experience and general ability.
Dragon Phoenix Gaming's player looks to have a big advantage in the next match as well,
DPG.Dark
facing a team mate from the very beginning of his career in
GP.Ryung
—these days, we often forget that the Zerg was originally on the Terran-centric SlayerS team. Ryung achieved some signal successes in this WTL season against stronger players, but we all know how this series is going to go: Dark will recognize this opponent as inferior to him and proceed to Roach-Ravager push Ryung in two quick games, making this a bitter reunion between former colleagues.
The odds get progressively worse for Team GP as we continue through the line-ups with
GP.Rex
, an old veteran of the SCBoy team leagues, facing
DPG.Zest
in the most mismatched clash of the series. Prince could benefit from Rogue taking it easy, Ryung might steal a map due to Dark's overconfidence, but there is not a single significant thing going for the Taiwanese Zerg aside from the
single map win
he achieved over Zest in his entire career occurring in 2021. Not exactly a confidence booster, but perhaps it's a straw of hope to cling to.
Prediction:
Team GP 0-
6 Dragon Phoenix Gaming
Sunday, May 16 12:00pm GMT (GMT+00:00) Matches

Alpha X vs.

Shopify Rebellion


RagnaroK
< Oxide >


Lambo


Astrea
< Beckett Industries >


ByuN


Zoun
< Jagannatha >


Scarlett
Ace:
< Romanticide >
What a treat both Sunday series are! We're starting off with an extremely important match for Alpha X and Shopify Rebellion, which is going to give the Golden Dragons the opportunity to stay attached to the playoff-contender pack while weakening a direct rival at the same time. On the other side of the coin the Rebels could deal a decisive blow to one the most dangerous teams snapping at their heels.
The Rebellion likely will be quite happy about how the first series has panned out with
Shopify.Lambo
, certified ZvZ expert, taking on
αX.RagnaroK
. The German has the
statistical advantage
of a better match-up form on his side and can gather intel directly from a ZvZ series his opponent played last week in this league—the question is, how is Lambo doing mentally? The Zerg faced some troubles in several big qualifying matches recently, airing his
frustration
about it on
Twitter
. He seemed very comfortable in his previous WTL series, so hopefully for the Rebels the environment and format will continue to keep his morale up. If Lambo can concentrate on the task ahead, the odds are good for early victories for the Rebellion.
Repeating Alpha X's win conditions from the series against Afreeca in the previous week, things should look fine as long as RagnaroK and
αX.Astrea
can secure one map each. The American, who splendidly fulfilled his duty against AF.TY, once again faces the thankless task of having to deal with a Korean Terran powerhouse—though after LP.JieShi tamed
Shopify.ByuN
in Week 6, perhaps the bright minds at Alpha X can figure out a great strategy for Astrea as well. While the
stats
strongly favor the Terran, he merely was able to win a single series with a clean 2-0 so far this season.
The rear is once again brought up by
αX.Zoun
for the Golden Dragons, who faces
Shopify.Scarlett
this week. In terms of match-up form the Canadian commands the
better stats
with a close 2-1 win for the Protoss being their only direct duel in 2021 so far. None of Scarlett's victories this season has looked any shade of impressive, her tendency towards aggression and trickery being more pronounced than usual. This may work against the Korean, but with Alpha X fighting for survival in the league they'll have extra eyes on any series they can get their hands on, informing the Protoss of any potential danger. Zoun should have the advantage here, and might yet secure the win for the Golden Dragons if nothing catastrophic has happened up to this point. Still, there is a good chance of an ace match in this contest, as basically anything can happen with these match-ups.
Prediction: Alpha X 4
-3 Shopify Rebellion

Team NV vs.

Team Liquid


Maru
< Oxide >


Clem


Bunny
< Beckett Industries >


uThermal


sOs
< Jagannatha >


Harstem
Ace:
< Romanticide >
Team Liquid's knack at forcing ace matches may come in very handy indeed against powerhouse Team NV as the Westerners are looking to close the gap between themselves and the top ranked clubs.
NV.Maru
returns to the regular roster after a
disappointing end
to his G5L campaign, facing none other than
Liquid'Clem
in a bombastic opening match. Fantastic
general and match-up forms
promise an exciting clash ahead with a chance for the Frenchman to redeem himself after Maru's 2-0 victory at Katowice. With a 10-0 score the Korean has delivered a flawless season so far, securing two ace victories as well. Likewise, Clem has been the cornerstone of Liquid's efforts this season and now may be the key to not only break Maru's win streak, but also Team NV's series of victories. While fans on both sides may prefer a clear victory for one of the players here, an even split seems like the most probable outcome.
A second TvT follows the explosive opener as
NV.Bunny
clashes with
Liquid'uThermal
. Neither player has a
great form
in the mirror match-up, contrary to their two predecessors. Both Bunny and uThermal have in the past shown an inclination towards aggressive early game plays, so this series might well be a fast and furious one with neither side going into it as a heavy favorite. Perhaps the Dutchman can use his preparation skills to gain a critical advantage here.
Since all good things come in threes, another mirror match-up between
NV.sOs
and
Liquid'Harstem
marks the end of the series aside from a very possible ace match. As always with the master of chaos himself being involved it's very difficult to form a secure opinion of how this will go and even Aligulac isn't too sure about what to make of this, giving each part of the pair essentially
50-50 odds
to win. The Captain has already proven his mettle this season, taking maps against the likes of DPG.Dark to contribute to Liquid's campaign, but on the other side sOs has always shown up with strong performances in the SCBoy team leagues when his colleagues called for his help. If the StarCraft gods feel generous, we'll get three 1-1 results in a row for the Maru vs. Clem super ace match.
Prediction: Team NV 4
-3 Team Liquid
Week 6 Recap

Invictus Gaming 2 - 4

KaiZi Gaming
Watch VOD
Taking two maps against the certified experts of going 6-0 in KaiZi Gaming, Week 6 wasn't the complete disaster we had predicted for Invictus Gaming—though scoring a point remained out of reach. The series still started as expected:
KZ.INnoVation
took a convincing first map over
iG.MacSed
, keeping him busy with a Widow Mine drop while gearing up for Bio-Tank pressure, which destroyed the third base and ultimately snowballed into a Terran win. There might have been an angle for the Chinese player on the second map, as he was able to deny Stim at the last second and amassed a significant amount of High Templars with Storm before the Terran could get the critical upgrade. Perhaps it was too many of the high-tech units, though, as INnoVation used his advantage in conventional troops and kept MacSed busy defending even without Stim being available, eventually overwhelming the Protoss with Ghosts.
The big surprise of the series came with
iG.XY
facing off against
KZ.TIME
. To reiterate how low XY's chances of victory were in this duel: prior to their clash in the WTL he had only won a single map over the last two years against his young counterpart. Talk about defying the odds. Matching builds on the first map the players took familiar roles with TIME on the offense and XY defending, the KaiZi player pressuring his opponent's third base with some success. TIME was basically running away with the game and his great economical advantage, but his army was ambushed by XY's forces, which had embedded themselves on the high ground and had the additional boon of Raven support. XY obliterated TIME's army, and he wasted no time in going in for the kill. In the following game, the KaiZi Terran went for a Reaper rush from two proxy Barracks, but didn't get anything out of it as XY's defence held. The Invictus player also got the better end of the next phase, as both opponents went for Banshees, but XY had invested in Cloak and got more out of his units. Having built a considerable army advantage he pushed TIME's natural, who only held under great sacrifices from his SCVs. Contained and behind, the KaiZi player tried his best to mount a comeback, but his harassment was costly and XY managed to close the second map out as well. All in all, it was definitely the greatest WTL day for the 'XYFANS' to date.
Unfortunately this wasn't quite enough to steal a point off KaiZi overall, as
KZ.Solar
and
iG.Coffee
went back to the regular program. The Terran came within one Hellbat shot of possibly winning the first map, as he was able to penetrate Solar's main base during an early Hellbat-Liberator attack and engulfed a line of Drones in flames, all of them going down to low hit points. He didn't get that last and decisive shot off, however, and Solar survived the scare without much actual damage taken. Taking back control of the game, the Zerg completely took his opponent apart with a Ling-Bane counter attack style. Having heard of Solar's weakness to two-Barracks proxy builds, Coffee went for that on the second map, but failed to use the superior Marine-option and decided to go for Reapers—those were easily defended. Dusting off a Battlecruiser follow-up, Coffee stayed on the offensive and kept Solar under pressure. The KaiZi player had not forgotten how to deal with this sort of build and held with a combination of Queens, Spore Crawlers and Roaches, eventually breaking Coffee's spear point and going for a decisive counter.

Team GP 1 - 5

Team Liquid
Watch VOD
Pretty much as expected,
GP.Ryung
opened the duel with
Liquid'Harstem
with a proxy two-Barracks rush—Friday's matches saw more than their fair share of those—but the Protoss held the aggression routinely. The Terran continued with his tricky ways, harassing Harstem any way he could: landing one of the Barracks to deny the third base, using a Cyclone and a few Marines to deny vision, and randomly walking a Widow Mine into the natural. Considering how long Ryung waited to take his own third, though, it wasn't enough to stunt Harstem's growth. The Dutchman weathered all the pressure Ryung could mount and finally went for a decisive attack when his army reached critical mass. The Protoss showed an equal amount of discipline and control on the second map, perfectly thwarting Ryung's harassment and then defending his SCV-supported all-in in a great display of composure.
GP.Prince
scored his team's first map in a long slug-match against
Liquid'MaNa
. The Korean Protoss had done some solid work with Oracle-Adept harassment at the start, but the Polish player held the follow-up Blink Stalker attack with minimal losses. A drawn-out game between two Gateway-Immortal armies followed, with Prince eventually gaining the upper hand and adding Disruptors to his composition first. This forced MaNa to evade a battle and go for the base trade, which didn't go very well with his Stalker force racing against Prince's surviving Immortals and their fantastic damage against buildings. Even DTs could not save the Polish player, and Prince won the demolition derby convincingly. MaNa struck back with a strong Blink Stalker attack in the next game, his timing hitting right before Prince had his own Blink available. The Liquid player secured a superior concave position at his opponent's natural, concentrating his superior firepower to secure match point for his team.
As for the outcome of the last match-up, was it ever in doubt?
GP.ViViD
offered no terrible display by any means, but
Liquid'Clem
simply overpowered him on both maps with a steady chain of Bio attacks, sapping his opponent's strength away with every wave until he eventually crumbled. That's happened to a lot of stronger Protoss players as well, so no shame in that whatsoever for ViViD. This solid performance from Liquid put them squarely at the head of the pursuing pack for a playoff position.

Team LP 1 - 5

Shopify Rebellion
Watch VOD
Opening with a bit of a shocker, Team LP secured their first map win of the season against the Shopify Rebellion with none other than
LP.JieShi
doing the honours against
Shopify.ByuN
. The Protoss went for an early attack from a proxy Robo and Gateway, using his small force of Immortals to contain his opponent in his main, but he took massive Probe damage from Widow Mines and Hellions in return. Building up a count of Siege Tanks the Terran retook his natural, but a brute-force attack with Charge from the LP player forced him to evacuate it once more despite JieShi's sloppy Immortal losses. A prolonged siege followed, with ByuN eventually securing his natural, but the Jieshi had all the time and space in the world to build up a Colossus-Archon-Chargelot army to break his opponent for good. JieShi had an unusually hard time closing ByuN out in game one, but he looked much better on the second map. He played a downright respectable macro game against his Korean opponent, who had to work over 20 minutes to finally force a 'gg' out of the Protoss. Were it not for his sloppy overall control, the Chinese player may have 2-0'd ByuN here.
Unfortunately, the rest of the team could not quite follow their leader's example:
LP.Wanted
started things off with a Ling-Bane attack against
Shopify.Lambo
, who saw the aggression coming and prepared accordingly, but still ate a massive hit on his Zerglings, which allowed the Chinese player to eventually kill off the Hatchery at the natural. A counter offensive evened the odds enough for the German to pull ahead in the big picture. Wanted mounted a desperate Roach attack to snatch the win, but Lambo played it safe and had a forest of Spine Crawlers ready to greet the advance and secure him the victory. The LP player tried to equalize the series once again with a staple of his ZvZ—a Nydus attack. A back-and-forth battle at Lambo's front gates developed, Wanted gaining no ground. The Chinese Zerg tried to shift the frontline into the German's main base, but failed to gain a foothold there as well, leaving Lambo's ZvZ record in WTL unblemished.
Playing his second ever WTL series,
LP.mymy
got a taste of
Shopify.Scarlett
's well-known ruthlessness as she spied an opportunity early on to pressure the inexperienced Terran with Speedlings. Catching him off his guard completely, the units broke through the front gates of his base and ended the first map after not even four minutes of game time. Sadly for him, the second game did last merely a minute longer: the Canadian Zerg went for an early Roach attack, busting mymy's defences and securing a quick 2-0.

Team eXoN 3 - 4

Team NV
Watch VOD
After recent setbacks the Team eXoN members sold their lives dearly against the Korean juggernauts from Team NV, starting off with a duel between two infamous Protoss players:
eXoN.MaxPax
took on
NV.sOs
in a duel where viewers could expect nothing and everything at the same time. The duo took it easy, however, and opened it up with a rather standard PvP, the Dane getting some Oracle harassment done and following this up with Blink and Disruptors. The Korean did not speed ahead to the T3 units and went for a devastating Gateway attack instead, ravaging MaxPax' third base and taking down a large amount of Probes before retreating. Phoenixes were sOs' response to the Disruptor tech, the flyers completely fulfilling their duty during the next attack, which went sOs' way. Another attack finished MaxPax off, putting sOs up 1-0. Things finally got spicy in the second game: MaxPax placed a Pylon and Shield Batteries in sOs' natural, attacking there with a Zealot, an Adept and a Void Ray. Though sOs solidified his frontal defense line relatively quickly, an Oracle sneaked into his main during the fighting and destroyed many Probes, giving the eXoN Protoss the advantage he was looking for. Hopping from one crisis to the next, the Korean never even had the chance to scout MaxPax' Dark Shrine and simply surrendered once the invisible warriors passed the entrance to his base. Seldom has a Protoss been Protoss'd this hard.
NV.Bunny
made a strong season debut in game one against [b]eXoN.Gerald[/b, overrunning his opponent with a Marine-Tank-SCV push after cutting the power to his critical Robo infrastructure at the front (denying a Colossus from joining the battle in time). The eXoN player got his revenge in a straight-up macro game in game two, putting on an excellent defensive display against Bunny's heavy aggression, which involved a lot of investment for very little gain. Going on the offensive himself, Gerald took the much better engagements and wore his opponent down, eventually ending the match with a Carrier switch.
The pattern established in the two previous series once again emerged:
NV.DongRaeGu
took the first map for his team, defending expertly against
eXoN.SpeCial
's Hellion-Marine-Raven pressure, even finding the time to throw a Speedling counter attack towards the other side of the map to force the Terran into more decisive action. The Mexican once again equalized the scores in a macro game on the next map, overcoming DRG's Roach-Ravager-Lurker swarm with a strong Bio-Tank push.
Putting all their hopes on their youthful Protoss player, Team eXoN sent out
MaxPax
for the ace, while Team NV seemed kind of worried about losing their first match. So, unsurprisingly, they sent for
NV.Maru
to wrap things up. This, the Terran ace did with all his accumulated expertise, defending against MaxPax' Gateway aggression from a forward Pylon as well as the DT follow-up with minimal losses, before crushing his opponent with a Marine-Tank attack.

Dragon Phoenix Gaming 6 - 0

Good Game Gaming
Watch VOD
Unlike Team NV, Dragon Phoenix Gaming had no problem dispatching a clearly outmatched foe. The series against Good Game Gaming began with
DPG.Cure
continuing his undefeated streak against
GGG.Patience
. He pressured the Protoss early with Reapers from a single proxy Barracks, afterwards hitting a strong attack timing to overrun Patience's Phoenix-Colossus composition before it could unfold its full power. In the second game, Widow Mines and conventional drops tore the GGG player apart, whose own harassment failed to deliver similar results. As soon as Ghosts took to the field, Cure delivered the decisive blow.
GGG.Dream
tried to score a quick win for his team against
DPG.Zest
with a Hellion drop delivered from a proxy Starport, but an Adept found the construction site and denied the building. The Terran's harassment plan in shambles, Zest had all the time and space in the world to play his own game. The Hellions eventually fulfilled their purpose later in the match, but by then a mighty Protoss army had emerged and forced Dream to evacuate his third base under great losses. His advantage growing ever larger, Zest finally committed to the coup de grace with a powerful force of Colossi, Archons and High Templars. Reaper and Widow Mine harassment failed to make an impact in the second game, while Zest's DTs turned out to be moderately effective. Dream still found a great angle of attack later in the game, destroying Zest's Twilight Council to deny Charge (it was exposed due to being placed to block Reaper jumps). Dream's advantage in army supply could not be transformed into battlefield success, however, as Storm was done and no Ghosts were in sight. Zest used this window of opportunity to counter, running away with the game in a series of engagements.
With the 4-0 already in hand,
DPG.Dark
completed the perfect sweep against
GGG.Cyan
. Dark played an interesting first game—as in 'no Queen march or mass Roach-Ravager attack'—after deflecting the Cyan's initial Void Ray-Adept attack. Having expanded quickly, Cyan added Immortals and Disruptors to his army, both players taking jabs at each other with small attacks. Dark responded to the threat with a large amount of Infestors and Vipers, hitting the mother of all Fungal Growth-Parasitic Bomb-Corrosive Bile combinations on Cyan's expensive army. Wave after wave of Zerg units crashed against the Protoss player's gates, with Ultralisks joining the fray. Dark also used Neural Parasite on Immortals and Archons, turning them against their former comrades to ensure his victory in the decisive battle. Cyan went for Proxy Oracles in game two, but they didn't make much of an impact. Dark was free to go for Nydus-Swarm Host, clearing the Protoss player's third as his Roaches and Queens held off a Chargelot-Archon attack on his side of the map. This battle went on for several minutes, but with the backstab having weakened the Protoss economy, Cyan had no way of winning the struggle.

Afreeca Freecs 4 - 2

Alpha X
Watch VOD
The Golden Dragons came close to finding an upset against Afreeca, but the Freecs' star power was enough to secure victory in the end.
AF.Armani
and
αX.RagnaroK
were very closely matched in the first game, with both players going for Roach-Ravager-Nydus strategies and engaging in battles all over the map. Changing gears, the Alpha X player went for Mutalisks while the Freec tried to get up to Lurkers. Armani generally seemed to have the better harassment, but RagnaroK hit a sweet timing with his Roach-Ravager-Mutalisk army and overran Armani before he had a significant amount of Hydralisks or Lurkers. A much earlier conclusion was reached on the second map, with Armani going for all-out aggression with Ling-Bane-Roach and overwhelming his opponent for the expected 1-1 map-split.
AF.TY
and
αX.Astrea
delivered a dramatic finish to their first game, as the Terran went for an all-in with SCV-pull and the Protoss showcased a stubborn and skilled defence, with the battle raging from his natural into his main and back out to his third. Eventually, the power of MULEs guaranteed a steady trickle of reinforcements for TY, which allowed him to barely topple the American Protoss in the end. Going for seconds, TY simply repeated his attack in the following game, but Astrea was ready for it this time with a Colossus build, the giant war machines cutting through the Terran cannon fodder with the beams to secure another map for Alpha X.
While the TL.net preview pointed to Astrea vs TY as the potential springboard for an upset,
αX.Zoun
couldn't follow through and hold up his end of the bargain against
AF.Trap
. Trap took the first game against his opponent in a showdown with similar compositions as both players opted for Gateway-Immortal armies. Over the course of the opening skirmishes and harassment, the Freecs player managed to build up a military advantage for himself, which he finally used to overrun Zoun's third. Befitting the final game of the series, the second map was quite dramatic: Trap played a proxy Robo build staying on a single base, but Zoun held the initial aggression off well and kept his natural alive. However, Adepts managed to sneak into Zoun's base during the skirmishing, keeping the two players on relatively even economies. The Afreeca Protoss went for a quick Disruptor follow-up, avoiding Zoun's stronger army for the time being and going for a base race. Trap destroyed Zoun's natural, while pulling out his Disruptor trump card to stop Zoun's attack. This left both players on one base economies, whereTrap's advantage of having Disruptors and Prism speed allowed him to lock in the deciding victory for his team.
Weekly MVP Award: AF.Trap
With a record of 8-0 in the PvP match-up and 9-1 record overall,

Trap
has been the Afreeca Freecs' most successful player in the WTL so far, securing them an important victory over Alpha X in Week 6 with his solid performance against Zoun. Achieving a 4-2 win and thus gaining three points was enough to finally catch and overtake their Korean rivals from Team NV—the younger team may yet be undefeated, but Afreeca have the better map win ratio to show for themselves, taking the lead in the rankings for now.
This week's honourable mentions go to
NV.Maru
for his ace win against Team eXoN, ensuring his own club's undefeated streak remains intact, and
iG.XY
for making us believe—if only for a few minutes—that Invictus Gaming could pull off the upset of the season.
Weekly MVPs

Week 6: AF.Trap

Week 5: DPG.Cure

Week 4: NV.Maru

Week 3: Shopify.Lambo

Week 2: Liquid`Clem

Week 1: NV.Creator
---
Credits and acknowledgements
Written by:
TheOneAboveU
Editor: Wax
Stats: Aligulac.com & Liquipedia
Images: SCBoy