ESL Pro Tour 2021: Changes to Region-Lock, Offline Play Returns
by Olli
ESL and DreamHack have today announced their plans for the second year of the ESL Pro Tour for StarCraft II. The Covid-19 pandemic forced changes upon the EPT mid-circuit in 2020 and, as the pandemic is still very much ongoing, it comes to little surprise that the current system of regional divisions culminating in Season Finals is maintained.
There are, however, significant changes to the organization of this system, including plans for the Season Finals of each season to be held offline in a studio — albeit without audiences, as it stands — and the removal of the ever-controversial region-lock ruling for Season Finals, the rule that previously prevented South Korean players from entering most international competitions.
With Season Finals returning to offline competition, their status in the EPT Tour is boosted in the 2021/22 season. The three Season Finals winners now qualify directly for the Ro24 of IEM Katowice.
Schedule & Points

The schedule for these five events looks like this:
DreamHack SC2 Masters: Summer 2021 — $170,000


Qualifiers: May 11-16

Regionals: May 19 - June 6

Season Finals: July 1-4



DreamHack SC2 Masters: Fall 2021 — $170,000


Qualifiers: July 20 - 25

Regionals: July 28 - August 15

Season Finals: September 9 - 12



DreamHack SC2 Masters: Winter 2021 — $170,000


Qualifiers: September 21 - 26

Regionals: September 29 - October 17

Season Finals: November 11-14



DreamHack SC2 Masters: Last Chance 2022 — $40,000


Qualifiers: December 14 - 19

Finals: January 11-16, 2022




EPT Championship: IEM Katowice 2022 — $500,000


The complete distribution of prize money and EPT points allocation is available
on ESL's website
. Perhaps the most significant change is that points awarded for Season Finals have increased massively: from a total of 1,370 EPT points per event to 4110. This increase, we were told, is due to Season Finals being planned as offline events in 2021. ESL and DreamHack were hesitant to put too many EPT points on Season Finals in 2020 due to concerns over cross-server issues. Further changes see prize pools reduced slightly, as well as EPT points being slightly reduced for the "weaker" regional divisions.
Season Finals to revert to Open Bracket events if Covid-19 allows
ESL & DreamHack have also formulated alternative plans, the realization of which depends on the development of the ongoing pandemic:
If COVID-19 remains a barrier, we will be required to revert these competitions back to global online tournaments the same we saw in 2020. If we feel more positive through 2021, our hope is that we will be able to take one of these back to a DreamHack festival. In that case, the tournament formatting would adjust to our familiar format from festivals of recent years with an 80 player tournament. The 16 players who would have previously qualified for the online/studio finals would now be deep seeded into Group Stage 3, skipping the first few rounds of the competition.
It was also confirmed to us that if Season Finals events had to be scaled back to online competition, points distribution would be reverted as well. Whether Katowice 2022 seeding would also change has not yet been decided.
ESL Open Cups continue unchanged, but will stop awarding EPT points for a while after the January 11 cups, due to the 2020/21 season concluding around that time. Points will be awarded again starting April 5th and will count towards the new season.
The Partial Demise of Region-Lock
While the rules for regional divisions remain unchanged, qualified experts previously pointed out that region-lock had, on paper, already been removed, but the residency or passport requirements still effectively prevented most players from switching regions.
These requirements do not change for the 2021/22 season, so regional divisions will still effectively be "region-locked". But where region-locked will fully be removed is with Season Finals reverting to Open Bracket competition as soon as the pandemic allows. Since the introduction of separated regions in WCS 2016, South Korean players have been unable to attend DreamHack Open and IEM events unless they were classed as "Global Events". This rule change opens up the Open Bracket stages of these international events — now Season Finals — to them.
Shaun "Apollo" Clark
had previously stated
that ESL and DreamHack felt "that StarCraft II is definitely in a position where a conversation about region-lock should be held. Our agreement and partnership with Blizzard was only completed recently, so it would have been a lot to ask for us to readjust and make any drastic changes to the existing system in such a short time. That means for the first season it will stay the same, but we are going to have an honest discussion about it for later seasons", and that he did not feel as if "the same fears of Koreans flooding tournaments and winning everything are still as relevant".
However, as the Covid-19 pandemic is still ongoing, it is unsure yet whether and when these Season Finals can be held at DreamHack festivals again. This means that due to the pandemic, it may be a while before the removal of region-lock actually leads to South Korean players participating freely in international events again. We were told that DreamHack had hoped to be able to hold Open Bracket competitions throughout the whole 2021/22 season but had to alter its plans due to the pandemic.
Changes to Seeding for Katowice 2022
With Season Finals, including the Last Chance event, reverting to offline play, seeding into the EPT Championship event in Katowice has been adjusted to reward offline performance. Where previously Season Finals only added to the EPT points, the four Masters winners now receive direct seeds into the Ro24 along with the three GSL champions. Thirteen more players are seeded into the Ro24 according to their EPT ranking, with twelve more qualifying for the Ro36 play-in stage this way.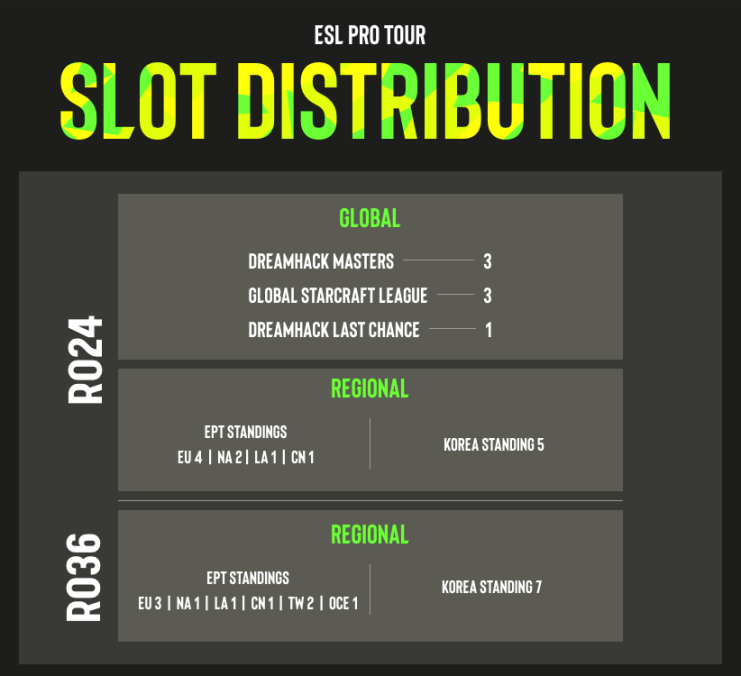 ---