DreamHack StarCraft 2 Masters: Summer
Opening Week Preview (June 24-27)
by Soularion and Wax
After a long wait, the international portion of the 2020-21 ESL Pro Tour is finally set to begin with DreamHack StarCraft 2 Masters Summer.
The Masters Summer tournament was originally planned to be a short-term, live event like the WCS Circuit championships of the past, but the global pandemic forced a massive rework. Instead, Masters Summer has been divided up into six regional online tournaments that will be played over the course of June and July, similar to the WCS Challenger tournaments in the old system (except with considerably increased stakes). This format is set to deliver a massive number of pro SC2 matches, with almost non-stop games being played between Wednesday and Saturday of each week (
read full details
).
While winning a regional championship will award a significant amount of prize money and EPT points, there's also a Season Finals tournament waiting at the end of it all. There, the best players from each of the EPT regions will take on six of the top players from Korea in the Summer season grand finale.
Here's the schedule slate for the DH Masters Summer:
As you can see, all of the Latin America, Oceania/Asia, and Taiwan/HK/Macau/Japan tournaments will be played in the first week. Europe, far bigger than the other regional competitions, will begin by playing out a portion of his 32-player group stage. The Americas and China tournament will begin in week two.
The European wing of Masters Summer is the most interesting of the six, as it's the strongest non-Korean region in terms of both top-end talent and overall depth. The scene is still ruled over by Finnish Phenom Serral, but his iron grip has loosened over time. There will be plenty of opportunities for players to rise up through the ranks in Masters Summer, and a select few of them might even dare try and topple Serral.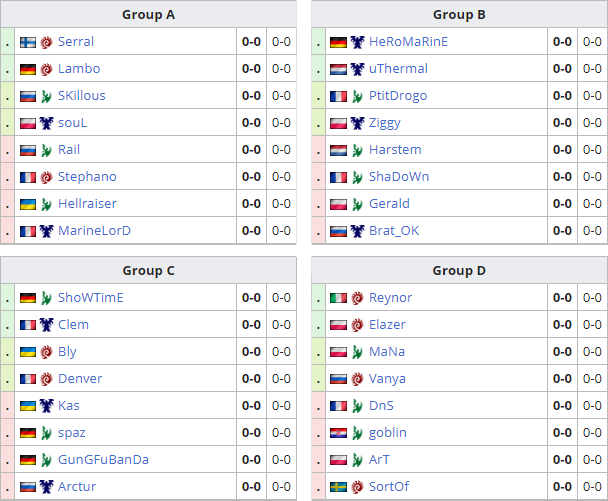 With four, eight-player round-robin groups, Masters Europe is giving fans a veritable deluge of StarCraft matches to enjoy. The groups aren't played in order—they're set to be played out gradually over the course of two weeks. Thus, if you want to know when a specific match is going to be played, then you should refer
detailed schedule and match-list on Liquipedia
. The top sixteen players will advance to the double-elimination playoffs, which will begin on July 7th.
Since we can't go over all thirty-two players at once (well, we could, but we won't), our week one preview will focus on a handful of players who have intrigued us so far in 2020. Don't worry, we'll talk about [your favorite player here] at some later time.

Elazer:
Elazer's 2020 "comeback" is definitely a story to keep an eye on in Masters Europe. He attained some of the better results among the non-Korean players at the foreigner graveyard known as
IEM Katowice
, being one of only seven to reach the group stage and finishing with a 2-3 record. Elazer really came alive in the many online tournaments that followed. He beat Serral, HeroMarine, and Harstem to finish top six at TSL5, tying uThermal for the best placement as a foreigner (he was a game away from beating soO to reach the final four). In
Stay At HomeStory Cup #1
, he beat Zest, Serral, and Neeb in the group stages before narrowly losing 2-3 to INnoVation in the semifinals. In the
WardiTV Spring Championship
, he took the #1 spot in an eight-player round-robin with several of Europe's top players.
While Serral still reigns supreme in Europe, Elazer is one of those few competitors who poses a real threat to the king. At the very least, he should be considered a favorite to finish top four overall and earn a ticket to the Season Finals. He should be able to advance from Group D without much trouble, with his July 4th match-up against Reynor being the main attraction.

uThermal:
As mentioned above, uThermal tied for the best non-Korean result at TSL5 by finishing in the top six. However, on the whole, uThermal's hasn't been nearly as consistent as Elazer in 2020, suffering group stage eliminations in a handful of major online tournaments. Nonetheless, he's looked extremely sharp in his best TSL5 performances, sweeping Zest, taking down Clem 3-1, and dragging Trap to five games before losing. Throughout uThermal's TSL run, what stood out most was how easily he took maps off supposedly superior players with aggressive strategies.
Unlike other tournaments with giant round-robin groups, Masters Europe's groups won't be played out in one, long, marathon day. Players will have some time to prepare for each and every match, which might play to uThermal's strengths we saw on display in TSL5. This makes uThermal an intriguing addition to a very competitive Group B, where he could very well beat out the likes of Harstem, HeroMarine, and PtitDrogo to seize the #1 seed.

MaNa:
When MaNa somehow willed himself to upsets over PartinG and ShoWTimE at TSL5, there was a feeling a
deja vu
. You had to be reminded of his run to the finals of
WCS Austin
in 2018, where he looked to prove that he wasn't just a great player of old—but that he was still a great player, period.
When we consider MaNa's overall body of work in the LotV era, however, it's extremely difficult to get a grip on where he's at as a player. After his Austin heroics, he quickly fell back into the middle of the pack. MaNa then surged back toward the end of 2019 with a top eight run at
HomeStory Cup XX
, and he's looked rather good ever since. He scores impressive upsets from time to time—besides his TSL5 run, he also beat ShoWTimE at StayAtHomeStory Cup #1, and traded series with HeRoMaRinE at StayAtHSC #2. Of the players in the European middle-class, MaNa seems to be particularly prone to erratic results. With first week matches against with Elazer and goblin in Group D, we'll soon learn what kind of threat MaNa will present in Masters Summer.

PtitDrogo:
After a poor TSL5 showing where he was was eliminated with a 0-6 record against soO and DongRaeGu, PtitDrogo sprang back at Stay At HomeStory Cup #2 by defeating Elazer twice in the group stages, splitting series 1-1 with Zest, and going the distance against Serral before losing 2-3 (the five game stretch where he went 3-0 against Zest and went up 2-0 against Serral must have had all the French fans hyperventilating).
All that would augur well for Drogo ahead of most tournaments, but he's been dealt a strange Protoss-Terran hand in the faction distribution game. While Drogo has a solid PvP win-rate, his PvT is
statistically his worst match-up
in 2020 at a 57% win-rate. By hook or by crook, you have to figure that PtitDrogo will find a way to finish in the top four of Group B. What's less certain is whether or not he'll finish in the top two, which would give him a precious bye to the winners bracket of the double-elimination playoffs.

Clem:
Initially thought of as a young super-talent to follow in Serral and Reynor's footsteps, Clem's career stalled whereas the Finnish and Italian Zergs continued to ascend. But after spending much of the past two years putting up so-so results, Clem has really started to live up to the hype.
Nation Wars 2019
was an important breakout event for Clem, where he powered France into the final four. In 2020, he's been tearing it up in online tournaments, winning several ESL Open Cups and reaching the top four of Stay At HomeStory Cup #2 with wins over soO, Cure, Zest, and Stats (x2). However, it has to be pointed out that Clem disappointed in the two 'premier' tier events he played this year, failing to survive the open bracket at IEM Katowice and finishing top 12 at TSL5. Masters Europe will be Clem's chance to
really
fulfill his potential, and show that he can hang with the best European players in the most important tournaments.

Denver:
Group C might strike fans as an uninteresting group at first glance, with ShoWTimE and Clem being heavy favorites to take the top two spots. And while that may be the case, it looks like there will be an tight fight to finish inside the playoff cutline of top four. While GunGFuBanDa and Denver have been drawing the attention of hipster fans lately, you never know what Bly might achieve with his arsenal of cheeses.
Denver is particularly intriguing as he'll finally have a chance to continue his 2019 underdog run after an extremely long break. In WCS 2019, Denver surprised us by reaching the RO16 in the final two Circuit events of the year, though he had the misfortune of being eliminated by Serral both times around. Masters Europe will let Denver show us how far he might have gone if he hadn't had such horrid bracket luck—maybe he'll finally have his big breakout in a major tournament (if he's
really
unlucky, he'll advance to the playoffs and get matched against Serral again). Unfortunately for Denver, he'll have to clear two difficult hurdles out of the gates, with matches against both Clem and ShoWTimE in the first week.

Lambo:
If you had to pick the odd man out among the eight seeded players, it would have to be Lambo. His performances in 2020 simply fail to impress compared to the others. He was eliminated with a 0-5 record in the group stage of IEM Katowice, was eliminated early with a 1-6 record in TSL5 (albeit against strong opponents), and couldn't get past the group stage in either Stay At HomeStory Cup.
It's disappointing because we had high hopes for Lambo in 2018, when he reached the top four at WCS Austin, pushed Serral to five games at WCS Montreal, and qualified for the WCS Global Finals. Since when, he's only made top eight at a single WCS Circuit event (WCS Winter: Europe 2019), and failed to even reach the top 16 at two of 2019's WCS Circuit stops.
The reason Lambo is seeded at all is due to one clutch performance. At IEM Katowice, an infamous wasteland for non-Korean players, Lambo managed to survive the open bracket and reach the group stage. While he faced soft opposition in the initial rounds, he defeated one of Korea's top Protoss players in Trap in their qualifying match. Even if Lambo went 0-5 in the actual RO24 group stage, just the feat of getting there won him enough points to earn a seed and bypass the Masters Europe qualifiers. Now, Lambo must shake off the disappointing results of the past few months, recharge, and prove that he really deserved that seed.

souL:
While Serral is the prohibitive favorite to take first place in Group A, the three other playoff tickets seem completely up for grabs. We have cunning veterans who like Stephano, MarineLorD and Rail who can fan their flames of passion for another payday, up-and-comers like SKillous and Hellraiser hungry to further their careers, and a veteran looking to finally break out in souL.
It feels like we've heard European players talking up souL for years now—maybe, just maybe, souL is a European version of pre-breakout Cure, who needs only to get over a mental block in order to make a major leap. But as much as souL's peers compliment his skills, it's hard for fans to take their words seriously when he rarely demonstrates those skills in major tournaments.
Like many members of Europe's middle-class, souL is an active competitor in online events, where he shows impressive consistency against lesser players but struggles to elevate his game when he's the underdog. Thus, souL seems to be stuck in in something of a gatekeeper position, a spiritual successor to GSL's Curious, or WCS Europe's "Grubby Line" of old. This makes him likely to play a key role in deciding who competes for those last spots to the season finals, and makes him a player to watch in a group filled with so much uncertainty. He plays matches against SKillous and Rail in the first week, tone-setters for what should be an exciting and hard-to-predict group.
While DreamHack Masters: Latin America is not the official heir to Blizzard's
Copa America
, it does continue its legacy in spirit. Like Copa America, DH Masters LATAM is the biggest tournament for the Latin America region, and decides who is worthy of going on to represent the region at a major international event.
We're predicting that Masters Latin America will also continue another Copa America tradition:

SpeCial
inevitably winning the championship. Indeed, the Korea-based Mexican Terran has won the last six Copa America events, each time defeating

Kelazhur
in the finals. The last time SpeCial gave up his regional crown was in the autumn of 2017, when Kelazhur was at the absolute apex of his career as a BlizzCon-tier player.
To be fair, we should point out that Kelazhur has been on a hot streak as of late, climbing all the way to #11 in the
non-Korean player rankings on Aligulac.com
. Unfortunately for Kelazhur, SpeCial seems to be surging as well, defeating soO twice to reach the RO16 of GSL Code S. Now that SpeCial is able to turn his entire attention to winning Masters Latin America, it's hard to see anyone else winning the championship.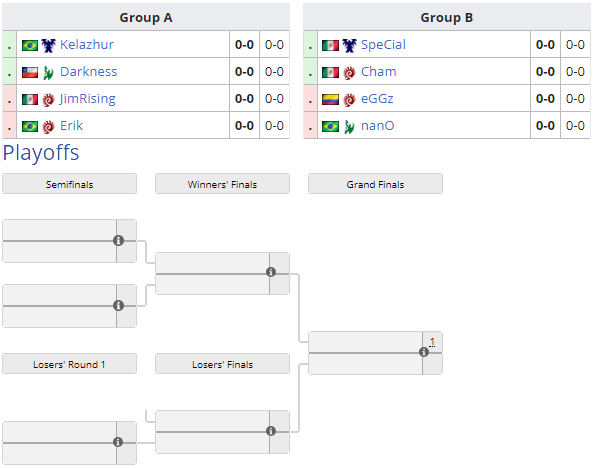 This is certainly the
weirdest
region in all of StarCraft 2. Obviously, it's home to the infamously cheesy cult-hero

Has
. If you need to be reminded of who Has is, take fifteen minutes to watch
this highlight reel
. While Has regularly vexes his opponents with incomprehensible cheeses in international tournaments, he might be at his strangest when he's playing within TW/HK/MC/JP. Back in 2017, Has inexplicably decided to off-race in the middle of
Challenger
, which directly led to him failing to qualify for WCS Austin. That's right: he chose to be weird at the cost of actually winning.
Furthermore, we posit that the term "NA StarCraft" is only a meme because no one in the West actually watches this region. Because, if they did, the meme would be "TW StarCraft" instead. Outside of Has, there are plenty of other strange, cheesy, bizarre players. Is Has' style a product of his region? Or was Has the one who contaminated all the other players in the region? It's one of StarCraft II's great mysteries.
While this probably won't be enough to convince many readers to watch, that's fine. TW/HK/MC/JP isn't for everyone. It's for StarCraft fans of a certain... affliction. Not that there's anything wrong with that.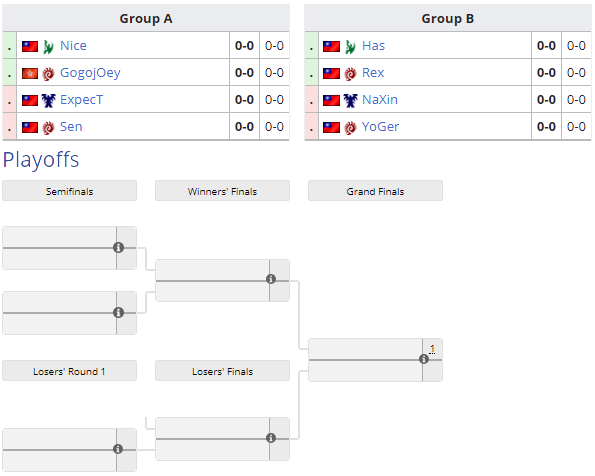 With just one ticket to the Season Finals, it feels like it's all or nothing here in Masters Oceania/Rest-of-Asia (what a great name; we hope the casters say it in full every time). Should fairest server rules apply, dual UK/NZ citizen RiSky would be the nominal favorite to win, as he's the latest of many invasive species to disrupt Australia's delicate ecosystem (to the ire of certain
certain conservationists competitors
). However, Probe might actually have the best chance of causing a stir should he reach the Season Finals. Most of Oceania's top results under the old WCS Circuit system were achieved by Probe, who has a knack for overachieving in big events. He reached the RO16 at numerous Circuit championships and even finished top eight in WCS Americas: Winter 2019.
Of course, everyone has to watch out for MeomaikA, who once famously
cheesed his way to victory against Maru at WESG
. Alright, we're out of ideas of how to hype this region up here at TL.net, so we'll leave the rest up to Maynarde on the cast!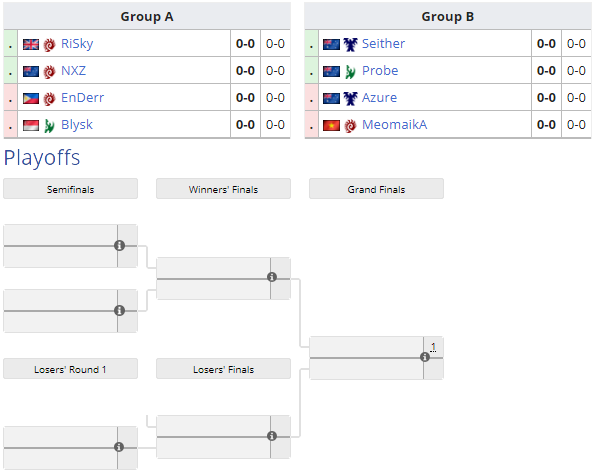 ---