The official rulebook for the 2020-21 ESL Pro Tour has been released on the ESL website (click to read), and it contains information that might reveal the structure and format of Korea's GSL in 2020-21.

Code A returns? Code S to be a sixteen player tournament?

While AfreecaTV have released barely any information on GSL 2020-21, the GSL point distribution outlined in the ESL rulebook points to a significant change in format.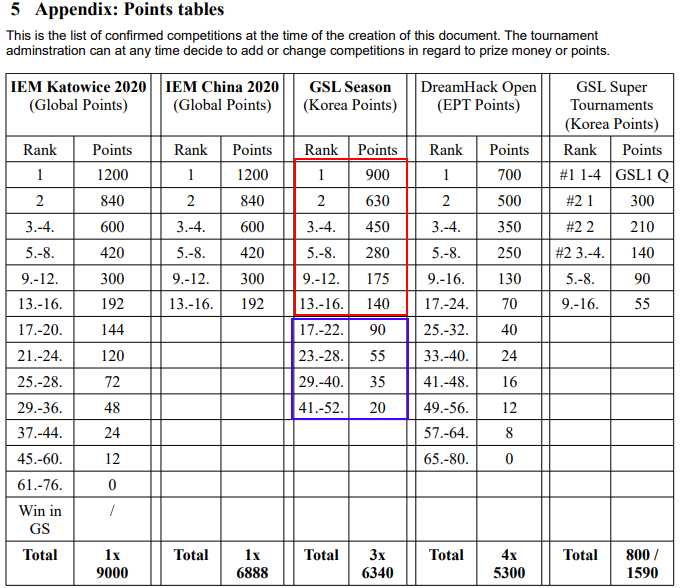 Points are now awarded to the top 52 players of a "GSL Season," whereas previous only the thirty-two Code S players received points.

Furthermore, the cutoffs for increasing amounts of points occur at 52nd, 40th, 28th, 22nd, and 16th place, but NOT 32nd. This suggests a move away from the old 32-player Code S format. While this could mean that the top-tier of GSL will expand to 52 players, I think it's more likely that it will be divided into a lower-division of 36 players and a top-division of 16 players.

Whether or not AfreecaTV would explicitly divide its competition into "Code A" and "Code S" is unknown, but I assume AfreecaTV would prefer to maintain its well-established "Code [Letter]" branding in any case.

The above changes would corroborate Solar's statements from his recent TL.net interview, where he said Code S would be returning with changes in format, and that "...the competition will be more fierce than last year."

The points table in the rulebook also suggests that the upcoming Super Tournament #1 will award direct spots/seeds in GSL Season 1 to the top four players, while the later Super Tournament #2 will only award points as in previous iterations.