China Team Championship: Season 2
Week 4 Recap & Week 5 Preview
What good fortune! With CTC Season 2 heading into the last week of the regular season, the scheduling had worked out so that we have some must-see, head-to-head deathmatches for playoff spots. Newbee and LP will face off in what's effectively a 'loser-goes-home' match in Group A, while Chivo and PSISTORM will face off in a similarly high-stakes match in Group B (although the situation there is not quite as clear cut). But before we get to our week five previews, we recap last week's matches.
Group A, Week 4 recap: KaiZi retake #1
by Ziggy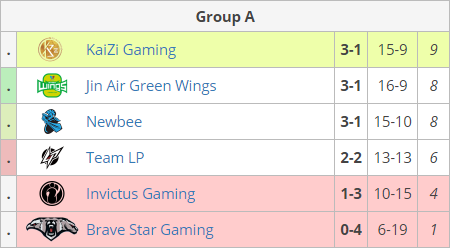 Team LP 4 - 3 Brave Star Gaming
Watch VODs - Match 1 - Match 2 - Match 3 - Ace Match
Brave Star Gaming was eliminated from playoff contention after a 3-4 defeat at the hands of LaoPaoer. The newcomers to the league picked up their fourth loss in the round-robin, with Impact overcoming an early game disadvantage against Dream in the ace match.
The VSL Champion (remember that?) Impact is virtually single-handedly carrying Team LP through the season and keeping their playoff hopes alive (more on that in our previews), currently sitting at a 7-1 mapscore. On the side of BSG, however, I'm glad Dream finally managed to snatch a 2-0 for himself prior to the ace match. While he's still a shadow of his former self, he's quietly been putting up good online results in other tournaments. While chances are very slim that he makes a
FULL
recovery as a top-two Terran, it's nice to see his improved form show up in the CTC. I'm certainly looking forward to what he has in store for us in GSL Super Tournament 2 as well as 2020.
KaiZi Gaming 4 - 2 Newbee
Watch VOD
Last week, INnoVation suffered a 0-2 defeat to Impact in KaiZi's loss to LP, leading to a rather entertaining
rumor
from the Chinese community that KaiZi's team owners ordered him to commit to at least 120 games of practice per week. While INnoVation later said the rumor was
untrue
, he's returned to his winning ways regardless.
INnoVation outperformed TIME in what I'd call a must-watch bout for TvT connoisseurs, helping his team reach the top of the standings. Whilst the TvT series certainly took the cake for best match, one mustn't forget a likewise crucial victory delivered by Super, who continued his post-military recovery with a valuable win over Scarlett.
Oh, yeah, Misaki played again. Of course, the fact his team had already secured a win didn't deter him from pulling out his usual swarm host nydus play and a roach ling all-in (it didn't work this time). Cause Misaki do what Misaki do.
Jin Air Green Wings 5 - 1 Invictus Gaming
Watch VOD
Cure finally got a week off, presumably to visit a chiropractor after carrying Jin Air through one and a half seasons of the CTC. Instead, Jin Air brought out the big guns (at least in terms of name value) as Maru and sOs took center stage. To no one's surprise Invictus Gaming lost, as the all-Chinese roster couldn't hold a candle to the last remaining bastion of nostalgia-laden KeSPA domination.
Speaking of nostalgia, remember that
Mvp vs Tefel game from 2013?
You know, that game where the Polish Zerg got into the main of the four-time GSL champion, brought him down to 6 (5?) workers, and then went on to lose that very same game after struggling for nearly 35 minutes? Well, in that case, go give Maru vs iAsonu on Triton a watch, as the (oh, how fitting) four-time GSL champion invoked the spirit of MVP, lost 76 SCVs within a single scoring window (you know, the little pop-up on the left side of the screen - keep up!), and still somehow managed to salvage that situation and win.
Group B, Week 3: Pixel 1 and TSG lock in playoff spots
by Ziggy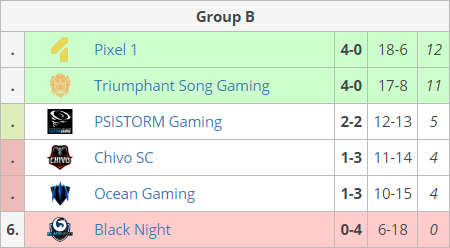 Triumphant Song Gaming 4 - 2 Ocean Gaming
Watch VODs - Match 1 - Match 2 - Match 3
Defending champions Triumphant Song Gaming secured a spot in the playoffs with their fourth win in a row as Ocean Gaming's fate is now partially out of their hands. This week's opening match of Group B yet again treated us to a chiaroscuro of skill, as both herO and Zest struggled to make it seem like TooDming or Nice even stood a chance. Even the main event of Solar vs SpeCial was rather one-sided, as Solar delivered a masterclass in textbook ling/bane/muta ZvT.
The season one champions seem to be hell-bent on proving that the road to the title goes through them, regardless of newcomer teams or Jin Air actually getting their visas. Either way, next week might prove to be their biggest challenge yet, as they'll face fellow undefeated team Pixel 1 in a match that will decide who gets the enormously advantageous #1 head into the playoffs.
Pixel 1. 4 - 2 Chivo SC
Watch VOD
Pixel 1 remain undefeated in the second season of the CTC, and now stand on top of the rankings across both Group and B. Despite their opener Firefly ending up completely outclassed by Katowice champion soO, P1 managed to turn the series back around with both FanTaSy and PartinG picking up relatively straight-forward 2-0's. While the obvious skill disparity in the first two Bo2s made for rather one-sided and uneventful games, the final bout between RagnaroK and PartinG is definitely worth giving a watch. Well, that's
IF
you're partial to PartinG's usual antics of cannon rush with an immortal + shield battery rush on map #1 followed up by a DT drop into a hidden nexus into a macro-based version of the
Margaery Build
/ Push / Pressure on map #2.
PSISTORM 4 - 2 Black Night
Watch VODs - (Match 1 - Match 2 - Match 3)
PSISTORM picked up an important win in the penultimate round of the group stage as Black Night hit rock bottom. While the Armani vs Sakura and TRUE vs Daydreamer matches went just about as anyone expected, BN's DynaMite came out with an impressive showing against GuMiho, taking the SC2 veteran on in a drawn-out bio + tank TvT on Disco Bloodbath. A few hiccups in the early game and a somewhat failed proxy rax opening put GuMiho on the back foot, and DynaMite quite aptly took advantage of that and took a lead in virtually every facet of the game. In the end, however, experience prevailed, as GuMiho's army movement and a patient approach to taking fights allowed him to claw his way back into the match.
Weekly Spotlight
by TheOneAboveUWeekly MVP: LP.Impact
With a record of 8-2 so far,

Impact
has contributed over half of Team LP's map wins this season and ranks among the top five players in the league. He picked up three of those wins in week 4, where he carried his team to an important win over Brave Star Gaming by beating Hurricane 2-0 and closing the series out with a win over a resurgent Dream in the ace match.
LP can clinch a playoff spot with a win over Newbee next week, which is a real possibility if Impact just gets a little help from his teammates.
Chinese Player Spotlight: iG.

Coffee
Invictus Gaming may have been eliminated once again this season before reaching the playoffs, but they have shown tenacity in the face of adversity. A glance through the Liquipedia scorelines won't show it, but they've given us surprisingly good and close series as the underdogs.

Coffee
has contributed a lot to this effort, being currently ranked as the best Chinese player in the league with a 5-3 record, and he remains the only Chinese player that does not have a losing record against non-Chinese opponents, standing at a 50% win rate. He's averaging at least one map win every week, contributed to iG's upset of Team LP in Week 1 by splitting maps with LP.Impact, and forced Newbee into the ace match in Week 3 by splitting maps with Newbee.TIME.
Unfortunately, most Western fans probably remember the name Coffee because of his
one-and-a-half year ban from competitive play in 2017
on account of match-fixing. It's truly a shame for such a talented player to throw away so much valuable time in such a foolish enterprise, especially as Coffee back then was already hailed as part of a new, strong generation of players poised to replace the old guard. Like with TSG.Nice, the ban seems to have worked in reforming Coffee and changing his ways—or so we can all hope.
Since his comeback Coffee made it into WCS Winter America, and showed some good placements in Chinese online cups, though he just couldn't crack the very top positions yet. His consistent performance in CTC could well be an indicator for his steady improvement, though, and it will be exciting to see if the international scene will soon have to deal with another Chinese Terran taking top spots in WCS.
Week 5 Preview: Playoff Scenariosby TheOneAboveU

Let's review some scoring basics as we look into playoff scenarios: Teams earn three points for a 'normal' win that doesn't go to an ace-match. If a series goes to an ace match, the winning and losing teams split the three points, with the winner taking two points and the loser taking one. These points are the foundation for the group rankings. If there is a tie in the point rankings, map score differential is the first tie-breaker, which is followed by head-to-head (a tie between three teams on points, map-score, AND head-to-head would be resolved by tie-breaker matches, but that's VERY unlikely to occur).

The first and second place teams in each group qualify directly for the offline playoffs in Shanghai (beginning October 12th), while the duo of third place teams will play each other in a 'wild card' match for the fifth and final offline playoff spot.



Group A's matches will be played at 11:30 GMT (+00:00) on Monday (30. Sept.), Tuesday (1. Oct.), and Wednesday (2. Oct.). Wardi will broadcast in English.

Team LP vs. Newbee (30. Sept.)
Jieshi < Acropolis > Dear
Impact < Disco Bloodbath > Scarlett
Patience < Triton > TIME
Ace: < Thunderbird >

LP need a non-ace match victory to clinch a playoff berth (they need the full three points), while Newbee is guaranteed at least 3rd place with any type of victory. LP is eliminated by a loss, while Newbee can hold out for some low-probability, fringe scenarios of advancement even if they lose.

This match should be pretty close. Newbee have a good start with Newbee.Dear facing LP.Jieshi, though it has to be said that Dear's PvP record hasn't been great over the last few weeks (mostly due to run-ins with his human hard-counter in OG.Zest).

LP.Impact against Newbee.Scarlett is a very different beast compared to our opening match: Impact has proven himself to be one of the most consistent players in the league, and he hasn't lost a series to Scarlett since 2017—foreign ZvZ be damned. Scarlett on the other hand has recently suffered several ZvZ losses to Chinese opponents both in CTC and NeXT, perhaps opening up a way for Impact to exploit some vulnerable points in her play. This really could go either way, but a map split or a win by Impact seems most likely. As stated before, the pressure will likely be on Impact here, as the margin of error is smaller for LP (not even an ace-match win will do).

The last match between LP.Patience and Newbee.TIME is another one that's hard to predict, mostly because both players have been really, really underwhelming so far in CTC. TIME has been far from the sublime form he's shown internationally and is only 2-6 so far, while Patience just has a slightly better record of 3-5. Patience is just one of these guys who can take a map off of any superior player, but in the same vein drop one to a far inferior one. Though TIME's TvP has a better recent record than Patience's PvT, this stat becomes rather useless when looking at the context: Patience's losses mainly come from strong Koreans like Maru, while TIME's average win rate was achieved against fellow Chinese Protoss players. Most likely this is going to be a map split, if Patience doesn't come out with two sharp builds—and that may not be enough to pull LP ahead of Newbee.

Prediction: Team LP 2-4 Newbee


Brave Star Gaming vs. Invictus Gaming (1. Oct.)
Hurricane < Acropolis > iAsonu
Cyan < Disco Bloodbath > XiGua
Dream < Triton > MacSed
Ace: < Thunderbird >

Earlier in the season the Chinese line-up of Invictus Gaming may actually have had a shot here, but with a resurgent BSG.Dream playing a TvP, Brave Star Gaming look poised to take their first win this season and not go out without a point on the board. The only hope for iG is probably a quick 4-0 with their Zerg power houses iG.iAsonu und iG.XiGua blitzing through BSG's Protoss players.

Prediction: Brave Star Gaming 4-2 Invictus Gaming


KaiZi Gaming vs. Jin Air Green Wings (2. Oct.)
Super < Acropolis > Trap
INnoVation < Disco Bloodbath > Rex
Misaki < Triton > Rogue
Ace: < Thunderbird >

This one is basically a seeding match, which is quite important given the gauntlet/king-of-the-hill format of the playoffs (Jin Air can technically be eliminated, but that would require them to lose 0-6 on top of Newbee recording an exact scoreline of 2-4 against Team LP).

While Jin Air could have been accused of not taking the league seriously in the past, this week's line-up sends a different message. In a weird flex (but okay), Jin Air Green Wings field both GSL Code S Season 3 finalists to make sure they lock up the #1 seed in Group A. On top of this, they also out-picked their opponents of KaiZi Gaming, sacrificing JAGW.Rex to KZ.INnoVation and giving their aces better match-ups.

KZ.Super did his job last week very well, but a similar feat as against Newbee.Scarlett is going to be very difficult against JAGW.Trap. Though Super dominated his opponent from 2012 to 2014, ever since then he has not won a single series over Trap. As a worse omen still, he recently lost several PvP matches to JAGW.Creator, a teammate of Trap considered inferior to him in any match-up. While Trap had to focus on PvT and PvZ recently for GSL and looked a bit vulnerable in the few PvP matches he did play, there can be no doubt about him being the clear favorite here.

Rex did get another point on the board last week against iG.Coffee, but it looks like he's merely a sacrificial lamb this week. No matter how erratic INnoVation's form may be, he still destroyed Newbee.TIME last week. I can only concur with the wise mathematical brain of Aligulac, which is giving an "overwhelming advantage" to INnoVation, and merely a chance of 8,40% of Rex taking a map. Though INnoVation will very likely take two points for KaiZi here, it's a good trade for Jin Air, as he won't be able to interfere with their hard-hitting players.

Speaking of which, GSL Code S champion JAGW.Rogue will be the last player for his team, facing KZ.Misaki. Chinese ZvZ has proven to be very dangerous this season, with Scarlett being the last prominent victim of their aggressively oriented playstyle. Rogue, however, knows a thing or two about chaotic ZvZs, and one only has to refer to his recent Code S semi-final win over Dark, which was achieved in a turbulent and dominating fashion. This should go very well for Jin Air, as they look in a very good position to secure the win in their group after a bumpy start into the season.

Prediction: KaiZi Gaming 2-4 Jin Air Green Wings




Group B's matches will be played at 13:00 GMT (+00:00) on Monday (30. Sept.), Tuesday (1. Oct.), and Wednesday (2. Oct.). Wardi will broadcast in English.

Triumphant Song Gaming vs. Pixel 1 (30. Sept.)
Solar < Acropolis > PartinG
herO < Disco Bloodbath > FanTaSy
Nice < Triton > Firefly
Ace: < Thunderbird >

Given that playoff seeding is pretty important in the CTC format, this match should still be quite exciting, and may very well become one of the best of the season. The Korean pairings look very exciting and could be quite evenly matched, especially as TSG.Solar and P1.PartinG have been trading heavy blows recently in CTC, NeXT, and the GSL Super Tournament qualifiers. It may well come down to TSG.Nice versus P1.Firefly as the deciding match, with map splits seeming likely across the board. That said, TSG are the defending champions, and have looked the part perfectly so far, so I'd give them a slight advantage.

Prediction: Triumphant Song Gaming 4-3 Pixel 1


Ocean Gaming vs. Black Night (1. Oct.)
TooDming < Acropolis > Armani
SpeCial < Disco Bloodbath > Daydreamer
Zest < Triton > DynaMite
Ace: < Thunderbird >

This match is a must-win for Ocean Gaming if they're to keep their playoff hopes alive. The list of tie-breaker scenarios with PSISTORM and Chivo is enormously complicated. Winning by the biggest map-score margin would be enormously helpful, but somehow it's not 100% necessary due to some really crazy, fringe scenarios.

Underdogs Black Night may be able to destroy that dream quite quickly. I have stated it before, but BN.Armani has been absolutely underwhelming this season and had literally no impact on the league so far, with the only map wins being contributed by BN.DynaMite—it would be funny indeed, if the only thing he did this season was to deny OG their playoff chances. OG.TooDming is no slouch in ZvZ, however, having beaten Scarlett 2-0 in NeXT, split maps with TRUE here in CTC, and doing well in Chinese ZvZ duels as well. Armani on the other hand looks very up and down in the match-up right now. It's an even match, but the pressure is on TooDming to deliver two maps here, and he might crumble under the expectations.

On paper the next match does look like an easy 2-0 for OG.SpeCial over BN.Daydreamer, but the Protoss is not to be underestimated, having only recently beaten both iG.Coffee and iG.XY, the duo completing the Chinese top Terran trifecta with Newbee.TIME, so it's not a given that SpeCial can deliver two clean maps here. Remember that OG are looking for an overwhelming victory here. The Mexican's TvP looks good enough to achieve a 2-0, but just looking back a few weeks we can find a 1-1 against P1.Firefly in CTC, so it's not like SpeCial hasn't dropped a map to a Chinese Protoss before.

The clearest match-up in favor of OG is probably OG.Zest against DynaMite—they just need to hope it's not too late at this point. Zest is in fantastic form against Terran, with his losses in CTC to PSISTORM.GuMiho and P1.FanTaSy being an exception to the rule. His opponent is not too shabby in TvP himself, but his recent good record was achieved against much inferior competition than Zest is. That said, DynaMite has always taken a map so far, and that may not have helped his team very much, but it could spell complete disaster for OG. They remain the heavy favorites to win, of course, but it may not be enough to keep their playoff hopes alive.

Prediction: Ocean Gaming 4-2 Black Night

Chivo SC vs. PSISTORM Gaming (2. Oct.)
soO < Acropolis > TRUE
RagnaroK < Disco Bloodbath > GuMiho
ExpecT < Triton > Sakura
Ace: < Thunderbird >

Everything for both Chivo and PSISTORM hangs in the balance in this series. If either team loses, they're out. PSISTORM can clinch a playoff spot with a normal win, but winning an ace-match opens up a whole new can of worms. Chivo also need to win, and they need to win by as big a margin as possible to stave off a miracle run from Ocean Gaming. As funny as it may sound, it could come down to Chivo.ExpecT and PSISTORM.Sakura, two players with very little experience in high pressure situations, to decide the teams' fates. But let's start at the beginning.

Chivo.soO versus PSISTORM.TRUE is one of those nightmare match-ups that's absolutely unpredictable until you're one minute away from the gg-call, because even though historically ZvZ has been the most successful match-up for both of them, TRUE's form in the mirror has been shakier than a ball bath during an earthquake—ignore the win rate for a second and look at the opposition: he goes from 1-2 to Vanya to 1-1 TSG.Solar to 1-1 OG.TooDming—, and soO hasn't played a large number of ZvZs in so long, that's we can't even tell anything about his form—other than the always true formula that his late game probably sucks. If this entire match is going to be as close as this ZvZ might be, we're in for a real thriller. The only thing I can really predict is aggression and a lot of pressure play, because both know how important every map win here is, and soO can hardly opt for late game while retaining hope to win. Also, we'll probably see Mutalisks for some reason.

Even Aligulac gives out "even chances" for the match-up between Chivo.RagnaroK and PSISTORM.GuMiho, that's how you know how close this really is. They've had plenty of matches against each other this year already, trading heavy blows and hardly establishing a favourite over the course of their exchanges (RagnaroK is leading nine maps to eight for GuMiho in 2019). I hate to do this, because it's kind of a coward's way out, but a map split here looks like the most probable result—and it does fit the theme of this match: it's going to go down to the wire. Both have a large variety of styles up their sleeves and can be decisive with all-in aggression, but are they really going to risk that with so much on the line?

So after two hopefully close and exciting matches we come to ExpecT versus Sakura, the duel which might decide over life and death for these teams. So here is the information I could gather about them in this match-up: Sakura hasn't played PvT for some time now, but he played Kas two times back in WCS Summer and 4-0'd him over the course of their series, so that's not too bad. ExpecT on the other hand did play some TvP lately, and it is not exactly inducing confidence, as he got 5-0'd by Firefly, destroyed by Zest, and probably gruesomely tortured by both Nice and Has in the WCS Fall qualifiers for Taiwan. I'll take the coward's way out and predict a 1-1 here, so hopefully we'll be ending this whole thriller with an ace match, in which GuMiho goes for a 2-Rax or something, and dies to RagnaroK's Roach-Ravager allin.

Prediction: Chivo SC 4-3 PSISTORM Gaming

[Crazy scenario we're not sure about: If PSISTORM defeat Chivo by ace match, there still is the possibility of OG taking a decisive 6-0 over Black Night. That would leave both teams tied at 7 points, with OG one map ahead of PSISTORM (16-15 to 16-16), but one MATCH behind (2-3 vs 3-2). According to the information we have, OG would end up advancing ahead of PSISTORM in this very strange scenario. Obviously, there could be more rules we haven't been informed of, but our current understanding is points > map differential > head-to-head with no mention of match score anywhere.]



---



Credits and acknowledgements
Written by:
TheOneAboveU
,
Ziggy
Editor: Wax
Stats: Aligulac.com
Images: SCBoy