WCS Valencia Takeaways

by Wax

@SaintSnorlax
Unfortunately, we bullied poor Soularion too much after WCS Valencia, which means his insightful write-up on the tournament will be late. In the meanwhile, enjoy my ramblings instead.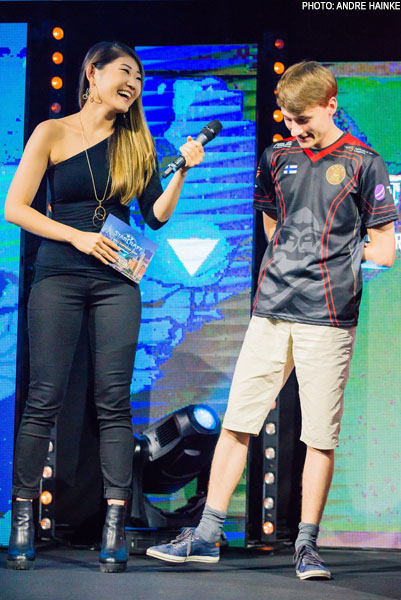 "Fine, I'll write a recap, if you insist."
Serral by the Numbers
Remember the old days when we used to joke about region lock and laugh about what would happen if we uncaged a player like INnoVation on the Circuit? Well, it's happening right now.
Serral defeated a field of 76 contenders to lift the trophy at WCS Valencia, becoming the first player to win an incredible
three
WCS Circuit championships in a row. It was a tremendous moment in WCS' short history, but somehow the gravity of the accomplishment was lessened by how
certain
everyone was that Serral would win. No one has ever dominated his foreigner peers as ruthlessly as Serral, and no one has struck so much fear in his opponent's hearts.
MaNa begged for mercy ahead of his finals meeting against Serral back at DreamHack Austin. In Valencia, HeRoMaRinE said he prepared for everyone
except
Serral, all but preemptively GG'ing out of a match against the Finnish Phenom.
Now you might acknowledge Serral's dominance but still say that comparing him to a top Korean ripping through the foreign scene is hyperbole. And I'll ask back: is it, really? Consider the following:
Record versus foreigners
| Player | Match score | Win rate | Game score | Win rate | Time frame |
| --- | --- | --- | --- | --- | --- |
| Serral (all) | 97-10 | 90.65% | 218-39 | 84.82% | 2018 Season* |
| Serral (offline) | 37-2 | 94.87% | 102-19 | 84.30% | 2018 Season |
| Maru (all) | 27-2 | 93.10% | 63-12 | 84.00% | 2018 Season |
| Maru (offline) | 19-1 | 95.00% | 46-8 | 85.19% | 2018 Season |
| Rogue (all) | 38-5 | 88.37% | 81-13 | 86.17% | 2018 Season |
| Rogue (offline) | 10-3 | 76.92% | 23-7 | 76.67% | 2018 Season |
| INnoVation (all) | 65-8 | 89.04% | 132-20 | 86.84% | 2017 Season** |
| INnoVation (offline) | 14-2 | 87.50% | 24-5 | 82.76% | 2017 Season |
| Perfect Dark | 34-0 | 100.00% | 71-8 | 89.87% | 2012-2017*** |
All records via Aligulac.com
*After 2017-11-15 (4.0 design patch)
**From 2016-11-25 (3.8 design patch) to 2017-11-14 (4.0 design patch)
***From 2012-10-11 to 2017-10-28 (arbitrary period selected for best possible vs foreigner record)
Whoops, I guess Serral is a bum compared to 2017 INnoVation, with a mere 84.82% game win rate against foreigners compared to INnoVation's 86.84%. My deepest apologies to INnoVation fans and Korean elitists alike.
Anyway, here's Serral 2018 vs Neeb's 2017 for good measure. I left out Neeb's WCS Valencia run from the stats to keep things from getting
too
embarrassing.
Record in WCS Circuit Tournaments
| Player | Match score | Win rate | Game score | Win rate | Time frame |
| --- | --- | --- | --- | --- | --- |
| Serral (all) | 32-1 | 96.97% | 95-16 | 85.59% | WCS 2018 |
| Serral (offline) | 18-0 | 100.00% | 51-10 | 83.61% | WCS 2018 |
| Neeb (offline) | 19-2 | 90.48% | 52-20 | 72.22% | WCS 2017* |
All records via Aligulac.com
*Winning tournaments only (Austin, Jönköping, and Montreal)
Has Steals the Show (and Our Hearts)
For most of his career,

Has
was considered a despicable cheese-monger who ruined tournaments by upsetting fan-favorite players. Only deviants and degenerates (
raises both hands
) could bring themselves to call themselves Has supporters.
At WCS Valencia, Has toppled star after star (Elazer, Kelazhur, Nerchio, ShoWTimE) in a spectacular run to the grand finals, becoming THE fan-favorite of the tournament in the process. It was as if he absorbed the popularity of each of his slain victims, like some kind of fandom vampire (no wonder they call him the 'black magician' in Korea). By the end, everyone outside of Finland was cheering the eccentric underdog on, hoping that even Serral might get
PROTOSSED.
What. The. Hell. ?
It's transformation the likes of which I haven't seen since 2013, when

duckdeok
's
tears washed away his facelessness
to reveal a sympathetic kid who represented the suffering of an entire underclass of Korean progamers.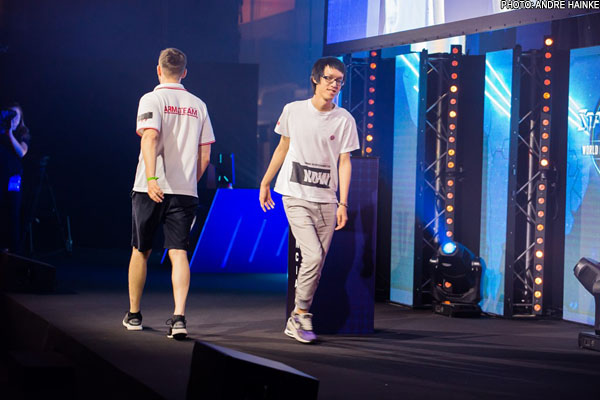 "You're already dead."
I'm not entirely sure what Has did differently this time around. He was as stubborn, cheesy, and vexing as ever—traits that had only brought him a cult following in the past. He happened to actually
win
a lot more games than he ever had, but winning was often what invited the most ire. Has was tolerated as a sideshow, but he forbidden from interfering in the main event.
It could be that I've just been misjudging fans' perception of Has this entire time. Perhaps the disdain was merely floating on the surface, seeping up as an involuntary, juvenile reaction to cheese. And perhaps, on the inside, everyone was ready to
un
ironically love this unabashedly cheesy thing, like a group of 20's-ish friends discovering that the Backstreet Boys were, indeed, amazing.
The Kids Are AlrightHas was the #1 show-stealer at WCS Valencia, but the sixteen-year-old duo of Reynor and Clem also got a chance to light up the crowd as the opening act. Reynor made a solid quarterfinal run at his debut WCS Circuit event, and I'm interested to see how seriously Korean players take him at the upcoming Code S group selections (Aug 8). Clem looked much rougher around the edges, and it's hard to tell how good he could be. Getting to the level of a 2014-2015 MarineLord (rather underrated) would be great, but he might be capable of more.

In any case, I felt the hype surrounding the duo at WCS Valencia was a little too similar to that of traditional sports, where fans are more excited for potential than what they already have. I accept it as being an innate part of sports-fan psychology, but I was personally a bit tired of it after following weeks of NBA draft & Summer League coverage.

So, yeah, I was glad when Serral slammed Reynor 3-0 in a statement match. "How DARE you get excited about another foreigner when I haven't even shown you HALF of what I can do." said Serral as he flipped off the crowd, in one of my daydreams where he's much more interesting.


Neeb and Scarlett for SEO PurposesNo, I didn't actually manipulate any meta-data for search engines, but I figured I'd pay homage to this delightfully cheeky headline from SBNation.

Neeb and Scarlett have been seriously underwhelming on the 2018 WCS Circuit. Neeb was knocked out in the quarterfinals of WCS Valencia while Scarlett finished in the top 16. They are ranked #4 and #15, respectively, on the WCS Circuit Point Standings. You have to wonder if I'm only mentioning them here to cynically take advantage of their popularity.

First off, that's totally the case. Second, let's not forget that Neeb and Scarlett are the only foreigners besides Serral to win a noteworthy international tournament this year. IEM PyeongChang feels like it happened ages ago and the Hangzhou StarCraft Carnival has all sorts of asterisks on it, but the point still stands: Scarlett and Neeb defeated Korean pros to win tournaments with a lot of money on the line.

Neeb's #4 spot in the rankings would be totally respectable for any other player, but it's a huge letdown after seeing peak-Neeb in 2017. Dammit, Neeb, don't you know what these three years of region-locked WCS were for? Every scrap of legitimacy the WCS Circuit has clawed and scrapped for has gone to lay the foundation for Neeb vs Serral, a foreigner vs foreigner grand final that could equal or even outshine a GSL Code S. Serral's given you three chances. Now we're just waiting for you.

In Scarlett's case, her up-and-down career (complete with maybe-retirements) has taught us to temper expectations. I wasn't really surprised or disappointed when she fell back to earth after her career defining IEM PyeongChang win. Top 16 eliminations at Austin and Valencia? Shrug. Scarlett's gonna Scarlett.

Interestingly enough, WCS Valencia felt like a net-positive tournament in terms of hype. Scarlett is the ONLY foreigner to have defeated Serral in a BO5+ series during the WCS 2018 season (at the IEM PyeongChang) and she came within one game of repeating the feat at WCS Valencia. How far could she have gone if she had closed that series out? GSL vs. The World might give us a hint.



Careful, Scarlett is watching you post.




---



Credits and acknowledgements
Written and edited by:
Wax
Photos: Andre Hainke
Statistics:
Aligulac.com