Korea Weekly - March 7, 2018
by Destructicon


- TL_Destructicon


After a two week break for the IEM World Championship, The Korea Weekly is back with the quarterfinals of GSL Code S.
Rogue may have reaffirmed his World Champion bona fides in Katowice, but in Korea he'll still suffering the consequences of slacking off after winning BlizzCon. Eight other players now contend for the title of GSL champion, a title some consider the most prestigious in the world.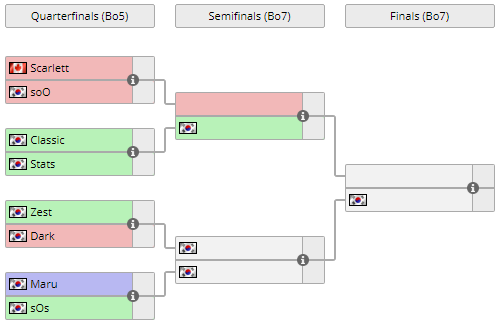 .1
Quarterfinal #1: soO vs Scarlett
Before IEM Katowice, this was one of the hottest and most anticipated of the Ro8 matches. Both
soO and
Scarlett had performed well in the Ro16 of the GSL, with The Queen of Blades earning serious credibility points by defeating both INnoVation and Zest. Meanwhile, soO looked like his usual, solid self, overcoming his 'weak' ZvT to defeat aLive twice and earn a quarterfinal berth.

Riding such a wave of momentum, Scarlett and soO seemed poised to make an impact at IEM. Instead, both Zergs flopped out in the RO76 double-elimination stage in a rather perplexing manner. Both Scarlett and soO lost in their best match-ups of ZvZ and ZvP, respectively, with
Scarlett being ousted by
Guru and
TRUE, while
soO was defeated by the combined efforts of
Harstem and
Losira.

As such, predicting the results of this series based on form or win-rates seems to be an even more difficult proposition than usual (Scarlett is 65-29 in ZvZ in 2018, soO is 24-12). We must think about their play styles.


Scarlett is slightly more aggressive than soO, and uses her fair share of early-game builds to either kill or setup a good mid-game transition. She also has a preference for mutalisk based play—much more so than other Zergs (Koreans, especially). This does come at the cost of some refinement in roach/hydra based mid-game play.

Statistically,
soO is one of the best Zerg vs Zerg players ever—and while he's struggled a bit lately—he is still a fearsome opponent. While not as aggressive as Scarlett, soO has always played a strong all-around game with enough all-ins to keep his opponents honest. In particular, soO is masterful at the roach-hydra phase of the game, where he is rarely outproduced or outmaneuvered.

I anticipate that if the two make it an early-game knife fight, soO will get the upper hand due to his experience and mechanics. If soO doesn't win early, he should be able to set himself up for a strong mid-game. Scarlett's muta tactics are something soO should look out for, but Scarlett will struggle to make mutas work from a disadvantageous position against an opponent of soO's caliber.

Prediction

Overall, I believe that soO is still favored, despite his misadventures in Poland. He's the most resilient and consistent player in GSL history, and his experience has never failed him at this stage of the tournament.


soO 3 – 1
Scarlett
.2
Quarterfinal #2: Classic vs Stats
Much like the other quarterfinalists on this side of the bracket, the Protoss duo of
Classic and
Stats had their stock riding high headed into IEM Katowice. Now that IEM has concluded, this bout is looking more one-sided than it initially seemed.


Stats started 2018 on a bit of a downturn—failing to qualify for IEM PyeongChang and IEM Katowice through online play. However, he looked as solid as ever in the GSL, even advancing as first place in his RO32 group over the much-hyped
Classic. His PvP was in question headed into the RO16, but he still managed to survive Protoss Purgatory to reach the quarterfinals. While his play didn't have the same luster as his early 2017 performances, Stats still looked like a dangerous opponent who would come through in important matches. At IEM Katowice, however, Stats lost in RO76 "qualifier" to
Maru before being eliminated by the foreigner
souL in a shock upset. For a player who finished runner-up in the last IEM World Championship, it cast serious doubt on his current form.


Classic, on the other hand, has been consistently impressive all throughout 2018. He's been strong in online qualifiers, and he cruised through his GSL Ro16 group over
Maru and
Dear. While his IEM Katowice run ended in a brutal 0-4 defeat to Rogue in the finals, he was on a monster run up to that point. He racked up a 5-0 series score in the group stage (10-1 on maps), with convincing wins over both sOs and Trap. Classic went on to confidently defeat both
Dear and
Serral in the quarters and semis before ultimately succumbing to a resurgent Rogue. While the manner in which he lost the final has shown him to be mortal, it has not significantly diminished his aura of strength.

What Classic needs to watch out for is the early game shenanigans that allowed Stats to score an upset in the RO32. Classic's mid and late game are a force to be reckoned with—heck, his early game is strong as well. But he can be susceptible to all-ins, as Stats showed earlier in the GSL. If Classic can shore up his last weakness, he should be able to easily take the rematch.

Prediction

I'm going to go with Classic here. Even as he has racked up wins over strong opponents in all match-ups, his PvP victories have stood out the most. He shouldn't underestimate a cornered and desperate Stats, but all signs point to a Classic victory.


Classic 3 – 1
Stats
.3
Quarterfinal #3: Zest vs Dark
While both combatants have come back from IEM looking worse for wear, their recent form still suggests this quarterfinal will be a one-sided affair.


Zest has been struggling for the entirety of the year. The fact that he's made it to the GSL RO8 is actually the outlier result of his 2018, and he hasn't looked good in getting this far. Zest barely scraped by after losing haplessly against
soO in the RO32, and he floundered in another loss to
Scarlett in the RO16.

Zest's performances in the IEM PyeongChang and Katowice qualifiers shone a ray of hope upon the former KT Protoss, but such hopes were dashed upon the rocks each time. At IEM PyeongChang he was eliminated in the Ro8 by
Elazer, and at Katowice he was eliminated in the group stage with a 1-4 record with losses against
Impact,
Rogue,
Serral and finally
Neeb.

The large sample of major tournament losses makes it quite clear that Zest struggles immensely against Zerg, and his 47.50% overall PvZ win rate over the past 2 months corroborates this point. It's looking awfully gloomy for Zest unless he prepares some really dirty, dirty all-ins well thought out builds and abuses the strengths of his race.

While Dark was eliminated from Katowice in the RO12—much earlier than he would have wanted—he still looked solid overall, winning convincingly against
INnoVation and
TRUE and putting up a fierce fight against
Hurricane,
Solar in the group stage. Dark's ultimate downfall came at the hands of
Trap, but it came after a long and hard fought series. It could also be that Trap simply has Dark figured out, as evidenced by his 7-4 win in the ONPOONG Ultimate Battle series they played in the beginning of January.

Although it is fair to say Dark has also struggled slightly against Protoss, he doesn't come close to comparing to Zest's struggles against Zerg. When Dark loses, it's in tight series and games that go down to the wire.

Prediction
While his recent results haven't been spectacular, Dark has still remained fairly consistent. He doesn't completely dominate, but he never seems powerless in a series or game. Zest's PvZ, on the other hand, has just been atrocious. Bar him managing to magically replicate Trap's style, this will be where he falls.


Zest 0 – 3
Dark
.4
Quarterfinal #4: Maru vs sOs
Team-kills in general have a tendency to be weird and messy. But to add even more twists to this tale, fate has dictated that not only should two Jin Air players meet in the RO8 of the GSL, but that it would be in a rematch of the RO12 of IEM Katowice.
The last major balance patch hit GSL Terrans hard, slowly weeding them out until, ultimately, only one has been left standing. But the last light in the dark was not INnoVation, who we expected to carry the torch forward with his flawless mechanics and macro game. No, the last Terran is
Maru
, the other great Terran hope.
While INnoVation failed to live up to his reputation and survive the new meta, Maru managed to scrap his way through each GSL group. Maru continued the trend into IEM Katowice—he didn't dominate his group, but he did string together enough results to barely make it to the RO12.
Then, in the playoffs, Maru truly turned it on, extinguishing sOs' hotstreak in a narrow 3-2 victory. He followed it with a spectacular series against
Solar
in the RO8, where he brought back some of his old strategies and used a late-game mech-ghost composition to great effect. While Maru did fall to eventual champion
Rogue
in the semifinals, he came out of the 2-3 loss looking even stronger for it.
In contrast to his Terran opponent,
sOs
came into IEM as one of the favorites to win it all. He racked up an impressive kill-count in qualifiers, taking out
Trap
,
Hurricane
,
Dear
and
Solar
to reach the group stage. Even before IEM Katowice, sOs had shown he could making a deep tournament run with a runner-up finish at IEM PyeongChang.
sOs looked strong in the Katowice group stage, going 4-1 in his group with wins against Ryung, Trap, Elazer, and HeRoMaRinE. But sOs' aspiration of winning a second IEM World Championship quickly came crumbling down as Maru bested him in a close series.
While sOs has made great strides to improve his play in Legacy of the Void and has earned himself multiple opportunities to win a championship, it's evident that he's still missing the clutch factor that once made him the most feared big-match player in the world.
Prediction
This is probably the hardest of the RO8 matches to predict due to the team kill element, and how much each player's form can change from match to match. Maru, despite all the odds being stacked against him, has managed to survive in the GSL. sOs, despite being in great shape, has disappointed in big moments. I don't think Maru can keep the magic going forever, though, and sOs should triumph after having learned from their IEM series.
Maru
2 –
3
sOs