Introduction
StarCraft 2 is a challenging game. The complexity of the game is one of the major barriers for players to improve. Knowing what to build and when is one of the most important things to learn if you want to climb the ladder. The most common way build cut through the complexity of the game early on is following a build order and having a well refined build order can easily propel you into Masters/high Diamond. During Wings of Liberty builds used to be in abundance and relatively simple - who doesn't remember the Korean 4Gate? or 5rax reaper? or the 1-1-1? or the 7 roach rush? Executing these simple strategies propelled people up the ladder and even into major tournaments (hi bitbybit!).
We're well past the WoL era, and the changes made in LotV have radically increased the complexity of builds and the quantity and quality of available builds has disappeared. Indeed,
FireCake
recently lamented
that
"Let's imagine you are just starting SC2. First you will be a bit lost and what you will want to do is to find some content about how to play, what are the main strategies, what are you doing wrong, why are you losing? Etc…
Then try to Google "SC2 legacy of the void tutorial", try to find resources on the internet, you will find nothing.
Maybe if you are lucky you will find HOTS/WOL build orders that will be of no use for you.
You just cannot learn the game by looking for help on the internet."
TL Strategy has long been a bastion of reliable SC2 knowledge, and it's about time we started rebuilding a reliable collection of builds for LotV. To do this, we've partnered with some of the best in the business to bring you (i) reliable strategies that you can put into practice on the ladder; (ii) a better practice experience so you can quickly learn new strategies and improve faster.
Who better to turn to for high quality builds than
PiG
. His dailies have become
the
definitive authority of SC2 strategy. We're teaming up with Jared to turn his
build order-centric dailies
in an easily readable, digestible form. This will give you a quick reference point to reinforce your knowledge before heading off into game, or provide you an introduction to the build before you go away and watch PiG explain the build in detail in his daily.
But we're not stopping there. Up until recently, the only way to memorise a build was to jump into a custom and grind out games (possibly using SALT or some variant) or
be Artosis and carry a notebook full of build orders around
. The folks over at
spawningtool
have been an indispensable resource for sharing builds over the years, and they've taken the next step to produce an app on the Overwolf platform to make learning new builds a breeze. The Spawning Tool Build Advisor app
directly overlays a build you choose into your game of StarCraft 2
and walks you through the build from the start of the game.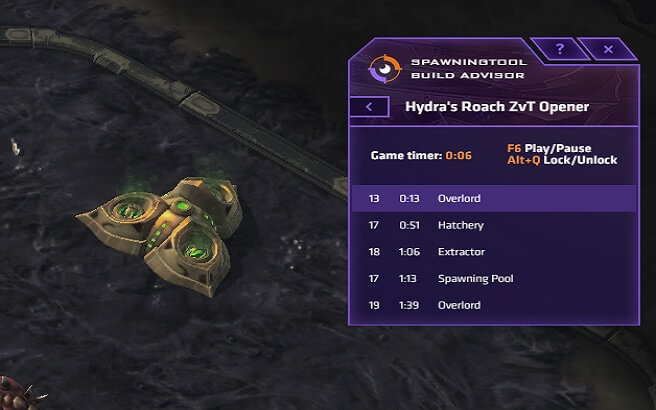 Every build that we feature will have a corresponding build order available within the Spawning Tool app so that you can jump straight into game and get playing. You can expect to see the first of PiG's content coming through next week, but for now we wanted to introduce you to the Spawning Tool app and show off what it can offer you in game.
How to get the Spawning Tool App:
To use Spawning Tool, first you must download Overwolf found
here
. Following that, you can either search for the spawning tool app through Overwolf, or
follow this link
. Now that you have Spawning Tool, let's walkthrough the build on how to use it.
Using Spawning Tool: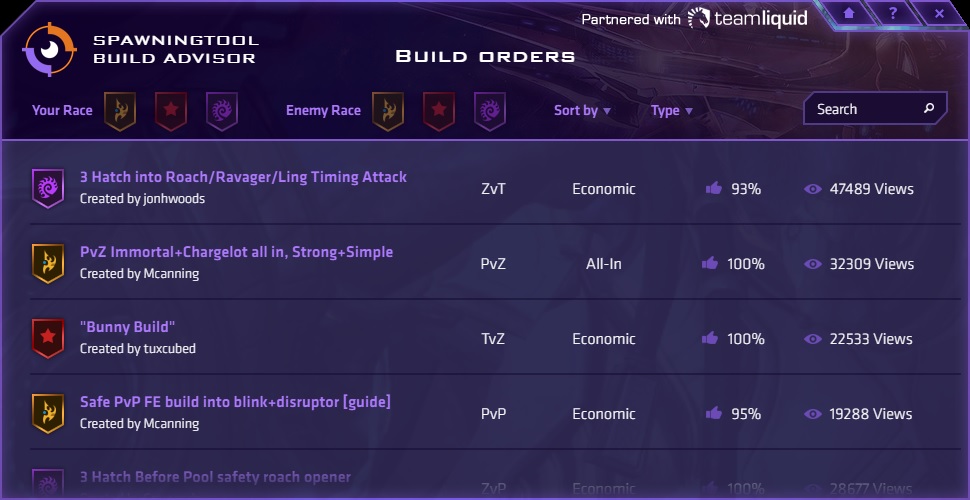 The build hub
After starting StarCraft 2 and having Overwolf launched in the background, this overlay will pop up over your menu (which can be toggled with control + Q). This is the hub for builds in Spawning Tool; every build entered into the app will be searched through here. In here, you have multiple search parameters:
Search by matchup: You can select both your and your opponent's race to narrow down the initial list of builds

Sort by: This is a drop down menu with the options Hot, Top, New, Alphabetical. Each one does as their name implies

Type: Another drop down menu with the options All, Cheese, All-in, Timing Attack, Economic. These will further refine your search with more precise strategy for the build you are looking for.
If these are not enough to satiate your thirst for builds, there is also a search bar that works in tandem with all previous search criteria. In here you can input keywords such as professional players and units.
Selecting a build:
Selecting a build is quite simple, just click on a build that piqued your interest, and the build information will pop up. This screen includes the description of the build, the build order, and an analysis of the build. To activate the build, click the
Pick Build!
button next to the description, and another new window will pop up. To get out, simply click the back button next to the title of the build.
Using the build: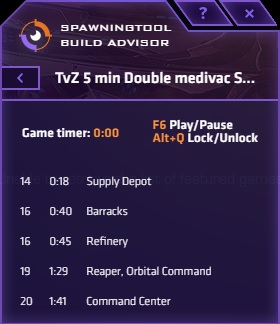 The build tab
Now that we've selected a build, it's time to hop in game and try it out! While the build is picked, launch a game and when the game starts, the build will also synchronously start with the game timer. As the game goes on, the build will automatically scroll down through itself to continue the build. In case of falling behind, you can simply pause the build until you catch back up. There is also an option to lock the tab in place, so you can move it to a convenient place on screen and lock it there.
And that's it! Previously it was much harder to follow builds in game, but now with this tool you'll be able to breeze through a build while not losing focus on the action in front of you. There are constantly new builds being created through Spawning Tool, have fun exploring all of them!
Brought to you by the TL Strategy Team in collaboration with Overwolf and Spawning Tool.