The Year in Games
There was a great fear heading into the final year of Heart of the Swarm that the game would stagnate and lose its flavor. While the popularity of mech and the early days of swarmhosts suggested as much, StarCraft continued to give us great game after great game. What makes 2015 truly unique, however, is that every matchup seemed genuinely enjoyable at times throughout the year. In 2011, PvP was at its worst. In 2012, we wanted to gouge our eyes out because of BL infestor. In 2013 and 2014, nobody seemed to give the ZvZ matchup much credit.
This year, the matchup split could not be more even. Every single matchup is well represented in the list, with none having more than 9 games. TvP and PvZ were the most popular matchups, and ZvZ actually had the most great games out of all the mirrors. While TvZ and TvT experienced a decline, the two marquee matchups from bygone years still gave us a poll-topping selection. Every race was well represented in this year's list, and it might have been the most balanced (at least, game quality wise) year of StarCraft 2 yet.
Complete Stats
+ Show Spoiler +

vs

: 6

vs

: 9

vs

: 5

vs

: 9

vs

: 4

vs

: 7
40

: 25

: 26

: 29
This was, by far, the most difficult Best Games of the Year to finalize. While there was a feeling that the games weren't as crazy or as intense as previous years, there was a sense that every race and matchup received its due, and that the quality of the games on the list is far more even than ever before. Many of these games deserve higher, but hardly any of the games deserve to be lower. In Heart of the Swarm's swansong, that's a pretty good way to go out.
While we'd like to rank every game every played, it's natural that some great games just miss out on our list. Our initial tally included up to 100 games, and some of our personal favorites unfortunately missed the cut. However, there are some games that, even though they don't deserve to get on the main list, have to be included for posterity. So, before we get on to the
actual
list, we present to you the
Stupidest Games of the Year
and our
Honorable Mentions
.
The elfi vs. Life Honorable Mention Awards for Really Weird Stupid Games That Are Weird
Proleague 2015 (May 19) -
VOD
When playing against Maru, a protoss' #1 priority should be deflecting drops. Even though Maru has a fearsome TvP record, he can play a very 'predictable' style. By predictable, we mean he will predictably tear you to shreds. MyuNgSiK tried what any sane (assuming he's sane) protoss would try: use phoenixes in the early game to stop drops while transitioning to colossus. That, of course, did not deter the little terror, and he continued to drop the entire game. MyuNgSiK basically stopped every single drop without losses, and he played a very good defensive game.
And then, he lost. He defended perhaps 20 drops, and yet he lost. In what was one of the most confusing games of the year. So confused was he that he couldn't repress his tears. Yep, pretty sure every protoss cried after that game.
If you reeeeally want to read a serious analysis of the game, you could always read
this.
#4. Bbyong vs Zest on Vaani Research Station
SSL Challenger S2 (April 9) -
VOD
Trust Bbyong to take a game completely off the beaten path. Bopped twice in standard games with bio, Bbyong flipped all the way round into full blown mech in game 3 of this SSL Challenge match. Whether Zest's response was an amused riposte to Bbyong's unorthodox challenge, or a genuine, prepared strategy honed in the KT teamhouse, we'll likely never know. All that's certain is that, for the second time this year, carriers were released onto the field of battle.
A laboured opening from Bbyong saw him struggle against Zest's constant blink stalker harass, as the KT protoss took full advantage of the terran army's poor positioning and lack of mobility. It delayed Bbyong to such an extent that by the time Zest moved out on 200/200 supply, he had ten carriers ready to go. With both armies maxed out, we watched as the tension grew. Which late game army was stronger? That question was answered immediately in hilarious style, as the carrier fleet scythed through the mech force in seconds.
#3. Patience vs TRUE on Vaani Research Station
DreamHack Open: Tours (May 9) -
VOD
At this point in time, we're pretty familiar with HotS cheeses. We know, for instance, that double proxy gate is a pretty strong build against a zerg who chooses to open with a fast expansion over a spawning pool. The question we never bothered asking was: what if that hatchery was on the other side of the map?
Enter TRUE. No stranger to weird and wonderful games, he had already proxy hatched twice in the previous two maps, and felt no reason to change it up going into the decider. Things quickly escalated, as TRUE transferred his drones to his opponent's third base while Patience's zealots wrecked his main. The handful of lings he'd managed to squeeze out then proceeded to do the same to Patience's completely naked main, leaving us with the oddest of equal supply battles—the zerg on 14 workers and 2 army supply, against the protoss on the exact opposite. TRUE's spinecrawlers evened that up though, and in one of the tightest conclusions to a game that we saw all year, drones took on zealots in a fight to the bitter end.
#2. Mystery vs TooDming on Vaani Research Station
It's relatively rare in StarCraft that people find a way to genuinely change the interaction between two units. MarineKing managed it with marines against banelings for instance, demonstrating the concept of splitting in StarCraft 2 for the first time in a televised game; while Maru similarly broke new ground with the sheer success and consistency of his marauder drops in TvP last year. Without such transcendent micro though, innovation through control alone becomes trickier.
Thus, in the wacky world of Chinese StarCraft, players looked for alternative solutions. If one unit can't do the trick, why not try using more? And thus, the six oracle PvZ build was born, inverting every tenet of traditional defensive zerg play. What's that—you wanted to build a hatchery? Nope, time to force a cancel with oracles. You thought that two spores and a queen was sufficient anti-air to protect a base? Nope, here's six oracles. You've turtled up completely to protect your bases? Here's a massive chargelot archon attack.
There are much more efficient ways to play PvZ (Classic, for instance, achieved much the same effect with just a pair of oracles in his matches against ByuL), but let's be honest—who doesn't enjoy watching the baffling sight of a mobile aerial armada melting hatcheries? In the final year of HotS, when the game was supposed to be fully mapped out, China once again found a way to confuse and entertain us all. After his breakout top 4 finish in the GPL, Mystery made his first appearance in WCS, where he reeled off this exact same build on Vaani again to beat a confused Ret in the Round of 32. We look forward to seeing what insanity he'll bring to Legacy of the Void.
#1. Has vs Your Sanity
As enjoyable as it is watching players adhere to the Artosian ideal of honourable macro play, occasionally you want a little splash of evil to go with it. Sometimes, you just want to watch the world burn, and for a second year in a row, no one was as predictably unpredictable as Has. Whether it was dumping foreigner favourite NaNiwa out of WCS at the first hurdle, driving iaguz to incandescent rage after a selection of cheeses, or starting off a series against Bunny by proxying a gateway at the top of the terran's main ramp, you never knew exactly what you were in for. No one was safe; not even the casting desk, as Kaelaris and ToD discovered while collapsing into fits of giggles. It almost didn't matter how successful he was; the sheer fact that he was playing, driving his opponents mad with his one base mayhem was enough. Occasionally, we take too narrow a look at StarCraft, and become too locked into the standard set of openers and counters; Has reminds us of the joy of being different.
Honorable Mentions
WCS Challenger S3 (July 29) -
VOD
Foreigner ZvZs have a very bad reputation. It's not entirely warranted, since ZvZ has always been one of the least liked matchups. The name FireCake also evokes more than a few gags, but as much as we want to dislike the polarizing Frenchman, he isn't totally devoid of interesting ideas and good games.
ZvZ's turgid reputation is usually due to the globs of roaches crashing against each other, but on occasion we get an atypical yet seemingly standard game. In this one, FireCake chose to rush his lair for mutas while Zanster committed to lings and melee upgrades. A frantic tussle ensued as Zanster tried to deal damage before mutas, and he was able to set FireCake back a dozen drones. Unfortunately for the Swede, he had no counter for mutas aside from queens. Instead of going for his own mutas or relying on infestors alone, Zanster decided to make use of his melee upgrades and rush to hive. What followed was a very weird ZvZ late game of roach muta versus ling ultra infestor. But a good kind of weird, because this was one of those rare ZvZs with skirmishes everywhere.
Proleague 2015 (May 25) -
VOD
One of the greatest joys in watching Proleague is witnessing a perfectly executed planned strategy. While many of these types of games are cheese or early rushes, this one was a well coordinated mid-game attack. DeParture played herO like a flute as he understood perfectly what the CJ player was prone to do. Upgrading burrow early was the first tell that DeParture had planned ahead, and he was able to block herO's early third. With a very late robo, herO was forced to build a pylon and a cannon in order to exterminate the gopher. However, that would not be the end of the shenanigans as DeParture built to roach warrens at slightly different times. At first the announcers thought it was a mistake, but when both roach speed and burrowed movement appeared on the production tab, the plan was revealed. Knowing that herO preferred blink based armies with a lot of sentries, DeParture knew that there would be a window to strike as herO would focus on probing his late third. As the lings and roaches descended towards herO's ramp, the upgrade ticked down. When it finished, herO could only sigh in exasperation as his forcefields proved pointless.
IEM Katowice AM Qualifiers (February 23) -
VOD
In a sadly bygone era of StarCraft, there were few online events more enjoyable than the IEM qualifiers. The Korean / Asian qualifiers were often more competitive than the actual main events, featuring a constant stream of great games featuring the world's best players. They gave us hints of the up and comers of the scene (Zest's dominance of the IEM NY qualifiers in late 2013, for example), while also giving us a whole heap of games that rank amongst the very best we've seen (Soulkey vs PartinG from 2014, Curious vs INnoVation from 2013).
In the IEM Katowice Qualifiers, we were gifted the most MarineKing game that we've ever seen. Opening with an 11/11, he managed to bunker up on Snute's ramp despite the zerg opening up with 14/14 into quick zergling speed. Stymied on one base, Snute busted through with roaches, while MarineKing quickly transitioned to 3CC back home. A bunker wall off prevented any damage from the counter push, and MarineKing was far ahead, rocketing into the lead off his much superior economy. Maxed out, he pushed in for the kill.
Not for the first time, his overconfidence would cost him. Huge connections from burrowed banes put a healthy dent in his marine count, while marching into Snute's prepared baneling ambush somehow lost him an engagement against a zerg who was down 40 supply and was still missing baneling speed. A quick counter push cut off reinforcements, and with lings swarming all over the terran production, the game was up. The tables completely turned, Snute was now up by 50 workers, and one last desperation marine push was doomed from the start due to Snute's mass baneling composition. Burning CCs began to lift and float before even MarineKing realised that being down over 100 supply was a less than ideal situation.
#2. FanTaSy vs soO on King Sejong Station
Code S Ro32 S1 (May 1) -
VOD
Nothing in the early game of this match between FanTaSy and soO suggested that this would end up being one of the best of the year. FanTaSy's uncharacteristically defensive mech opening locked down his three-base setup, while soO's struggles at breaking down turtling opponents have long been noted by now. However, when a player with as storied a history as FanTaSy proclaims a game to be the best he's ever played, chances are it's worth a watch. When soO managed to push all the way into FanTaSy's main, camping the production facilities with a handful of brood lords, the ex-SKT ace took that as the signal to force a base trade. A complete lack of effective anti-air left FanTaSy racing to eliminate his opponent while trying to cobble together a new base at his old third, but down 19 supply to 54, it seemed that all we were waiting for was FanTaSy's traditional GG timing to expire.
That is, until he noticed his full energy banshee hovering in a forgotten corner of the map. A crucial snipe on soO's last overseer with his final handful of marines deprived the zerg of detection, and in one of the oddest climaxes to a Starcraft game we've ever seen, it became a question of how long his invisibility would last...
#1. Sora vs Trap on Cactus Valley
Proleague Post-Season Match 2 (September 29) -
VOD
As a competitive strategy game, Starcraft is often compared to chess. However, while the two share certain similarities—mainly in the initial unfurling of build orders and gambits, attacks and ripostes—it's a comparison that does not hold up. Chess is by design fought on an even playing ground with mirrored sides; a fact that doesn't correspond to Starcraft's asymmetry, be it in race or tech choice. That inherent asymmetry in the game is what lends Starcraft its characteristic blend of timings and attacks—ploys designed to tilt the game one way or another based on the slightest of differences, primarily focussed on maximising one overpowering advantage.
There are certain games, however, where the comparison is more than apt. Mirror matches, and in particular PvP, offer both sides the same starting tools in the early game, and Sora's build here on Cactus Valley in CJ Entus' postseason clash with Jin Air in Proleague was one of the most elegant of the season. Lacking any notable results all year long, it seemed as if he had focussed everything into this one match, with all the details lining up perfectly—the denial of scouting; the hidden probe; and the pylon block to slam the trap shut. In summary, it was nothing out of the ordinary—early stalker aggression after rushing out warpgate research—but in the simple beauty of conception and execution, it was without peer all year long. Outplanned, outthought, and outmaneuvered, Trap was forced to GG out.
After a stop-start career, filled with WCG glory and anonymous troughs, this was Sora's last appearance for CJ Entus, and given his current teamless state, could prove to be his swansong in professional Starcraft 2. If that unfortunately comes to pass, this would be a fitting reminder of him at his best.
* Click the numbers below to browse between games
40

ForGG vs MarineLorD
WCS EU Challenger S1, King Sejong Station (January 24)
Click to Watch



Since ForGG came to Europe in 2012, he's always been known as the king of foreign TvT. It's a title that the statistics bear out—a 70% win rate overall, rising to 85% against non-Koreans at 142-26, is certainly an imposing record. So when matched against MarineLorD in the Challenger round of WCS Season 1, most people assumed that a 3-0 bop was a foregone conclusion. Luckily for us, those fears turned out to be unfounded.

What we got instead was one of the most stylistically distinctive TvTs of the year. Far from being one of the 200/200 mech turtlefests that became common later in the year, this quickly devolved into an ultra-scrappy low supply, low economy affair. Constant harass ravaged both players' mineral lines, with ForGG's traditional mass hellion packs running rampant over the map, while MarineLord ruled the skies with total air control for his cloak banshee squad. ForGG displayed the same wanton aggression he showed against Life at Dreamhack Winter last year; disobeying all the widely held 'rules' of mech, constantly pushing in with incomplete armies, but MarineLorD's defence was equally praiseworthy, holding him at every turn. Leading into the end game, army supplies were roughly even, although MarineLorD had much the better economy at 40 SCVs to ForGG's 8. It was just a case of whether he could hold out long enough for his advantage to kick in.

39

INnoVation vs Classic
Leifeng Monthly 3, Coda (July 5)
Click to Watch



From its simple origins as an online tournament designed to give the Chinese scene exposure against Korean players, the Leifeng Cup has evolved into one of the major players in an online Korean scene undergoing a small revival. For their third monthly cup, they truly exceeded all expectations, bringing together arguably the greatest array of talents ever assembled for an online tournament (all 8 KeSPA teams represented, with SKT, CJ, Jin Air, SBENU and MVP essentially sending their entire rosters) for the best double elimination bracket seen since the days of IPL 5. Unfortunately, most of it was not broadcast; luckily for us, though, this gem of a match was.

The two SKT stablemates opened passively—both players quickly macro'd up on three bases and played for the long game. For once, INnoVation didn't opt for his traditional SCV pull, and with both players quickly maxing out, we finally saw what he could do in true late game TvP. Ghosts came out for the terran, and storm for the protoss as the full range of options in both players' arsenals came onto the board. A great engagement in the middle of the map seemed to have broken INnoVation—down 50 supply, and with his viking count reset—but with ghosts threatening to nuke his fourth, Classic pulled back and the game levelled up again. Mayhem ensued, with both players rocketing up and down in supply with constant trades. However, it was always Classic taking the better end of the big fights, and with constant DT harass keeping INnoVation on a stunted economy, the terran simply ran out of resources to fight the dual colossus / templar threat.

38

TRUE vs Journey
Olimoleague 21 Ro4, Deadwing (February 15)
Click to Watch



Some players in StarCraft 2 will forever be defined by a single unit. For Maru, it is the marauder; for Freaky, it was the infestor. For TRUE, it's definitely the baneling. He just loves them, to a seemingly unhealthy degree. Whenever you tune into a TRUE ZvT, it's pretty certain that you'll see green acid explosions all over the place, and this match certainly played to expectations. With cross spots on Deadwing, we were pretty much guaranteed a macro TvZ, and despite TRUE's mutalisks wreaking havoc in the terran base, the game quickly flowed into a traditional bio vs muta ling bane battle. Taking up a siege position at TRUE's fourth, Journey seemed well set to deal critical damage, but an excellent ling flank caught the Samsung terran off guard.

Zerg flooded in from all sides, terran was down 30 supply, and suddenly the floodgates of insanity opened up. On the attack for the first time, TRUE's opening gambit was a good 70-odd banelings; incredibly, due to inefficient control, Journey survived despite the losses to his economy. Turtling on his four bases, he slowly built up a massive army while TRUE waited to top up his depleted gas bank. Unfortunately, Journey failed yet again to respect TRUE's odd proclivities. Pushing out onto the map with widow mines unburrowed, an entire screenful of banelings washed over his army, wiping everything out in seconds. We've seen terrans pull off incredible splits to win impossible engagements, but frankly, when the zerg has more banelings than you have marines, you're in trouble. In a year where we were unfortunately deprived of the FanTaSy vs TRUE classic that we've come to expect, this was a welcome substitute, allowing us yet again to celebrate one of StarCraft's oddest characters.

37

Losira vs Armani
Proleague 2015, Overgrowth (January 19)
Click to Watch



ZvZ has always been the black sheep among StarCraft's six matchups. Be it the enduring popularity of roach vs roach, the horror of swarm host vs swarm host, or the confusing green tinged battlefields of the Wings of Liberty days, something's always seemed a bit off. Luckily for us, 2015 is when the matchup truly began to come into its own.

A large part of why StarCraft is enjoyable is the asymmetry it promotes, whether through race or playstyle, and the return of mutalisks in ZvZ certainly gave the matchup a vital shot in the arm. An excellent early game gave Armani a decent lead heading into the mid game. Constant ling runbys gave him all the information required, while his mutalisk opener gave him complete map control, securing the gold base as his third. Both sides teched to roach-hydra, with infestors mixed in for Losira, and a constant barrage of attacks and runbys from Armani pinned the MVP zerg on his own side of the map. After a rare Losira attack left his army out of position, Armani opted to start the basetrade. Taking out all of Losira's workers, and with his own hefty bank intact, things looked good for the Samsung rookie. A mexican standoff ensued—Losira with the superior army, protecting a single hatch, and Armani with the economic advantage. However, Armani rashly chose to force the situation, tempting the bulk of Losira's army away while trying to snipe the last remaining building with packs of burrowed roaches. Without enough burst damage to go for the kill, he was only ever throwing away units for free, and with such poor economies for both players, Losira's tech choice of infestors paid off in one crucial final engagement.

36

herO vs Rogue
Code S Ro8 S1, King Sejong Station (March 6)
Click to Watch



One of the greatest joys a player can have in StarCraft is to completely confound Artosis with your build. Leave it to Rogue to do just that in this game from Season 1 of Code S 2015. The Tinkerman is exactly the kind of player that creates seemingly nonsensical builds in order to specifically counter his opponent, and his Ro8 roadblocks notwithstanding, he is just a joy to behold when on form.

Here is how Rogue progressed: burrow to deny the third, late speed for map control, a rush to hive, MISSILE attack upgrades, an ultralisk den, swarmhosts and one viper.

And then, Artosis said: "What the hell?" Pretty sure herO said the same thing in Korean, as Rogue basically swapped around units purely to mess with herO's head. A 4 muta switch? Sure, why not. Actually, it's just more lings. And then mass infestors. Both players built everything in the book, because why not? What makes this game truly one of a kind is that herO managed to keep up with whatever Rogue tried to throw at him. Sure, the game eventually ended up remotely resembling standard late game ZvP of the era, but even then it was the best possible kind. Infested terran harass, double warp prisms, runbys galore. Though Rogue would eventually lose due to herO's ultimate army, both players deserve an applause for one of the most complete games of the year.

35

Rogue vs Shine
Proleague 2015, Expedition Lost (March 2)
Click to Watch



Shine is weird. He's not very good, except when he has to beat someone good. That doesn't sound sensible, but it's a statement that can only be true for someone like Shine. His history as a source of upsets is well documented, and the pre-game chatter for this potentially match-clinching ZvZ typically covered his history as a cold blooded killer.

What followed was a roach vs roach duel, but with a few key differences. Shine, ever the sneaky player, took his lair extra early for roach speed, and, taking a calculated risk, he gambled on the middle gold base for the mineral boost. Rogue had the advantage of 1/1, and he tried to punish the middle base with great creep spread to expedite his attack. Unfortunately for the Jin Air man, his attack was repelled by a bigger roach count. With a big lead, +2, and a fourth base, Shine could have strolled to victory, but a desperate counterattack from Rogue prompted a full-on base trade. Shine had every single advantage, but could he keep his wits about him?

34

Polt vs Hydra
WCS Grand Finals S1, Vaani Research Station (April 5)
Click to Watch



One of the biggest storylines throughout the year was the tug of war between Polt and Hydra. The two Korean imports both had the skill and the history to claim that they were the two favorites for every WCS title in 2015. This game on Vaani Research Station represents their struggle better than any.

A quintessential 4M vs mutalingbling TvZ, these types of games had become more rare in 2015 with the popularity of mech and swarm hosts in the beginning of the year. The constant back and forth at Hydra's fourth base pushed both players to the limit, until one player eventually had to crack. Though the game itself was not unique, it was a very welcome respite to see two players scratch and claw each other for 20 minutes nonstop.

33

ByuL vs Leenock
Proleague 2015, Expedition Lost (June 9)
Click to Watch



ZvZ can be a very wonky matchup, though there are three main paths: ling-bane, roaches, or mutas. While players have opinions on the effectiveness of each, games can still be unpredictable at the highest level—especially when nyduses are in play.

This was far from a standard ZvZ, as ByuL attempted to all-in Leenock before he could transition into mutas. Normally, big spinecrawler walls can defend against roach pushes, but the destructible ice wall on Expedition Loar ensured that ByuL had a way in. Unfortunately, a poorly coordinated attack resulted in failure just after mutas popped, but the CJ man was undeterred. A nydus and more queens soon followed, and the march was on. ByuL tried desperately to deny Leenock's expansions as the SBENU zerg miserly saved gas for more mutas. The aggressor bounced back and forth between nyduses, even sending a reinforcing spore crawler for added anti-air, but he could not find a way in. With a growing cloud of mutas, Leenock only had to bide his time until he could battle the herd of queens. ByuL pushed into the main along with a nydus for his final assault and was met by a wall of spines before the skies darkened above him.

32

herO vs FanTaSy
WCS Global Finals Ro16, Iron Fortress (November 1)
Click to Watch



Even though FanTaSy has struggled to go the distance in StarCraft 2, every terran fan—and perhaps, every fan of StarCraft—has a soft spot for him. He may not be the most mechanically sound player or the most brilliant, yet his games have a tendency to become crazy. That's a well known fact, and we always expect that at least one game per series will end up being insane. At the WCS Global Finals, we did not have to wait long. Game 1 of his series against herO was one of the best games of the whole tournament.

Just as any of his games, it's pretty pointless to narrate exactly what happens because eventually it becomes impossible to keep up. Let's just say that, as usual for him, the game teeters on the edge of a base trade for almost 15 straight minutes.. until, of course, it eventually happens. Neither player was able to amass more than 150 supply throughout this long game as they traded blow after blow after blow. It's a standard FanTaSy game that you've probably seen before, but that just means that you're going to want to see it again.

31

HerO vs Forte
Olimoleague 18 Finals, Overgrowth (January 10)
Click to Watch



It is a great shame that in the foreign community, cheeses, hidden bases, and all manner of surreptitious trickery are looked upon as only the work of demons and poltergeists in the nether world. However, the dark side is very seductive—so much that if your opponent employs it, you too can counter with your own devilry, and woe to the man who is overwhelmed by the combined forces of cheddar and sodium.

In this game, the Dark Side manifested itself, and consumed both the hardy terran and his more easily-seduced protoss counterpart. Striking first with a hidden gateway, HerO managed to contain Forte, but the terran was not so easily beaten, and retaliated with a factory on the other side of the map. One would be misled into thinking that this would be the end of the insanity, but no; more hidden buildings would be spawned around the map, which included a hidden command center on HerO's side of the map, among other things.

If you love StarCraft, and what's more, you love the fundamental way to play StarCraft, then doubtless you will love this game, because it exemplifies perfectly well the twists and turns a battle between minds can take.

30

After the disaster of the original swarm host, Blizzard gave the unit a new design that effectively relegated the unit to the dumpster. Originally meant to serve as a unit that would, in broad outline, break turtling deathballs, the swarm host became a mobile unit that could spawn 2 highly mobile, and extremely deadly locusts. The only problem was that it became too supply-inefficient, as well as spawning locusts at an extremely slow rate, such that zerg players who used them extensively would be vulnerable for a significant period of time. Thus, the unit joined a long list of units in StarCraft that were never used—scouts, anyone?

But this state would not last for long. ByuL, the strongest zerg of 2015, reeling after a trainwreck of a Grand Finals against Rain, was scrambling for anything that would help him defeat his teammate herO in the SSL Grand Finals. Down 1-3, ByuL pulled out an extremely unique strategy on Vaani Research Station.

A greedy early game from both sides evolved into ByuL planting a thick spine crawler forest to buy himself time to spawn his swarm hosts and upgrade them, allowing him to deflect herO's blink stalker-sentry attack with ease. Then, he combined his unorthodox unit composition with a nydus network, another structure rarely seen in ZvP, and proceeded to launch extremely lethal guerilla attacks on herO's natural and third, while executing a deceptive mutalisk switch that provoked a violent, but impotent double stargate reaction. While herO managed to destroy ByuL's third once, the economic damage he suffered from his natural expansion being destroyed three times was too much, granting ByuL enough time to evolve a hive and get Ultralisks and Infestors out. His late game army crushed herO's puny gateway force, and showed that the swarm host is still a force to be reckoned with.

29

Life vs PartinG
Code S Grand Finals S1, Deadwing (March 22)
Click to Watch



You're a zerg in the GSL Finals. You're up by one game already, easily deflecting some cheese, and you opt for a greedy hatch first opening. Who would you like to be playing against? Chances are, your answer won't be 'PartinG gearing up for a cannon rush'. Then again, chances are you aren't Life either. The freshly minted KT zerg turned straight to the Rogue textbook of unorthodoxy, expanding to his fifth after PartinG denied his natural, third and fourth, while setting up a proxy hatch in the protoss main.

Roach nydus was the follow up, and a crucial snipe on the exposed cybernetics core denied warpgate research seconds away from completion. That bought Life all the time he needed, quickly transitioning to a swarm host contain, as PartinG grimly tried to hold on with a cannon wall-off working off absolutely zero production. Rushing to colossi gave him the AoE damage and cost efficiency he desperately needed, but with such a limited army, it became only a matter of time before the endless waves of locusts broke through. In a year when PvZ often devolved into mass stalker vs mass roach / hydra, this oddity was utterly captivating.

28

Maru vs Stats
SSL Ro4 S1, King Sejong Station (March 5)
Click to Watch



No one in the history of Starcraft 2 has played TvP quite like Maru did this year. He turned the matchup on its head; constantly winning impossible engagements; constantly putting the protoss on the back foot. He brought an organised chaos to the matchup—you never had any clue what he would actually do, but you always had a feeling for what the end result would be. This was not one of those matches.

The early game was very reminiscent of early HotS, when the various threats and timings from protoss were not fully established yet. Stats proxied a stargate, and Maru countered with a marine rally on scouting the lack of tech in the KT protoss' base. As the oracle arrived in the terran main, zapping down a completely undefended mineral line, it seemed an instant GG was on the cards. Then, you noticed the tech lab on the starport. One of Maru's strengths is that he's never been afraid to try out stuff that shouldn't work, and in rushing out cloak banshees, he went full circle back to his early days in Wings of Liberty. Both players threw caution to the wind—Maru microing his banshee fleet in harassment while Stats pushed for the kill against the marine-tank defence—and their multitasking and micro ability was stretched to the limit in the extended simultaneous battles. While Maru was stymied on a one base economy, pushed back into his main by Stats' aggression, the KT protoss was still freely mining from two bases. Banshees rained down death from the skies, repeatedly resetting the probe count—just about keeping the terran level on economy—and as it became clear that neither player was willing to back down from the slugfest, it was only a matter of time before one of the two broke.

27

Dark vs Trap
IEM Katowice Ro4, Expedition Lost (March 14)
Click to Watch



It's very easy to appreciate a good attack, but enjoying a good defense can often be much more difficult. We just love seeing aggressive moves pan out, because it encourages players to play with more initiative. However, defending excellent attacks have nuances that make them just as beautiful and tense to watch. In this game, we saw three, before rounding it out with a base trade.

The first defense was of a gateway all in. With a late gas, Dark had delayed speed for a considerable amount of time, prompting Trap to push with stalkers. Dark's third base was under threat, but even with limited units Dark understood that it was imperative to hold the ramp. Even the casters believed that Dark was set to receive irrecoverable damage, but somehow, he held.

Next, the SKT T1 zerg had to hold a forcefield at his ramp and a drop in the main. Normally, these moves result in catastrophic damage but Dark was once again able to limit the bloodloss. Instead of fighting units with his drones, he bum-rushed the sentries before huddling in a corner near his ramp, where he was protected by roaches below. Trap's investment in zealots proved for naught.

Then it would be Trap's turn to defend, and his sectioning off of units proved to be key. The Jin Air protoss even forcefielded units INTO his own base because he understood that "divide and conquer" would enable him to hold with the fewest losses. Eventually the game would spiral into a base trade where Dark's hopes lay in a single viper that had to help him hold his last mining base.

26

Rogue vs herO
Proleague Post-Season Match 2, Echo (September 29)
Click to Watch



Has there ever been a StarCraft 2 team that revels in the unorthodox more than Jin Air? sOs, Maru and Rogue are all core members of the roster, not to mention Pigbaby's comically intricate all-ins or Terminator's carrier proclivities. Chosen as the team's ace player in the first match of their clash with CJ Entus in the Proleague postseason, Rogue invoked the spirit of his team and gambled it all in game 7.

Much like in his other match against herO in Proleague, during the round robin phase, he correctly predicted that herO would stick to his standard, ultra-predictable style, and the CJ ace didn't disappoint. Opening with hydra-ling against herO's stalker-sentry composition gave him the mobility to deal with any warp prism harass, while simultaneously pushing back herO as soon as he set foot on creep. Baiting out a recall left the protoss without any escape mechanisms as he stubbornly pushed forwards once more. The trap was set. As herO plonked down his forcefields, Rogue was already a step ahead, floating his overlord pack right over the top. Banelings rained down from the sky, while herO's protoss deathball simply melted instantly. There were few more beautiful sights this year.

25

Hack vs Trap
Proleague 2015, King Sejong Station (March 10)
Click to Watch



In theory, a fake drop is a brilliant idea. Players have become really paranoid about medivacs floating around, and players need to send units to defend even before it happens. However, we've rarely seen the maneuver pulled off, because the possibility of an effective drop often outweighs the possibility to create an opening.

Hack made the most of it though, as a 2 medivac fake bought enough time for his bio to raze Trap's third base. It was a clever move that put him ahead, but eventually the game would even out. What followed was a dance of templar and ghosts, along with frequent drops from both sides. Templar vs ghost is a very micro-intensive duel, and one that's very elegant to watch. Trap even attempted to use templar in a warp prism in order to avoid EMPs, another very difficult trick to pull off during tense moments. Neither player could snowball into victory as they danced the evening away, but a crucial runby at Hack's third base appeared to give Trap the impetus to win. Yet somehow, someway, Hack's ghosts survived a complete zealot surround in order to wrap up an exciting TvP.

24

Rogue vs soO
Code S Ro32 S3, Coda (August 26)
Click to Watch



Muta vs muta is weird. It's often considered more exciting than roach vs roach, yet it's basically also two indistinguishable masses smashing into each other. It's a high paced game of chicken to see who commits first, and in many games it's decided by who can box and count units faster than the other guy (in order to know if and when to attack). Sometimes, both players just keep making mutas. Yet sometimes, one player takes the risk of transitioning into infestors. One big fungal can result in a game-changing swing, and it would be Rogue who would take the risk here.

For most of the game soO had the lead in mutas and dominated the skies, yet it was Rogue that was able to do more with his mutmuts. Even ling runbys were more effective for the Jin Air zerg, and soO's inability to split and use multiple muta groups allowed Rogue to climb back in with a composition of mostly infestors and eventually hydras. Infestor-hydra on the back foot is often considered a hail-Mary, and Rogue's prayers were answered in a split second of indecision.

23

Life vs Dream

SSL Ro4 S1, Deadwing (March 5)


Click to Watch



With the change to the swarm host in 2015, both ZvT and ZvP were irrevocably altered. Gone was the zerg's main tool in the late game, and terrans took full advantage of that fact to finally push mech through as the dominant strategy. We'd been given a glimpse of the possibilities last year at Dreamhack Winter—ForGG displayed a highly aggressive, low supply variant—but for the most part, the turtling style and incredibly passive games left us cold this year. Fortunately, Dream was the shining light of terran in his matches against zerg. Despite his awful winrate over the year (hovering at around 45%), he also gave us some of the greatest games we've ever seen, sticking stubbornly to his preferred bio style. Nowhere was that more reflected than in his battles against Life.

Frankly, you could watch any match of theirs and be thoroughly entertained, but the climactic set of their first clash this year, in the SSL semifinals, was one of the best. On the biggest map in the pool, the pace was initially much less frenetic than in the preceding six sets, with neither player achieving much early on. Nearing his max out, Life was the first to commit to full on aggression, smashing through Dream's army and forcing a lift at the fourth. It all looked over for Dream, as mutas ruled the skies and lings flooded in through the broken wall-off. Not for the first time in the series though, Dream's coolness under pressure and impeccable control came to the rescue, and after stabilizing, the terran war machine went on the march, equalizing the worker counts with an attack that was only barely held off by the zerg. As both players' supply counts dwindled and the intensity ramped up, the game erupted in a set of scrappy battles. However, Dream slowly began to draw ahead, eking out small advantages every time, and with Life's bank completely exhausted, he had no option but to concede one of the greatest series of all time.

22

Maru vs herO
IEM Taipei Ro8, Vaani Research Station (January 31)
Click to Watch



One of the big storylines throughout 2015 was Maru's conceptual shifting of how we viewed TvP. No longer was it necessary to hit the big SCV pull timing à la INnoVation, or basetrade like Polt; instead, Maru relied on constantly taking low supply engagements, trading out protoss tech units for cheap bio, eventually wearing down the protoss enough for one conclusive smackdown.

Not only that, but not since TaeJa's heyday have we seen a terran with anything approaching Maru's ability to take large scale TvP engagements. Where most terrans simply look to spread their concave and split through storms, Maru uses the entire playing area available, frequently flanking or dropping to achieve a true 360 degree surround. It's a move that he pulled off time after time in this match against herO, displaying for the first time in 2015 the skills that would make him the bane of Aiur all throughout the year. Eschewing the ultra-aggressive style that he'd grow to love later on, this was one of the rare times this year that Maru bothered to tech to vikings and ghosts before booting his protoss opponent from the game. There were few finer examples of late game TvP prowess seen all year long.

21

DongRaeGu vs Zest
Proleague 2015, Vaani Research Station (September 7)
Click to Watch



Zest is a truly remarkable protoss, but unlike his peers, what makes him special is far more difficult to pin down. sOs has his builds and brilliant ideas; PartinG has his control; herO has his blink micro; Classic has incredible well roundedness. Zest's genius can't be seen without proper analysis: patience, positioning and battle management are far more subtle traits. He displays all three things in this ace match against a resurgent DRG.

After a failed gateway timing, Zest looked close to defeat. His army in shambles and his nexus under fire from a massive hydra army, all Zest had was a small troop of archons and zealots. While lesser generals would have lunged head on into battle, Zest waited. There was no hope of winning a direct assault, and the KT protoss had to find a better opportunity to strike. Hydras battered his third nexus until a chance appeared. His ling vanguard depleted and his hydras spread horizontally off creep without speed, DRG had overextended even though he seemed an inch within victory. A pincer attack denied any chance of effective stutter stepping, and suddenly, the hydras were gone. DRG was then effectively stuck on ling hydra, and, despite a numbers advantage, his composition melted after Zest had transitioned into templar.

20

Solar vs sOs
DreamHack Stockholm Ro4, Bridgehead (September 25)
Click to Watch



There's normally a certain pattern that most games of StarCraft go by; waves of pressure that ebb and flow as armies clash and back off. Here, sOs and Solar gave us none of that. After sOs started things with a proxy gateway / proxy stargate combo, the game quickly spiraled off into insanity. DT and ling runbys were constant threats, while chargelot / archon with storm support was sOs's choice of tech against Solar's fast hive. The game rocked back and forth for more than half an hour, featuring constant aggression with neither player willing to back down.

PvZ is infamous for its tendency to feature static deathballs, posturing for position, but we saw none of that here, with both players frequently harassing on multiple fronts with packs of units while simultaneously defending at home against an opponent doing the same. For once though, zerg's decision to tech to ultralisks in the late game proved to be correct. Limiting protoss to one mining base, Solar used the high mobility of his ling / hydra pack to take out sOs' production facilities in his old main, while the bulk of his ultra / infestor / viper army defended back home. Sensing that the game had swung irrevocably in his favour, Solar pushed in on sOs' final army from all sides. Infestors and fungal growth locked everything down, vipers blanketed the scene in blinding cloud, and the ultralisks took care of the rest.

19

Terminator vs Dark
Code S Ro16 S1, King Sejong Station (February 11)
Click to Watch



From the top of your head, how many times have you seen carriers on the playing field in 2015? Do you need both hands to count or is one just about enough? Though very much out of the meta, Terminator made them a core of his army for his Code S match against Dark. And boy it paid off for him.

Terminator committed to this plan from the very beginning as he built a two additional stargates after his oracle harass and started void ray production. Dark responded by adding queens and teching to infestors, yet Terminator still found considerable damage, as he split his army and sniped two zerg expansions. Already fully committed to skytoss, Terminator added a mothership to his army composition and began producing carriers. Dark took advantage of the very immobile protoss fleet by attacking on multiple fronts, but though his attacks put a lot of pressure on Terminator, he was unable to outright kill his opponent. In the second part of the game, the two players effectively split the playing field in half and as the map was slowly getting mined out, Terminator engaged Dark's army with his capital ships while simultaneously wrecking zerg's outlying bases with smaller squads. With his army gone and his economy in shambles, Dark was forced to tap out.

18

Dark vs soO
KeSPA Cup Grand Finals S2, Coda (July 12)
Click to Watch



In this history of StarCraft 2, there is no defense as unbelievable as NesTea vs Choya on Scrap Station. In that game, NesTea held a 4gate+void ray all in with 2 queens, a single zergling and a spine crawler. It remains one of the most miraculous holds of all time, and soO's defense against Dark's aggression comes pretty close.

Dark did not wait long to launch his first attack, with his pool coming down at 8 while soO delayed his after his expansion and 3 more drones. Usually, that spells immediate defeat, but a crazy drone stack (soO managed to turn all of his drones into one megadrone) kept Dark away long enough to get lings and queens out. Dark did have the advantage of speed and a baneling nest, as well as equal drones and bases, but soO was already transitioning to roaches. At the moment Dark waddled his way in with his banelings, Dark had 3 queens and a spine crawler and nothing else. His 11 roaches were on the way, but all that was between his drones and their deaths was a hastily made simcity. Miraculously, soO only suffered minor damage in a display of perfect crisis management. Any lesser zerg would have stumbled, yet soO held with the spirit of NesTea.

17

TaeJa vs Sorry
Code A S2, Vaani Research Station (April 1)
Click to Watch



While TvT has always been one of the most highly praised matchups in StarCraft 2, the move to Heart of the Swarm changed the matchup considerably. With the addition of boost to medivacs, doom drops became an incredibly popular finisher, ending the game as soon as the opponent's production was camped, while the increased power and versatility of the terran early game in the mirror matchup meant that games were often decided in a couple of moves.

That certainly threatened to be the case here. Sorry's picked up quite the reputation for early aggressive moves, but his proxy marauder rush accomplished little after TaeJa bunkered up on his ramp. With little happening in the early game for either player, the game quickly transitioned into the marine tank wars we've grown to love. Sorry took first blood—luring TaeJa out of position with a drop at the third, while the main attack took out the in-base natural—before TaeJa attempted to copy the trick himself. While he did manage to equalize the worker count, Sorry's quick response saved his command center. Now working off a superior army, the SKT terran followed up with attack after attack, pinning TaeJa on his side of the map. Feinting one way, then the other, Sorry finally managed to secure a crucial position just outside TaeJa's main, sieging production while forcing his opponent to take an awful engagement charging into the tank line. The game was up; Sorry far ahead now in every way, and one final push would force TaeJa to call GG.

16

TY vs Guilty
Proleague 2015, King Sejong Station (January 13)
Click to Watch



Once upon a time, TvT was the hallowed matchup considered by many as the best in all of StarCraft 2. In best games lists, it dominated the polls as the most popular matchup throughout most of WoL and HotS. This year, however, it experienced a fall from grace, largely due to the prevalence of mech and early gas shenanigans.

Fortunately, some players steadfastly stick to the glory of marine tank, albeit with a modern twist of prioritizing air control. Guilty and TY played a tit-for-tat TvT with both players intent on attacking all game long. There was no moment after the early game lull where neither player was on the offensive, and though it was sloppy at times, it was the kind of sloppy that results from both players taxing each other with constant action. It was an old school bar fight where neither player looked particularly great, yet all you could do was cheer them on and order another round of beers.

15

herO vs HyuN
IEM Taipei Ro16, Expedition Lost (January 29)
Click to Watch



Basetrades will always have a special place in our hearts regardless of how the games go. Even when a game has an entirely pedestrian opening 20 minutes, as long as it ends in madness, all is forgiven. This game between herO and HyuN teetered on the edge of a basetrade 3 times in its duration.

The first trade resulted in a dead lair on one side and dead probes on the other. herO's recall at an advantageous position denied the full-on trade, as he was content with the lead he had gained. The second scare occurred with a big ling roach counter attack, but clever forcefields allowed herO to walk back to his base instead of risking the trade. Fans were likely egging both players on to finally commit, and it eventually happened as HyuN tried to switch into mutas. Both players laid waste to each other's bases, and each had an advantage: herO had a superior army, but HyuN had a handful of mutas. herO kept his probes in a warp prism in order to protect them, while HyuN scattered his structures to give his mutas time to pick off buildings. The two players circled the map chasing each other and their buildings, until only one extractor and one assimilator remained...

14

Terminator vs HerO
Code A S2, Merry Go Round (April 15)
Click to Watch



There is no more confounding build order matchup than PvP. While it has stabilized in recent years, there's still a possibility of rock-paper-scissors. There's also a possibility of both players pulling a rock, and then proceeding to punch each other in the face even though at any other time, it should be a tie.

If you're unsure what I'm talking about, then let me be clear: DT vs DT. It is, by far, the silliest build order pairing in all of StarCraft, especially when both players rush to it without building detection. Terminator and HerO played one of the nuttier PvPs of the year precisely like that, and it would come down to the wire. As both players hacked and slashed at each other's bases, they decided on two different modes of detection. HerO hid a robo for an observer, while Terminator's lack of gas forced him to get a forge. They would then play a game of cat and mouse to see who would be able to eliminate the other first, and HerO's mobile detection appeared to give him the advantage. Unfortunately for him, this would be the only game in recent memory to be decided by the lack of observer speed.

13

Dream vs Maru
Proleague 2015 Grand Finals, Echo (October 10)
Click to Watch



After Maru dominated the mirror matchup for most of the year, it took the resurgence of mech to dent his invincibility. Up until early July, Maru was 24-5 in TvT, dropping a single series to Dream in the SSL (who he smashed in the finals as revenge anyway). Afterwards, his 4-11 record clearly showed the dichotomy between his two halves of 2015. Losses to BrAvO, Flash and INnoVation clearly showed his inability to break a defensive mech terran; he was bashing his head against the wall, and for once, the wall was winning. It was inevitable then that he came to this Proleague Finals clash with Dream armed with a few new tricks.

Those weren't initially visible, as Dream set up his mech fortress with ease, and the SKT terran even managed to do considerable damage to Maru's economy through a sustained set of hellbat drops and hellion run-bys. A failed attempt from Maru to take out Dream's fourth left him 60 supply down, and as Dream succeeded in sectioning off his half of the map, it all seemed like a case of 'Same Old Story' for Maru. It was then that Maru's madness revealed itself. Packs of units split and hit several bases at once, exploiting Dream's lack of mobility, while a mass thor drop took out yet another planetary. Dream responded in kind, repeatedly splitting off a handful of tanks for harassment. Eventually though, the power of 3/3 mech was too much. Dream bullied his way into an excellent siege position deep into Maru's side of the map, and a last doomed attempt by Maru to flank and surround him proved fatal as tank fire rained down from the skies.

12

PartinG vs Rain
DreamHack Open: Tours Ro8, Expedition Lost (May 9)
Click to Watch



There are very few protoss players who can do more with less than PartinG. Perhaps his prowess in low unit count situations can be attributed to his experience in 2011-2012 era PvP, but viewers should not discount the man's savvy in tight situations. While his micro is often highlighted as his defining characteristic, he is one of the few players that inherited MC's signature decisiveness. Basically, PartinG's just really good at killing people.

This game from DH Tours perfectly illustrates the subtle ways PartinG is able to make more from less. Except in this game, it wasn't so subtle: For almost 8 minutes, PartinG survived one 1 base versus 2. Economic asymmetry may be a big part of Starcraft, but players are expected to keep up on base counts in mirror matches if they expect to survive. By sheer force of will and micro, PartinG repeatedly took better engagements where no one else could have drawn even. His use of phoenixes and stalkers was uncanny, and PartinG proved that, even at the highest level, having an extra base is meaningless when your units are a third as efficient.

11

Life vs ByuL
SSL Ro16 S2, Overgrowth (May 7)
Click to Watch



While ZvZ was hardly anyone's favourite matchup in times gone past, it's actually been (whisper it) rather good this year. The return of mutalisk builds in the second half of the year returned some much needed asymmetry, but even when the games reverted to good old roach vs roach, there were plenty of games that showed the depth in the matchup, rather than the 'engage and pray' method that certainly used to be somewhat prevalent. This game typifies the evolution of a once stagnant matchup in 2015.

After an early pool failed to kill Life, ByuL was considerably behind in this game on Overgrowth—down on tech, army and upgrades. However, great defensive concaves from ByuL allowed him to hold narrowly time and time again despite the upgrade discrepancy. Without the need to replenish his army completely, he was able to build a bigger and bigger bank as the KT zerg overcommitted to the kill move. However, Life followed up with a great tactic—maneuvering past ByuL's army on the map and diving in to take out the roach warren. Suddenly, ByuL's 3k / 1k bank counted for nothing; without the ability to remax, he found himself 60 supply down. The game quickly turned into a desperate game of hide and seek because Life had to find the building roach warren before it finished...

10

GuMiho vs PartinG
DreamHack Open: Tours Grand Finals, Cactus Valley (May 9)
Click to Watch



There is nothing quite like seeing atypical units or compositions in a very good game. While the meta often homogenizes into standards and expectations, we sometimes get players who insist on doing things their own way. GuMiho and PartinG are two such players, and the first game of their grand finals at DreamHack Open Tours was a bombastic opening to a great tournament climax.

GuMiho would be the first to opt for the strange as he pumped out tanks and a raven from his factory and starport. While this is a common defense for blink all ins, GuMiho had seen nothing in PartinG's base to indicate as much. While PartinG did put on some pressure, he was already transitioning into storm. Templar had fallen out of favor due to widow mines, yet PartinG's odd pair of blink and storm would pay off soon. GuMiho advanced with a large tank count and his bio, striking PartinG just as his third had completed. Both players micro'd incredibly well, but eventually, PartinG was able to hold with storm—but at the cost of his third. His eventual counterattack caught GuMiho in a bad position, and the terran had no choice but to trade.

With a gigantic archon and templar force, PartinG could not be beaten in a straight up engagement. However, GuMiho became one of the only players to ever prioritize bunkers in a base race, and PartinG would have no choice but to crash into the wall as the MVP terran had secured the protoss natural with a floating CC.

9

herO vs PartinG
SSL Ro16 S2, Cactus Valley (April 30)
Click to Watch



PvP as a matchup is rather unfairly derided for two things: the coin-flippy nature of the aggressive early game, and the torpor of the deathball-focused late game. In between those two extremes though lies a mid game that, at its best, is represented by this game between herO and PartinG.

With both players opening with stargate and phoenixes, the early game was necessarily cagey as the pair traded blows. herO was the first to transition out into full blown stalker aggression, leaving PartinG with full air control. Phoenixes lifted the bulk of the stalkers, while immortals blasted the rest as PartinG easily repelled the attack. Constant skirmishes between the two erupted over the map; herO on the retreat, but constantly extracting value through precise blink control. Colossi came into play for both players, and then it was PartinG's turn to overcommit. Looking to take out herO's third, he attacked into a choke, and herO's colossi cleaned everything up. Now severely down on supply, PartinG had one last trick up his sleeve, and sniping herO's observers gave him one last shot at glory…

8

sOs vs INnoVation
Proleague 2015 Grand Finals, Vaani Research Station (October 10)
Click to Watch



Viewers would sometimes complain during HotS that games tended to be too passive and that players would just stay on their side of the map, try to secure a three-base economy and then attack in the late game. The army that survived this fateful engagement would then generally win. Although that may have been true for some matches, there were many others that disproved this view as they were packed with action from the first finished supply building to the very end. Among those gems is definitely this match between INnoVation and sOs, played during the Prolegaue finals.

Although it is sOs who generally likes to spice his games up, it was INnoVation that opened aggressively with proxy reapers, securing probe kills and valuable scouting information. sOs decided to mitigate the damage by going on the offensive himself and he decided to do it in style by teching to charge and archons and dropping in terran's mineral line. Though he secured himself 10 SCV kills and a bunch of bio units, INnoVation was able to shoo him away and was ready to push. sOs was able to defend subsequent attacks with storm but at the same time realized he needed some room to breathe. He tried to pin the terran in his base with DT and zealot warp-ins which enabled him to tech to colossi. However, three colossi (one was misrallied into the middle of terran base) were no match for the maurader-heavy composition with viking and ghost support. Finally, as manner mules were readily picking up the scraps from the last fallen colossus, sOs tapped out

7

Curious vs TRUE
DreamHack Valencia Grand Finals, Bridgehead (July 17)
Click to Watch



As you may know by now, TRUE is absolute bonkers. While his former teammate Rogue inherited sOs' build order wizardry, TRUE learned during his time on Jin Air just how to be the craziest bastard possible. At DreamHack Open Valencia, he faced one of the most stable and reliable zergs out there in Curious, and this match was a textbook clash of styles.

From the get-go TRUE wanted to be aggressive, and he attempted to break his opponent with roach bane. Curious meanwhile was teching to mutas, but the attack hit just as his spire was halfway done. It looked like TRUE was close to breaking the main, but Curious was able to mount a defense just in time: 9 or so mutas hatched before the spire collapsed to finally repel TRUE. Undeterred, TRUE followed up with a nydus and Curious once again looked dead as he was forced to defend with drones. A nydus even popped in his natural, but again, somehow, he held with half the worker count. TRUE's next trick would be burrowed movement, and the two lanes of Bridgehead would be occupied by nonstop attacks on both sides. Still, Curious was hanging tough, and he even managed to deny a base for TRUE while harassing the rear natural. It would be Curious' upgrade advantage that would eventually proved decisive, as repeated efficient engagements allowed him to swarm into TRUE's base from both sides.

6

Dark vs Dream
KeSPA Cup Ro4 S2, Coda (July 12)
Click to Watch



It's a pattern that became one of the signature sights of 2015: Dream falls 60 supply behind in a macro TvZ only to claw his way back in. There is something maniacal in the way he just keeps attacking at a deficit, appearing within a breath of collapse, and then in a snap, is suddenly even. While INnoVation's style at the height of 4M's popularity in 2014 could be likened to a boa constrictor, Dream's 2015 was more like a rattlesnake—a venomous strike once backed into a corner. That his winrate in the matchup was actually rather dire meant little once he was faced with an elite opponent.

Dark, of course, had one of the strongest ZvTs in all of Korea. His use of corruptors in the matchup was uncanny during an expansion where the unit could not shoot ground. His textbook mutalingbling was the best in the business, and he had to bring his A game in order to finally put Dream into the ground on Coda. An early roach push gave him a small lead heading into the midgame, but Dream's parade push could only be delayed for so long. It would be Dark's crucial counterattacks that would eventually chop Dream's economy down, but it should also be noted that Dark's macro barely skipped a beat throughout the entire thing. Dark became one of the few zergs to ever survive Dream at his best.

5

GuMiho vs INnoVation
Code S Ro16 S3, Iron Fortress (September 11)
Click to Watch



There's always something beautiful about a player who refuses to conform to expectations. GuMiho has always been one of the most idiosyncratic players in the game. Even this year, he's shown us mech in TvZ (pre-swarm host nerf) and regular tank play in TvP. Here, in the midst of a mech dominated terran mirror meta, he decided to teach every terran in the game a lesson in mobile bio play.

In a flashback to his Wings of Liberty days, GuMiho focussed fully on drop and banshee harass. Constant pressure forced solid trades, limiting the tank count of INnoVation, and allowing GuMiho to freely expand in opposing corners of the map. Lacking the mobility required to make a move on the far flung bases without exposing his own flanks to attack, INnoVation was forced to turtle up and play for the end game. GuMiho got there first though, successfully teching to ravens and battlecruisers to complement his mobile bio core. He was certainly fortunate at times—INnoVation's mass viking fleet barely missed catching his air force out of position on one occasion—but always being on the front foot allowed him total control of the flow of the game. Forced to act due to his dwindling resources, INnoVation pushed out on the map, taking out one of GuMiho's corner bases. Caught out in the middle of the map, INnoVation sieged up to take the fight, only to see GuMiho's ravens flank in from behind. Seeker missiles blanketed his army as his tanks went up in smoke. With no army, no economy, and having been outplayed all game long, INnoVation's mech had finally crumbled.

4

sOs vs Zest
Proleague Post-Season Match 1, Vaani Research Station (September 22)
Click to Watch



There are players that simply see plays that no one else can. In traditional sports, Hall of Famers like Jason Kidd or Andrea Pirlo possess the hallowed trait of vision. They see the game unfolding three of four steps ahead of the present, and they can pull off passes that might have been foolhardy or impossible to the common man. In Starcraft 2, sOs is the visionary that sees the invisible.

In their rematch during the SPL Proleague Post Season, Zest had to have been favored. The KT wonder had just scored a perfect 11-0 round, and his PvP had always been considered one of the best in Korea (unless he faced Creator). On the other hand, sOs' form had fluctuated throughout the season, especially in PvP, though he was on an all-killing hot streak. That they already played a game on Vaani Research Station that saw sOs pull off a crazy gold base early expansion suggested that sOs should have been out of crazy tricks. We were wrong.

Zest catapulted into the lead after sOs' failed blink aggression, and the follow up warp prism was also similarly useless. However, sOs saw an opportunity where everyone else would have simply tried to catch up: because Zest had skipped blink and stargate tech, the KT protoss had an alarming lack of anti air. Instead of just dropping zealots, however, sOs dropped a colossus with his massive zealot warp in. Zest was caught between two minds, and in one of the most clever tactical moves of the year, sOs had pulled ahead from a 20 supply deficit. Not only that, he had gambled on a very early templar archives to set up a late game that Zest, even with a very good fight with tempests, could not contend with.

3

herO vs Maru
Code S Ro16 S1, Merry Go Round (February 27)
Click to Watch



For the better part of the year, Maru's heavy drop based playstyle was a bane for every protoss that met him on the battlefield. Even if his opponents were familiar with his style, the aggression would simply not cease through the course of the game and Maru's superior multitasking and impeccable control would enable him to eventually break the defender. herO, however, proved to be a tougher nut to crack.

Maru was on the offensive from the get go as he started the game with hellion drops. Though the first drop netted him 6 probe kills, the subsequent harassment was successfully shut down by herO. However, while herO tried to secure himself a second expansion, Maru remained on two bases amassing an army and, when the time was ripe, he pulled his SCVs. He succeeded in denying the third of his opponent, but herO survived on two bases. With a heavy worker deficit, Maru was forced to retreat but remained on the aggressive trying to limit herO's economy with drops and pokes. Both players remained on low economy through the game until herO finally got fed up with his opponent and forced a base trade. With no air units for herO, Maru flew his production to a safe spot while hunting for the protoss' remaining buildings. In a breathtaking finale to an action packed game, the two had us holding our breath till the last remaining pylon.

2

Dream vs Life
SSL Ro8 S2, Overgrowth (May 21)
Click to Watch



In many ways, Life vs Dream was an incredibly unlikely rivalry in 2015. One player came into the year on top of the world; the other had only made Code A once in his entire career. The one thing that united them was an incredible ability to extract the very best from each other. Unlike Life's battles against the other great terrans in Starcraft history, Dream matched him like for like. TaeJa was a late game defensive terran; INnoVation traditionally a player reliant on one game-ending push; Mvp past his mechanical peak and wholly reliant on his mental fortitude and repertoire of builds. Dream, however, shared many of the same characteristics as Life—highly aggressive, micro focussed, and more instinctual than many of his more predictable fellow terrans.

After Dream came out on top in their Season 1 semifinal in a nailbitingly tight 4-3, the revenge match the following season was highly anticipated, and the tension only grew when once again, the match spiraled towards a decisive final set. The game itself almost seemed anachronistic. Though mech was all the rage at the time, Dream stubbornly stuck with his bio playstyle while Life himself somewhat uncharacteristically opened safely with roaches. He remained strictly on the defensive and deflected every form of harassment Dream threw at him. But as soon as he got to four bases, Life opted to blitz Dream's outlying third. The way of zerg was unending, and it looked like the terran was done. Dream, with microing every single marine, somehow managed to survive and keep his command center alive. With Life losing a big chunk of his army, the terran had time to rebuild and start his parade push. And then, their dance commenced.

Both players kept in step, matching each other's twirls and turns—whenever it seemed that the attacker had finally prevailed, the defender managed to push him back and counterattack. They pushed the tempo as they covered the map in their blood and their footprints, and the audience held their breath at every skirmish. Eventually one of them had to tire, and only one man would be able to take his bow; yet both deserve the applause of every fan of StarCraft.

1



And the Number One Game of 2015 is....Click to Watch







---
Don't scroll past this point if you don't want the #1 game to be spoiled!
---

Dream vs Life
SSL Ro4 S1, Merry Go Round (March 5)
Going into the first season of 2015's S2SL, Life was the undisputed best player in the world. After toppling every contender at BlizzCon, followed by a 4-3 victory over Maru at IEM Taipei, everything pointed to an easy Life victory against the young terran player Dream. What happened next in this series only a madman could predict: Dream outplayed Life at his own game. A series filled with battery, blood and bruises developed, and it climaxed in the sixth game. Dropping three games in a row, Dream had to win the next two games to continue onto the finals or be eliminated.
The game opened up similarly to the previous games: CC first vs. hatch first. Thus far in this series, Dream had opened up with a CC first in all but one game, and had a record of 2-2 with it. This time however, Life sensed that Dream would be going for a CC first, and decided to take action against it. With an overlord bait, Life was able to pull the marines out from Dreams natural, and then send some zerglings into it. Now, Dream was in a bit of a sticky situation. His two options were to pull a lot of SCVs and his two marines and fight the zerglings in his natural, or to sacrifice the natural and keep everything secure in the main base. He chose the latter and abandoned his natural base, giving Life full map control.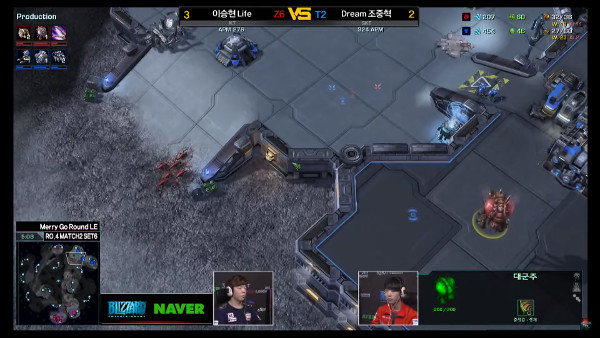 This move from Life essentially forced Dream into retaliating with his own aggression. Much like the other games in this series, Dream decided to go for a hellbat timing, and behind this would start up his bio upgrades and establish his third base. After his aggression, Life started a two base mutalisk build, and planned to deal some more damage to Dream. This plan was delayed however by the hellbat push that Dream executed. Perhaps not expecting it, Life was forced to pull all of his drones out of the natural base to keep them alive while the mutalisks were being built, and while killing only two drones in total, Dream was able to delay the mutalisk push long enough to set up turrets and his infrastructure, and delay a considerable amount of mining time. After all was said and done, Dream retook the economy advantage his a seven worker lead, and also had his upgrades started before Life.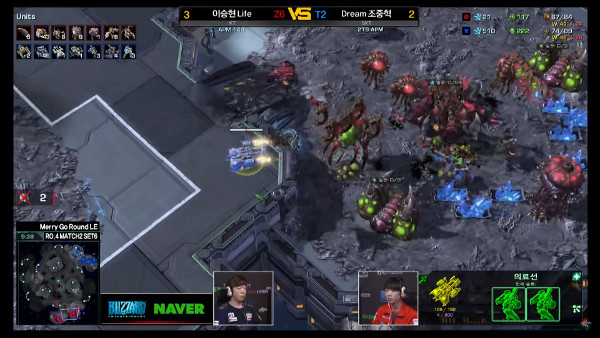 Coincidentally, this also prompted Life to form a rebuttal with his own aggression. Now behind in economy and tech, the only advantage Life had at this point was army. And boy, did he have a huge advantage in it. After the hellbat push, Dream invested into five turrets, bunkers throughout his main base, bio upgrades, and more infrastructure. This left almost zero resources for actual army, and a simple muta/ling push was enough to force Dream to abandon his natural base yet again. But life did not stop here; he smelled blood. Life proceeded to morph a massive amount of banelings right outside of the natural of Dream. Confidently, Dream tried to retake his natural only for Life to attack with his swarm, demolishing the already fragile terran army. Life overran everything Dream had; the wall was broken, the natural base destroyed, and the SCVs forced off the line to defend. As a consolation prize, Dream was able to focus fire down the flock of mutalisks, but at a huge cost.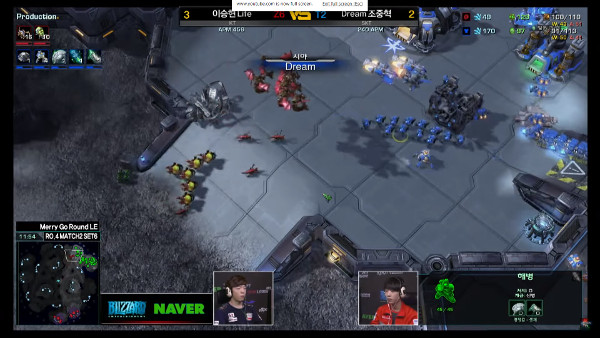 Again, Dream thought the aggression was over, and retook his natural. Yet again, Life was gearing up for a follow up attack, and this time Dream had only scraps of an army to work with. Dream had saturated his natural base with a full line of SCVs, and this time he could not evacuate all of them like he had before. The banelings rolled in, the marines and SCVs melted, and Life took a massive lead in both army and economy. 24 SCVs were killed this time, and Dream was yet again stuck in his main base.
What can you do when you only have eight marines, two hellbats and two medivacs against a large clump of banelings and zerglings right outside of your base? You drop of course! As uncanny a decision as this was for Dream, it worked out. This move left only two marines, two hellbats and a medivac in Dreams base, while Life had roughly ten banelings and forty zerglings just outside. In a miraculous stroke of luck for Dream, Life pulled
everything
back, even after scouting the forces Dream had at home. This was highly unlike Life, and had he gone for the final bust, it would have crushed whatever Dream had left. Not only did the terran go for the riskiest drop of all time with his tournament on the line, but he also started his second set of upgrades for his bio units behind this. Dream was all in for the macro game, and these were the first two steps into clawing his way back into the game.

As expected, Dream's drop did next to nothing to Life, who had already decided to pull everything back in anticipation of drops. What it did accomplish though was to give Dream the opportunity to
finally
establish his natural base, and for good. His relatively high SCV count all game long had been of no use, and finally getting a second base was crucial to increase his income and put those extra SCVs to work. His second set of upgrades were well underway, while Life had only his first set producing. Even though he was finally on two bases, Life had already set up three of his own, and yet again stopped worker production at 55 to build another army. Life's next plan was to hit a 1/1 timing with a gigantic ling/bane army with some complimentary mutalisks. All larvae was invested into lings, and from lings into banelings. Life held against single medivac drops, and set across the map to finally put down the resistant terran. At the start of the engagement, the numbers were: 100 lings, 36 banelings and 10 mutalisks for Life against 47 marines, 7 medivacs, 4 hellbats and 4 widow mines. Everything in this fight pointed towards a terran massacre, and Life had the numbers to back it up.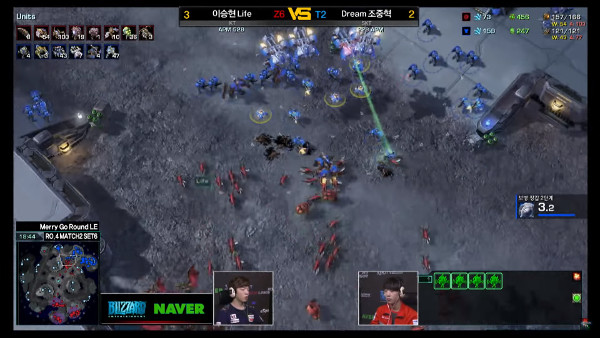 And then it happened. The godliest splitting of units that has ever happened in a professional game of Starcraft was pulled off. What was suppose to be an impossible fight for Dream ended up being one of the most impressive displays of skill ever. Dream was just barely able to hang on with all of his medivacs intact and a handful of marines. The upgrade advantage, combined with the medivac healing, was enough to keep his reinforcing marines alive and push back the reinforcing zerglings from Life. Another round of banelings had just finished morphing, but this did not deter Dream. Another display of godlike marine splitting was enough to hold this latest attack from Life, and Dream was finally able to hold onto enough marines and medivacs to push Life back for good.
Dream had finally taken back the army lead, and with a full set of upgrades ahead of Life, was able to defend all fronts from any pressure. Mutalisks tried to fly in and deal damage, but Dream was well aware of the threat and shooed them away. A zergling runby was easily defended by AFK marines in the natural as the upgrade lead was just too much for the lings, and Dream pushed across the map. The first attack was barely deflected, but after barely clinging on, a second wave of bio had made its way across the map. Dream started assaulting the third base of Life and split his way to victory.