You qualified for the WCS Europe Challenger Legue yesterday, but there are a lot of people who dont know who you are. Can you introduce yourself and tell us who is MiNiMaTh ?
My name is Matthieu, I'm a 20 year old studying at ECE Paris. I've been playing Starcraft II as Zerg since release, and I was the French champion at ESWC 2012.

So you are not a full time player and you pursue studies. How hard is it to combine this private life with Starcraft II ?
That is one of the biggest issues in my life. Esports can be rather time consuming. I was one year ahead in high school, but I lost it during my engineering school because it was too hard to combine both private life and Starcraft. This year, I am repeating my second year, and it's going a lot better. I'm managing to partition my time between studies and game pretty well. Obviously, that doesnt allow me to reach the same level as a full-time pro player.

You never thought about going full time ?
No. Studies have always been more important in my mind. I had a time where is was a bit weird, I had this little voice in my head saying things like « If you go full-time, you will perform better », etc... Nowadays, this voice is gone and I feel like everything [in eSport] I'm doing is just a plus. I decided to play as a part-time progamer, and as long as I haven't finished my studies, I wont go full-time. And still, I dont know at all if I will commit to full-time at the end of my studies.




SC2 is your first competitive game. What made you want to start on this game and not on another one ?
I played lots of RTS before, which really are my prefered games. I spent hundreds of hours on every single Age of Empires, I played a lot of Warcraft 3, not at a professionnal level at all, just as a casual gamer. When SC2 arrived, I started to play the beta thanks to a friend. I reached the diamond league, which was the highest league at that time, in one month and a half. I have been encouraged to participate in ESL tournaments and that's where everything began. By September 2010, I had already built a name for myself in the French scene. One thing led to another to make who I am today.

How would you describe your style of play ?
I have a really mid-game oriented style of play. I'm not a player looking to go for some broodlord-infestors or swarmhost composition, because I just dont like it and I find that very boring. I'm really mid-game oriented. But in competition, we have to vary our style of play so I'm doing everything, all-ins, macro games. I think it is really important in tournament to be able to vary one's style of play.

Are you inspired by a certain pro player ?
I'm really fond of Life's style. He is fantastic. He is young, full of energy, he's run-bying everywhere, his macro is sick. I really like his playstyle. I also love DRG. They are the two zergs I love.

Do you have specific training methods ? How do you prepare yourself for an event ?
It depends if I'm on holidays or not. If so, I can train a lot, almost like a full time player. For example, those three last days, since I came back from the Gamers Assembly, I played 8 hours a day, qualifiers included. It's really important for the qualifiers to train before, and even if we lose, we automatically learned from our defeats. It is more that a simple defeat in ladder, in qualifier we got a lot more pressure. As a result of that, the next day, you are able to adapt better to the pressure and to play your gamestyle. That truly impacted my qualifier yesterday, I was really focused the whole time and I rarely happen to be in that state of mind and shape.




You won a lot of French LANs, you've been in the french zerg top 3 with Stephano and FireCake for a long time, but this is the first time that you are going to participate in a European tournament. Did something change to allow you to qualify ?
I think that I had a relatively favored bracket. I say relatively because it was not easy. But the players in my bracket were all within my reach. That, and the fact that I trained correctly allowed me to qualify. For example, I faced DieStar in round 2, and I didnt fear him at all because I regularly win against him. The hardest was HeRoMaRinE; I was expecting a really tough match. I managed to win 2-1 with some good build orders and by putting pressure as I needed to, and I was really satisfied with this result.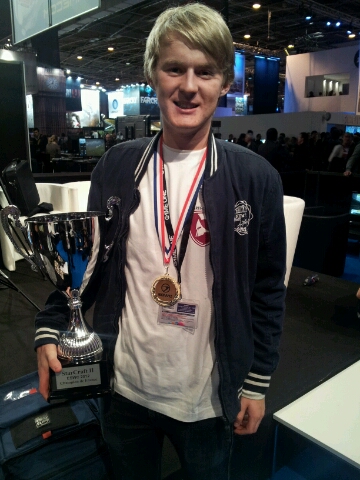 How did you feel when you qualified ? Was that a surprise ?
A surprise, I would not say so. I really wanted to qualify. I came into the qualifier without thinking about who I would play next round, I was just thinking about win every single match, and then see who is my next opponent. I started to believe that I could qualify pretty fast. When I saw DieStar, I knew I was able to win. Still, I had to do it, because he is a really good player. The BO3 against HeRoMaRinE was a really tough battle, and when I won, I really started to believe in my qualification. Adelscott has a style of play between the predictable and the unpredictable. We played each other in the Gamers Assembly and I lost the last series during the losers bracket, so I had some pressure on my shoulders. I know that I'm « better than him » in a good number of aspects of the game, but Adel is Adel, and always has some calculated BOs. It was really tense against him, and ultimately the final was a formality.

What do you think about the partial WCS region lock operated by Blizzard ? In the end, koreans keep winning in EU and NA, do you think there is something to change ?
What is really a shame is what is happening on NA, because their scene is not strong enough to put their players in the top. In Europe, more koreans are starting to appear, but there are still a lot of europeans who are managing to get some good places. Last season, we had 3 europeans in the top 8. I think that it's relatively increasing the skill level in Europe, and we benefit from that. All the more so as they are living in Europe now, they are not players just going back and forth. As long as they live in Europe, I'm fine with that.





MiNiMaTh in the Gamers Assembly 2013.



I heard that you were leaving for Korea as part of your studies and that you plan to stop gaming altogether while living there. Does this WCS qualification change your mind ?
I leave for my studies in September. I wont stop the game, but when I leave, I probably wont have the time to participate in competitions. Dont wait for me to compete in code A. I will certainly take a competitive break during my travel. At best, I will train there alone in my spare time, but I dont go there with such a goal in mind. I really want to benefit a lot from traveling there, do a lot of things and open up myself to this country.

How long will you stay in Korea ?
4 months, from September to December.

If you could change something in the game, what would you do ?
Swarm host. This is a shit unit. I dont even know how it can exist. I hate playing with it, so you will never see swarm hosts in my games. Sadly, this is one of the only ways to beat a protoss deathball in late game, but I really hate this unit, so I really try to provent the protoss from getting his deathball. Definitely, I would change the swarm host.





"Swarm host should not even exist."



Do you play some other games beside SC2 ?
I don't play a lot of games, since I dont have enough time. Sometimes, I play LoL with the other aAa members to have fun, but not currently. There is a game I' m really waiting for. Some of you are maybe going to laugh, and for others it will bring back good memories : the HD version of Age of Mythology is coming. This was one of the games which made me dream the most in my childhood, as I played it a lot. On May 8th, I'm probably going to play and stream it, because I know that I'm going to have a lot of fun with it.

Something you would like to add ?
Thank you for the interview, thanks to aAa, to our sponsors (Roccat, Speedlink, Askew & Dailymotion) and big up to the team !


An interview conducted and translated by team-aaa.eu