Source: Naver/ Daily eSports
http://sports.news.naver.com/sports/index.nhn?category=e_sports&ctg=news&mod=read&office_id=347&article_id=0000044293&date=20130817&page=1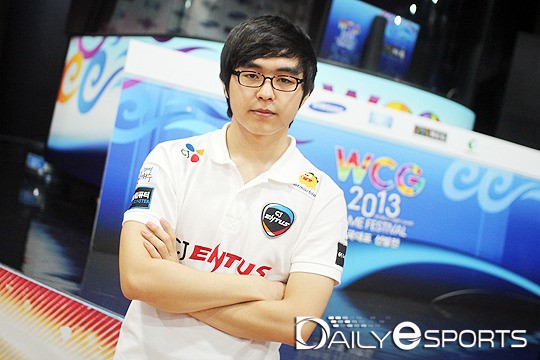 Q. You were qualified as a member of the national players. How do you feel?

A. It hasn't sunk in yet. However, I feel like I will do well too in China.



Q. You became a national player at your first challenge. When did you expect this first?

A. I haven't. When I beat Curious at Ro16, I heard that it will be broadcast from Ro8, and suddenly became to eager to. I thought it was the best chance for me. People don't know what kind of plays I perform.



Q. People are curious about what kind of player you are.

A. I joined CJ this January. I train so hard, and I can confidently say that I am on a high rank on the team. A prepared top-class-rookie. Since release of HoTS, I was confident.



Q. We couldn't have seen you in proleague or individual leagues.

A. I was eliminated by Songduri in the same team last preliminary. There were no drafts, so I had no chance to acquire pro license. Actually, it's been only a while since I got semi-pro license.



Q. What did you do before becoming a progamer? (Translator: He's a rookie, but quite old. Born in 1991, the same age as Soulkey, RoRo, MC, MVP, and effort.)

A. I had worked for a general company for two years. Played SC2 as hobby for 3 years.



Q. You will meet Parting in the finals.

A. To be honest, I am not so confident, but I will do my best.



Q. You may have gotten some stress meeting Soulkey at Ro4.

A. I wasn't actually confident. But even on vacation, Effort and Bong helped me practicing. They helped me with builds and a lot detailed training. I cot confidence there.



Q. Your mother came to the stadium to cheer for you.

A. I thought only my brother would come(giggles). I saw mother during a game, and got surprised. I didn't make me nervous, but helped. I think I got adapted to broadcast environment.



Q. You seem not getting nervous easily.

A. My don't have a strong mental when I practice. However, it gets stronger when I play on TV. Coaches help me training my mental, so it's getting stronger.



Q. Last words?

A. I appreciate my teammates who helped me even on vacation. Happy to show a victory to my family and coaches. Now I became a national player, I will do my best with response.



+ Show Spoiler +

I'm not sure if it's fine with translating whole article from Daily eSports. If this can be a problem, please mods edit or delete this post. And also, please edit the title to "WCG KR"