PiG Daily Strategy Articles
Welcome to the first PiG Daily strategy article! The PiG Daily is a show by Jared "PiG" Krensel that focuses on StarCraft 2 strategy and becoming a better player. We've joined forces to create an article series that summarizes his dailies into short, digestible articles that provide insight on builds, tactics and game sense. By combining with Spawning Tool, this series will bring you the most comprehensive learning experience for build orders and strategies.
How to use Spawning Tool
We highly recommend using Spawning Tool in order to follow the basics of these builds. The PiG Daily and our strategy articles will serve as supplementary guides to understand the subtleties behind each decision.
Today, we have a build for your ZvZ woes: The Slow Ling All-In.
Link to the Spawning Tool Build
The Build
This build is specifically tailored to ZvZ. As the title suggests, it is an all-in with slow lings that aims to overwhelm your opponent before they can mount a solid defense or get banelings.

ZvZ Slowling All-In
13
Spawning Pool


Extractor Trick to 15/14
15
Overlord
15
Queen
17
5x Zergling
22
Hatchery
21
Extractor Trick for 2nd Queen
23
Overlord
Nonstop Zerglings from here
This is a surprising cheese build that works specifically because it does the opposite of what your opponent should expect from the opening. You open up with a fast 13 pool 10 ling pressure which can do anything from just forcing units out of your opponent to destroying their hatchery or killing all their workers. You follow up with a fast natural expansion and try to kill their first overlord with your queen. From here you don't drone at all and simply mass slow zerglings and some extra queens and launch a very surprising attack across the map - avoiding your opponent's vision as much as possible.
The build is effective because you limit your opponent's vision to one key piece of information in the early game: your expansion. This tells your opponent that combined with the early zergling rush there's no way for you to have any gas mining whilst affording a zergling rush AND an expansion. The opponent should conclude that you can't be aggressive since you won't have ling speed or many roaches for a long time and will often play quite greedy. This is where you pull out your slow zergling attack. Your 2 queens should move out ahead of the attack to push back or snipe any overlords that might scout your ling move-out, buying you extra seconds of surprise to get your swarm of slow lings across the map.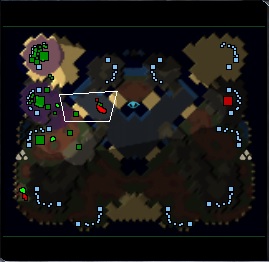 Notice Scarlett's production tab and vision. She hasn't scouted beyond the outside of PiG's natural base, and has her own third on the way along with more drones while PiG is about to hit.
Key Strategic Points
Inject with your first queen and send it out immediately to deny your opponent's overlord from scouting. The most crucial part to make this plan working is denying your opponent information, and warding off their overlords is the first step in doing so.


Pressure with your first 10 lings. Once they are built, send them to your opponent and with them you can force units, deny their natural and kill workers. Once they have the advantage, pull out and keep them hidden on the map for future pressure.


While the initial pressure is going on, pool all your additional lings back home and keep them hidden. It's key that your opponent does not see them; you have to sell to your opponent that you are macroing behind this for the cheese to work.


After making your expansion, you should only have 14 drones. Invest everything into lings for the attack, each zergling counts.


When killing overlords, 'fake' the queen pullback to sell that you are not going to be offensive with them. Your opponent has visions of units that recently killed their overlords, so do a fake pullback on your queens and then send them again to your opponent's base.




Again, stay out of your opponent's vision with your lings. Control the watchtowers, and use your own overlords for vision of where his are not, and use these lanes to your advantage for the surprise attack.


You can transition out of this if you cause a lot of damage. Around the time your first wave of lings hits their base you should swap to drone production at home and add a gas so you can swap into roach production and ling speed for a potential follow-up attack.
Brought to you by the TL Strategy Team
Writer: PiG/TL Strategy
Graphics: shiroiusagi