Introduction: The Return of the Hellbats
With seemingly unbreakable resilience, the diverse hellbat openings we've seen recently have been steamrolling unprepared zergs. After the removal of Transformation Servos on the May 23rd balance patch, Terrans suddenly have more flexibility with their openings than ever, thanks to several new aggressive options. The goal of these openings is to either outright kill the Zerg for playing too greedily or to do enough damage to put yourself ahead economically and opening multiple options to follow up with. Throughout this guide we will be focusing on two different styles: two base and three base options. Pioneering the way are TaeJa, Maru, INnoVation and Flash, all of whom recently have been exploring various hellbat openings.
Two Base Openings
The two base aggression builds covered in this guide are:
A marine-first opening, which focuses on trying to throw off the Zerg early;

A hellion opening, which takes earlier map control and hits with a slightly harder push;

A marine-heavy build, which tries to pick off overlords near the timing attack, and;

A banshee opening which is similar to the hellion opening, but substitutes medivacs for banshees and results in more damage but less sustainability.
All four have strengths and weaknesses, and some are better than others depending on the map. Maps with small choke points between bases, such as Overgrowth, will be better for the more sustainable builds, as it's very hard to get a good surround on the Terran army or get enough Zerg units in a cluster to burst down the hellbats. Maps like Merry Go Round or Catallena will better suit the banshee build due to its ability to attack in multiple locations and splinter up the Zerg army.
With these two base builds, your technology and infrastructure are slowed down quite a bit, although your economy is strong enough to transition into the mid-game without much difficulty. Therefore, it's necessary to get some damage done, either in killing off some workers and forcing early units, or even taking out their third base. Sometimes, your committed timing attack can end the game outright. If there is an all-in coming, react accordingly by making bunkers at home and widow mines or tanks, and try to keep your economy alive so that you don't fall far behind.
Reaper First
---
Basic Build Order:
10 depot
12 rax
12 gas
15 reaper
17 CC
17 reactor on rax
18 depot
19 factory
20 2x marine
22 2nd gas
This is the standard build order for opening up with two command centers. It's a familiar build for most people, but it only requires one reaper for scouting as you are not trying to get any damage done; it simply to sets up the hellbat push later. Don't be tempted to risk the reaper for only a handful of drones, as the information obtained by it will be worth more than killing a drone or two. Make sure to use the reaper effectively, as it is an important tool in knowing whether or not your opponent will be susceptible to this type of build. It's important to know if your opponent is planning any sort of early roach aggression or baneling all-in because hellions and hellbats may not be enough to hold these off.
As with most two base Terran builds, follow the reaper with a second CC, a reactor and a factory. However, the deviation comes at 22 supply with a second gas. This times up perfectly for multiple builds, and each style will determine the type of follow up push that will be available to you. Double medivac production, cloaked banshees, or marine-heavy pushes are all legitimate deviations, and we will detail the latter two below.
Marine Heavy
TaeJa vs Jaedong @ HSC IX Quarter Finals
Marine Heavy Build:
23 2x marine
27 switch fact and rax, start hellion production
27 starport
32 reactor on rax
40 medivac when starport finishes
44 2x marine
46 armory
Switch starport and rax after 1st medivac

[Hits @8:00 with]
6 marines
1 reaper
1 medivac
6 hellions
With this variation, you get more marines and an earlier medivac for the purpose of picking off any out-of-position overlords, potentially supply blocking the Zerg and leaving them unable to produce units to defend the impending attack. Use the reaper to look for overlords on the map while denying overlord scouting with your initial marines and sending the following ones to pick off any overlords your reaper was able to scout. It's definitely worth sending the marines to try and pick off stray overlords because losing them won't significantly hurt your initial push and the potential supply block on the Zerg outweighs losing the marines tenfold.
Once your armory finishes, push into the natural of the Zerg and watch the barbecue. Try to cluster your hellbats into a circle and make sure you micro your medivacs back in case the Zerg focuses them with their queens. Also, make sure to avoid spore crawlers. With good control, you can even pick up individual hellbats into medivacs saving them when they are on low hp, transferring incoming damage to another hellbat. At this point the only purpose the marines serve are to deal a little extra damage; you can keep some of them on the watchtowers or continue to patrol the map with them. You can also choose to wait until 8:30 for another round of medivacs and hellbats to make the push more powerful, but at the cost of your opponent potentially having defenses ready in time.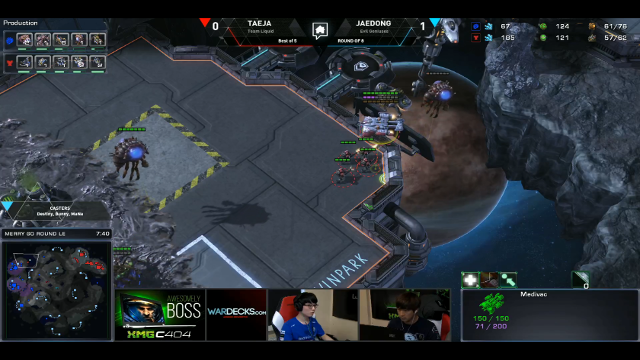 TaeJa is able to pick off unguarded overlords
Hellion Heavy
Flash vs Life @ Sandisk SHOUTcraft invitational Group A
Hellion Heavy Build:
25 switch fact and rax, start hellion production
25 starport
25 reactor on barracks
34 switch starport and barracks, 2x medivacs
42 armory[/list]

[Hits @8:00 with]
2 marines
1 reaper
2 medivacs
8 hellbats
This opening focuses more heavily on gaining early map control with fast hellions, followed by a stronger push. By cutting marines in favor of hellions, you sacrifice the potential to kill overlords for a stronger 8:00 timing. The opening is standard with the reaper scout, but rather than making six marines you only get two, exclusively to prevent overlord scouting in your base. The spare minerals should go into constant hellion production to deny creep spread, and double medivac production for the push.
Having two medivacs immediately available can allow for drop play as well, or even two-pronged attacks early on. One-on-one, Hellbats are exceptional versus almost any other unit, which makes them exceptional when split up. Don't forget that with Transformation Servos now enabled automatically with the armory, hellions rather than hellbats should be built straight out of the factory during the push and then transformed into hellbats at the rally point. It ensures that your units arrive faster, forcing a higher tempo and allowing smaller intervals between reinforcement waves.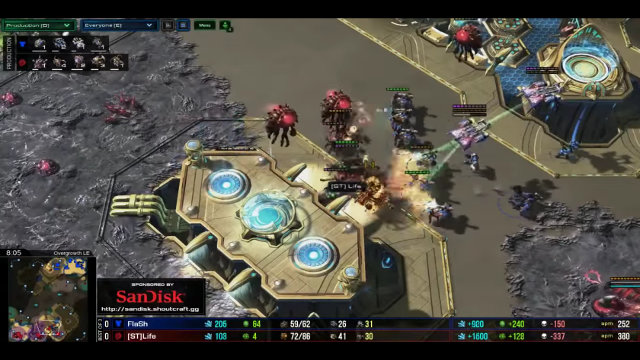 Flash dealing massive damage with hellbat/medivac
Marine First
---
Basic Build Order:
10 depot
12 rax
13 gas
15 OC
15 marine, send to kill overlords
16 depot
16 reaper
19 CC
20 reactor on barracks
21 factory
Rather than getting a reaper first, you can build a marine to try and pick off the initial overlord at the start of the game. This is mainly done on two or three player maps where the Zerg is unacquainted with marine first builds, giving you the chance to throw off your opponent very early. The resulting push is just as strong as the other builds, and can potentially be better since the Zerg might lose overlords and be forced into a sub-optimal position due to the early supply cap.
Send the initial marine immediately out to seek out the first overlords from the Zerg and follow it up with a reaper to scout the Zerg and gain watch tower vision. This is much riskier and less optimized on four player maps due to the randomness involved in spawn patterns, so it is better to use this on a two or three player map. Your knowledge of Zerg scouting habits will be key; if you don't know where the overlord will likely be, the first marine likely won't be very useful.
Hellbat / Medivac
TaeJa vs Jaedong @ DreamHack Summer Semi Finals
Hellbat/Medivac Build:
22 gas
24 switch fact and rax, start double hellion production
24 starport
27 reactor on rax
36 medivac, switch onto reactor when done
39 2x marine, switch the starport onto this reactor
54 Tech lab on rax

[Hits @8:30 with]
3 marines
1 reaper
3 medivacs
8 hellbats
Start with a marine and go look for overlords. Even if you don't find any, a marine before reaper doesn't set our build back and is worth making. Get a reaper after the marine for scouting purposes. This build has a much earlier gas than a banshee based build because of the amount of gas it requires to produce double Medivacs compared to the single time Cloak upgrade and single banshee production.
Just like the other medivac based builds, you have the option to either push straight onto creep and try to get immediate damage done or you can split up your army and go for a multi-pronged attack involving a hellbat drop in the main and a smaller force on the Zerg creep. These moves are situational; you might want to do a multi-pronged attack if the Zerg has static defense at the front, or do a full frontal attack if he lack good creep spread and/or a good position between their natural and third.
Use the initial hellions to gain map control, clear watchtowers and to prevent creep spread, patrol the map with your marine, looking for stray overlords, and use the reaper to continue scouting the Zerg. The hellbat builds are somewhat vulnerable to roach/baneling all-ins, so identifying the bust as early as possible is crucial for preparations against it. Prioritize not losing any hellions because any lost before the initial attack will significantly weaken our attack; you can never have too many hellbats for this push. To make these attacks hit faster, manually boost the medivacs out of the starport to the push. Shredding any seconds off of when this attack hits gives us an even further advantage as queen energy won't be as high and their unit production cycles will be behind.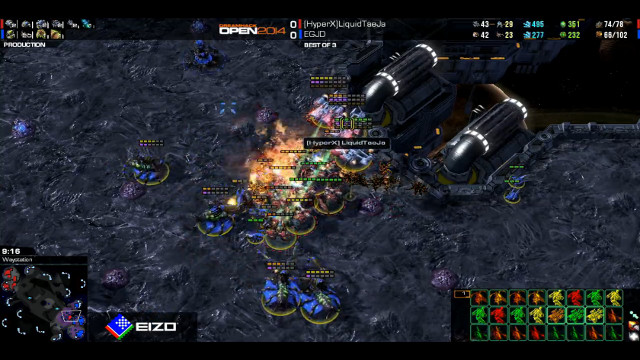 An unprepared Jaedong gets toasted by hellbats
The Cloak' n' Banshee
Maru vs Soulkey @ Code S Ro8 Season 2
The Cloak' n' Banshee Build:
23 2x marine
27 switch factory and barracks
27 reactor on barracks
27 start 2x hellion production
31 starport
32 2nd gas
39 start 2x marine production
41 tech lab on starport
51 banshee, non-stop production
54 cloak
59 armory

[Hits @8:30 with]
11 marines
1 reaper
1 banshee
8 hellbats
A small difference from the medivac opening is that at the start of this game, you get a reactor on the barracks before the factory to start marine production earlier. The end result is very similar, with marines, hellbats and banshees ready to do damage. As with the previous builds, you can congregate your units at the front of the Zerg's base for a big push or use your cloaked banshees to pull queens out of position and give you an opening elsewhere for your hellbats and marines.
What separates this build from the others is it completely cuts medivacs as an option and instead opts for cloaked banshees, giving an unorthodox composition of marine/hellbat/banshee. It sacrifices medivacs in order to get more units out, either to make one concerted push towards the Zerg's third, or to use one group to pull units out of position for the other. This high-damage composition, while raising the potential for damage, loses some of it's efficacy as time goes on and the Zerg unlocks mutalisks.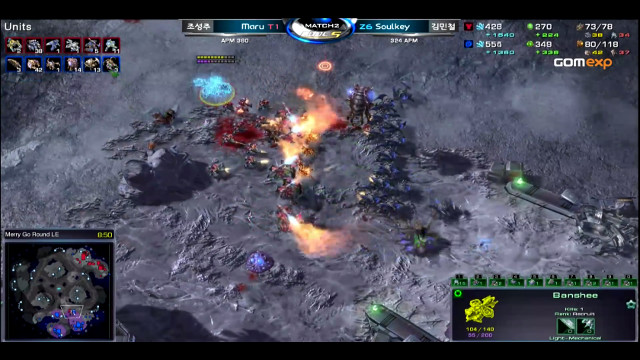 Maru clashing with Soulkey
Not only can this build do massive damage at the Zerg base, it's also a very safe opening against a roach/baneling all-in. Continue to make banshees non-stop along with the hellbats and keep applying pressure to the Zerg while establishing your follow-up. An alternative to continuing banshee production is to get a Polt Viking out and clear excess overlords out on the map. This will further supply block the Zerg and generate another timing window to either attack or expand.
Summing Up Two Base Aggression
These builds allow for an easy transition into a third CC followed by two more barracks and double engineering bays or a mech transition with two factories instead. All of these builds are relatively hard to scout because they look like standard Terran openings, and with marines in place to deny overlords, it's very hard for an opponent to get the correct information about the specific build you are going for. With so much variance in new Terran openings, Zergs will struggle with the proper response the aggression Terrans can now put on.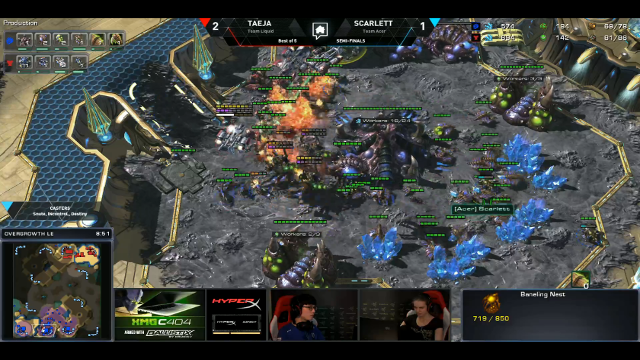 Dead Zerg
The Three Base Opening
The much more uncommon way to open with hellbats (at the moment) involves opening 3CC. Aside from the third CC, the biggest difference between this and the previous builds is the lack of a second gas. All resources are invested into economy early on, so any starport tech is impossible to afford. Despite this, it is still a very strong push at 9:00 with hellbats and marines. Even without medivac/banshee support, this opening can potentially kill off several queens and even some drones if the zerg is not prepared. Hellions are only slightly delayed, therefore map control can still be acquired from the Terran player.
INnoVation vs Life @ Dragon Invitational Tournament #2 Finals
Triple CC Build:
10 supply
12 rax
12 gas
15 reaper
16 supply
17 reaper
19 CC
20 factory
22 reactor
23 CC
25 switch rax and factory, start double hellion production
29 tech lab on rax
30 supply
34 start marine production
37 start stim
@ ~7:40 start armory
@ ~8:00 2x rax
@ ~8:15 start 2x ebay

[Hits @9:00 with]
5 marines
1 reaper
10 hellbats
This push is not designed to deal heavy damage to the Zerg or kill him outright. It still has the potential to if the Zerg is unprepared, but it is more to just to force them to make units and delay their economy so you can set yours up. Your 1/1 is only slightly delayed compared to the 4M build, and you have the potential to get some damage done that wouldn't be possible in 4M. Even if this doesn't do any damage at all, it's economical enough that we should still be on even foot with the Zerg player.
While this may not be the norm right now, triple CC hellbat builds will most likely become the key stepping stone in macro build orders for TvZ. The high potential for wrecking damage alongside the booming economy and production makes this type of build quite strong and solid overall.
All in all, these are all effective ways to open as Terran, giving us the option to put on more aggression rather than the passive 3CC into 4M builds or the standard hellion/banshee openings. Whether it's a dedicated two base attack or a macro build with hellbat timings built in, It will force Zerg players to play more cautiously against what could come and will curb the Zerg greed. Simply the mere threat of hellbats now has to linger in the back of the Zerg's mind. This is exactly what we would have hoped for, and hopefully everyone enjoys the new options Terran has.
To finish it all off, we'd like to thank TaeJa, INnoVation, Maru and Flash for inviting us to the Korean BBQ to teach us how to cook Zerg units with hellbats. Happy roasting!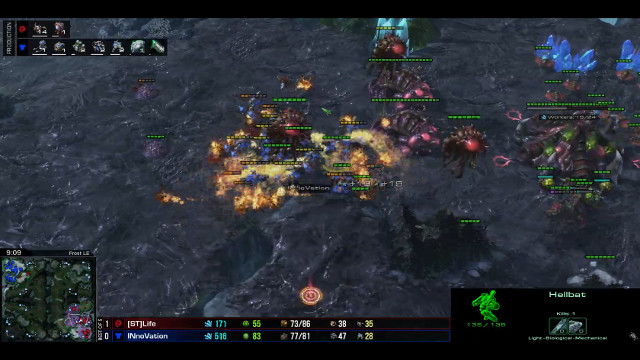 Look at those upgrades!