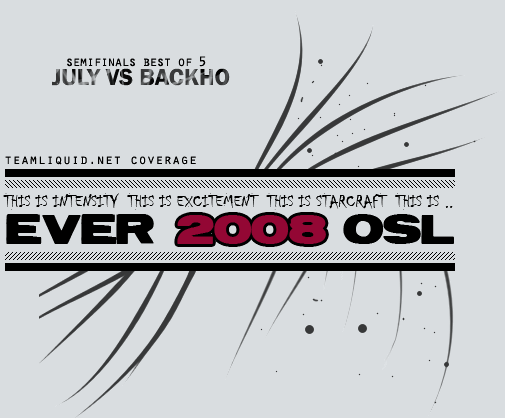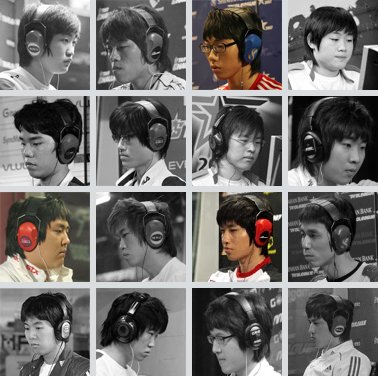 WARNING: This OSL update is ridiculously long

It is a rare moment when a writer cannot find words to describe the scenes which his eyes are telling him are real. Indeed, on Friday i experienced one of those moments. JulyZerg and BackHo had both stepped up to the plate to reach the prestigious semi-finals, but for one of them their journey ends here. The Yongsan "stadium" was packed full of eager onlookers waiting to see one of the most anticipated semifinals in a long time. They weren't here for BackHo; they were here for July and his glorious return to the premier level of Starcraft. A sea of black Tushin banners made up the crowd, a scene not seen for over two years. BackHo had to settle for a small group of hardcore fans to cheer him on, and had to face up to the pressure of playing one of the most notorious ZvP players of all time.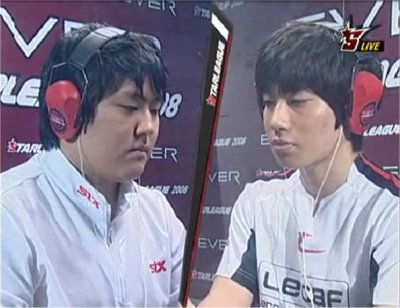 There would be no prisoners taken. This was a fight to the bitter end, a fight that both sides were determine to win. Both had their own back stories which kept them going; one was of redemption, a tale of upset victories, the other was a tale of resurgence, the third coming of a God. One would advance to face BeSt in the final, a place that would be decided by Bo5. Welcome to the second semifinal of EVER 2008 OSL.


---


Unlike the other semifinal, both players were content with turning the first set into a macro war. BackHo (Yellow at 11) bucked the Protoss trend and opened with a fast expansion build, which turned out to be not a bad choice as July (Purple at 5) opened with a retro 2 hatch lair build. July had no intention of using the infamous 'ee han timing' mutalisk build but rather opted for fast lurker tech. Backho on the other hand progressed in stock standard fashion; following up his fast expansion with quick tech and two corsairs. Thanks to Backho's scouting probe he was able to catch July's completed Hydralisk Den, and thus added a Robotics Facility to prepare for the inevitable lurkers.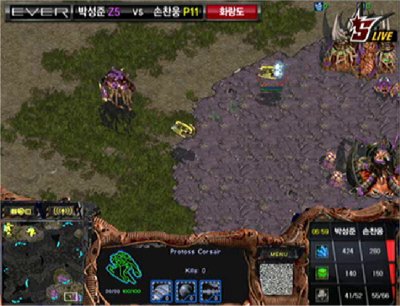 The first corsairs of BackHo caused July some grief, but ultimately nothing July couldn't cope with. With the Corsairs tied up harassing overlords July took the opportunity to double expand to his third. Once the corsairs were chased away by Hydralisks, July morphed them immediately into Lurkers. Meanwhile, Backho had begun the 'adventurous' tech of Reavers to combat July's hydralisk tech. This was not a bad choice seeing as he was only on one gas. July marched his three Lurkers over to Backho and planted them just outside his bridge while adding a spire. Backho set his sight on taking his third, a move which was necessary if he wanted to remain a threat to July. With his first observer and an impressive army of zealots, he scared off the three camping lurkers and started his expansion.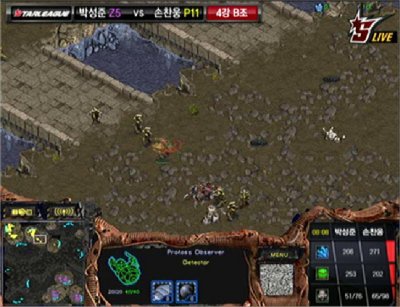 July attempted to pressure Backho's warping expansion with a small group of Hydralisks. Upon seeing Backho's large force he backed off and began mustering up an army to match Backhos. Realizing he had a small timing window open to him, Backho moved out eager to send July packing. Being the great master July is, this timing window was entirely deception. By the time Backho had collected his zealot/reaver army July had already mustered up an impressive army of Hydra/Mutalisk. Backho marched his army down the middle of the map to pressure July and was intercepted by a few mutalisks. This didn't deter Backho and he pressed forward with his army and engaged with July. The resulting battle was a failure of cataclysmic proportions... Here's Professor Backho lecturing about PvZ battle management;



Supply before the fight (July/Backho)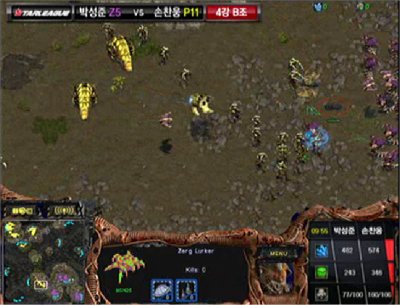 Step 1: Have no possible way of damaging air units and hence lose your Shuttle to scourge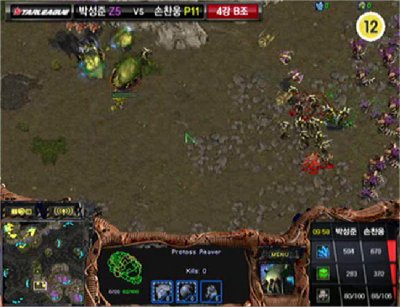 Step 2: Drop your reavers a long distance away from the battle and get them raped by Mutalisks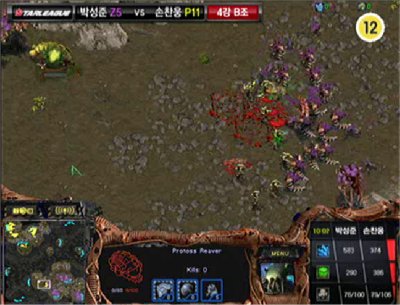 Step 3: Have your zealot army raped by Hydra/Lurker with no Splash support at all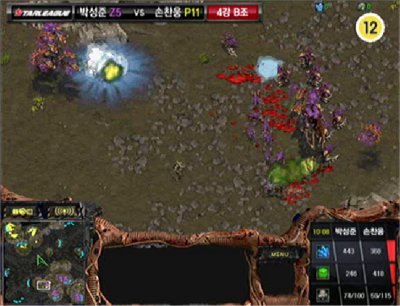 Step 4: Let the one scarab you manage to fire kill a single Hydralisk after the battle is over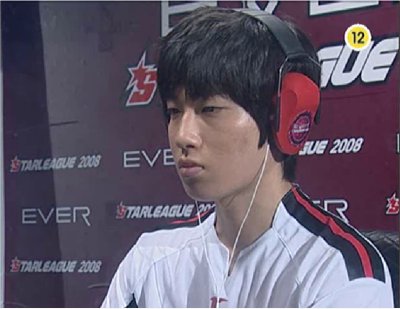 Step 5: Look stupid while the whole ordeal is going on

Supply after the fight


Ideally when you enter a fight with one of the strongest ZvP'ers ever, you want to be able to leave battles having not lost more than 20 psi while taking out his entire army. In this instance Backho lost roughly 50 psi for killing maybe 8 control worth of Zerg units. This was an absolute miscarriage of a battle for Backho and he should have conceded right there. Alas he did not, and July promptly pushed his vastly larger army straight up into Backho's brand new expansion and did what JulyZerg does best; reduce Protoss buildings to rubble.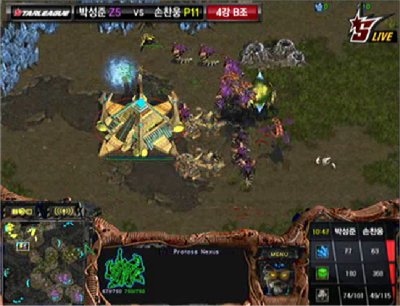 The only thing stopping July from pushing into the natural was the cramped nature of the nat, meaning that an attack would lose more than it gained. So he dropped back and surrounded the natural disallowing any further expansions by Backho. Backho knew that he was behind, and tried to catchup using some DT harass. However, like many other things in Backho's life, it failed miserably; killing a grand total of one drone.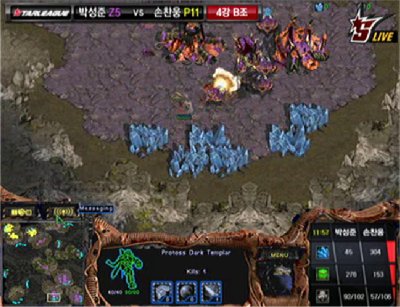 Desperate for attacking options, Backho tried to sneak units out along the back entrance to his natural. July had a group of Hydralisks standing guard, but were too small to threaten Backho's Zealots so dropped back allowing Backho to temporarily secure to the top right. July knew he had map control and expanded towards Backho by taking 3.

July resumed the containment of Backho by sinking 4 lurkers into the ground just outside Bkacho's bridges and sent a group of Hydra back to the top right to see what devil work Backho was doing up there. He found a probe attempting to expand which was quickly murdered, but not long after a group of angry Zealots marched in to fend of the invaders. Then July pulled out one of the most beautiful yet subtle maneuvers I've seen in perhaps a year. He gracefully moves a horde of Hydralisks up into the top right, perfectly encircling the grossly outnumbered zealots. And then slaughters them.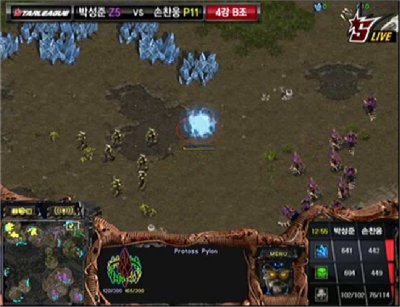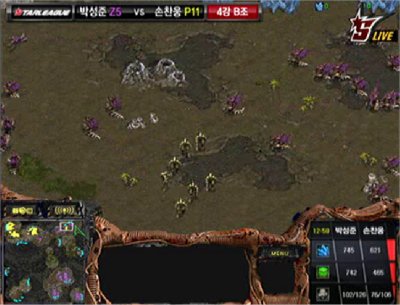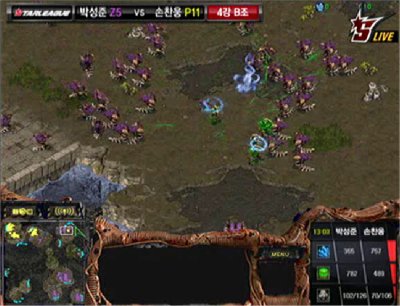 The situation is now dire for Backho and he desperately needed a way to break out. Using some decent storms he managed to clear away some of the lurkers and made a dash for freedom while July was forced to regroup. Backho immediately dispersed his army to hunt for expansions, hoping that July had overextended himself. 4 zealots blitzed into 3 and began hunting for drone kills. With some classic July reaction speed, the Zealots were left bloodthirsty as they could only manage 5 drone kills before being squelched by Hydralisks.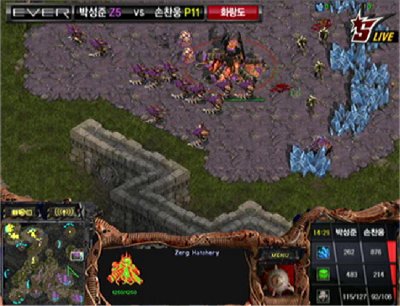 With July's hydralisk army on the prowl for the renegade army of Backho's, his contain was looking very weak. Backho soon capitalized on this and killed off the camping lurkers with a fresh batch of Zealots.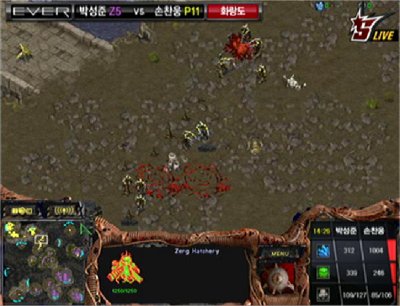 Backho followed up his new found freedom by sending probes out to expand to the top right and his third. July's monster army marched into the top right and shut out any possibility of Backho expanding there. Backho pulled together his army and marched over to intercept the retreating Hydralisks. Despite winning the battle, July managed to pick off 2 of the 3 templars meaning that when July's equally big hydralisk army engaged Backho moments later, Backho was forced to run home. Both sides took a moment to gather their thoughts and forces before sending everything towards the center of the map. The armies collided and despite July loses a few too many units to storm, he easily won the fight and forced Backho to go home.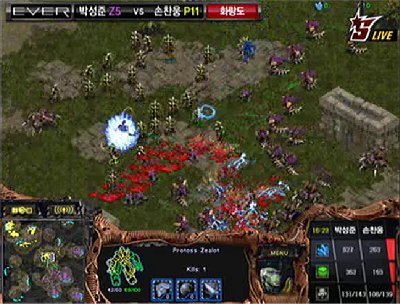 The victorious army marched straight into Backho's brand new third and created a lurker wall effectively preventing Backho from defending the base. Backho was simply out of options, and ran his entire army at 3 - only to find that it was neatly walled off with a sunken and a spore with lurker defense. Realizing his time was up, Backho conceded.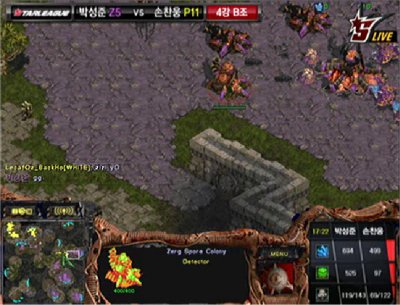 JulyZerg 1-0 Backho

---


Another manly roar erupted from the crowd as the second set began. These fans were of course supporting Backho, and in his position he needed all the support he could get. To follow up the deep roar a shrill high chorus chanted "Park Sung Jun Hwaiting!" and the second set began. Backho (White at 11) was not eager to do something fancy, and opened with the stock standard Fast Expansion, adding two cannons before Nexus because July (Orange at 7) had opened with 9 pool with extractor trick. July followed up his low econ pressure with the standard double expansion. He quickly teched to Lair and added a Spire and a Hydralisk den while Backho teched to stargate.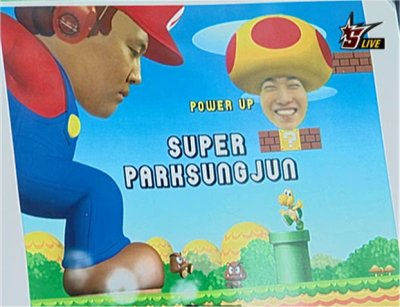 Backho's first Corsair managed to get an overlord kill before being chased away by July's hydralisk squad. The Corsair journeyed right to 5; where it found another overlord. He managed to take this one down as well and managed to catch July expanding to the gas natural there. Backho added gateways and start producing a decent army. Knowing that 5 was just coming online he sent his army to dispose of it. July of course had overlords in all the right places and knew exactly what Backho was up to and instead of defending, he simply rallied all his forces to count Backho's natural.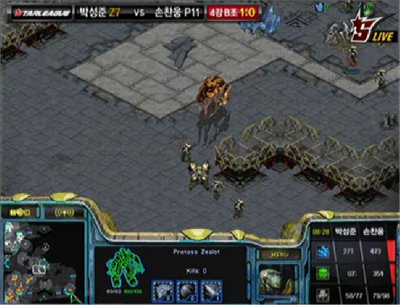 Backho goes one way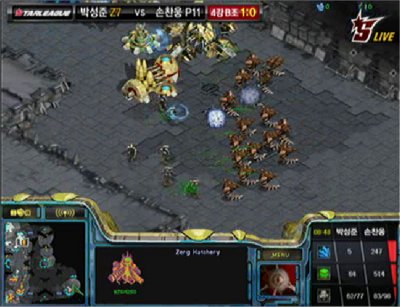 July goes another, and gets results


Backho's defenses were no match for a horde of hungry hydralisks and the defending Zealots, Cannons and Probes were killed. To top it all off, July managed to kill the nexus before Backho's army could clean up the mess and then began taunting Backho. By using Lurker eggs to block his pathing, July effectively was taunting his inferior opponent and hell, it was funny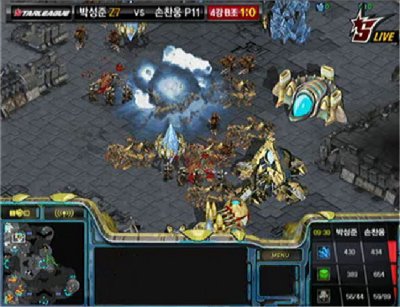 Firstly July kills Backho's nexus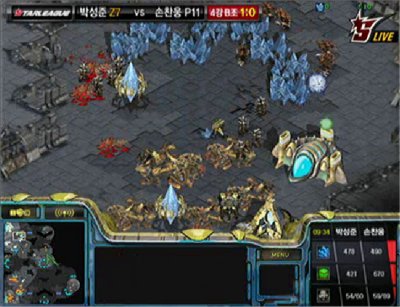 Runs behind the mineral line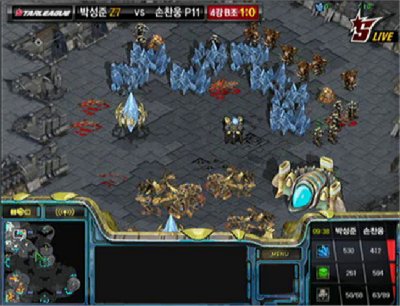 Morphs sound lurkers to block Zealots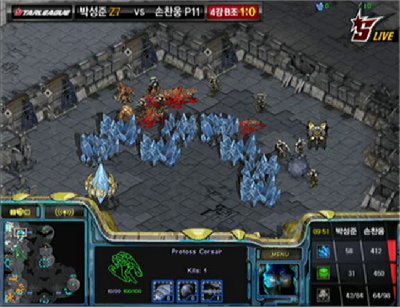 Morphs the last dying hydralisk into a lurker


With 5 hatcheries online July was looking to quickly overpower his opponent. Backho had a corsair fleet being annoying, but when 5 hatch hydra tries to break your front - nothings going to make a difference. Backho couldn't muster much defense and was steamrolled fairly quickly and as his only archon blew up - he conceded the game.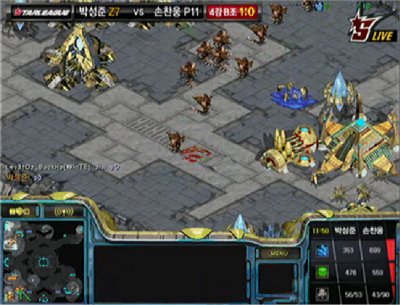 July 2-0 Backho

---


With his back truly up against the wall, Backho looked set to become another PuSan and go 0-3 against July. Fortunately Backho had two aces up his sleeve, Troy and Cheese. Backho (White at 5) placed his first pylon in his natural which, after the last two games, signaled that he wanted to fast expand. However the atmosphere promptly changed when Backho when 9-9 Gate; the lowest form of Protoss rush cheese. July (Yellow at 11) had unfortunately opened 12 pool into expand. Backho gathered up 3 zealots, and with a fourth on the way, he proceeded to assault July's barely finished natural.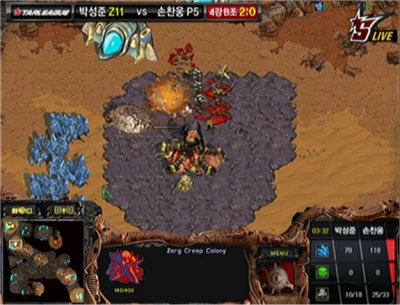 The resulting battle was simply sad. July was completely unprepared for the Zealot onslaught and despite his best efforts four zealots shredded the Zerg structures and forced July to concede the game - poetic justice for the lurker egg antics the previous game.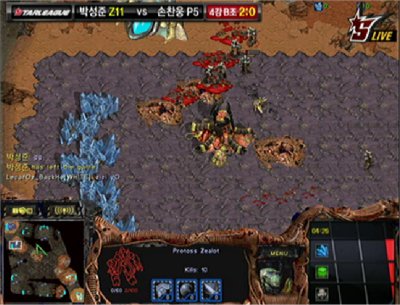 July 2-1 Backho

---


Backho had temporarily gained momentum and disrupted July's 0-3 onslaught. Othello, being a balanced map, would be an excellent play for Backho to unmasked his hidden talent and square the series up 2-2. July however, was in the mood for more fun and games - he would not let Backho leave the stadium with his dignity after what had happened the previous game. So July (Teal at 5) opened with a standard 3hatch build, with each hatchery at an expansion. Whereas Backho (Brown at 11) opened with a fast expansion. The extent of the early game aggression was a lone zealot attempting to harass July's workers at July's third; July simply ran his drones around until his lings popped and were able to clear out the threat.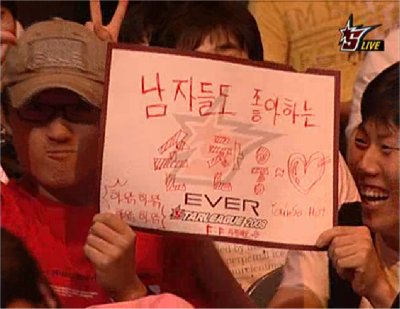 I didn't think it was possible, these people love Backho


The game progressed in an ambient fashion, neither side seeking to play a non-orthodox game. July added a spire immediately after his Lair completed and Backho skipped Stargate in favor of faster templar tech. In some kind of hack-like moment, Backho added two cannons to his mineral line just as July's mutalisks began the flight across Othello to Backho. Two templar popped and started heading down to his Natural just as July's mutalisks arrived. They took one shot at Backho's second templar, then concentrated on cannon that just warped in. The injured templar scurried off to safety and July killed the two cannons in Backho's minline and forced Backho's probes to evacuate.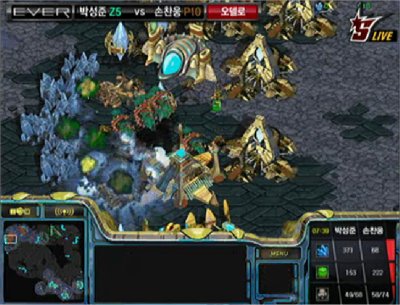 The mutalisks eagerly followed the exodus and killed as much as they could before they got to safety. The mutas then returned to the main to kill off any stragglers. As the stragglers ran to join their brethren, the Mutalisks ran into two dragoon which they then tried to kill - and as a result were stormed by two perfect storms by Backho. July was forced to back off, and luckily did lose too many mutas.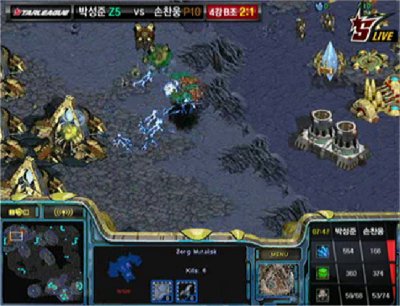 Seeing as Backho only had ineffective Dragoons to hurt the mutalisks, July stuck around and killed a number of probes from Backho's main. Backho had sent out a small group of Zealots to cause July some disruption, but seeing as July already had a sunken and a number of lings and hydralisks the small force was useless and turned back home immediately. Both sides took a momentary breather, then July snapped up his mutalisks and was back on the prowl. However, July had to be content with killing a few probes in Backho's natural for Backho had far too many goons for any decent harass to be effective.

The mutalisks took a back seat and idled above Backho's natural and Lurkers came into play. The first 4 sat down just in front of Backho's natural and began attacking Backho's forge. July also began his Hive and had expanded to 6. Backho looked helpless as he as confined to his cramped natural and was forced to wait for his observer to pop. When his observer finally emerged he wasted no time in clearing out the troublesome lurkers.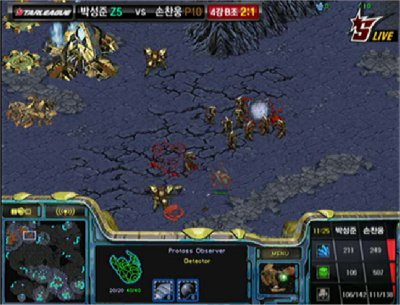 Backho seized the moment and pushed out against July who had erected a nostalgic lurker wall for defense. Backho attempted to attack the lurker wall but looked confused as he mis-microd his army and lost a few zealots needlessly to lurker spines.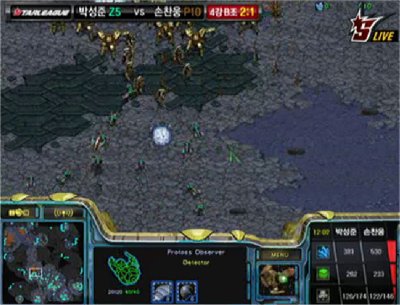 Finally Backho got it right, and sends his Dragoons first and attacks the Lurker wall. When a pack of Zerglings come charging at the Dragoons Backho responded properly by retreating and storming - finally Backho was showing signs of a competent PvZ.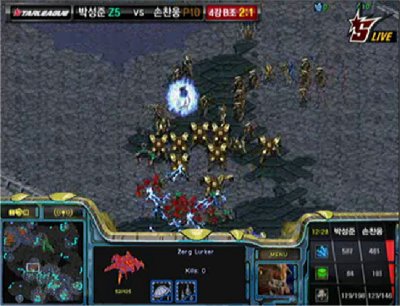 Backho tries his luck once again, but this time is faced with a torrent of Zerglings which proceed to cause Backho real trouble, forcing him to concentrate all his efforts on micro.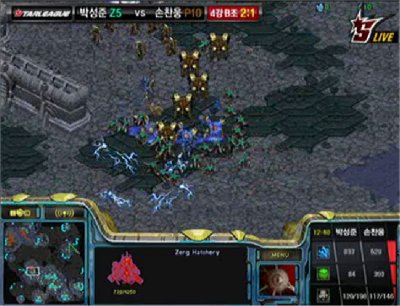 But July is the God of War, and a joker. So when the observer panned to this;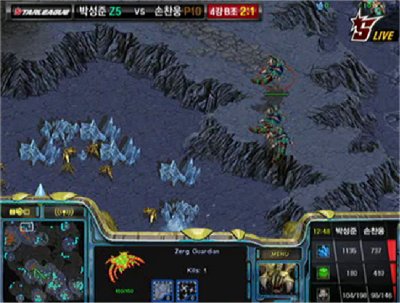 The crowd erupted a mammoth cheer of delight as July was clearly messing around with Backho and was simply stalling for time while his Guardians morphed. The guardians raped and pillaged poor Backho's probe line until there was no probe left standing. Flustered, and clearly under pressure, Backho charged recklessly into the lurker line and got raped by Zerglings and Darkswarm.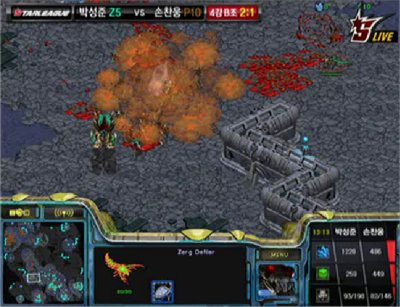 Fortunately for him his reinforcements were on the way, and they managed to push through and assault 6. July rallied his Zerglings to defend, but only succeeded in stalling his advance.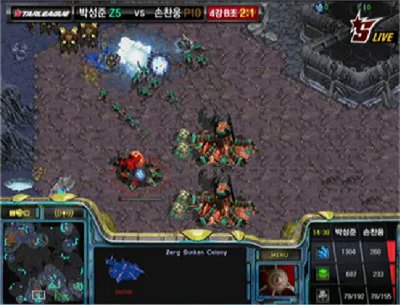 Backho pulled back as well after the skirmish and regathered his troops. Then surged back in to clean up the mess - but by the time 6 was dead, his natural was long gone and he had been reduced to one base. Backho knew that he needed to do damage so pushed up into the third base of July's. His mostly Dragoon army was promptly swarmed and disposed of by Zerglings; ending all hope Backho had in the game.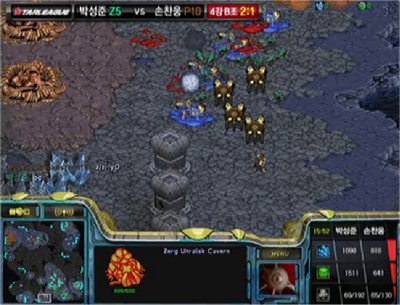 July 3-1 Backho

---

And just like that, feelings of elation that were once thought lost came surging back. With July returning to the finals it restores hope to the old schoolers that they too may rise to the top. Memories of OSLs gone by come flooding back.. The epic series in Gillette against Oov and Reach, July's bitter loss in IOPS to Nada, the nail biting victory over Goodfriend, the disappointment in Shinhan 2005. The contract fiasco with MBC, his recruitment to SKT and subsequent dismissal - and finally him joining up to Soul and returning to his rightful place in the finals.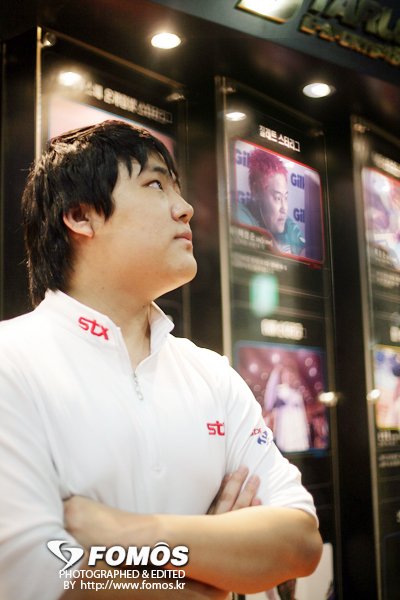 He's coming back to the top


July's story is one of legend. Even if he does not win the finals, this will go down as a monumental occasion. The final between Best and July just couldn't have turned out better. Both players are excellent and adorable in their own right, but there can only be one champion. The ramifications of either winning this title will be huge one way or another as this has truly been an OSL worthy of being called a Starleague.

The will take place this Saturday KST, and there will be more details closer to the time as well as a full and comprehensive preview post. Theres only one thing left to do...

July is no newcomer to the OSL obviously, and back when he won his first OSL (Gillette) there was a little tradition that the OSL news team had. That was; the Teamliquid.net awards! In keeping with the theme of dramatic returns to form, EVER 2008 OSL will have it's own season of awards.

The ballots will open the moment the final "gg" is typed at which point i encourage you to pm your entries to me, Plexa, as you should definitely get in on the spirit of the occasion. The categories this season are;

The 'Garimto' Award for Player of the Tournament
To the player TeamLiquid.net believes was the overall highest achiever in this EVER 2008 OSL. The contenders should be obvious.

The 'Mumyung' Award for Worst Player
Who deserved to have been consigned to the rubbish heap during the first round of the OSL?

The 'Boxer' Creativity/Inspiration Award
Go with your gut feeling. Which player showed the greatest creativity or brightened the tournament with his flair and inspiration?

The 'Chojja' Missing in Action Award
Which 'name' failed to live up to his billing and left himself with something to prove?

The 'Sync' One Hit Wonder Award
Which player will be making a short appearance next OSL?

The 'Bifrost' Map of the Tournament Award
Which map inspired the most brilliant and entertaining games of the tournament?

Game of the Tournament
Which individual game was the most exciting or entertaining of the tournament? Or which game showed the highest skill?

The 'WTF!' Moment of the Tournament Award
Which single moment rocked the tournament more than any other?

Player Most Likely to Win the Next Starleague
To the player TeamLiquid.net believes will triumph next time out.

Start thinking about what fits in where, and whos going to win each award - but rememeber only votes which are pmd to me after the conclusion of the finals will count. Teamliquid.net is not a democracy, so don't be alarmed if one award is awarded to someone else

we'll use our best judgment guided by your votes to establish this seasons winners. Thats all for now, but expect a friendly preview coming up soon!

Plexa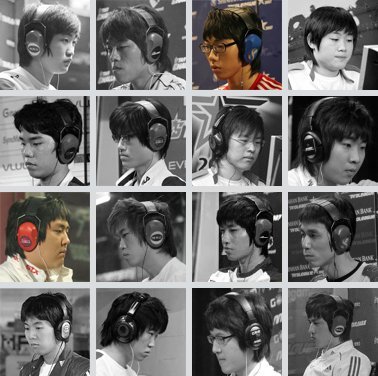 ---
Thanks to Atrioc for the sick banner
Thanks to Daigomi for the regular EVER banner
Thanks to http://fomos.kr for the July image
Thanks to Arbiter[frolix] for inspiration
Thanks to YOU for reading this far