It's funny how things go sometimes. After ten months without announcing a new recruit, here we are unveiling our second signing in just as many weeks. I am extremely proud to announce that Song Hyun Deok (aka "HerO") has joined Team Liquid.
We have been working with oGs on acquiring HerO for quite a while now. The idea first came to us about four to five months ago. I remember thinking how well HerO would fit our team, and how cool it would be to become the first foreign team with a Korean on board. Liquid has always tried to be on the forefront of bringing the Korean and Western scenes together, and this would continue that tradition. Unfortunately, things didn't unfold as quickly as I would have hoped, but the wait has undoubtedly been worth it.
For those of you unfamiliar with HerO, he does not lack credentials. He first displayed his prowess to the foreign scene in the FXO Invitational #1, where he defeated formidable opponents such as LoWeLy, SjoW, Sheth, Mana, LaLuSh and TheStC. More recently, he denied DongRaeGu a spot in the July Code-A tournament by defeating him in the final round of the qualifiers, smashed through tgun, LaLush, TheStC and Vines to earn a spot in NASL Season Two, and is now awaiting the RO32 games in Korea's WCG qualifier after a strong run through the preliminaries.
Even so, I realize that it's likely many Liquid fans will never have heard of him before. The fact of the matter is, it's extremely hard to get noticed in Korea. Not only is the level of play incredibly high, but the opportunities to break through are limited to the monthly Code-A qualifiers against every other pro-gamer hopeful in Korea. Incredible players like DongRaeGu and Puma have languished in "Code-B" for months, only to astonish viewers once they were given chances outside the GSL's unforgiving system. While he still has a long way to go and a lot to prove, I believe that HerO is a player of that caliber. As a part of Liquid, I believe that he will seize the opportunities given to him.
HerO joining Liquid is so much more than just picking up an emerging talent, or globalization for its own sake. At the heart of every Liquid recruitment is my search for people I can believe in. I chose HerO because he was the one Korean out of many who truly matched the Liquid ideal. As much as I appreciate the deals between Complexity - MVP and SK-Gaming - oGs for being very beneficial to both the players and teams involved, they just don't match my personal philosophy for Liquid. I want all my players to really feel like they are a part of something bigger, to be people who will proudly carry the responsibility of upholding the Liquid name.
During his time as an oGs member, HerO displayed all the attributes I desired. He understood the value of improving his English so that he could better communicate with Liquid players, and became good friends with Jinro and HuK during their time together at the oGs-TL house. It was their strong recommendations that brought him to my attention in the first place. Furthermore, he realized the importance of the fans outside Korea and competed in foreign tournaments while trying to engage the international community. To that end, I'm more than willing to help. In his very first competition outside Korean soil, HerO will be joining the rest of Liquid at MLG Raleigh.
As always, I would like to thank all of Liquid's fans for their continued support. It is truly appreciated. I hope that you will show Hyun Deok the same kind of passion.
Welcome,
Liquid`HerO!
- Liquid`Nazgul
*I would like to thank Froz, the original Liquid`Hero, for graciously allowing HerO to take on his ID. Froz has changed his ID to Liquid`Froz.
---
Song "HerO" Hyun Deok has been officially transferred from oGs to Team Liquid. As you all know, oGs and Team Liquid have a close relationship where they share the same practice house. Rating HerO highly as a player, Liquid approached us about acquiring him.
After discussing the matter with HerO, we decided it would be a good opportunity for him to compete abroad and accepted the transfer. Though he has transferred to Liquid, he will remain at the oGs-TL house and practice here. We hope that HerO does well with Team Liquid.
Hyun Deok, don't forget that oGs is always with you!
- oGs.TheWind
Getting to know Liquid`HerO
Hey HerO! It's great to have you on Liquid. Can you tell us a bit about yourself and your history with gaming? How did you become a professional StarCraft 2 player? A ton of people are going to want to know everything about you.
Hi, my name is Song Hyun Deok and I'm twenty-one year old Protoss player. I started playing Starcraft 1 when I was sixteen, playing just for fun at first. But as I played I realized I was the best in my school and started playing with more interest, which led to me dreaming of becoming a pro-gamer. When I was seventeen, I qualified as a semi-pro through the 21st Courage tournament
[Note: The Courage league is the system through which KeSPA - the governing body of Korean Brood War - gives out semi-pro licenses].
After that, I participated in the draft and was recruited by Lecaf OZ (now Hwaseung OZ).
I particpated in the GSL Open preliminary for fun, but there I met coach Kim Seong Gon (oGs.Gon) who had been my captain and teammate during the Lecaf OZ days. Through him, I joined oGs.
What made decide to make the move from oGs to Liquid, and do you think you'll be able to adjust well? What has your relationship with Liquid been like prior to this announcement?
Well, because of the cooperation between oGs and TL, players like Jonathan and Chris have lived at our house. Personally, I thought of them very highly. They were foreigners who had come to Korea with a goal, and that seemed so cool and new to me at the time. They are the first foreigners I've gotten to know, and they're great people I've grown to love.
I heard this later, but Jonathan and Chris recommended me to Victor. To be honest, when I was first told to consider joining Liquid, the first thing that came to mind was that I would feel so sorry to Manager Park Sang Ik (oGs.TheWind) and Coach Kim Sung Gon (oGs.Gon). But both of them told me that this would be a great opportunity, and that even though it would be a loss from the team's perspective, it could be a turning point in my life. Because they thought about it from my point of view and respected my feelings about it, I was able to decide with a lighter heart.
Personally, I'm so thankful to Victor, and Jonathan and Chris who recommended me. The competition is tough in Korea where the reliance on GSL is high. It's true that I thought it was exhausting. I was really afraid that it would end up for me like Starcraft 1, where I did well in practice but couldn't produce any results.
Thank you Team Liquid for giving me the opportunity to gain experience, expand my horizons, and succeed.
As a Liquid member you will start participating in many international events. Which international events do you look forward to the most, and what Liquid players are you looking forward to being reunited with?
Personally I'm really looking forward to the MLG tournaments. I'm going to compete at Raleigh very soon, and I'm giddy because it's my first international tournament. Watching MLG from afar, I've always wanted to compete. When I saw Moon Sung Won (SlayerS_MMA) earn his Code-S spot at MLG, I thought to myself "I can do it, too!"
Also, the response from the fans overseas is huge compared Korea. I've always been envious of that environment as an observer, and I'd like to play for once, drawing strength from those kind of fans.
I'd like to meet all the Liquid members, but if I had to pick one, I'd say Hayder. We had a lot of fun together, and he taught me a lot of English. Whenever I didn't know something he'd just laugh and help me out. I was sad when he had to leave. I made fun of him a lot for not eating meat when he was in Korea, so I'd like to apologize to him here.
Like you mentioned before, you'll be playing at MLG Raleigh in a few weeks. Are you in good condition going into this tournament? Also, Korean Terrans dominated the last MLG, and more may be on the way with MVP and Bomber receiving invites to the next tournament. Do you think you can beat those kind of players?
My condition's alright, and I'll do my best to prepare. MVP and Bomber are good players, but I think they're players I'm capable of beating. I'm not too worried.
You already have a fan club on Team Liquid, which you've posted in. How closely do you follow the foreign community? Do you read Team Liquid very often? Also, we hear that your English is quite good. Can we look forward to you speaking in English at foreign tournaments, like MC and DongRaeGu?
I visit TeamLiquid pretty often, as for my English... I'll try harder to get better. Honestly, I was never one for studying, but I liked English. I'd like to use English at foreign tournaments like MC or DongRaeGu, but I'm not confident enough yet, so I need to try harder.
You are now a Liquid` member, but you are going to keep living at the oGs-TL house, practicing and living with the same people. Will joining Liquid` make for any changes in your everyday life, or will things pretty much stay the same?
I don't think it's going to affect my everyday life. The oGs players and coaches think of oGs and TL as one team because of our cooperation. Since I'm Korean, I don't think it will change too much.
Who are you closest to in the oGs-TL house and who are your usual practice partners? Who do you think is a good player who hasn't gotten much exposure?
I'm friends with everyone, but if I had to pick I'd say MC and Inca who I've learned a lot from. I practice a lot with oGsJ (aka Luvsic), oGsJookto, and oGsTheStC. I think oGsJ is underated.
How about some personal questions? What's your favorite food?
For my favorite food, it's actually a problem because I like to eat everything. I guess it would be whole roasted chicken? I like poultry a lot.
Movies? Anything you've seen lately that was interesting?
I really love watching movies, I like them all regardless of their genre.
Recently, we were all watching Scream 4 together, and after the movie I started feeling mischievious. So I hid and waited for TheStC to give him a scare with some stabbing motions, which really, really scared him. After that, people at the house teased me a lot.
Favorite K-Pop star?
Hyuna
Okay, to wrap up, say something to your foreign fans!
That's pretty difficult...
[At this point, the interviewer talked about "special tektics", White-Ra, MC, and the fact that having imperfect English can often be a good thing.]"Hellow everyone
i'm always thanks for fan
if not have fan ,,
maybe i'm not here
Always thanks and expect me
i will give you grace ??"
Is that okay?
Perfect.
Okay, thank you.
Thanks for the interview!
T_T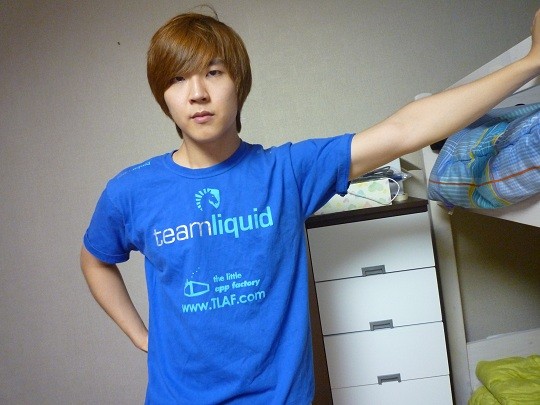 Make sure to catch Liquid`HerO's first appearance as a Liquid player at Tuesday, Aug 16 2:00am GMT (GMT+00:00), as Team Liquid takes on Complexity in the Gosu Coaching Premiere League!