Banner by disciple.
---
Table of Contents
Quick Results
Battle Reports
Quarterfinals Predictions
By ]343[, conTAgi0n and flamewheel
Hi folks, friendly neighborhood MSL-lead flamewheel here. Since it's still finals/midterms season for most of the writers here on the MSL team, we couldn't prepare anything special this time around. In particular, I'm pretty sad about this, considering that the ABCMart octafinals had many games that were of a higher caliber than I expected. I promise we'll make it up to all the forty remaining viewers in the later rounds!
As for now, I hope you'll be satisfied with what we've got. We couldn't cover every good game of the Round of 16, but we've taken the time to bang out a few battle reports for some of the more interesting ones. And as usual, ]343[ is here with his (MSL) liquibet-winning predictions. Read on, and get ready for the games tonight!
Quick Results
+ Show Spoiler +
Match A:
Hydra
2-1 ►
Advances to Quarterfinals
Stork
1-2
Eliminated
Hydra
thumbs down
Monte Cristo
[VOD]
Hydra
<
Dante's Peak SE
>
Stork
[VOD]
Hydra
<
Circuit Breaker
>
Stork
[VOD]
Hydra
<
La Mancha
>
Stork
Match B:
Mind
2-1 ►
Advances to Quarterfinals
Light
1-2
Eliminated
Mind
thumbs down
Monte Cristo
[VOD]
Mind
<
La Mancha
>
Light
[VOD]
Mind
<
Circuit Breaker
>
Light
[VOD]
Mind
<
Dante's Peak SE
>
Light
Match C:
Leta
2-1 ►
Advances to Quarterfinals
Neo.G_Soulkey
1-2
Eliminated
Leta
thumbs down
Monte Cristo
[VOD]
Leta
<
Dante's Peak SE
>
Neo.G_Soulkey
[VOD]
Leta
<
Circuit Breaker
>
Neo.G_Soulkey
[VOD]
Leta
<
La Mancha
>
Neo.G_Soulkey
Match D:
Calm
2-1 ►
Advances to Quarterfinals
Hyuk
1-2
Eliminated
Calm
thumbs down
Dante's Peak SE
[VOD]
Calm
<
Circuit Breaker
>
Hyuk
[VOD]
Calm
<
Monte Cristo
>
Hyuk
[VOD]
Calm
<
La Mancha
>
Hyuk
Match E:
ZerO
2-0 ►
Advances to Quarterfinals
hero
0-2
Eliminated
ZerO
thumbs down
La Mancha
[VOD]
ZerO
<
Circuit Breaker
>
hero
[VOD]
ZerO
<
Monte Cristo
>
hero
[VOD]
ZerO < Dante's Peak SE >
hero
Match F:
Grape
2-1 ►
Advances to Quarterfinals
Horang2
1-2
Eliminated
Grape
thumbs down
Dante's Peak SE
[VOD]
Grape
<
Circuit Breaker
>
Horang2
[VOD]
Grape
<
La Mancha
>
Horang2
[VOD]
Grape
<
Monte Cristo
>
Horang2
Match G:
Jaedong
2-1 ►
Advances to Quarterfinals
Reality
1-2
Eliminated
Jaedong
thumbs down
La Mancha
[VOD]
Jaedong
<
Dante's Peak SE
>
Reality
[VOD]
Jaedong
<
Monte Cristo
>
Reality
[VOD]
Jaedong
<
Circuit Breaker
>
Reality
Match H:
Flash
2-1 ►
Advances to Quarterfinals
Really
1-2
Eliminated
Really
thumbs down
Monte Cristo
[VOD]
Really
<
Dante's Peak SE
>
Flash
[VOD]
Really
<
Circuit Breaker
>
Flash
[VOD]
Really
<
La Mancha
>
Flash
If you've been living under a rock, or just haven't had time to keep up with this amazing MSL, check out the full
MSL R&S thread
to catch up on anything missed or to simply stay informed.
---
There were quite a few good, even amazing games in this Round of 16. ]343[, conTAgi0n, and I chose a few of them to present to you guys. At least, those two probably chose theirs. I let my trained sheep point out which ones I should write about.
Battle Reports
By flamewheel, ]343[ and conTAgi0n

Match C Set 1:
Leta < Dante's Peak >
Neo.G_Soulkey
+ Show Spoiler +
By flamewheel
To kick off the most-hyped match of the Round of 16, Leta (yellow, top left) and Neo.G_Soulkey (red, top right) began their duel on Dante's Peak SE. Both players open standard: Soulkey goes for a 12hatch build with a fast third hatchery in main, and Leta opts for rax-expand. The game at this point is still very tame--the only thing worth noting is that Leta's scouting SCV is still alive at 5:15 and has managed to scout the entirety of Soulkey's base.
Leta, now on three barracks with turrets everywhere, is well-prepared when the mutalisks arrive--Soulkey is hard-pressed to find an opening. Knowing that he will need lurkers very soon, Soulkey throws down a hydralisk den and evolution chamber in his main. And at the 8:15 mark, Leta moves out with a sizeable infantry force toward Soulkey's natural, driving the zerg forces back. However, as Soulkey braces for the attack on his natural, Leta decides to head toward Soulkey's third at the bottom right. Unluckily for him though, just as his force arrives the first lurker burrows at the top of the ramp, and Leta knows that with mutalisks there as well he'd be hard-pressed to break up the ramp.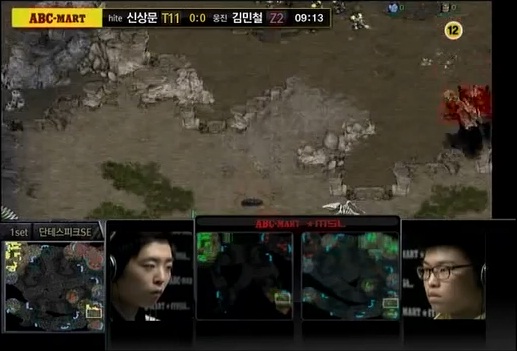 If Soulkey had been five seconds later, he probably would have lost his third right then and there.
With lurkers entrenched, Soulkey has bought about half a minute. Leta's reinforcing tanks and first vessel join up with the infantry force, and suddenly the pressure is back on. Soulkey's defiler mound is not yet up, and the first nydus is still under construction. The tanks siege up, and Soulkey is forced to pull his defending lurkers back. With a menacing force of mutalisks, lurkers, and zerglings flitting around behind his forces, Leta takes it slow and easy, opting to irradiate a lurker before charging up the ramp. However, in doing so, Leta gives Soulkey a chance!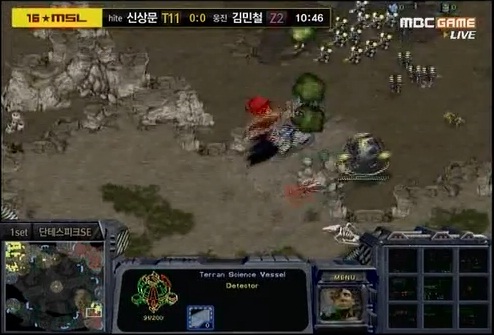 Never leave your tanks unprotected.
Soulkey rushes forward with a pair of scourge and his mutalisk force, hoping to pick off the vessel and leading tanks. Though he succeeds in taking out one tank, he only manages to land one scourge on the vessel. Now, Soulkey's not looking like he's in a very good position: Leta has succeeded in forcing his way up the ramp, and more importantly still retains a vessel and a tank. As if that weren't bad enough, Soulkey decides to feed Leta's marines his mutalisk force.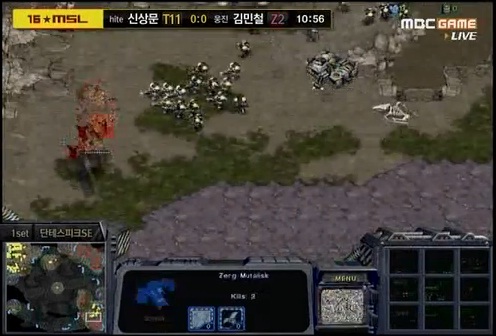 From bad to worse.
Despite everything wrong that has happened, Soulkey's true objective has been completed. Since Leta was delayed so much in pushing up the ramp, his timing window had expired.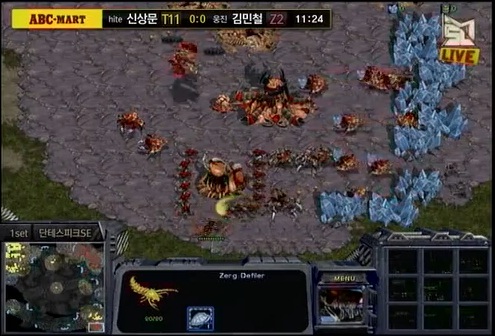 The night is darkest just before the dawn, and the dawn is coming.
Consume has finished, and even though Soulkey sloppily loses quite a few zerglings, he still has enough to drive back Leta's attack force.
However, during this whole time Leta has been adding factories and has taken his own third at the protected 10:30 mineral-only under cover of mines. As the minefield expands, he starts his fourth at 12. Meanwhile, Soulkey plants down his own fourth at the 4:30 expansion and puts up another evolution chamber.
You know it's never a good thing for Zerg when Terran is equal in the base count. With the firepower of tanks, vultures, and infantry, Leta steadily pushes toward Soulkey's natural, though his lack of science vessels makes it hard for him to penetrate the imbalanced combination of dark swarm and lurkers.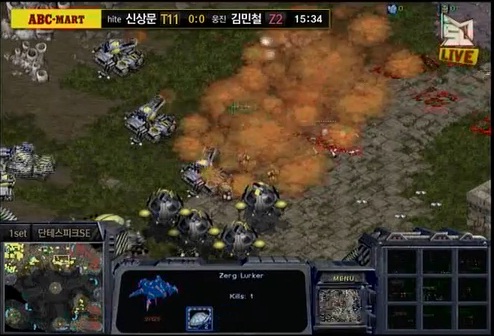 Leta needs more science vessels.
To his credit, Soulkey is actually able to break through the tank line. He starts haranguing 12:00, but isn't able to muster the firepower to destroy the base/force it to lift off. Similarly, Leta's attack on Soulkey's fourth is driven off by dark swarm, though he does succeed in canceling Soulkey's intended fifth at 6:00.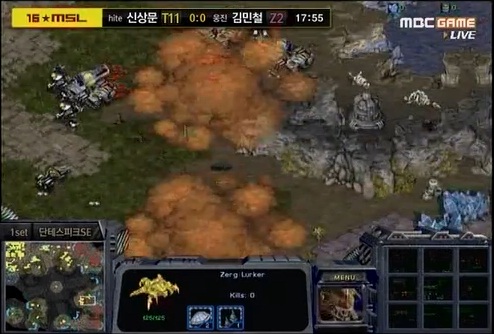 Seriously, less tanks, more vessels. Mech is boring anyway!
Still though, at this point Soulkey is in a pretty bad position. He's being held back on all fronts, kept in his bases. Vultures and spider mines are everywhere, and tanks are knocking at his front door. Even with the amazing defiler/lurker usage, there's not much Soulkey can do. He finally gets a few Ultralisks out, but at this point he's mined out. As Leta finally overcomes the last of Soulkey's haggard defenses and starts rolling into the natural, Soulkey types out.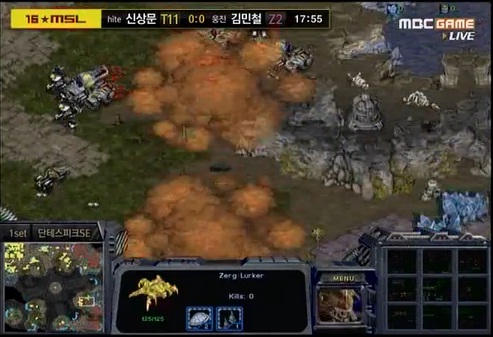 GG.
I had high expectations of this game, though after watching this and writing this battle report, I was actually kind of disappointed (live report poll, you lied to me!). Though there were some tense moments (predominantly the soiree over Soulkey's third), for the most part this game was very one-sided. Soulkey's 3hatch muta build failed to do any economic damage to Leta, and save for that one shining moment when he was attacking 12:00 with two lurkers, Soulkey was on the back for the rest of the game. Remember kids, it goes to show: if you're Zerg and Terran has as many bases as you do, you're in for a world of hurt. Even if you've got the defiler control of a bonjwa, being down two bases means he can just simply kill you with tanks.

Match C Set 2:
Leta < Circuit Breaker >
Neo.G_Soulkey
+ Show Spoiler +
By flamewheel
On the grids of Circuit Breaker, Neo.G_Soulkey (purple, top left) and Leta (teal, top right) meet once again to see who will move on to the quarterfinals. With Leta being up 1-0, the crowd wonders if he will go for another macro game like in the first set...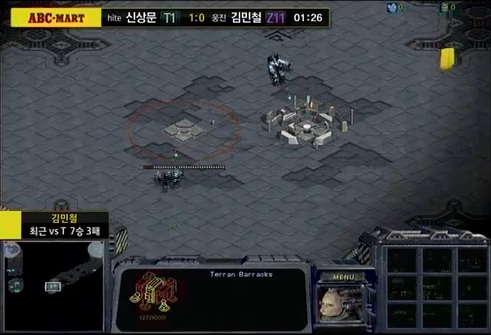 ...Or if he's going to go for a BBS......Against a 12hatch.
Right off the bat, this is as bad as it gets for Neo.G_Soulkey. In addition to unknowingly hard-countering himself, his overlord is scouting incorrectly. It's going to take some star--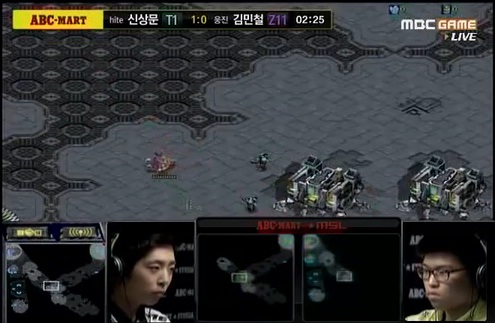 Well slap me thrice and hand me to me mother.
Soulkey scouts the barracks! Unfortunately, the harder part still remains: he now has to defend. His spawning pool is not yet close enough to being done, marines and SCVs are streaming toward his base, and worst of all, his second overlord gets caught out in the open and is subsequently destroyed by marines.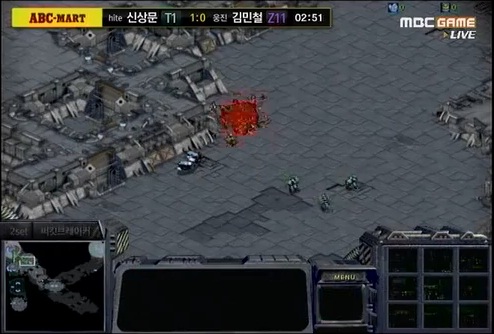 How much worse can it get for a Zerg?
Soulkey cancels his hatchery, and pulls his drones to defend a morphing sunken--and as the sunken finishes...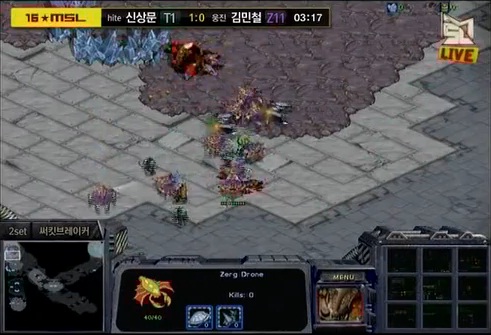 NoTwo drones were killed in the making of this image.
Leta dilly-dallied for too long with his initial force of marines and SCVs. A better choice would have been to target the morphing sunk while moving his forces behind the mineral lines. Instead, Soulkey was able to hold with the loss of a few drones. And surprisingly, the situation doesn't look too bad for him: as a result of the rush, Leta has very few SCVs at base, and Soulkey is able to start his spire before Leta gets his academy--Leta saw the lair, so perhaps he expected lurkers. Yes, Leta has effectively trapped Soulkey in his main with a supply depot and bunker on the low ground, but Soulkey doesn't care. Through sunken leap-frogging, he has managed to reclaim the high ground, and air units don't care about ground pathing.
And when the mutalisks arrive, there are absolutely no turrets in Leta's base! In fact, there's not even an engineering bay finished yet! With his entire force of infantry on the other side of the map at Soulkey's base, Leta decides to go for a counter-offensive.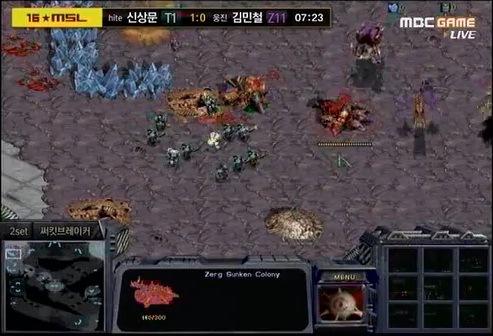 Spread-out sunkens are no match for concentrated terran infantry.
However, the sunkens have served their purpose, and Leta's forces have been diminished by quite a bit. When the mutalisks return to assist in the fight, the rest of the marines are dead. With his attack failed, Leta resorts to clumping his buildings in his main... though Soulkey's mutaling is too much at this point. With no units and no economy, Leta gives up.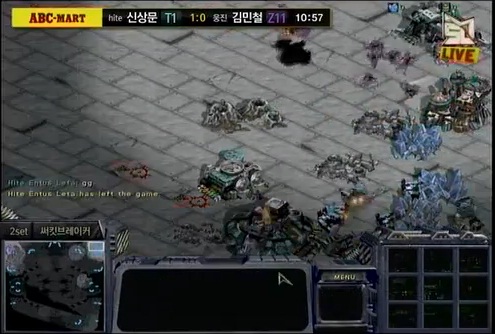 GeeGee~
A beautiful defense by Soulkey. Excellent sense with the drone to check the middle--perhaps he noticed that the angle of Leta's SCV scout was slightly off. Either way, Soulkey held off both the initial and secondary assaults of Leta very well, and was able to turn the game around with mutalisks.

Match C Set 3:
Leta < La Mancha >
Neo.G_Soulkey
+ Show Spoiler +
By flamewheel
With the score tied at 1-1, Neo.G_Soulkey (red, bottom right) and Leta (yellow, top right) fight to break the tie on the whirlwind map, La Mancha. Leta starts by walling off at his natural before expanding, and Soulkey goes yet again for a 12hatch. He almost went for a 3hatch before pool, but the third hatchery at the natural was canceled and then replaced after the pool went down.
Leta is up to some mindgames--he allows Soulkey's drone scout to get inside the natural, see the command center... and also the fact that the walling barracks isn't flashing.
However, what the drone scout doesn't see is the engineering bay hidden in the top right corner of Leta's base.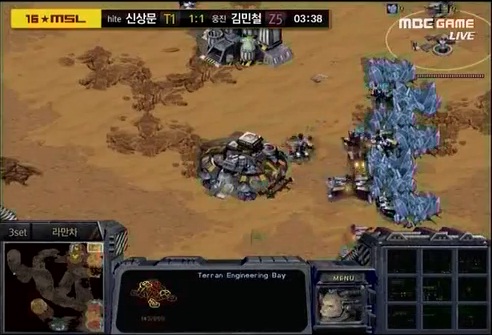 Timing attack incoming!
The front barracks still isn't flashing--perhaps Leta wants Soulkey to think he's meching. As Soulkey starts his lair, Leta throws down four more barracks, moving his total up to five. However, a brave scouting overlord from Soulkey manages to peek its nose in, and scouts some of the barracks. Leta's timing window is now exposed!
With mutalisks out and a third at bottom left done, Soulkey attempts to harass Leta a bit, but with such an early engineering bay there is no way that Leta would not have turrets. As +1 weapons finishes, Leta moves out!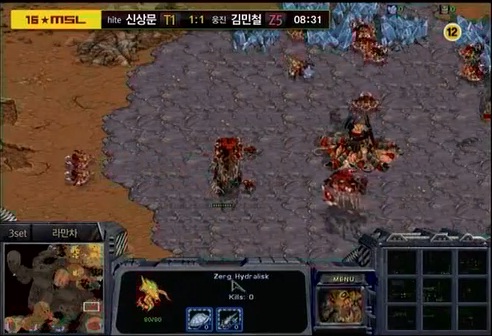 And Soulkey seems to have a lot of drones...and no sunkens. This looks bad for our Zerg hero!
Lurker eggs are hatching, but with no sunkens morphing and Leta breathing down his natural, Soulkey is in quite a bit of trouble. The lurkers finish, burrow, Leta splits...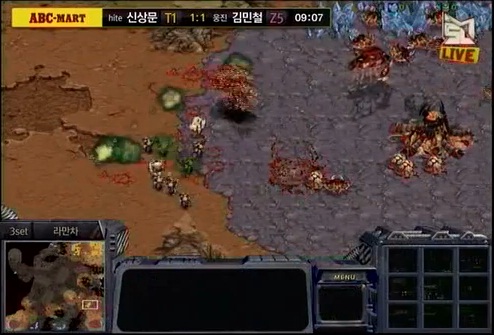 And suddenly, everything Soulkey owns starts to melt.
Leta micros beautifully, and Soulkey loses his natural. Even though he is able to turtle to hive, there is nothing he can do against Leta's increasingly lethal army. After Leta melts Soulkey's lurker/defiler army with mass irradiate, Soulkey types out. Leta wins the third set with a beautiful timing attack, and moves on to the ABCMart MSL Quarterfinals.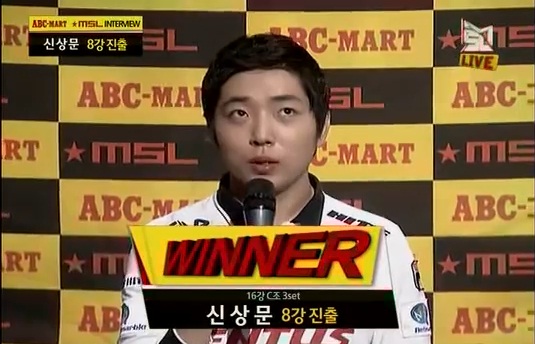 King of cute.

Match F Set 3:
Grape < Monte Cristo >
Horang2
+ Show Spoiler +
By ]343[
Despite Horang2's renown in his mirror matchup, Grape manages to take him to a 3rd set. Grape spawns in red at 11, while Horang2 spawns in yellow at 5. Grape opens fast Nexus after gateway but before gas, whereas Horang2 opts for an extra zealot before expanding. Grape's 2nd gateway is also earlier.
Horang2 sends one zealot to scout and harass with his probe; Grape deftly blocks it with his two zealots. Grape's cyber core is also faster, and he takes his natural gas.
Grape attacks with 2 dragoons and 4 zealots while adding his robo and researching range; Horang2 builds a robo, his 3rd and 4th gateways, and a forge while defending with 5 zealots and 2 dragoons. Grape retreats and adds another gateway and Observatory before Robotics Support. Horang2 instead techs to Citadel and Robotics Support simultaneously, building a cannon at his natural for detection.
Horang2's saturation is a bit worse, and Grape readies to expand to an island 3rd at 12. Horang2 goes for a midgame timing, attacking at 9 minutes with 2 reavers, many zealots, and some dragoons. But Grape is expecting this and puts down a clutch Forge block!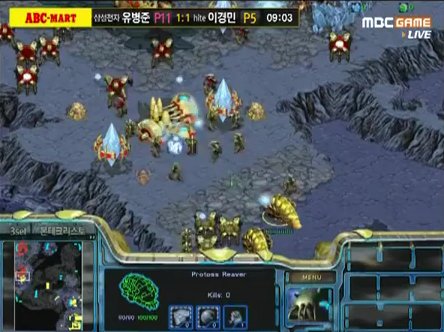 DAT FORGE
Though Horang2 does some good damage with his extra reaver, Grape ultimately holds the first wave of the attack. He tries poking in again with his speedlot reinforcements, but the arrival of Grape's 2nd reaver makes him retreat.
Horang2 then makes a blunder: he drops his reavers and picks up some DTs in his shuttle, proceeding to fly his shuttle into Grape's dragoons.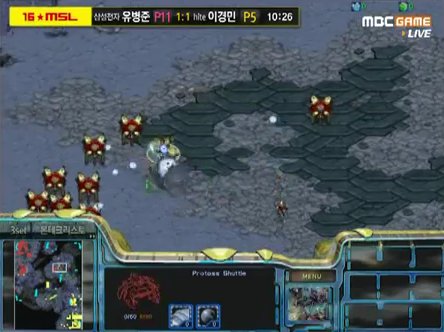 Those poor DTs were supposed to do something!
Meanwhile, Grape's shuttle and 2 reavers have moved out; first they take potshots at a clump of zealots, and move into the natural and then main of Horang2. Horang2's reavers, however, have been forced to painfully crawl back home without their host shuttle. They make it back to the natural, but can't quite defend the main.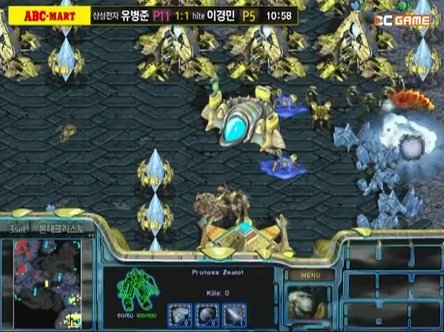 Those two reavers have 25 kills or so between them.
Grape readies to expand to 9 o'clock, having seemingly forgotten about his island probes at 12. Horang2 spots the dragoons at 9 with a DT and realizes he has to attack. Grape, however, has positioned his army nicely on a ridge in preparation for this. Even worse for Horang2, Grape has templar with storm, neatly obliterating Horang2's army and prompting the gg.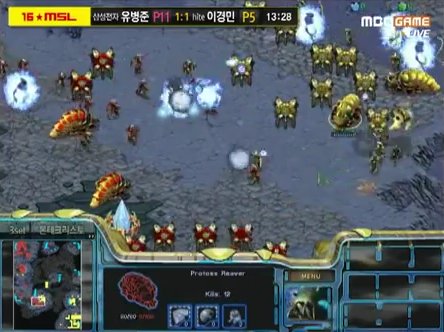 Looks ok for Horang...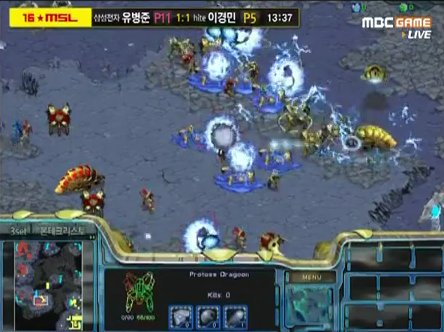 Just kidding.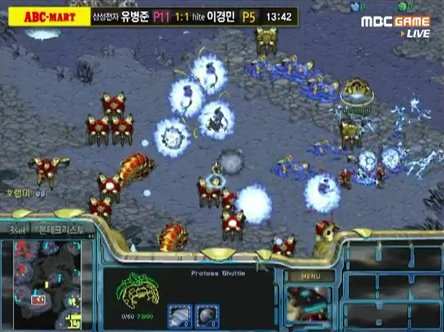 GG.
Due to the larger rush distance on Monte Cristo, Horang2 also went for early nexus, so Grape had the economic advantage. Horang2, as per his style, went for a 2-base timing attack. But as opposed to the first game, where Grape seemed to be caught with his pants totally down, he was ready this time with the forge block and plenty of units. Sniping the shuttle and good reaver harass were just icing on the cake.

Match G Set 2:
Jaedong < Monte Cristo >
Reality
+ Show Spoiler +
By conTAgi0n
On the last day of the round of 16, the up and coming Khan terran Reality enters the booth wearing a surgical mask and in need of two consecutive wins against the undisputed master of ZvT in order to advance. Out of the four TvZs played on Monte Cristo, the first map Reality must win on, zerg has won every match so far. He gets the yellow command center in the bottom right corner of the map while Jaedong spawns as the red hatchery in the upper left.
Reality sets the tempo of the game right off the bat with a proxy 8 rax on the northern route to Jaedong's natural, very cleverly placed in a blind spot between the scouting paths of Jaedong's drone scout and first overlord. Jaedong, who opened 12 hatch, doesn't see what's going on until his drone arrives at Reality's base to find nothing but a supply depot and half-finished refinery.
Jaedong delays his pool to continue drone production, deciding that they will serve him better both defensively and economically against Reality's early aggression. He pulls three drones to chase the SCV out of his base and down the ramp where it joins up with the first marine. With four drones ready at the ramp and four more on the way, JD pushes out to engage as the second marine pops for Reality.
JD surrounds the SCV and two marines behind the barracks with six drones while the last two camp outside the barracks to intercept the building marine.
Reality micros decently, but only manages to get three drone kills before all three marines are focused down. Jaedong finally starts his spawning pool as the returning drones start mining at the natural.
Reality still has the barracks landed and flashing however, and thanks to JD's late pool manages to force a few drones off mining to deal with the SCV and pairs of marines twice more, netting a total of four drone kills in exchange for the first SCV and two marines.
Between skirmishes, Reality's first factory finishes, actually a few seconds earlier than Jaedong's spawning pool. After immediately starting a vulture Reality places his starport just a few seconds later, all before JD even has an extractor. Jaedong starts a creep colony at the front of his natural as soon as the pool finishes.
As JD finally gets his extractor up and starts mining gas, Reality attempts a run by with his first two vultures, using two more marines and an SCV to distract the sunken colony. JD pulls all the drones from the natural to try to block the vultures, but one gets through to the main.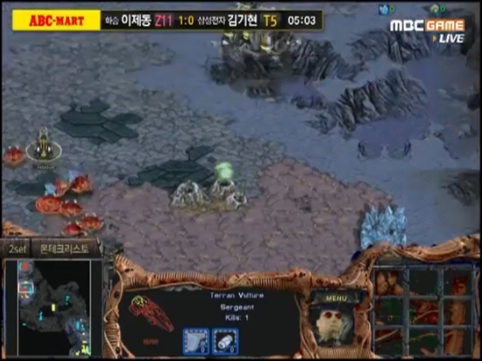 Jaedong is forced to pull all the drones there now, but at least manages to deal with it fairly quickly. Both vultures go down without a single drone kill while the sunken cleans up both marines and the SCV.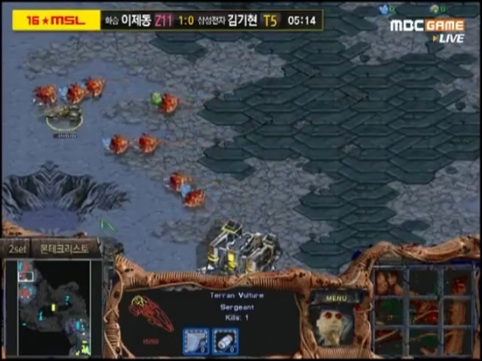 Reality, however, has already moved on to bigger and better things. His first wraith finishes at the end of the attack and kills an overlord hanging around his natural before heading over to Jaedong's side of the map. Reality adds a control tower after the first wraith while researching spider mines at his newly completed machine shop.
His lair still morphing, Jaedong throws down a hydra den to deal with the wraith. He loses another two overlords over his natural before the first hydras finish to chase the wraith away. As soon as his lair completes he places his spire.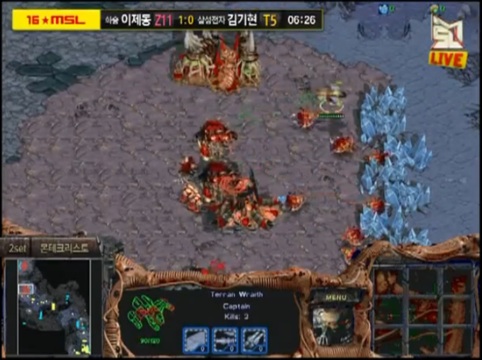 Completely in the dark about Reality's next move, Jaedong tries slipping out a scouting zergling but it is immediately killed outside his natural by a vulture.
As the wraith is chased out Reality starts his natural command center and cloak for wraiths while sending a just finished dropship in the direction of Jaedong's base. After scouting JD's hydralisk positioning with his wraith, he loads four waiting vultures into the dropship and drops them off in a corner of JD's main. He lays mines between the main and natural to catch any reinforcements before going for the main mineral line. With his overlords huddled around his hydralisks for protection, JD sees nothing until the vultures are already attacking his drones.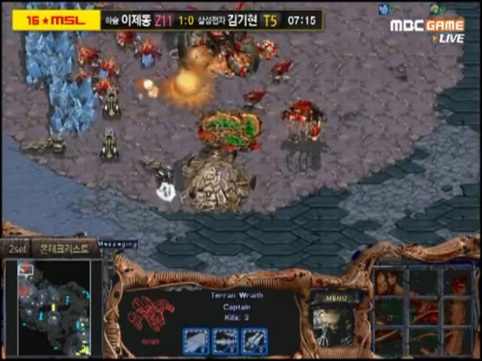 Reality gets at least seven drone kills during this drop, plus a couple hydralisks from mines. Vulture speed finishes halfway through the attack, which allows Reality to keep his last vulture alive long enough to see the first mutalisks pop. As soon as the mutalisks hatch they head straight to Reality's base, accompanied by a pair of scourge and hungry for revenge.
With three wraiths ready and cloak done however, Jaedong is playing right into Reality's hands. Before the mutalisks can do any real damage, the cloaked wraiths are right on top of them.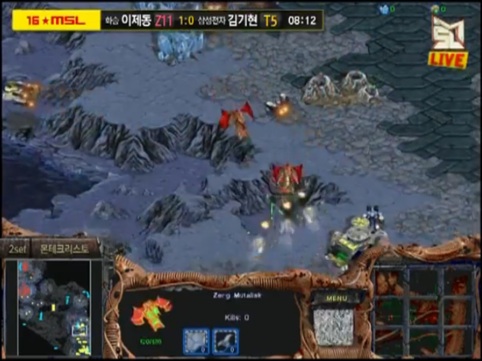 The first two mutalisks and both scourge are shot down in the retreat, while the rest are forced to flee back to Jaedong's natural, where Reality loses a wraith trying to harass the mineral line.
Reality has now added a couple barracks in his main and started constructing both an armory and academy. Jaedong, very much on the back foot, sends out two drones to double expand at the 9 o'clock and bottom left base. The drone headed for the 9 o'clock makes it safely, but a vulture catches the other on the way to the bottom left.
While the mutalisks are south of Jaedong's natural, Reality drops another three vultures in his main and slays another half control group of drones before the mutalisks can catch them. The dropship gets scourged down before it can escape.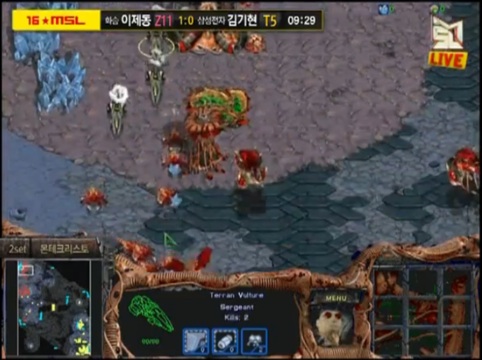 Jaedong finally expands to the bottom left and picks off a couple SCVs at the natural expansion despite the turrets in place. Reality goes up to five barracks while researching stim and range for his MnM. With his armory finished, he adds a valkyrie to his wraith group.
When Reality moves out along the southern route to Jaedong's third with a medic heavy infantry squad and air support, Jaedong is not ready for it. The severe economic damage he's suffered shows itself clearly in his low unit count. Furthermore, his army composition of muta hydra, which Reality forced him into with his vulture and wraith harass, is not at all suited to fighting MnM with so much anti air support.
Jaedong catches the valkyrie with scourge as Reality's army makes its way towards Jaedong's third. Cloaked wraiths ahead of the marines force the mutalisks back to an overlord stationed just past the creep from JD's 9 o'clock hatchery. Ovie speed is not done yet, and the mutas are not enough to defend the overlord against both wraiths and MnM, especially with a fresh valkyrie joining the force.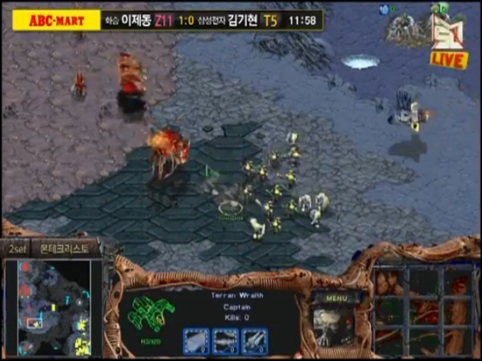 Jaedong rallies his forces north of his third as the small but potent terran army charges into the abandoned zerg base. JD engages Reality's force and manages to pick off all the wraiths, but the MnM and valkyrie easily outmatch the handful of hydras and mutalisk stack.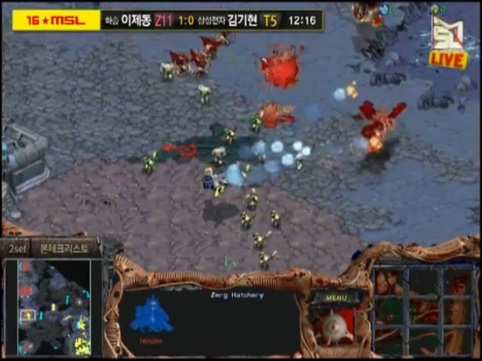 The third goes down. With no way to defend his fourth, or to catch up economically or militarily, Jaedong concedes.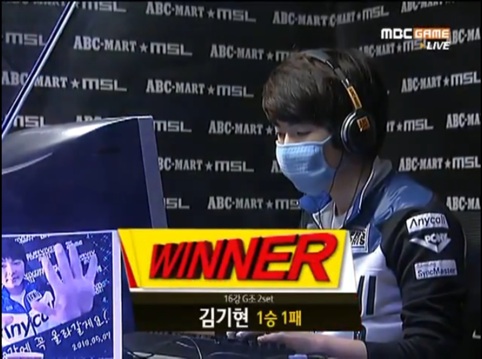 And that, class, is how you dissect a Zerg. Any questions?
Jaedong fans might not like it, but Reality has to be commended for pulling off such a daring and intricate build. It was a beautiful strategy, forcing JD to spend the whole game reacting to a constant string of harassment, each step of it setting up for the next while leading all the way up the tech tree. A less obvious aspect of the build, but no less important, is how well Reality controlled information. Reality's constant aggression gave him almost constant vision of what Jaedong was up to, while his loose contain and air dominance kept Jaedong almost completely in the dark about what was coming next until it arrived. A build that relies so much on forcing the right reaction from the zerg with a minimum of both units and capacity to defend is also very fragile, of course, but Reality played it brilliantly. Keep an eye on this kid, ladies and gentlemen.
It's hard to say what Jaedong should have done differently in this match given how well Reality dictated the pace of the game. He could have snuck a drone out after fending off the 8 rax, which could potentially have got him some extremely valuable information on Reality's build. Also, had Jaedong gotten overlord speed when his lair finished, he could probably have caught Reality a little bit over reliant on cloaked wraiths for defense with a just slightly delayed mutalisk attack. I don't particularly fault him for these mistakes though - seeing through this strategy on the first try would have required nothing short of clairvoyance.
---
This might not be the most stellar Quarterfinals draw that we could have hoped for, but there's still hope. After all, on opposite ends of the bracket are Flash and Jaedong, sitting at two MSLs apiece. King troll Hydra is still in this as well, and he's hoping to be the one to get rid of the entirety of TBLS--though first he'll have to get through a seemingly in-form Mind. And Calm? ZerO? Well... they're cute... Here's ]343[ with his take on who you should liquibet.
*Note: ]343[ wrote these predictions before the quarterfinals started. I just updated "last ten" and "head-to-head" for after the first day of quarterfinals. Results from SPL since then have not been inputted, but shouldn't matter that much, right? Since ]343[ is 4/4 on calling winners so far, I'm going to leave his predictions unchanged.
Quarterfinals Predictions
By ]343[
Match A:
Jaedong
<
La Mancha
>
Grape
Jaedong
<
Monte Cristo
>
Grape
Jaedong
<
Dante's Peak SE
>
Grape
Jaedong
<
Circuit Breaker
>
Grape
Jaedong
<
La Mancha
>
Grape
Set 1 on May 12, 1800 KST
Rest on May 19, 1800 KST
Jaedong
Z
v
P
Overall: 117-54 (68.42%)
Last 10: 6-4 (
W
L L
W W W
L
W
L
W
)
Grape
P
v
Z
Overall: 6-3 (66.67%)
Last 10: 6-3 (L
W W W
L
W
L
W W
)
Head-to-head: Jaedong 1-0 Grape
First up is the Tyrant, current #1 KeSPA and Power Rank, against the dark horse, up-and-coming Stork protégé Grape. At a glance, Grape looks like a pushover--some noob Toss from Samsung (whose P line is hardly known for their PvZ... though actually Brave is not too bad at PvZ!) But Grape's vZ is actually no joke: a 6-2 record in Proleague and quite a few wins over Zergs in offline prelims. ...OK, I guess that's a joke when we're talking about Jaedong. Still, Jaedong's last few ZvPs have been a tiiiiiny bit worrying: his last win with a management ZvP was
against Snow
in an admittedly awesome game. It's not to say that early aggression doesn't win games--it's pretty popular in ZvP for a reason!--and losing to Bisu's PvZ is not exactly embarrassing, but the
loss to Horang2
was a
bit
questionable.
Actually, who am I kidding? As much as I like Grape, he doesn't have a ghost of a chance at taking the series. The last Protoss in this MSL has some bleak prospects. I hope he sneaks a win, though, or Horang2 might be having a few words with him.
Prediction: Jaedong 3-1 Grape
---
Match B:
Calm
<
Circuit Breaker
>
ZerO
Calm
<
La Mancha
>
ZerO
Calm
<
Monte Cristo
>
ZerO
Calm
<
Dante's Peak SE
>
ZerO
Calm
<
Circuit Breaker
>
ZerO
Set 1 on May 12, 1800 KST
Rest on May 21, 1700 KST
Calm
Z
v
Z
Overall: 77-61 (55.80%)
Last 10: 5-5 (
W W
L
W
L L
W W
L L)
ZerO
Z
v
Z
Overall: 79-80 (49.69%)
Last 10: 5-5 (L
W W
L
W
L
W
L
W
L)
Head-to-head: Calm 5-3 ZerO
These two both won ZvZs to get here, and get to play another one. Joy. I'm sure we're all ready for another Bo5 of exhilarating muta/ling micro and mind games, only to be followed by the remainder of a TvT Bo5. Sarcasm (or not?) aside, these two are probably the most successful non-JD, non-EffOrt Zergs of the last two and a half years. Of course, "successful" doesn't necessarily mean "consistent"--Calm/Clam duality and ZerO's impressive "
beat Bisu
,
lose to Jaehoon
" jump to mind. But guess what? Calm has now qualified for the quarterfinals of 5 of the last 6 MSLs (including a championship) and the semifinals of 2 of the last 4 OSLs, while ZerO will have appeared in 4 of the last 7 MSL quarterfinals and 3 of the last 5 OSL semifinals. That's success if I ever saw it. ZerO's also overcome his "Ro8 curse" with his entrance into his second Ro4 in the last MSL.
Achievements aside, this is ZvZ. Calm has definitely shown better game sense and strategies in his past ZvZs, while ZerO is managing an exactly 50% win rate in the matchup. Though ZerO is cuter, I'd probably take Calm on this one: after all, he's won ZvZ series over EffOrt and Jaedong to win his MSL.
Prediction: Calm 3-1 ZerO
---
Match C:
Mind
<
Circuit Breaker
>
Hydra
Mind
<
La Mancha
>
Hydra
Mind
<
Dante's Peak SE
>
Hydra
Mind
<
Monte Cristo
>
Hydra
Mind
<
Circuit Breaker
>
Hydra
Set 1 on May 12, 1800 KST
Rest on May 19, 1800 KST
Mind
T
v
Z
Overall: 49-39 (55.68%)
Last 10: 7-3 (
W
L
W W W W
L L
W W
)
Hydra
Z
v
T
Overall: 16-15 (51.61%)
Last 10: 3-7 (L L L
W W
L
W
L L L)
Head-to-head: Mind 2-0 Hydra
Well folks, Mind just had his first taste of victory in the MSL proper since the Arena MSL. That happened in
summer 2008
, where he lost to Flash 0-2 in the Ro16. Suddenly Mind is looking scary again, going
10-3
since WeMade finished failing at Winners' League. Admittedly, most of his bolded W's have come from dominating Protoss players: boasting a 15-3 record vP since last Christmas with losses only to Stork (twice) and Kal, it seems he's regained some of the mojo he needed to beat the Revolutionist many years ago. Too bad Hydra's not a Protoss; still, Mind is 4-1 against Zerg since losing to Calm in the OSL, including a
win over Hydra himself
featuring some sloppy control by Hydra and a clutch defiler/nydus snipe by Mind.
Hydra, on the other hand, is still trying to quell doubts about his ZvT. Yes, he did beat Light
twice
last month, winning the first with a lings and the second in
rather impressive fashion
. But though he faced an extremely tough lineup of T's, his 4-6 record against Terran since February leaves something to be desired. For old times' sake (forgive me if I'm too newschool for you!), I'll take Mind here. Don't count Hydra out though; he's still gunning for the gold.
Prediction: Mind 3-2 Hydra
---
Match D:
Leta
<
Circuit Breaker
>
Flash
Leta
<
La Mancha
>
Flash
Leta
<
Dante's Peak SE
>
Flash
Leta
<
Monte Cristo
>
Flash
Leta
<
Circuit Breaker
>
Flash
Set 1 on May 12, 18 KST
Rest on May 21, 17 KST
Leta
T
v
T
Overall: 67-43 (60.91%)
Last 10: 2-8 (L
W
L
W
L L L L L L)
Flash
T
v
T
Overall: 145-49 (74.74%)
Last 10: 8-2 (
W W
L
W
L
W W W W W
)
Head-to-head: Leta 4-10 Flash
These have been some dark days for Flash fans. He's slumping hard. In fact, he's a mere 19-9 (68%) since March! Sluuuuuuuuuuump! But no worries! The one matchup he hasn't been "slumping" in is TvT: he's gone
20-2
in the matchup since his embarrassing elimination from the last MSL. That's more like it, Flash. His two losses were to a well-executed proxy by Baby and an incredible game by Really.
Leta, on the other hand, has always had a pretty good TvT, despite what his more recent results in the matchup would indicate. Unfortunately for him, he hasn't beaten Flash in over a year, dropping 0-2 to the Ultimate Weapon in WCG Korea and Korean Air 2 OSL, including his famous
50-supply gift
into loss on Polaris Rhapsody; during Winners' League, he
stalled Flash out
for over ten minutes while in a clearly inferior position, hoping to tire Flash so Skyhigh could have a chance. (Flash beat Skyhigh too.) All signs are pointing to a Flash sweep here; good luck, Leta. You'll need it.
Prediction: Leta 0-3 Flash
---
Short, sweet, and to the point--the motto of college students scrambling to finish the year. Another Brood War update brought to you by the MSL team of flamewheel, ]343[, and conTAgi0n (who is still MSL until Wax steals him away, mind you). nbaker is swamped this week, so let's wish him the best and hope he can return for next time. As usual, disciple is the man with the plan (and graphics!).