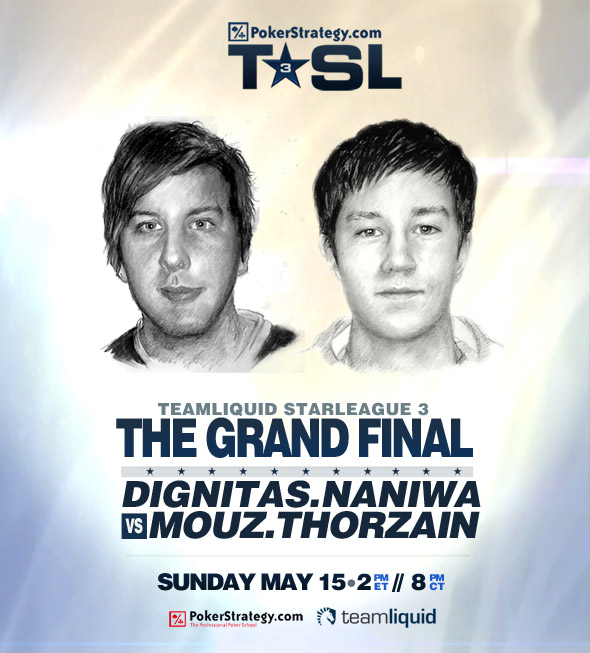 LIVE from TL:HQ







Naniwa

TSL Victories: 2-1 Ret
3-1 Goody
3-2 Cruncher
4-1 HasuObs
Liquibet: 4768 (49.25%)
Pre-Final Interview: Transformation
PvT Record: 148 wins - 67 losses (68.84%)
Best Streak: 18 wins
Worst Streak: 5 losses
Current Streak: 3 wins
Best TSL Map: Shakuras Plateau (71.42%)

Thorzain

TSL Victories: 2-0 FruitDealer
3-0 Tyler
3-2 MC
4-1 Kas
Liquibet: 4912 (50.75%)
Pre-Final Interview: Trailblazing
TvP Record: 22 wins - 9 losses (70.97%)
Best Streak: 8 wins
Worst Streak: 2 losses
Current Streak: 2 losses
Best TSL Map: Shakuras Plateau (80.00%)




1st Place Prize: $15,000 and TSL4 Seed
2nd Place Prize: $7,000 and TSL4 Seed




When the TSL began, competitive StarCraft 2 was in a whole different world. The

IEM World Championship

had just ended with Koreans taking home first, second and third. Idra had withdrawn from the March GSL, leaving Jinro as the only foreigner in Code S. Of the four foreigners in Code A, only Huk had made it past the round of 32. Foreign players were being tossed around like leaves on a windy day. MC 4-1'd July in the GSL finals to take his second GSL championship and was being proclaimed by the masses as the undisputed best player in the world.

A month prior, a Swedish Terran named Marcus Eklof had won his second tournament ever, the 2011 TeamSpeak TeamLiquid Open #12. Outside of the Nordic scene no one knew who he was. And what did it matter? In the TSL he was matched up against one of the most beloved players, FruitDealer, who had battered and beat
Virus
to a pulp in the GSL Up/Down S2 four days before Thorzain's debut. FruitDealer was in form with two very impressive ZvT wins and a spot in GSL Code S S3. Meanwhile, the former Brood War superstar and
Assembly Winter
champ, Ret, was prepping for a repeat of his 2-0 sweep of Naniwa at Assembly. The Dignitas Protoss had yet to make his insane run and victory at
MLG Dallas
and was still cooling in the shadow of his removal from the ESL Pro Series, and exit from MyM. Infamous for bad manner and an unprofessional demeanor, he was not hoped or favoured to advance.
As the weeks passed Naniwa and Thorzain cut a path to the finals. Ignoring pontificating fanboys and all manner of precedent, they toppled players like trees to an axe. Five different countries were knocked down and out of the TSL as the compatriots clutched through round after round with no-nonsense, extremely prepared play. Thorzain became the people's champion by dethroning MC and debunking the myth that Koreans could not be beat. For Naniwa, each advancement was a hammer blow that reforged his image into the awe-inspiring and utterly terrifying one that it is today.
The TSL started on March 19th. Since then, Naniwa, at an 68.84% all-time PvT win percentage, has won 28 PvTs and lost three. Thorzain, at 70.97% in the matchup, has gone 6-4. Even still, Liquibetters are split on who will win. When it comes to Thorzain, what you see on paper is irrespective of what you see on screen. His ability to defeat a variety of grizzled, experienced players, in just as many scenarios, shows that he is impossible to predict. Thorzain carries his momentum with him from one game to the next, like a hammer that defies Newton's third law. Naniwa is the opposite. He looks good on paper, and he plays like you expect him to. Everything about his play is polished to a shine; like a seamless, gilded armour that bore him to the finals. There are no two players more deserving or talented. On Sunday we will be watching the best, playing at the dawn of a new era.
Cheerfuls !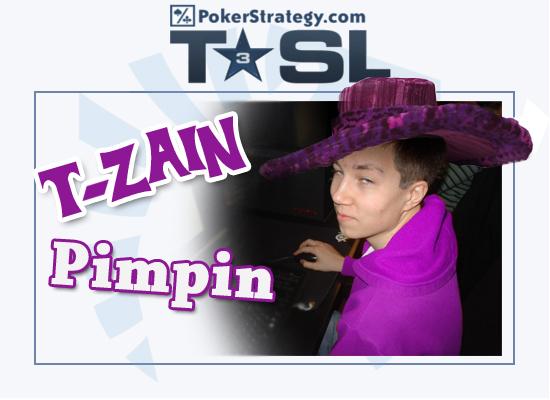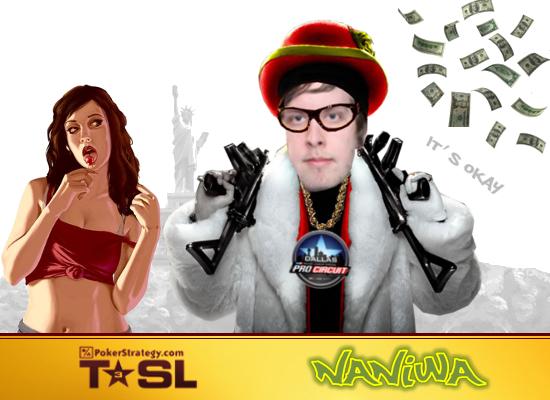 ---

This TSL is sponsored by PokerStrategy.com, the world's largest poker school and community. With hundreds of Poker VODs and an assortment of learning material in 18 different languages, PokerStrategy.com offers the chance for aspiring Poker players to learn from a beginner to a professional level. Sign up using TL's referral link.

By signing up, you can also enter the TSL3 Raffle, where you can win a 5-night trip to South Korea for 2 people to watch StarCraft live in person and tour the oGs-Liquid house.

Discuss with other fans in the TSL3 Forum.