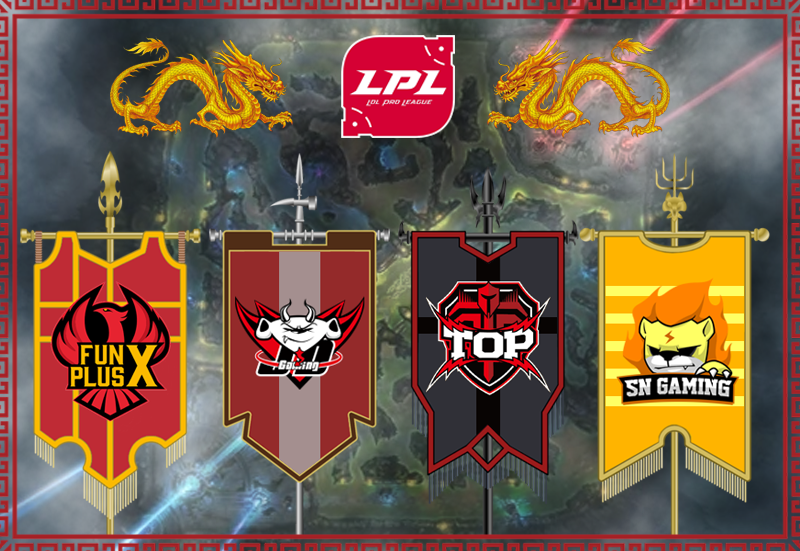 "万岁, 万岁, 万岁!"
万岁 (wan sui) is an expression used in East Asia to wish someone a long life; it was mostly associated with the ancient Chinese royalty. Literally meaning "ten thousand years", Chinese Emperors of old would hear those words from their loyal subjects, wishing the divine sovereign a long life to continue his reign. And in 2018 we hear the resounding chorus of this old expression once again as the echo ripples through the halls of fallen warriors. 2018, the year of China, and what a year it was for League of Legends fans worldwide. In 2018 the LPL stood tall, head and shoulders above the rest. Nigh imperious in their conquest, An uncontested series of victories brought the Middle Kingdom titles from MSI, Rift Rivals, Asian Games and ultimately Worlds on the back of Royal Never Give Up and Invictus Gaming. A clean sweep. No more runner-ups, no more eternal second. Last year was China's claim to the upper echelon of the competition thus earning them the long-coveted title of 'The Best Region in the World'.

However, that title carries a heavy burden.

Now that they've earned the title, the LPL must now fend off the rest of the world as their predecessors have. But before they gaze towards the horizon of distant lands, they must first set their imperial court in order. Like the politics of old, there are those who often seek to seize power from the monarch to build their own dynasty. While China feasted, drank and regaled their fans with the triumphs of their comrades, several teams felt the spark of competition go from a blaze to an inferno. The burning desire to be there, to succeed, and to earn recognition from their peers and fans alike.

During 2018, the likes of Suning, Jingdong Gaming and Rogue Warriors tried to climb to the same heights of Royal and Invictus, but failure sent them home, and only disappointment remained. Change was needed. To challenge the best, they had to don the mantle of being the best. And change was what Suning, Topsports, Jingdong and FunPlus Phoenix, the Four Generals, embraced; rethinking the whole approach to roster building from the ground up. Brick by brick they assembled teams who possessed the same yearning and fire within, warriors who definitely will not be satisfied by boasting about someone else's victories. They want their own titles, their own legacies and they will not stop on the verge of being 'just' great.

Invictus Gaming has yet to taste domestic glory, and the thought of having never lifted the LPL cup haunts them. Other teams know this, and nothing would be sweeter than denying them that which they seek. Claimants now stand their ground, holding fast. This is their chance to make history and start their own dynasty, carrying on the majesty of 2018 into the new age.


SN


Suning - ROAR!

The little lions of the LPL. In 2018, they were truly the definition of an underdog team, with the three young talents of XiaoAL, H4cker and Knight were accompanied by the veteran Korean bot lane of Fury and YooN. But after a Spring Split that left the fans hopeful and wanting, contract issues prevented their rising star, Knight, from playing in the Summer Split, leaving subs fenfen and Angel splitting playtime in the mid lane. Yet Suning did what they couldn't in Spring: finally making it to playoffs. TOP ended their dream in a grueling brawl that went to the final game, silencing the crescendoing roars of the valiant lions.

Reaching playoffs but bowing out in the first round left them famished, starved for victory. Entering 2019, they'd lost their biggest asset in Knight, ironically to TOP, and the lion pride sought the strongest to bolster their pride. Seeking the alliances of wolves, they brought Taiwanese titans Maple and SwordArt to the mainland in a shocking transfer. The last piece to their puzzle was even more astonishing. The mantle of ADC — one of the most revered positions in LPL due to the high skill of the players — was taken up by none other than SMLZ after his adventure with Rogue Warriors did not pay off. When lions, wolves and warriors hunt, everyone is fair game — even an emperor.

Going upstream compared to the majority of Chinese teams, Suning is one of the most successful teams so far that doesn't heavily rely on their bot lane, but instead focuses on the map as a whole. As a unit, they are both daring and decisive. Even if a fight or an objective call does not look like it will sway in their favour, the lions will all commit to it once it has been decided. And they will do it again and again if need be, never displaying a shred of fear to their foes. While Suning has demonstrated they aren't afraid to play a slow, stalling game, they'd just prefer not to.

The lupine duo of Maple and SwordArt lead the charge forward, veterans of countless campaigns. A heavy roamer and pressure sponge, Maple does what his team needs of him and more, distributing gold to his lanes and acting as their guardian angel in major engagements. With Maple's ability to play a low econ style and SwordArt's world-class shot calling, all they need then is a weapon of immaculate quality. The former warrior gone rogue answers the call: SMLZ. Affectionately known as 'The Robot' for his perpetually dour demeanour, his terrifying ability along with his champion pool reflects his position as a cold, unflinching killer. Not afraid to bring out mages in the bot lane, SMLZ has an arsenal at his disposal.

One of the LPL's most promising prospects XiaoAL is living the time of his life. The aggressive and confident top laner currently has impressive performances during the lane phase, his mechanical prowess bestows him the ability to turn around bad trades, engaging in split pushes and 1v2s that succeed even when they shouldn't. Suning doesn't mind playing around XiaoAL to make sure he sows terror against their prey during skirmishes and team fights. The two solo laners in Maple and XiaoAL shape the whole modus operandi of Suning: opening the map to its fullest, taking advantage of the sidelanes and enacting 1-3-1s or 4-1s that pressure their foes into making difficult compromises.
But how is all of this possible? H4cker is the answer. The young jungler has just over one year of competitive experience, yet his cunningness and ingenuity are impressive. Concealed in the shadows of the enemy jungle, he doesn't adhere to the classical scheme of 1-3-1 you would expect. Instead, he roams to protect his side laners while they split the map. Often seen on proactive picks such as Camille, Lee Sin and Olaf, he's always in for a brawl, picking the most aggressive choice and rarely getting punished for it.

Suning win when their decisiveness trumps the enemies' initiative and their daring calls go right; Suning lose when their bold objective calls don't pay off and splitting the map can't become effective enough, or when their solo laners get caught by being too greedy.

Spending the first weeks after their formation working on basics and building their play from the ground up, it's now paying off. Currently in 2nd place with a 9-3 game record, they collected their only match loss in a day where Maple and H4cker were ill against the undefeated FPX. They still have much to do if they are to live up to their superteam moniker. But if their recent performances are any indication, then the little lions are growing up quickly. If they continue on this warpath and can nurture their subs, Suning's strength in depth will rival the best.

With the announcement of the Mid Season Invitational finals to be held in Chinese Taipei, Suning will now be ravenous. Taiwanese duo Maple and SwordArt especially will be doing their damndest to cleave everyone out of the way. Nothing will stop this pride of lions on their hunt for their first-ever LPL title and the chance at international glory.
---
Clockwork: "Do you think they can make it to MSI?"
Megalodontus: "Of course they can, so they can smash LMS teams once again!"
---
Lions on the logo and wolves at heart, the predators are on the prowl. And you're next.

TOP


Topsports Gaming - Rise!


"Prove yourself and RISE! RISE!"
"Make them remember you."
"RISE!"
---
Although this new org has much to do and prove before getting their opportunity to strut their stuff on the Worlds stage, their story so far reflects their climb up, to reach for the summit. When Topsports Gaming entered LPL by acquiring the spot of DAN Gaming (the hatching egg team, remember?), nobody even noticed. DAN was not an impressive team, and as such neither was TOP in Spring 2018 (finishing last in the East Region). However, their Summer Split garnered far more positive results than any LPL fan expected, fighting tooth and nail and almost overtaking titan Edward Gaming for second place in their group. Their run in playoffs saw them defeat Suning but losing to eventual champions Royal sparked a fire in TOP.

Enter 2019, and the picture is entirely different. The offseason saw investment in the direction of talents such as LokeN from JDG, Ben from WE and Knight from Suning. With young but rapidly improving jungler Xx at the helm and the emergence of top laners 369 and Moyu, TOP was ready to rise.

TOP kicked off 2019 as a quintessential LPL team: their main win condition is always planned to be their bot lane, consisting of LokeN and Ben, who plays rather conservatively in the early stages of the game. Indeed, they have one of the least amounts of deaths in lane. Despite not being a fearful duo that can exploit 2v2 skill difference, they're very proficient in assisting ganks and providing favorable scenarios in which their allies can set up a party in their lane, preferring to scale to late game where they really shine.
---
Clockwork: "So they're the kind of friends who invite friends to their house but never cook anything?"
Megalodontus: "...I bet you are too."
Clockwork: "You know, I like this bot lane already."
---
The fundamental piece to this approach is the young jungler Xx. Very proactive and decisive, he holds the bot lane in high regard and sets up dives and ganks to ensure they have a smooth transition into the mid and late game. Put on Sejuani duty recently, some of his whiffed ultimates have earned him the unfortunate nickname of "Xxmithie". Memes aside, Xx's prowess in defending and setting up objectives along with his team is not to be laughed at. This has resulted in TOP often reaping a large number of drakes per game (2nd highest next to FPX).

Nevertheless, Xx's focus on the bot lane couldn't be possible without the stellar mid laner that is Knight. Nicknamed "The Golden Left Hand" due to his peculiar way of holding his mouse and keyboard, simply put, Knight is a beast. His unparalleled mechanical prowess and awareness of his lane make it so that he never really loses the early game, thus freeing Xx and allowing him to be proactive elsewhere on the map. Preferring assassins and mobile champions, Knight is capable of some mind-boggling plays and no matter what he picks; enemies have to be rightly wary of the threat of his shining armour.
Rookie, 369, is the odd duck. He seldom gets any attention from Xx or Knight and is left on an island. His inexperience is apparent in TOP's first games, where he often gets caught red-handed or dived recklessly by the enemy team. However, his skill in 1v1's and timely teleports have helped TOP many times so far in big engagements. And TOP love big team fights, usually waiting till the mid to late game to continuously run their foes over, And it's in these tense engagements where Knight and LoKeN especially excel.

TOP loses when they can't respond to 369 being sacrificed and when the enemy bot lane acquires a large advantage before Xx can intervene. TOP wins when Xx and Knight are uncontested, and 369 doesn't get punished for his overaggression while the bot lane scales up.

Despite early season results, TOP still has a lot to prove to deliver the hype they've been brewing: second places in NEST and Demacia Cup fortified the sentiment of a new, rising opponent. Their first matches, however, were against admittedly weaker teams and the only time they faced another title contender (namely iG), they were quickly sent home.

Their hunger to prove themselves and erase their past mistakes is what sets them apart from the rest of the pack. ADC QiuQiu (nicknamed "The Emperor" for his wisdom) willingly chose to bench himself during the offseason, so the team could pick a better marksman to help TOP obtain better chances of rising to their proverbial summit. The amount of sacrifices that these players are making to win is unparalleled, but it's not enough. Not yet.

Once they show their fans and the whole of China that their sacrifices are worth the pain, no other team will stand before them.

They won't be satisfied with anything less than being at the top.
---
"They will remember you."
"RISE!"


FPX


Fun Plus Phoenix - Rebirth


FunPlus Phoenix has always been a bit of a puzzle. Like TOP, FunPlus Phoenix made their entrance into the LPL at the beginning of 2018 on the back of the crazy GimGoon and former Newbee bot lane of LWX and Crisp. The original roster was rounded out by Pepper and Bing and FPX were constantly in flux, their results varied greatly from week to week but their losses were piling up. Seeing no other option, FPX turned to an old stalwart of the LPL, Cool. Formerly on Newbee as well, he led the young team just short of a Spring Playoffs spot. Branded dark horses once again, the Summer Split saw another up and down performance from the firebirds but they found themselves eventually perched at the first round of playoffs. Unfortunately, JD Gaming's unstoppable rise was simply too much for them and their fires of challenge were unceremoniously extinguished. Ashes to ashes, dust to dust...

But phoenixes don't perish.

Their blazing and ancient symbol was the opposite of total finality and FPX was not going to give up.

Quickly identifying their vital pieces and strengths, FPX kept the original trio of GimGoon, LWX and Crisp. To complete roster, talented young jungler, Tian, and former FW coach Warhorse's services were swiftly acquired. But the centerpiece, the masterstroke of FPX's offseason business was being able to entice none other than the immensely famous super carry, Doinb. And what a narrative it is for Doinb specifically: every time he joins a team it rises from the ashes. Qiao Gu, Newbee, JDG, Rogue Warriors and now FunPlus Phoenix, Doinb's energy can turn any team from unimpressive to fan-favourite.
---
Megalodontus: "We forgot to mention dark technologies!"
Clockwork: "insert doinbdance.gif"
---
And of course, that's what happens in-game as well: Doinb is always the beating heart of the team. Nothing begins or ends without him. Unlike Cool, FPX's former mid laner, who only roamed after earning an advantage, Doinb roams in order to get an advantage. And Doinb's champion ocean needs no introduction, with Kled fitting his style of the tee as his team follows him during the CHAAAAAAAARGE! Rookie jungler Tian fits surprisingly well in this blueprint. Despite his few games in the LPL, he knows what to do to free Doinb and help him generate plays around the map. Tian shadows his mid laner very well and his fearlessness has earned him much praise, especially with his performance against the experienced jungler in Flawless in their recent match against JDG. Like Xx from TOP, Tian and Doinb control neutral objectives very well, with a very high drake score and almost always utilising the Rift Herald to snowball their lead quickly.

One could say it's very similar to how we described TOP, and that would almost be correct because FPX does more. While TOP almost only focuses on bot lane, Doinb and Tian know they can rely on flamboyant and aggressive top laner GimGoon, who is always ready to dive and make his enemies' life miserable. GimGoon's ability to play multiple champions makes him a great asset to play around or have him soak pressure. The scariest feat about this trio is their uncanny awareness of each other's positions. When Tian invades or dives top side, both GimGoon and Doinb are eager to react and assist him in his endeavour, thus surprising the enemy jungler or laner with superior numbers. Stylistically FPX loves to skirmish throughout the game, turning won fights into advantages which help them win the crucial team fights later on.
But where's the bot lane in all of this? LWX and Crisp are one of the most solid bot lanes in the league, and despite not being as proactive as their teammates in the early game, they surely do their part come late game. Unafraid to get up close and personal, the mercurial marksmen loves a good scrap when possible. LWX's positioning-reliant playstyle makes him a tough opponent to pin down in team fights as well. Meanwhile, Crisp has a penchant for mechanically intensive supports but has played Tahm Kench the most so far, presumably to protect his longtime partner LWX allowing him to wreak havoc supporting Doinb and Tian with Abyssal Voyage.

However, FPX is not the perfect team yet. They still posses many visible issues such as their late-game calls and objective priorities that still need to be improved. Although it hasn't been a flaw big enough to cause them major losses, it might become a problem when they meet teams able to match their early game aggression like iG. FPX also have the tendency to make the classic LPL Aggression mistake and get greedy, often taking bad fights when they didn't need to.

FPX win when their dive setups and high-tempo playstyle snowballs out of control; FPX loses when the players get overaggressive with botched dives or constantly pick the wrong moment to fight.

Let's be honest, GimGoon has looked good but is still unproven in playoffs. LWX and Crisp have always been good but not great and Tian's rookie status, so not many fans have taken FPX's challenge seriously. But through Doinb's energy and Warhorse's leadership, they found themselves at the top of the standings, yet to lose a match. On wings of fire, they've soared, igniting the path ahead. How far can they fly? Nobody knows for sure. We all know one thing though: too many times Doinb has been millimetres away from representing his adopted homeland on the international stage, too long he has been denied. FPX have placed their trust in the Will of D(oinb) and he is determined to repay them in kind.

The time to make their dreams of fire a reality is now. FPX will rise and rise again until their fledgelings become heroes.


JDG


Jingdong Gaming - Redo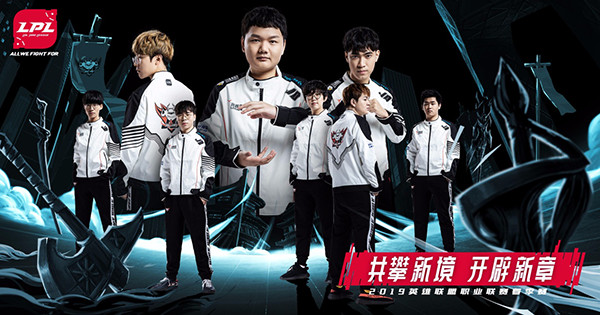 Oh, JD, what pain it is to write about you.
---
Megalodontus: "Only because you and our editor are WE fans"
Clockwork: "DON'T JUDGE US GODDAMMIT ;("
---
Almost the Cinderella story of last year, JDG relinquished their 2017 image by letting Doinb go and instead risking it all on flamboyant youngsters such as Zoom, YaGao and Clid, who now is on SKT. While Spring wasn't really impressive due to the players getting used to stage pressure and steep competition, the team was on a clear upward trajectory. Summer saw former WE and championship-winning coach, Homme, join their ranks. And boy, the improvement showed. Trailing iG and Royal as 3rd in their group, their playoff run was deeper than anyone could possibly imagine, annihilating EDG and RW and on the verge of stripping iG their Grand Finals ticket in a devastating 3-2 loss. The gauntlet beckoned and JDG were poised to make their fairytale season come true…only for LPL stalwarts of EDG to cruelly end their dream.

2019 should then be the year where JDG should use those heartaches and springboard another glory run, to repeat and surpass their limits this time. This makes their offseason all the more confusing. With LokeN and Clid departing, replacements in the market were scarce. On one hand, they brought in star players such as Flawless from Rogue Warriors and Vietnamese sensation Levi for the jungle position; but on the flip side the only replacements for bot lane they acquired was rookie Bvoy and, most puzzlingly, Imp from WE. Making do with what they have on hand, full trust was placed in the capable hands of Homme to mould another team which could reach the top.

Let's take a step back and start from before the game even begins: JDG's best man isn't even on the Rift but everyone knows of him. He's the alpha cheerleader, the loudest chanter and screamer of LPL, topping everyone with his proud voice yelling: "JINGDONG!!!"

But what surprised us, as well as most LPL experts, is how much more confident JDG looks when Bvoy is in. Despite Imp's years of experience, it's no secret his form has been dire for a while now. Having a rookie promoted from the LDL strut his stuff is always a refreshing sight. Self-peeling ADCs like Ezreal and Xayah work wonders for Bvoy, allowing him to deflect enemy focus and put out consistent DPS from behind his veteran front line. Bvoy has played only two games this split thus far and coincidentally those were both wins vs iG, just a hint of what this player could bring to the team over Imp. This wouldn't be possible without the godsend that is LvMao. His uncanny attention for his partner is commendable, shining on picks such as Rakan and Tahm Kench that also allow him to roam after the bot lane transitions to mid.
Coach Homme in an interview has said before he thinks JDG have a weak early game but their strengths lie in the mid to late game. He believes JDG have to play the early game better to be a great team and from recent results, the process has been bearing fruit. The general early game plan largely revolves around Flawless, his attempts to free YaGao and get bot lane an advantage. Levi too, despite communication issues, has been very prolific in the early game, fearless in tower diving or duelling the enemy. Dragons and Heralds are objectives that JD deem very worthy of attention, often setting the Herald off in the mid lane to unchain YaGao and wreak havoc around the map. The mid-game has only one word in JD's dictionary, and that is skirmish: their go-to instrument to transition their early game to late game fights and consequently victory. They are also a team that punishes missteps very heavily, especially during the late game.

But before that happens, the mic is passed to the historic duo of the Dumpling Brothers in YaGao and Zoom. The superstars and avenging angels of JDG, when a tough situation arises JDG can think of no better duo to rely on. YaGao is a very well known roamer and loves to play mobile picks that allow him strides in snowballing his sidelanes ahead. Zoom is just as versatile and he can be a monster in lane, like on his famous Swain, putting him, once again, in the conversation for the best top laner in the LPL. Late game is their stage and they love to go ham into enemy carries' faces, while the bot lane is entrusted with the task of peeling for themselves and staying alive as long as possible.

At four wins and four losses, JD's position is hard to judge when looking further into the split. On paper, they've surely downgraded from 2018, seemingly incapable of repeating their Cinderella story. At the same time, their recent win against iG is priceless, proving they are becoming a force to be reckoned with once again. But the future's uncertain and especially their skill cap is largely unknown due to how little we have seen from Bvoy', not to mention Levi, who still is having troubles meshing due to the language barrier.

To JDG fans, we say fret not. You can definitely trust Homme. He made bad teams good and good teams great, and we have no doubt that JDG still has that spark in their eyes. The same spark that brought them within touching distance of the LPL Final needs to be rekindled and set ablaze for the world to see. The same world that missed their appearance dearly in 2018.

It is up to JDG now to write their own story. Whether they can quell the demons of past failures lies in their hands now...and the world will be watching.



LPL


Conclusion


Megalodontus: "Ok Clockwork, bold predictions time. Go."
Clockwork: "Vici Gaming will make playoffs, you heard it here first."
Megalodontus: "That's bold. Mine is Invictus Gaming will not win the Spring Split."
Clockwork: "I feel like this is a case of Déjà vu."
---
2018 was the year of the LPL. In 2019, China's representatives will stand tall along the Great Wall, awaiting their challengers and usurpers alike with a steely gaze. But within imperial grounds, the storm of the challenge is brewing. iG, RNG and EDG now have to contend with four rising teams, each more than willing to occupy the throne. There is no doubt that throughout the split every single one will be striving to prove their worth and claim to represent the LPL on the World stage.

But there aren't seven spots for MSI.

There aren't seven spots for Worlds either.

Only the very best among them will be granted the chance of representing the region once again in the eternal conflict of pursuing international recognition. In the midst of such steep competition, not even current world champions Invictus Gaming are a safe bet for anyone. Get ready, China. 2019 is the year of fireworks.

Whose fans will chant "万岁!" at the end of the split?