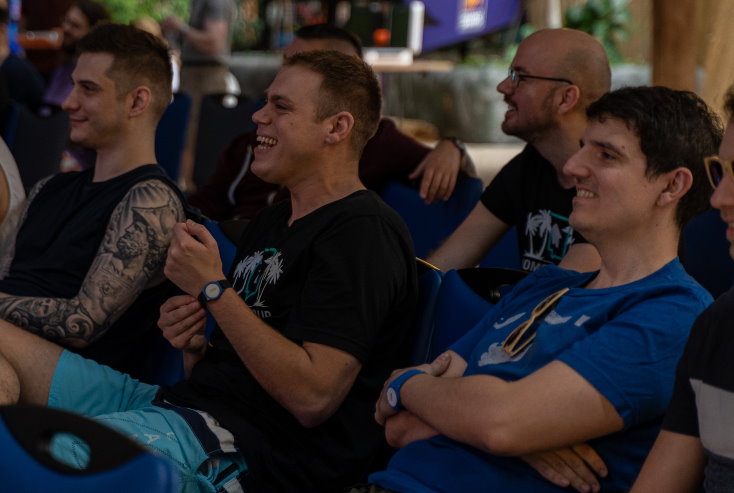 Photo: TakeTV

"See, WarCraft 3 is awesome!" - "If you say so."
We're back with another interview, and this one is rather atypical.
StarCraft II isn't the only RTS game kicking off on the ESL Pro Tour—on February 21st, the WarCraft III Pro Tour will begin at
DreamHack Anaheim
. It's a historic moment for the Western WarCraft III scene, as it finally has a Blizzard backed Circuit to look forward to.
Despite WarCraft being an incredibly deep and competitive RTS, it's always been a
really
tough sell to try and get StarCraft II fans to watch. So, we enlisted the help of Rotterdam—perhaps the biggest combined fan of SC2 and War3 in the entire world—to help with this sales pitch.
DreamHack Anaheim WarCraft 3 matches set to begin at Friday, Feb 21 8:15pm GMT (GMT+00:00). The tournament will be held between Feb 21-23.*This interview has been edited and condensed.
---
Wax: To start off, could you tell us about your history with WarCraft 3 and how it got you into esports?RotterdaM:
Well, WarCraft 3 was the first game that I played seriously, other than a couple of other games online that I just enjoyed.
Well, WarCraft 3 was the first time I ever heard about esports. Like before I also played games competitively, but just against friends in the neighborhood and stuff like that.
Eventually, people started talking about replays, so I was like
"I guess I'll take a look at a replay."
I ended up on a website called Replayers.com, and then I saw a picture of
Insomnia
holding a check for ten thousand dollars, and I was like
"What? Like, people are winning money with this game? What the hell, that's amazing."
But at that point, I didn't really know how to get into esports, so I just kinda watched a couple replays, and I was like
"man, these guys are kinda good, but I think I can do that, too."
But I don't know, basically life just went on. And then a year later, I saw another post about WCG, and I was like "what the hell," and then I saw there was an audio link.
Back then obviously, there was no Twitch and stuff. So I clicked on the link, and you could listen to radio commentary of WCG 2004. And I followed it quite closely, and I was following Grubby's run to the finals. And I was like
"oh my god"
—it was really cool because I could totally imagine the games. It's like when you're listening to sports commentary of a football game over the radio and you kind of know what's happening. And when I was listening to the radio commentary of the World Cyber Games, I could exactly picture the game, and I was like
"this is sick hype, epic!"
I was really invested into it, so after listening to the finals, and knowing that Grubby had won, the Dutch guy, I was like
"this is insane, I want to be part of this."
That's when I started practicing an insane amount, just to have the dream to be able to travel and attend a couple of video game tournaments.
So here's a difficult, open-ended question: What's great about WarCraft 3?
I honestly think that it's similar to StarCraft II where every game is truly unique, you know?
People might think that games look the same because the same heroes are being used, or maybe the games have a similar outcome, or has a fight you feel like you've seen before. But as a player, that's absolutely never the case.
Obviously with the items there's a lot of variation in how you want to play games out, but I think the micro element... It genuinely feels a little bit like watching two boxers and they're both standing really close to each other in the pocket and just avoiding punches. That feels a little bit like what WarCraft 3 feels to me, where you're like "alright, this is the fight, I'm going to make this move, he's going to counter that..."—it's a little bit like chess, right? You're thinking a couple of steps ahead of the fight, because the fights are kind of slow.
But you need to know what could POTENTIALLY happen. It isn't just having one goal, but like goals X, Y, and Z. I just truly love that part of it. I like seeing the decisions that are being made in the middle of battle.
Is that kind of mental aspect of the game more apparently in WarCraft 3 than StarCraft II? Since StarCraft II feels like it has a lot to do with raw physicallity.
No, for sure. I feel like SC2 is a lot about speed—I don't like it when people say all you need is speed, because there is a lot of thinking in SC2 as well. All the small little moves, and there is a lot of trying to trick your opponent. But in WarCraft 3 it's more like on the fly decision making in the middle of the battle, where
it's like, calculating ranges a little bit, you know?
Like barely being on the range of saving a unit, bringing it back to combat, bringing it away again. StarCraft 2 has SIMILAR stuff, but it's a little less visible to the eye, I think, it goes on a lot quicker. It's a lot of little moves add up to a big move, whereas in WarCraft it's almost always very obvious that unit A is [interacting with] target X. So I think it's a little different, but in the same way it's also similar.
Do you mean "range" the way they use it in poker? Like assessing your opponent's options and assigning everything a possibility.
Absolutely, but also the range of spell casting stuff. If you know where you are on the screen, like you know if you send your hero to the right, you know that hero is immediately going to move further to the right. On the other end, you still want to be close enough to eventually turn around and land a Chain Lightning, but you also don't want to be in range of two spells of your opponent and get hit as well.
It's a lot of knowing where you're safe and knowing where you're not safe, but still participating in the fight.
Also a lot of mind games about when to use key items, which units are going to get target fired down first.
Let's say you're playing Orc and you want to focus down the enemy Lich. You don't just want to use all your spells on the Lich, because the Lich will just get healed, right? So you want to do a little bit of damage to the Lich, then you want to temporarily prevent the Death Knight heal by Hexing or War Stomping, and that's when you want to put everything on the opponent immediately.
But obviously, the Undead will know that as well, so instead of waiting until the Lich has half HP, sometimes even when it's like 75% HP, they will heal it up already, because they also know it COULD be in danger if the Death Knight does get disabled. Stuff like that.
What's a part of StarCraft II about which you could say, "if you like this aspect of SC2, you'll like War3?"
Well, I think if you look, not every StarCraft 2 game has this—because obviously there's a lot of bad games—but in a lot of great games, there's a lot of great army movement, right? Whether it comes to just securing positions or sieging, but just overall, you're dancing around each other on the map because your army might be stronger in this phase, but not so in that phase, you can't be too far away or close to this.
I think in WarCraft 3, it's truly a dance around the map where you want to get stuff done as quickly as possible, but you don't want to get caught in an awkward position. If you enjoy, you know, two armies looking at each other but not neccessarily fighting all the time, it IS a little bit like chess, where you're moving around the board in as smart and smooth ways as possible.
And obviously, the most cliche thing is that WarCraft 3 has an insane amount of micro. I think that people really underestimate the micro aspect of StarCraft II, as obviously in the old days the game wasn't that balanced, so if Protoss had a deathball of 200 supply you could just a-move and you would annihilate armies. I think these days, the armies are a lot more complicated and what you focus on in the fight, even though the fights are f***ing quick, it's super important. If Tanks are shooting at Zealots they're useless—if tanks are shooting at Colossus they're melting them. Colossus shoot at Tanks, they don't do s***. If they shoot at Marines, they melt immediately.
Stuff like that—if you enjoy the target firing of units in StarCraft, you'll definitely love that in WarCraft. Because the way that it works in WarCraft is insane, like Raiders do a lot of damage against Sorcerors and Priests, but if your Raiders are fighting Spellbreakers, they're just doing nothing, literally nothing. Basically does no damage at all, so it's a lot about putting a lot of units on the right target.
A lot of WarCraft 3 player have been successful at StarCraft II. What skills do you think transfer best from game to game?
Well, I think when people talk strategy in general in both games, people want to have like... There's a lot of casuals who love the idea of
"strategy should be all about decisions. My opponent makes ground units and I make air, and then I deserve to win."
Obviously, games would be incredibly boring if they worked like that, because just rock-paper-scissor doesn't work in a video game.
And I think it's a little bit the same in both SC and War3. Like, people will often think
"well, Rotti builds Phoenix every game"
or
"he plays the same strategy every game."
But that's obviously bulls****, right? Because there's so many ways to play Phoenix, you can play Phoenix aggressive, you can play to just deny certain builds, you can play it to mass it, you can play it as a transition.
And I think War3 is a lot like that as well, where people might think like
"wow,it's the same unit comp every game,"
but the real strategy is really in the army movement and the creep route you take. Like to me, creep routes have always been the strategy, because to me, calculating where my opponent was, me being at the right level and being at the right place, that was the strategy. Yeah, I could tell my opponent I was going to open up Far Seer-Grunt but it didn't really matter, because of the execution and timing of the strategy.
I do feel like creeps are the most misunderstood thing about the game. It's not really a "PvE" aspect of the game—it's another resource, mini-expansions on the map that you have to strategically take.
Absolutely, so obviously backstabbing is one of the most important things in the game. I know the map-pool has changed a little bit, so I don't know how good these maps are to be aggressive. But in general, when I played, it was all about being at the right time at the right place. Like, when they're in the middle of the creep camp and you show up, then that's a disaster, right? Because then the opponent has to fight creeps and fight you. So most of the time, they're forced to town portal out, and then you have free reign. You can finish the camp that's already hurt, and they got nothing and you got everything, they wasted a town portal.
Stuff like that to me, that was always the real strategy. The units, yeah I make the same units most games. I'm sure that if you look at the majority of the pro games right now, there are certain strategies that are being used way more often than other builds, but the way you execute those builds, that's the real strategy.
You've been deep into SC2 for years now. What's the one thing you miss most from War3?
Well, I actually really love the little stories that every WarCraft 3 game has. Because of the items, the heroes can take completely different routes. It's a little bit like DOTA where you can pick tech trees and stuff. I always felt that a WarCraft 3 game was a story, where you start with nothing but you collect a couple of items and you build something up. So I always loved something like picking up like two +3 Mantle of Intelligence for my Far Seer and being like,
"YEAH, my Far Seer is f***ing strong this game!"
And I hate that in StarCraft, sometimes you have a really cool Stalker that has been there from the beginning of the game, that's picked off four SCV's, four Marines but it doesn't really stand out to all the other units. I kind of miss that little bit of storytelling—I know it has a kill counter, but those kill counters are a bit meaningless. I really like the EXP that not only heroes gain, but I just wish that there was something for StarCraft 2 units, that if they would survive battles they would gain exp or get a small buff—I don't want them to be as powerful as heroes, but it would be really cool if there was a bit of an RPG element to it.
Yeah, experience is basically another resource in itself. There's a lot of complex systems to manage at once in WarCraft 3
I also like the little interactions in WarCraft 3. Like lately in SC2 I've been doing this, don't ask me why—sometimes you're running away with 3 Stalkers from a Cyclone, the Cyclone locks onto a Stalker, and you know the Stalker is gonna die. It's going tick, tick, tick... Lately I've been enjoying right before the final tick kicks in, shooting at my own stalker, and 'denying' the exp. I know it's pointless. But I actually enjoyed that in WarCraft 3 as well. You know your opponent worked so hard to kill a Raider, and they're ALMOST there, and you're just like "BOP!" you deny it in the final second. It's one of those feel-good moments I wish
StarCraft had.
Any games you want to recommend to people to watch?
Yeah, I think the WCG finals between SkY and Creolophus. I think that was in Seattle in 2007. I think it was one of the best grand finals ever, because of the storyline as well. No one else had even won two WCG's in a row, but SkY was about to win three in a row, so I think that was awesome.
[VODs: Part 1 - Part 2 - Part 3]
I have a cool story about it as well, I don't know if this is 100% true but from what I heard, Creo, because he had been so inactive before the event, literally was like drawing out the maps on a notepad in the airplane. Back then obviously we didn't have iPads and s***, right? So he just had a notepad, and he was drawing his creep routes and making up strategies as he was flying to the event. And like, thinking about what he wants to play, and he was struggling in every game in the group stage, but somehow kept surviving. I think it's the most amazing esports story of all time. So that one is sick.
I had one game on YouTube if you type RotterDam vs Focus where I play Night Elf, which I think is a really good game
[Watch VOD]
. At least when I played it I thought it was amazing.
I mean, the Grubby against Zacard series from BlizzCon, that's a Classic that everybody SHOULD have seen by now, but if you've never watched WarCraft, that's a classic you have to see for sure
[Watch VOD]
- You can also find more recent replay casts with better graphics quality all over Youtube].
Grubby against
[Watch VOD]. The 2010 WCG finals between Remind and Grubby, I think that was a good final too [Watch VOD]].

The Creo thing reminds me of how WarCraft 3 might be more knowledge based than SC2. Obviously the sheer speed you need for top-tier SC2 is impressive, but it's cool that in WarCraft that guys can use their knowledge to get wins like that.

Absolutely. I think there is a couple of guys who have been playing StarCraft for the last five-six years that actually want to be somewhat competitive again in WarCraft 3. Because they have given up on ever trying to be like Reynor or Serral, because they feel like that's just not doable, they generally see them as superhuman. But in Warcraft 3, even though you know the best players in the world are really f***ing good, it feels like you can get there, with enough practice and enough understanding...

...You can definitely make a compelling argument that in WarCraft 3 the brains matter a little bit more than StarCraft. Of course, it's not that StarCraft 2 is a braindead game, these guys really are f***ing smart, but in War3, brains can definitely make up for what your hands can't. But in StarCraft 2, you're always gonna need both.

We have a couple of former SC2 players who are playing at the first ESL Pro Tour stop in Anaheim. Thorzain, Hitman... even ToD is going to be there to cast. You think he's going to go for his "look at the supply" catch phrase in War3 as well?

I think he absolutely will try. He's going to do the ToD thing: he's gonna talk about esportsearnings™, he's going to talk about his own esports earnings and then he's going to talk about the supply, and above all he's going to talk about Human not being good enough. It's going to be great *laughs*.

Thanks for the interview. Any final comments?

I've said this a couple of times on stream, I only have one rule in my stream: it's that I don't want people whining about War3 and StarCraft.

Like, if anything, RTS is not as big right now as I obviously think it should be, because I think RTS is awesome. And I think you should always appreciate both games, because I think both games are two of the best games ever made. But even if you like one, don't bash the other. Don't be stupid—encourage both scenes.

Scenes should work together and hopefully we can grow together, rather than try to compete with each other which is absolutely f***ing pointless because we're already not very big. Even if you are a WarCraft die-hard fan and you don't like SC2, maybe keep that opinion for yourself. If you like SC and you don't like WarCraft, keep that opinion for yourself. Let's try to make RTS awesome together instead of trying to talk each other down.



---
DreamHack Anaheim WarCraft 3 matches set to begin at Friday, Feb 21 8:15pm GMT (GMT+00:00). You can follow the ESL Pro Tour on Twitter at @DreamHackWC3.