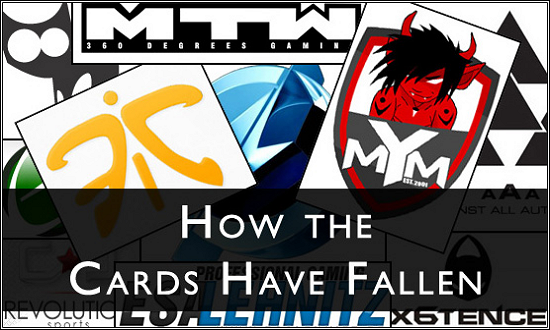 A deck of cards [is] built like the purest of hierarchies, with every card a master to those below it, a lackey to those above it." – Ely Culbertson



How the Cards Have Fallen – The Rise and Fall of Non-Korean Sponsored Starcraft Teams
By Colbi
Teamliquid: Final Edits

Many multi-gaming organizations large and small have taken a crack at the Starcraft market at some point in time. They all had a lot in common, the creative banner, sleek website, and the backing of many so-called sponsors. They drew in the fans and picked up the players they wanted, some spitting the same old jargon they have used forever when searching for new talent. Gear, travel expenses, and salaries were sometimes promised, but not always handed out. The ones that did follow through on their promises, however, seem to still be around today.

The year of 2005 would change the community forever, particularly during the summer months. Before this time, a team that was supported with finances and hardware was a rarity. However, this year would change it all. Organizations like MYM and TmG were forming teams and famous teams of the past like the ToT were trying out a name reminiscent to many of us called pG. As some of you may recall though, that didn't last long. It now seemed as though we were entering into a new era of Starcraft hierarchies (teams) all with similar goals, but all having different strengths.

The Question
The trend of sponsored teams was simply the norm in other games big-name games like Counter-Strike and Warcraft III, but for competitive Starcraft outside of Korea this was something new. This newfound interest in Starcraft was a boost in the morale of the community. Now, players were motivated to practice with hopes of possibly securing a spot on one of the sponsored teams.

Why were sponsors now so interested in Starcraft? The game had been out for many years already. Why were they so late to catch on? Did they know something that we didn't? Was Starcraft II under development? Some say yes. Many of these questions are truly tough to answer without digging deeper into the heads of the team owners and administrators.

Dabbling in team management in the past and writing, I was in frequent contact with many owners of these organizations. Not being shy to ask how they managed their teams, I was interested in learning about how exactly they functioned on a day-to-day basis.

On several occasions my own curiosity got the best of me and I just had to ask these individuals their thoughts on Starcraft. Some knew of its success in South Korea, but failed to realize that people still played it around the globe. Others were familiar with its community, but had no intention in sharing any part of their cooperate pie. The remaining percentage decided to find Starcraft a place in their organizations…at least for awhile anyway.

The Beginning
To truly get an idea about why owners of multi-gaming organizations were so interested in Starcraft I chose to first direct my attention to one of the oldest sponsored teams. That team is Revolution Sports Gaming or rS as you might know them better. This North American-based team was successful in helping to produce some of the best American and Canadian talent even to this day. They were formed during a time when the Korean professional scene was beginning to springboard into a cultural phenomenon.



For the owners and administrators back in the states, this was one of the first games they played competitively. It seemed only necessary to dedicate a division in their organization to represent their first love in gaming. Unfortunately, sponsors outside of Asia were not so interested in supporting the game of Starcraft, but instead were more concerned about the events that it was involved in.



"North American based sponsors are not attracted to Starcraft based divisions at all. However, the events that Starcraft and such similar titles take part in, are," said Adam "Killa" Bracken, owner of rSports. "So when you talk about events such as WCG, ESWC and the perhaps return of CPL sponsors really do listen."


Even when the game began to catch on in popularity it was by no means just eye candy with a simple plot. The gameplay is what shined in Starcraft, involving three unique and balanced races. Without the stellar gameplay and the spirit of competition, the scene would have failed to take off.

The other important part of the competitive scene that caught on after awhile was the birth of teams or clans. While there are many unsponsored teams, we will only discuss the sponsored ones for the sake of this article.

When a sponsored Starcraft team is formed, it is because of two distinctive reasons:

To Conquer a Country
Multi-gaming organizations based in one particular country sought to not only have a foothold in one or two games, but everything they could. They formed squads for all different gaming genres, and filled them with the best local players they could find, or buy. In turn, these players would travel to every local event in hopes of trouncing their competition, making their organization look good and keeping sponsors happy. If they're really good, new sponsors might take notice. This is a relatively inexpensive venture and perhaps the least difficult way to gain sponsors.

A few examples of teams formed with local players are aAa, BVG, NaW, and x6tence. While these teams, to some extent did well internationally, their main goal was to dominate in their own respective country.



"The main aim of aAa will be to be efficient in its own country," said Julien "ResT" Sanchez during his teams announcement. "With such a line-up, we will have to win everything in France."


With a squad full of talented players, aAa was looking to become the next major threat to the European Starcraft scene. With big promises and an even bigger reputation the players initially appeared motivated. However, as Pierre "SarenS" Guivarch noted the excitement didn't last too long and the team eventually fell into inactivity thus causing him to do the same. Without an active roster, the team was destined to fail.



"I felt that the team would die soon. And time confirmed this," Pierre "SarenS" Guivarch told

GosuGamers

.


The Spanish multi-gaming powerhouse x6tence backed by the likes of AMD and ATI at the time, had a very similar model. The only real difference was they wanted to become the first professional team from Spain and with their backing, it was certainly possible.



"x6tence e-Sports Club is a corporation and we could say that it's the first Professional Team in Spain," said Alberto "Ozmita" Martinez, leader of x6tence to

GosuGamers

. "In a future if all is done as we hope, we will be like a Korean Professional Team."


Unfortunately for them, the team never quite reached their goal. They actually only stayed together as a team for around one year. Surprisingly, they lasted much longer than many of those in their category that came before them.

Past failures have shown that sponsored teams made up of players from one or two countries generally do not last very long. RoX comes to mind as a possible exception.

It is interesting to note, while a majority of these sponsored teams gained their funding through the successes in their other games, there are a few exceptions. To keep the team active and functioning properly, NaW and ToT extended their recruiting limits outside the country where their sponsors are based. This was a move that paid off in the long run. Both teams are part of the rare few who were able to secure such sponsors as Qpad and Razer with their Starcraft division alone, for the most part.

Out of all of the organization based outside of Asia, the Germans possess a strong passion for Starcraft. While not all of their teams lasted long, they did have a lot of them. Teams like pG, ToT, mTw, DkH, SSV Lehnitz, and faculty are among those who tested the Starcraft waters. Some have even gone down in the books as the most successful ever in the community.

To Conquer the World
Some other teams had a much broader, long term plan. The more common route teams seem to take partially due to it being easier to re-equip your roster with new talent whenever needed. They will recruit anyone with the skill and attitude to fit into their squad without discriminating by nationality. MYM and ToT are two that fit this example. To a lesser extent, former teams Excello and TeamPlay.it also match this criterion.



All of their main goals were the same; they wanted to be the best non-Korean team. Even to this day though, both teams are still jockeying back and forth for the title of who is the best. As a matter of fact, both of these teams have currently met eighteen times with ToT winning eleven of those encounters.

For years, ToT has remained the highest pinnacle in the non-Korean scene. Their frequent success in leagues, tournaments, and against Korean professional gamers has made playing for them an honor. Being invited to such a team met that your skills were on-par with the best of the foreigner community. However, recently the team has been under fire for lowering their standards when recruiting.



"MYM will now continue and lead Starcraft and e-sports into new dimensions," said MYM management during their official announcement.


You have to give the Danish-based organization credit for keeping their word. Throughout all of the comings and goings of players, they have stuck to the community instead of jumping ship like many teams have when things were looking down. In return, their players have brought them a massive amount of achievements.

The Future
Throughout my research, I remembering looking back at post made back in the olden days and seeing people talking about when Starcraft would die off. Little did they their era in which they were competing was just the beginning of a game that arguably has yet to reach its pinnacle of success.



We of course all know that Starcraft II is on the horizon, but are left with wondering when it is actually going to be released. Are sponsors and tournaments going to catch on? I believe so. Sponsors are already interested and I know for a fact that several major multi-gaming organizations will be jumping on the Starcraft II bandwagon that haven't had anything to do with Starcraft in the past.



" Jumping on the bandwagon early does more good then anything as it will have a cause and effect reaction to other teams that compete," Killa said. "The other advantages are that of players, first teams to commit will get their pick of the litter."


Teams like fnatic and mTw.AMD, both multi-gaming powerhouses, have caught the Starcraft bug early and if all works out will continue the transition into SC2. From the looks of it, MYM will continue down the path in preparing for an SC2 team. With their money along with talented player pool made up of Starcraft and Warcraft III players there is no doubt they will be off to a strong start. It is only a matter a matter of time before we might witness an SK, Dignitas, or Pandemic tag on iCCup.



"The top teams around the world have an ability to "make or break" a title by their support," he adds.


It will be up to these teams and their sponsor to make the decision of whether or not it will be a hit. Sure, selling the game to millions of fans is important, but if teams are not formed the sponsors have no way to market their products. It is more than likely we will see more sponsored teams come and go with Starcraft II. However, this time around hopefully fewer cards will fall.