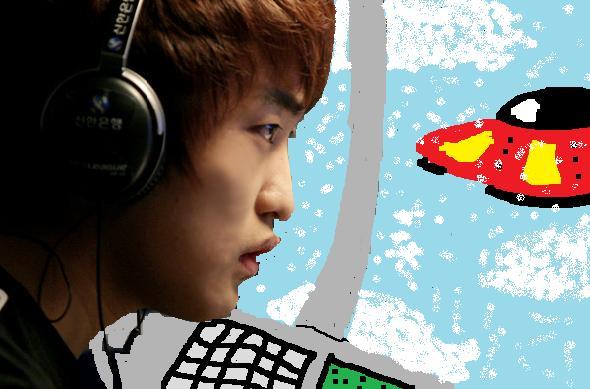 "Frosty weather up here, but it appears to be some sort of extraterrestr--"
---
2009-2010 Shinhan Bank Proleague, Round 5 Week 4:


KT Rolster vs

CJ Entus
---
Sunday, June 20 2010: 13:00 KST / 06:00 CEST / 00:00 EDT
---

Set 1:
Match Point
Set 2:
Fighting Spirit
Set 3:
Grand Line SE
Set 4:
Polaris Rhapsody
Ace:
Fortress
---

Another week, another, uh, week... of Proleague. As far as matches go, each team plays every other team once per round, and so this match boils down to a showdown between two teams that have very... rabid... fanbases on Teamliquid. Almost-guaranteed #1 KT Rolster against the current #6 seed, CJ Entus. Last time these two teams met before the Korean Air OSL Finals, Coach Cho Gyu Nam of CJ Entus showed his amazing preparation ability, with the result being the first time in a long time that
Flash went 0-2 in a night.
EffOrt on a tear defeated Flash's mech straight-up on Judgment Day in a long macro game, and in the Ace match PvT prodigy
Snow was sent out to stop the Ultimate Weapon for the second time that night, and CJ walked away victorious, 3-2 against the top-ranked team in PL.


This picture is so good I decided to give it some more love.


Afterward, EffOrt went on to defeat Flash for the OSL gold, and since then, weirdly enough, both Flash and EffOrt have not been doing too hot in SPL, as compared to regular "Ace" player standards.

This time around, while KT fights mostly for its bragging rights at this point (since a ticket to the Proleague Grand Finals is already almost ascertained), CJ fights for its playoff spot. With its record of 26-23, CJ is barely holding down the last playoff spot over the heads of Woongjin Stars at 25-25. KHAN too, resurgent after a terrible R4 is sitting in 8th with a 24-26 record. For CJ, this means that every match here on out is crucial, and wins must be fiercely fought for if its players want to see the post-season, since once it gets there CJ's depth should help it win the ensuing Bo7s, so Hot_Bid hopes.

No matter what happens, the lineup tonight should be amazing.
sKyHigh,
EffOrt,
Snow--any three of them against Flash would make for a good match, and I wouldn't say no to EffOrt or sKyHigh vs
fOrGG.
Movie, while known for his PvZ, likes PvP, so pitting him against
Stats or...
Violet... I suppose would make for a cool match.

Could this be a very one-sided match? KTFlash says yes. Could this match easily go to Ace? The rest of KT certainly hopes so! Will Snow be sent out for a SNIPEUUUUUU again? Or will Flash finally break his Ace-loss streak? It all comes down to who's sent against whom, and what the lineup boils down to.

Gentlemen, ladies (for the few of you that reside on TL), this is Starcraft.



ESPORTS.



---

+ Show Spoiler +
---

+ Show Spoiler +
+ Show Spoiler [Set 1] +
+ Show Spoiler [Set 2] +
+ Show Spoiler [Set 3] +
+ Show Spoiler [Set 4] +
+ Show Spoiler [Set 5] +
+ Show Spoiler [Overall] +
---

+ Show Spoiler +
---
How to watch?

http://tv.zeroboy.net/kentor <= Kentor cute!
http://www.ustream.tv/channel/theangelofdeath <= Also cute!
http://c.zeroboy.net/konadora/ <= kona kona kona!
Post me streams in the thread and I'll list them here!