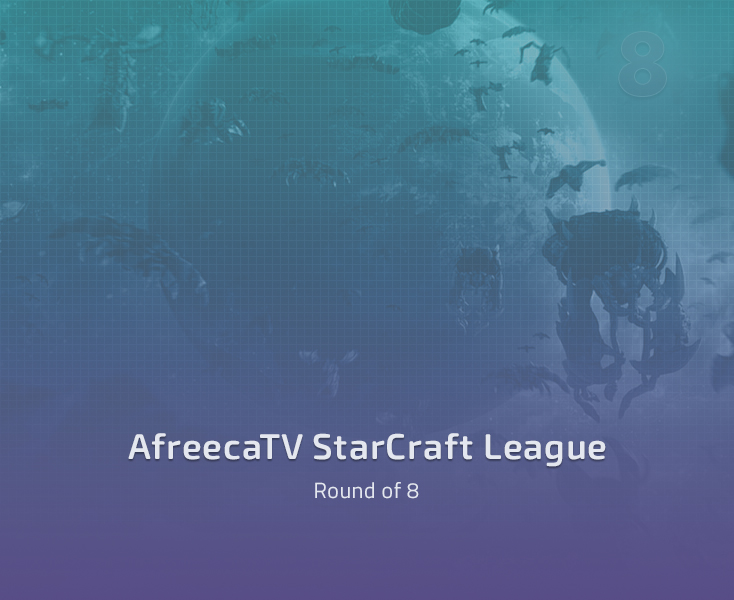 TvZ is widely regarded the greatest matchup in BW history for how versatile it can be, chuck in some of the best players who already have a lot of history in the ASL of facing off against each other and we are bound for a wild ride.

The third meeting for the third year in a row between Rush and hero, both at the peak of their game this time, followed up by a rematch of last season's Ro8 banger between Soulkey and JyJ, what a great week of Brood war.



Workhorsemen
The one thing that should go without saying about
Rush
and
hero
is that they are absolute workhorses who generally always have the most matches played in a month. Usually in that case both players are very aware of what the other is capable of. Expect some planned builds going into this series.
Another season another Ro8 appearance for hero, this time beating ample twice while falling short to
Soulkey
in the winner's set of their Ro16 encounter and in general has shown some of the most crisp ZvT plays we've seen all season.
Rush also has managed to decisively make it through the Ro16 only dropping a single set to Mind in the winner's game, his only show in TvZ has been against the rookie
ivOry
in the Ro24 whom he dispatched with ease.
This will be the third time hero and Rush face off against each other in the bracket in the ASL, first time in the Ro8 and not the Ro4, both prior series Rush has won(4-1 in ASL 12, 4-3 in ASL 14). Seems like you can always count on Rush and hero to face each other in the fall.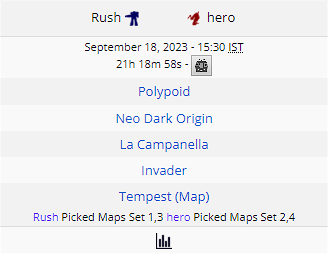 No surprise here that Rush picked

Polypoid
and

La Campanella
. Polypoid is the most figured out map in the pool and being that kind of standard favors Terran players a lot more than the other two races.

La Campanella
is one of those maps where you can truly just look at it and scream tank imba, its really good for Terran to take bases from others very easily, especially someone like rush who really knows how to push those bases, plus having that wide open area behind the natural tends to be good vs Mutas, if Rush can prepare hero's lurker play which he loves to do more than Mutas he will have it in the bag on La Campanella.

Neo Dark Origin
and

Invader
were hero's pick, both maps that both online and in this ASL have shown to be pretty good for Zerg against Terran for how well they are for Zergs to keep bases against Terran
Final map is

Tempest (Map)
, which based on online results so far has been a map that slightly favors Zerg over Terran.
Overall the feeling is that maps favor hero while their history has favored Rush, both players are very much in good form and honestly we are most likely to be disappointed if it doesn't go all the way to game 5 than any result.
Question becomes if Rush can overcome that map disadvantage or not, I think he can.
Rush To Advance To The Semifinals 3-2!

Redux
Strange fate for both
JyJ
and
Soulkey
to find themselves facing off against each other in the Ro8 again but a welcome rematch for any fans out there after how their last match went down. Will Soulkey have his revenge or does JyJ have it in him to do it again.
Soulkey has only had to play one game against Terran this season and it was against
Sea
in the Ro24 losers match who is not the best opponent to really judge what Soulkey's ZvT is going to look like this season.
JyJ has only had to deal with TvZ thanks to stacking his Ro16 group with that extra champions advantage to make sure he had 3 zergs, though it's not like he came out unscathed losing 2-0 to
EffOrt
in the winner's match and having only beaten
Calm
to get out of his group.
Nonetheless having to just continue only practising TvZ is going to sharpen his focus, also helps that he only has to prepare for one opponent now.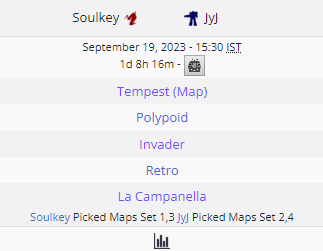 Map picks this season tend to be pretty obvious for Terrans and zergs in general with Terran going for the more familiar maps or at the very least standard looking maps where you're always going to see them take

Polypoid
or

Retro
, much like JyJ has taken in this series.
Soulkey's picks are

Tempest (Map)
and

Invader
, both newer maps and have great results for Zergs against Terrans with online games having Terrans mostly avoiding playing Zergs on invader. It also seems pretty clear that Soulkey banned Apocalypse and JyJ rightfully banned Neo Dark Origin, both maps having pretty skewed results towards Terran and Zerg respectively.
That leaves us with

La Campenalla
for the final map. (Neo Neo Requiem if you want to be old school about it.) A map that I've already said in the hero vs Rush preview above is pretty damn good for Terran.
Map set and History favor JyJ at the moment, Soulkey would need to really step up if he's to win, he's got a better shot winning before game 5, if it goes all the way JyJ wins.
So I'm going to cop out and make a double prediction here for once.
Soulkey Wins 3-1 And Advances To The Semifinals!
OR

JyJ Wins 3-2 And Advances To The Semifinals!
---
Writers: BLinD-RawR
Graphics: BLinD-RawR
Editors: BLinD-RawR