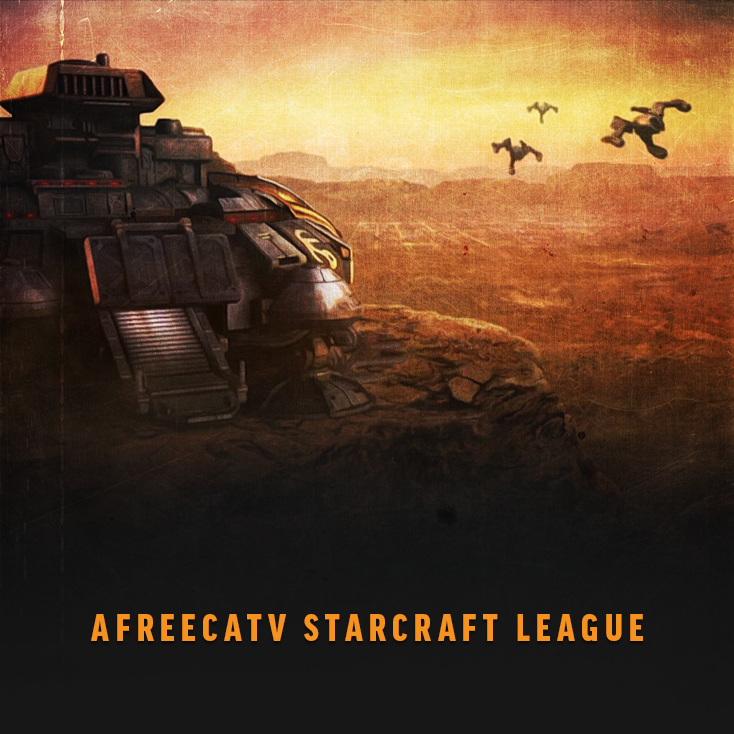 We have had the best games in the season in the Ro4, we now come to what could be the most knock down, drag out Grand Finals in the ASL history.
Rush
and
Royal
look to stand on the shoulders of giants in the Terran race as past ASL champions have been
Light
,
Last
and of course
Flash
, ones who were not only considered among the best as Terrans but overall the best players of their given times.
Who among these two finalists will carry on that legacy?

Crown Royal
RoyaL
began his career in November, 2011. He was just a B-team for

SK Telecom T1
at the time. While RoyaL did not record any premier league games, it will come as no surprise that he ended his Kespa Era play undefeated against Zerg opponents. RoyaL has established himself as one of the best post-Kespa era TvZ players of all time. But a lot is still on the table for RoyaL to prove.
RoyaL
started this season off with a map/series loss to
Sharp
. RoyaL then went undefeated against his next four opponents. It was only in the 11th hour against
Soulkey
, arguably the strongest ZvT player in the tournament, that he would be pushed to the brink before overcoming his opponent.
Tracing back further
RoyaL
began his ASL career not too long ago. Season 9 was his launching off point under the name, "
SOrry
". Using his weaker alias,
SOrry
was eliminated immediately with two losses to
Best
. Returning as "
SOrry
" in Season 10, he was eliminated in the same exact fashion by
Mini
! In his third season as sOrry,
RoyaL
was able to take down
Light
, advancing to his first Sweet Sixteen. Only weeks later RoyaL would meet his arch-enemy,
Rush
. Both Rush and Light defeated RoyaL handily.
Season 12 was a big breakthrough moment.
SOrry
rebrands himself as
RoyaL
and advances into the round of 8. In this round of 8 he would meet
Mini
for his third time losing 0-3. Unable to learn from his mistakes, RoyaL would again lose to Mini in season 13 having a total ASL record of 0 series wins and a map score of 1-7.
After reviewing
RoyaL
's rich two year history, there needed to be a perfect formula for him to reach the finals!
Step 1:
Avoid the Terran matchup in group stages. Half-Check!
Step 2:
Play the Zerg matchup. Check!
Step 3:
Avoid Mini. Check! Although he was in group D with Mini, by.hero gifted RoyaL by defeating Mini twice.
Standing at the edge of glory are seven beautiful Brood War maps. With a mirror matchup to come, map imbalances have no role to play here. Map builds, preparation, and endurance will be the biggest factors for both players.
RoyaL
's picks:

Arkanoid
,

Odyssey
, and

Nemesis
Each of
RoyaL
's map picks are maps that do not play standard. These maps utilize neutral buildings and player spawns to make the game play differently than traditional games. It is no surprise that
RoyaL
is willing to acknowledge Rush has the upper hand in a traditional TvT. RoyaL is winning 66% of his TvT spon matches over the past month while RoyaL is winning less then 30% of his games. RoyaL was able admit his weakness in his matchup against
Soulkey
and by specializing in non-standard openings, he was able to win the series. Once again, RoyaL will have to study and train harder then he has ever done before.
Map 1:

Allegro
This is as standard as a map gets.
RoyaL
's best bet is to just live as long as possible. His insane work ethic means that he has the highest level of stamina between the two players. When it comes to athletics, RoyaL must use this advantage. Even though
Rush
is more then likely going to win the first game, making it as stressful as possible for Rush will help him down the stretch.
Map 2:

Arkanoid
What an excellent map pick for
RoyaL
! There's no true way to prepare for your opponent's strategy. Most likely, the new wraith tank strategy will be deployed by Rush. RoyaL will either find a way to optimize this build or discover a way to counter the build. Either way, his preparation this tournament has been top notch. Expect a tied series.
Map 3:

Vermeer
Presenting the same challenges of Allegro,
RoyaL
will probably want to use a prepared all in on this map. It's important to incorporate at least one coin flip build. Let's assume the coin flips well with RoyaL taking a series lead.
Map 4:

Odyssey
Odyssey is the best map for proxy building cheese. This second map pick from
RoyaL
is brilliant. If Vermeer really ends in a win for him, followed by a proxy cheese,
Rush
will be completely caught off guard. RoyaL can and will win on this fourth map going up 3-1 in the series.
Map 5:

Sylphid
This map can't shake
RoyaL
. First it was the map that saved RoyaL in his victory against
Sharp
. Then it gave
Soulkey
the win he needed to take RoyaL to that final, dramatic game 7. Against Sharp, RoyaL's game lasted exactly 14 minutes and 20 seconds. RoyaL and Sharp both opted for heavy vulture builds. This makes sense because this is a 3 player map with fast ground rush distances. RoyaL didn't look great in the game, just barely coming out on top by the skin of his teeth in each micro battle. It was his ability to apply pressure on Sharp's third base that put RoyaL on top. Micro and strategic positioning are greater strengths for
Rush
. The series will pull closer again with a score of 3-2
Map 6:

Nemesis
This is the final map of the series. Yes,

Butter
does appear as the seventh map, but
RoyaL
is not going to face another game 7 like he had to against Soulkey. RoyaL is also not going to make the same mistake as
Light
. Light decided to go for a faster command center and
Rush
punished him with vultures resulting in Light's elimination. RoyaL will be better prepared to take on RoyaL's builds. Rush will probably skip the vulture build on this map unless the players are horizontal spawns. Rush will instead go back to the wraith tank build hoping to have more success then on

Arkanoid
. RoyaL will remind us all why goliaths are and have always been the better AA/AG companion of the tank.
RoyaL wins the grand finals 4-2!

Rushing Forward
I'm going to peel back the curtain here and let you in on what I usually do for most players when they get into the finals, which is to go over their history, but if you wanted that I'd just ask you to read my ASL12 finals preview instead,
Rush
has been here before.
For what its worth,
Rush
didn't just make it to the ASL12 finals he took it to Game 7 while being down 3-1, this is a man who tasted bitter defeat at the cusp of victory, one that drives him very hard having reached this point again and a taste he would not want to have again.
Rush
is widely considered as the 3rd strongest terran(After
Flash
and
Light
) in the korean community, further cemented by his toppling of
Light
earlier in the Ro8 proving that
Rush
's TvT is without a doubt the best among all Terrans, with an overall 60% winrate in TvT. His head to head against
Royal
however is a basis for a strong rivalry being 66-61 in favor of
Rush
, an advantage but not as big as he'd like.
Offline,
Rush
and
Royal
have only faced each other once, in the opening round of ASL11's Ro16, just a Bo1 that
Rush
won.
Rush
by all accounts is the more seasoned and better TvT player who has always played a solid game, whether it be the classic drag out tank lines and map splitting or the occasional early game all-in, his goal is to maintain control that
Royal
is undoubtedly looking to disrupt as the weight of map preparation is always heavier on the less experienced.
Regardless of the matchup, map preparation is vital so let us look at the maps
Map 1:

Allegro
Everyone always says Tank OP when they look at a map, but when you look at Allegro you really believe it, this is a map made to be split apart in TvT where the cross high ground in the middle affects so much of the ground movement that any attack comes at a fairly big disadvantage, expect a big dropship and dmatrix heavy long game.
Map 2:

Arkanoid
We have seen TvTs on this map over a decade ago before big wraith clouds were a thing in TvT, it's very likely we'll see wraith vs wraith here. It's the only map where I feel like
Rush
is playing a less confident game.
Map 3:

Vermeer
Another big money 4 player map much in the vein of Allegro, very strong defensive positioning, but I feel at this stage
Rush
should start expecting the all ins and proxies coming from
Royal
.
Map 4:

Odyssey
Big 2 player map that has a natural flow of positioning much in the same line of match point with very crucial high ground pods near the 3rd and 4th base, except the 3rd is a backdoor to the main. Another map I feel fairly confident of
Rush
to take.
Map 5:

Sylphid
Sylphid is the ironman map, it's the one with the most games played so far, it's most importantly a 3 player map which means that in the long term there will be someone in a more advantageous position, look to see both players try to go for fast vulture openings and in general more harass and less big army play to try to end things quickly,
Rush
I feel has better control should win.
At this point I'm convinced that
Rush
is winning the series 4-1 however in the interest of being through.

Nemesis
being this late means that is a game winning map expect proxies, the map is made for it, nobody likes to play long games on it.

Butter
is all going to be about how to control the bases on the left side of the map.
Rush
had a great match against
Light
, it's likely that he's learned his lessons from that loss.
All in all this is about cementing a legacy for
Rush
, to become the Champion, to become the player with the most individual wins in an ASL, to become the best Terran, to become the best player.
Rush to win 4-1!
---
Writers: BLinD-RawR, BisuDagger
Graphics: v1, BLinD-RawR
Editors: BLinD-RawR