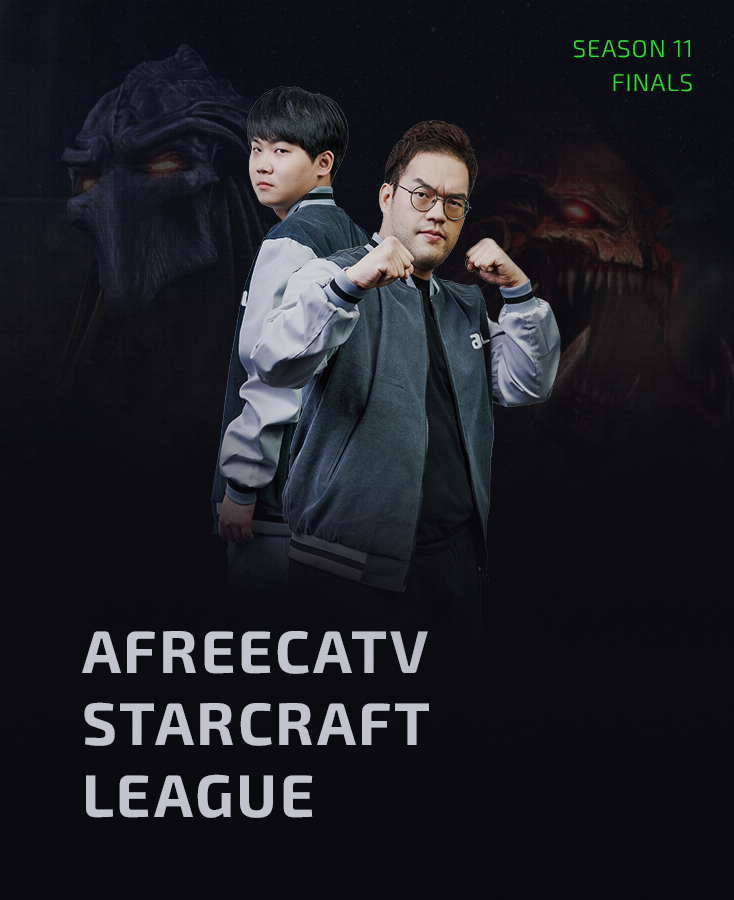 Its been a long time since we've seen two first time finalists in the ASL, but with the departure of Flash in the army we've come to a new era of ASL and Starcraft as a whole, Larva the long time verteran making his first big offline finals in 9 years and Mini the one korean fans dub the "pervert protoss" for his wild and wacky builds, the king of momentum and his momentum is going strong right now.



Big Shot
Larva
is a lot of things, a hell of an entertainer, passionate starcraft player, a father, but what hes never been is a Champion.
In fact the last time I saw Larva come this close to major championship gold in Korea was in the first ever major offline finals since the end TVing OSL 2012 and the end of the KeSPA Era, in the finals of SSL7 against Killer all the way back in December 2012, its been a long 9 years and a few good ASL runs in them, but this is the first time he's been to the finals since then.
Twice before he's made it to the Ro4 but never further, both times it was ZvZ, falling to hero in a close series back in ASL4 and then again last season in ASL10 against ZerO who eventually went on to win the season and now finally in ASL11 he beats hero to make it here to face off against Mini, his odds are on paper really good but its a matter of momentum here and what Mini showed against ZerO in their semifinal match is easily one of the most confident plays imaginable one that I imagine Larva has done everything he possibly could to scout it out because Mini isn't going be doing much of that himself.
Offline in this season alone Larva has taken out the 2 topmost protoss sitting on the sponbbang rankings, Bisu and Larva in their Ro16 group, both being big and mostly decisive victories for him, but lets look at his online PvZ from sponbbang(stats taken from April onwards)
Vs
Stork
7-1(87.5%)
Vs
Shuttle
35-10(77.8%)
Vs
free
3-1(75.0%)
Vs
Mini 35-19(64.8%)
Vs
BeSt
15-11(57.7%)
Vs
Snow
12-13(48.0%)
Vs
Bisu
15-20(42.9%)
Additionally he also has one game against huro, taking the overall winrate against protoss at 62.1%.
A winrate above 60% in a matchup is a big deal and outside of having some form of mental block against Bisu, maybe from all the years of torturous training from the T1 house. Regardless he did beat him to get here, and having a winning record against almost everyone else shows how hes versatile in the matchup.
Versatility is absolutely crucial when it comes to dealing with a player like mini, where ZerO is solid and is very capable of getting things done, he's slow to adapt his gameplan in a series, Larva can abandon his plans with reckless abandon and its backfired on him several times as well but its also served him well like against rain in ASL4 to just do things differently.
I won't go into the maps on my side of the preview, TaardadAiel does a good job on the overall for that so scroll down for it. I will say I agree with him that Ascension is a fruity pick for Larva to make at the 4th game spot, I'd assume he'd take Ultimate Stream because of how good he plays against protoss on that map, but I guess it doesn't seem like he had many options overall
When you're in a series against Mini as a zerg you have to concede the fact that you're playing at his pace at the start, hes not one to sit back and get hydra'd to death by the dreaded sh spam. But their history and why larva has such a good win record against Mini is that Larva just manages to survive everything Mini throws at him in the early game and take control the rest of the game, now that Mini has shown his hand with these no scout plays, its on Larva to show how to figure them out, would he just as blindly go 12 hatch in every one of these games, Larva on paper online has him pinned and figured out, can he just do it on the final stage of the ASL, I think he will and I don't think we'll see that game on fighting spirit either this series.
Larva takes the crown 4-2!

Take Two
If anyone had put money on
Mini
being a title contender before the beginning of the season, he probably would've been laughed at or at the very least considered a gambling addict. Mini's issues with consistency and mental fortitude in big matches are the stuff of legend now, but he managed to collect himself again and give the title run another go.
Let's not forget, Mini is an ASL runner-up (and he was a KSL runner-up in the same year), he reached top 4 in ASL5 and can be a real menace on a good day. In fact, this is the second time he eliminated the defending champion - a Zerg - in the semis to reach the grand finals; he and Effort produced a real thriller back in ASL7. In ASL5 he defeated a top4 finisher, larva, 3-0 (I won't indulge into map balance discussions about that particular tournament) who had a really sick run in the previous season where he was one game away from reaching the finals.
And now the two meet again. Mini's huge ASL7 run ended with a loss to Last, in Mini's inarguably worst matchup, but his PvZ is something else and it really looks like this time around he has a real chance at the title. He's long been considered a PvZ expert despite some hiccups here and there, but those have been considered just Mini things. Nobody really questioned his talent or understanding of this particular matchup and most of the criticism was in the form cries of frustration at his inconsistency.
He was in fact eliminated by Zerg players in the past two ASL seasons and lost two of three games he's played against larva after that spectacular 3-0 in ASL5. First hints that he had again managed to hit his stride appeared in his group match against defending back-to-back champion ZerO, which he won 2-1 despite losing a game in a way that would've tilted old Mini beyond the point of offering meaningful resistance. He made (really) short work of Best in a one-sided Ro8 match and after this brief detour from PvZ had to face ZerO again in the semis. He then proceeded to lose the first game and pretty much everyone was convinced this was the beginning of the downward spiral, especially considering his tendency to crack under pressure. What followed will probably be remembered as the biggest upset in that particular matchup since Bisu demolished SaviOr and basically invented modern PvZ. This is not to say that the impact of the meta shift is the same, but rather that the end result was just as surprising. Through clever build order optimization, mind games and completely jumbled timings (it IS in fact a meta shift, probably just temporary) Mini made the defending champion, regarded as an unstoppable ZvP monster, look helpless and frustrated. Yes, he did appear shaky and TL posters reported he appeared shaky on stream for a while now, too, but nevertheless, it was a huge upset.
I started out this piece with Mini being a perpetual underdog. To try and add some substance to that statement, let's look at some sponbbang stats besides his reputation for choking. I decided to expand the timeframe all the way back to April since that's when the maps for the ASL were announced (it was the end of March, I think) and the players started figuring them out in anticipation of the new season.
vs
EffOrt
: 3-7
vs
Larva: 19-35
vs
hero
: 11-14
vs
Soulkey
: 5-4
vs
ZerO
: 3-2
vs
Soma
: 17-8
vs
Action
: 5-1
With the addition of 6 more wins and no losses against
ggaemo
and
MIsO
, this brings his total win rate in the matchup to 49.3%. And those are rookie numbers.
If we look at May alone, the picture is completely different. A 63.9% win rate - over a much smaller sample size by default - and a 3-1 score against larva. I gotta say, though, I watched those four games and they were all really close.
Did Mini suddenly get better in May? Did he need time to figure the maps out? Is this just a statistical anomaly that does not reflect reality in any way? As always, those are difficult questions to answer, but what he did to ZerO in the semis is more in line with the latter statistic.
It was a testament to Mini's understanding of the matchup. He is widely known for his aggressive playstyle, relying on superb probe and zealot micro on both offense and defense, sharp tactical maneuvers and a penchant for hiding Corsairs on the map in preparation for incisive timing attacks. He's more likely than the average Protoss to throw a double proxy gate in the mix, too. What he showed in the semis, however, was contrary to conventional PvZ wisdom - that the first scouting probe is one of the most important units in the game. This innovative no-scout style that completely changes the timings that Protoss can abuse is a new weapon in the arsenal and makes preparing against Mini really difficult. Combined with the recent resurgence of nexus-first builds, he can choose from a variety of openers and adjust his timings for a variety of follow-up strategies. Heck, I half-expect him to try and pull off a Reaver-Shuttle build just to mix it up as much as possible.
And I'll be really disappointed if I don't see a Dark Archon in a bo7.
Regarding maps, Mini picked Polypoid, Hidden Track and Polaris Rhapsody, whereas larva picked Eclipse, Ascension and Ultimate Stream. Fighting Spirit is the default 7th map, if it comes to that.
Polypoid is the standard map of the current meta, a 4-player map that might lend itself to larva's dreaded turtle "scumbag-Zerg" style. It is slightly skewed in favour of Zerg (as most maps appear due to recent Zerg dominance) and Mini's personal statistics on it don't differ - a 46% win rate in the matchup for the time period and a dismal 1-10 record against larva. As was the case with the semi-final match, Mini probably picked this map to get it out of the way earlier as opposed to later. He still might have something special planned for larva, I'd expect a more straightforward game or maybe a no-scout build to lull larva into a false sense of having Mini figured out.
Eclipse is a good pick for larva, Mini's 43.8% total PvZ record and 3-6 against larva doesn't bode too well for him, although we'll see most maps have similar records - Mini was 19-35 against this particular opponent. It's otherwise a decent map for our Protoss hero and his preferred abusive style where he can mess with the Zerg build timings and expansion pattern by probe harass, offensive Pylons and the like.
Hidden Track is another matter. We saw a somewhat standard game on that map against ZerO, where Mini lost, and he has a 33% win rate in the matchup - although he's tied 3-3 with larva in the same time period. It looks to me as a more than decent map to abuse Mutalisks, something larva loves to do and excels at, so I feel like Mini definitely has something planned to pick the map himself.
Ascension is a strange pick for larva. This is the most Protoss-favored map in the pool, Mini himself has a positive win rate there and a 5-3 record against larva. The low-ground main and natural are certainly conducive to aerial or drop play and larva probably has something in store after picking that map, either as a mind-game or a dedicated build.
Polaris Rhapsody is the other somewhat Protoss-favored map and Mini's best one as far as stats go. He's won two thirds of the PvZs he's played on that map and manages to break even 3-3 with larva; a dynamic map where the third gas for Zerg is an issue due to the map circulation. Again, we might see a bunch of mutas as Zerg strives for map control.
Ultimate Stream on the other hand is larva's most obvious map pick. Undoubtedly the best Zerg map in the pool and Mini's stats reflect that - 38% and 2-7 vs larva. Should the game enter the later stages, larva is at a definite advantage; I think Mini will go for a dedicated build to end the game comparatively quickly - should it be played.
Fighting Spirit is the last map and, being Fighting Spirit and all, is fairly balanced (read: figured out) both in general and for the players themselves. I don't know if larva would want to opt for a exhausting macro game in the seventh set of the grand finals, but it's a fairly good map for his trademark turtle style, as we saw way back in ASL4 vs Rain.
All in all, conventional wisdom would state Mini's innate aggression would have to overcome larva's solid defense and macro prowess. Mini's macro tends to slacken as he puts emphasis on army management and multi-pronged attacks - four-digit mineral counts are not uncommon when he plays. Whether or not larva might steer the game in the direction where his macro superiority would give him a definite advantage is, of course, a matter of pure speculation. I'd say Mini has the upper hand in early management, but build order optimizations and mind games from both sides will play a key part as they did vs ZerO.
I won't fool anybody here that my final prediction won't be heavily influenced by personal preference. After two consecutive Zerg champions and a ZvZ finals to boot, some change is welcome. However, larva will be a considerably tougher nut to crack for Mini because of his robust playstyle that can accommodate for significant early disadvantage - in every one of those games I watched on stream Mini dealt serious amounts of damage in the first 7-8 minutes and still larva hung on. On that note, some have noticed how ZerO's sunken timings were always a bit late when Mini pushed - I noticed the same thing with larva; somehow Mini manages to hit a certain soft spot with his pushes. I wonder if that will prove enough.
Nevertheless, my feeling is that despite the somewhat lopsided statistics and stylistic difficulties, Mini has more than a fighting chance for his first title.
Mini takes the crown 4-1!
---
Writers: BLinD-RawR, TaardadAiel
Graphics: v1
Editors: BLinD-RawR