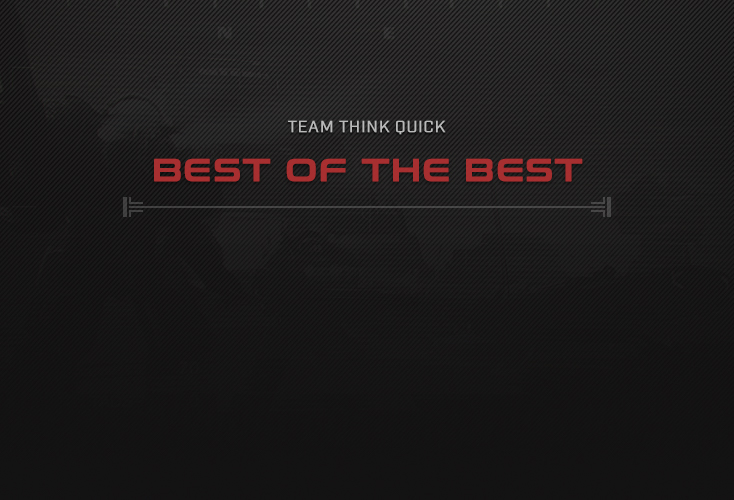 Intro
Well, it's been a marathon of an event. Three months, 66 showmatches, 330 games, 55 per player. I don't think anyone realized just how big this event was going to be when it started or what it would do for the foreign scene. From my perspective as a casual viewer who recently came back to StarCraft it has done more than any other event to showcase some of the top non-Korean players, their idiosyncrasies, strengths, and position in the scene relative to each other. While everyone loves the big events of the foreign scene, BSL and RCG among others, tournaments are high variance events and can depend heavily on who you get drawn against, the tournament format, and your condition on a given day. BBT asked the players to demonstrate a different set of skills with players playing all matchups and being tested mostly on their stability and consistency.
For me it's added additional depth to all the names, they're no longer interchangeable, for many of them I now feel like I could guess who was playing from replays with barcode IDs. That Protoss with the insane macro who let lings into his base early game and went dragoon range when his scout probe got denied before confirming if hydra or lair, that's OyA. The Terran who always gets a scv scout in as the lair finishes TvZ and who makes valkyries in every matchup, that's VOddy. The forward 8 rax 1-1-1 TvZ build with the slickest transitions, that's TerrOr. Non-Korean StarCraft isn't perfect but for me it's that lack of perfection, the strengths and weaknesses that each player brings to their play, that gives it so much personality. All of the players in this event are extremely strong in their own right but they're not all strong in the same ways and this event, testing every matchup on a variety of maps against different players, was the perfect venue to show what they could do.
The full event playlist can be seen
here
.
Results
If the winner of this surprises you then you've not been paying much attention lately. In an event that tests the ability to deliver wins in all matchups, day after day, it's no surprise that Dewalt, the foreign king of the ladder, comes out on top. Of his 11 series he went 5-0 in 6 of them.
Bonyth coming in second was also not too surprising, except to those who expected him to come first. He had strong victories in all of his PvP but dropped closely contested series to Sziky, Koget, and Dandy in his other matchups. With a 67% winrate against such a strong field and having played so many of his games live at irregular hours after other events it was an extremely impressive showing. We're all grateful for him to committing to this event while juggling so many other commitments, both within the StarCraft scene and in the rest of his life.
trutaCz taking third place surprised me, but in retrospect it probably shouldn't have. I missed the years of trutaCz dominance and didn't know what to expect when I first started casting this event. It was clear from the start though that he was a force to be reckoned with, losing series only to OyA, Dewalt, Bonyth and Dandy. He was quoted as having said "I do not lose ZvZ" and his 14-1 record in the matchup is the best matchup record of any player in the event.
The next few players on the list should surprise no-one as they're all household names. Dandy is a monster with 2nd place in RCG2020 (after knocking out Bonyth), Terror took 2nd place BSL season 11, OyA 3rd place BSL season 11, and so forth. They're top level players with consistent results to show for it. They played a lot of great series, took some impressive wins, and showed why their names command the respect we give them.
But even as we approach the bottom of the list it's clear that everyone in this event was good enough to be there. For Dewalt to maintain his obscene 78% winrate other players need to lose but even StRyKeR, coming in in 12th place, took games from Dewalt, Bonyth, Dandy, and TerrOr among others and has proven that he can play on their level.
Credits
We all owe thanks to ox[tQ] for putting on this event, the sponsors who funded it (especially myfleetingdream, Esports Fund, and crvt), the players who showed up week after week, the organizers, community volunteer casters, graphics designers, editors, and, of course, the viewers. You all made this event happen. When ox first mentioned to me that he wanted to build a showmatch series out of nothing I gave him nothing but cynicism. The effort involved seemed far greater than anyone would reasonably be willing to put into a passion project for a 21 year old game. I didn't believe he'd stick with it, or that he'd find players to play in it, or that anyone would watch. Through a combination of sacrifice (countless hours and a lot of his own money) and sheer force of will ox conjured an event into existence and I can honestly say it's been more fun than anything else I've participated in within the StarCraft scene. Thank you.

---