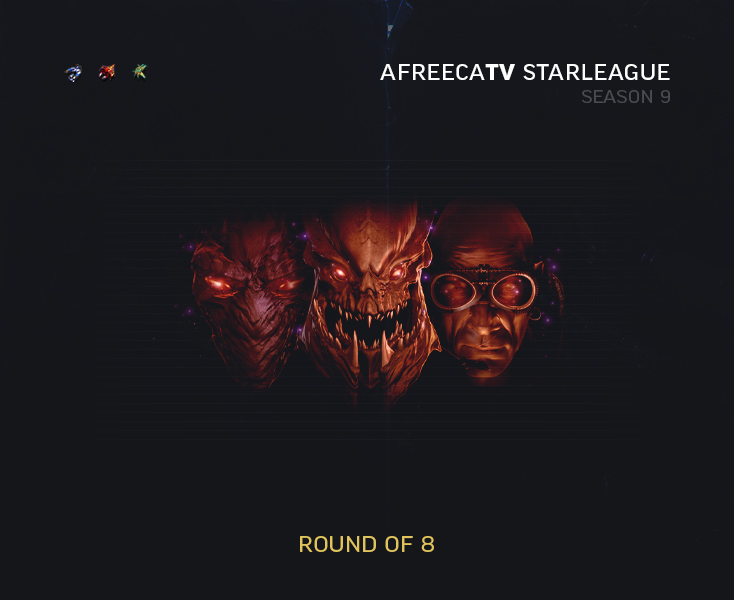 I mentioned that the Ro24 was a bit underwhelming (aside from upsets), but I think it's fair to say that the Ro16 delivered. Flash did a speedrun through an all Terran group, Larva put on an incredible ZvP show against both Stork and Snow, Brain played some inspiring games, and Bisu and Zero showed why they're still on top. It's been a wild journey, and I think I speak for everyone when I say that we're lucky.

The Ro8 has some great names in it, and we're super excited to get into it! As always, the narrative defaults to "who can beat Flash?" But I think this time around we have some real contenders, and the next few weeks are going to be a blast!



Table of contents

Wayback Machine
Around this time a decade ago, back when there was not only a Proleague, but a 12 team Proleague, we had two aces. On one side, we had Flash spearheading KT's meteoric rise to first place on the standings, and on the other side way down in just barely 10th place was eSTRO, where Action did his absolute best to pick up the pace for the team. He was noticed especially after the game vs Flash on Roadrunner.

Action's coming out party...he may not have won,
but this was when everyone took notice of his capabilities.
By the end of the year, eSTRO disbanded and Action ended up drafted into KT. He became one of the cornerstones of KT's 10-11 Proleague runs, but this meant that Flash and Action couldn't face each other again until the Tving OSL in 2012. Flash managed to get through Action in the regular round robin and the tiebreakers in their Ro16 group, and that was it. Action has yet to win in a televised match against Flash, but will that change now in 2020?
Flash...what is there to say about him that hasn't been said into perpetuity by people more in the know than I am? His sponbbang is only worth reporting when hes not #1, and right now hes pretty firmly #1 as usual. But it should be noted that his match count is significantly lower than everyone else's (but that's not much of a factor to anyone when you have that 70% win rate). Flash just "knows". It's as simple as that. He just knows the ins and outs of the matchup. He asks himself the right questions at the right time, knows the timings of what his opponents could be doing, and prepares for them accordingly. If Action doesn't step up and bring everything he's got, it's going to be as one sided as any other Flash series out there.
Action has always been about pushing towards getting to Hive tech. That's always been his zone, and his unconventional builds get him there. Looking back to Action's Ro8 series against Sharp last season, his play was sloppy but it did shed some light on Actions preparation for the bracket stage. Execution is easy to understand and not difficult for a player of his caliber to fix. Knowing the maps in advance, he will probably find his own secret ways to cut corners with his strats. Because in a straight up standard game, he will get eaten alive by Flash.
Players believe the maps favor Zerg the most this season, and the results speak for that with four Zergs making it to the Ro8 with overall good performance.
Based on practice from Action, I would say hes very happy with the map set. He's done fairly well on stream and sponmatches with Horizon Lunar Colony and Escalade, which are his first two sets. Neo Sylphid, despite being a 3 player map, definitely feels like the more standard map, especially since its the third season (fourth if you count the original iteration) for its run, doesn't favor Action all that much. But I suspect that he will try some unorthodox expansion pattern especially take the high ground in front of the main as a third instead of the other main. The longer the series goes, the worse off Action will be, especially with Match Point and Hitchhiker, where expanding and holding bases is a bit more challenging against Flash, on the back end.
Flash
>
Action
on

Horizon Lunar Colony
Flash
<
Action
on

Escalade
Flash
>
Action
on

Neo Sylphid
Flash
>
Action
on

Match Point
Flash >
Action on

Hitchhiker
Flash advances to the Ro4 3-1!

The Art of Shadowboxing
Our second match of the Ro8 includes two strange cases. What makes them so unique is that their online results tell a different story from what we see on the big screen.
Larva's story is fascinating. Originally a Kespa-era B-teamer, Larva didn't really get much recognition until the Sonic era, and by that time he was better known for his online shenanigans rather than his actual skill. For a long time, he was just a streamer, but then something interesting happened.
In late 2017, Larva inexplicably began an insane practice regimen of 10-12 hours a day against the best players in the world (namely Flash and Last) and got smashed over and over and over, for months. At the end of this grueling gauntlet of defeat and show of public sorrow and frustration on stream, he actually became...a pretty good player. From late 2017 to mid 2018, Larva became a real contender for any crown by dispatching reputable players like Rain, effort, Best, and Last left and right. In fact, he actually won the DanJJING StarLeague, a major online tournament, back to back in Seasons 2 and 3.

These videos should be kept for all of posterity
Ironically, Larva maintained a relatively low sponbbang win rate through this time period. Even now, he is the only top 10 elo player on Sponbbang who maintains a sub-50% win rate for this month (granted, he's also played the most games by far). His overall results for ZvP in March are 58-75 (43.6%), but we saw what sort of damage he inflicted on his Protoss opponents in the Ro24 and how dangerous he appeared.
It should be mentioned that he has been in a fairly noticeable slump for the past year. I suspect that having a young child to take care of and bladder cancer pulled him away from the spotlight quite a bit, and rightly so. But it seems like he's returning to the fray once more, and he's been fairly successful thus far.
It seems clear what sort of person Larva is. He'll never turn down a challenge, no matter how difficult. He's willing to get his face smashed in over and over, and eventually he turns those lessons into results on the big stage.
---
Zero has the opposite problem. For the past half year since he got back from the military, he's been an online menace but unable to translate those results into an offline atmosphere. If you look at his performance from home, Zero is undoubtedly the best Zerg in the world at the moment. Hands down. It's not even close.
At the time of writing, Zero is currently in third place on Sponbbang on the heels of Light with an overall win record of 74-46 (69.7%) in March. He maintains an insane win rate above 70% in ZvP and ZvZ, and even though his ZvT sits relatively lower at 63%, most of his losses have unsurprisingly come from Flash and Light. If you tune into his stream at any moment in time, you're likely to see him destroying his opponents with superior macro, micro, and timing in some of the most humiliating ways.
Yet, if we look at his offline results, they're not great. His KSL3 and KSL4 runs were nothing short of disappointing, with struggles against players like Sharp and Hyuk as well as losses to Best and Rain. Even the Ro24 in ASL9, in the weirdest group where BarrackS of all players advanced first, Zero looked really shaky and barely made it out. In fact, he looked so bad that many TL netizens claimed it was ludicrous for him to make it out over Bisu, Best, and Sharp in the Ro16.
But then he did. He just rolled over Bisu and Best in Group D(eath) without much of a problem. For the first time since his return, we're starting to get a glimpse of Zero's form in a live setting, but it can't just be for one group or one day. The real test is here in the Ro8.
---
And now they face each other in the ASL. They have a few sponmatches between them with an overall record of 3-1 in favor of Zero, so tip of the hat to Zero...but it's not exactly a direct confirmation of who's going to win.
Both players seem to like weird, scrappy games, but Zero has the mechanics and innovation to follow through during odd scenarios. Zero makes low economy games look refined somehow, as if he flowcharted through every possible scenario before the game. Larva's style has a much more seat-of-your-pants, it's-gonna-be-a-bumpy-ride feel to it, but he shines in crisis management. Where other players would get overwhelmed with too many things going on, Larva seems to always have just barely enough to defend everywhere at once, and that's a valuable asset in ZvZ when lings are running everywhere and muta/scourge battles are taking place simultaneously.

An example of how crazy ZvZ can get
With Zero, there's always a chance for Hive tech ZvZ. It's a pipe dream, but in the event that we somehow get to that point, I imagine that Larva's roach-like tenacity will kick into overdrive. Zero probably has more experience with late game ZvZ than any other Zerg player out there, but strange games of defiler/muta chicken combined with single ling runbys and one mining base with 6 spores sounds like a situation Larva would be comfortable in. And if we somehow do manage to make it to a Game 5 on Inner Coven....
Head to head, Zero seems the clear favorite on paper. But it's still a ZvZ. This matchup is notoriously difficult to predict, and I'm not super thrilled that I have to be the one to try to predict it. But I can say this: whoever gains momentum in the series will be pushing it forward to a series win. The first map is going to be crucial, and whoever wins that will be able to dictate the pace of the rest of the games.
I'm going with my head on this one: Zero takes the win in style.
ZerO
>
Larva
on

Escalade
ZerO
>
Larva
on

Horizon Lunar Colony
ZerO
>
Larva
on

Neo Sylphid
ZerO >
Larva on

Polypoid
ZerO >
Larva on

Inner Coven
ZerO advances to the Ro4 3-0!
---