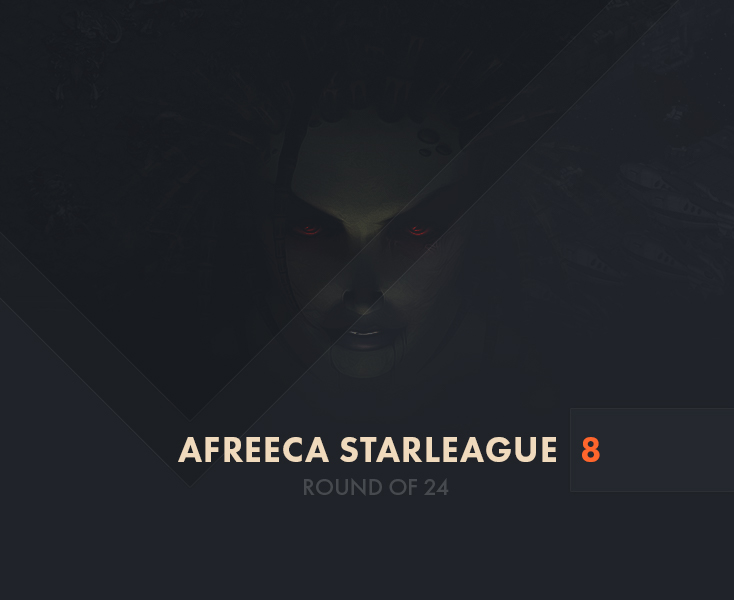 Oh boy, what a tournament ASL8 has been so far. Sacsri with a win over Flash? Jaedong knocked out by ZeLoT? Soulkey knocked down to second place by Action? What world do we live in? If you missed out on any of the games, be sure to check out
Frudgey
's highlight videos.
Week 3 promises to keep the crazy upsets going with wildly variable players. Who will come out on top this week? Will it be the expected favorites like Best, Sharp, and Stork? Or will luck and caprice prevail and give us group toppers like Calm or Where? With this season of ASL, there's really no telling! In any case, let's get down to the predictions!
Table of contents


Riding the Wave


Sharp is possibly one of the most consistent players in Korea in terms of overall results with solid performances all across the board. He's participated in every single ASL tournament (including the VANT36.5 National Starleague) save for ASL3, and his best result to date is a second place finish all the way back in ASL1 in September 2016. Sharp has likewise participated in all three seasons of the KSL and came just one series short of taking home the trophy against Soulkey in KSL2.

Sitting at a reputable 26-17 map score in sponmatches in July, Sharp does however seem to trail a little in the TvZ matchup. That is something worth bearing in mind given the two Zergs in Group E. The metagame seems to have shifted in favor of Zerg quite considerably due to a strong resurgence of burrow play in the early stages of the game, and that's a problem for Sharp, who often requires one extra game in a series to adjust to his opponents. The Bo1 format unceremoniously denies that privilege.

On the other hand, Calm is coming off an impressive quarterfinal run in ASL7 and slowly but surely becoming a force to be reckoned with. Whilst his sponbbang record is looking rather unimpressive with a 46.4% win rate in July, Calm has proven he has what it takes to play with the big boys. I dare guess I wasn't the only one to think his future was looking bleak when Calm was drafted into the same Ro16 group in ASL7 as Snow, Last, and Soulkey. And yet, somehow, someway, the ex-STX Zerg not only advanced to the playoffs...he did so in first place! The unforgiving Bo1 format employed by AfreecaTV in their league allows for these crazy storylines to develop each and every season, and I'm sure this iteration of the ASL isn't going to disappoint in that department.

Then there's Hyuk. Correct me if I'm wrong, but I don't believe Hyuk has played a single televised match since SSL11 in the summer of 2015. This season is the first time he's qualified for the ASL, and he hasn't appeared in the KSL nor in any of the standalone tours that we've had over the last few years. Hyuk also happens to be the lowest ranked sponbbang player in group E...I think you know where I'm going with this.

Stork's most impressive ASL showing to date is his quarterfinal run from ASL2 all the way back in early 2017. That was just over two months after the dissolution of Proleague and several KeSPA teams. It was a move that rocked the very foundations of professional StarCraft II and forced numerous professionals to drop their trade and look for a livelihood elsewhere. Stork, having likewise been made redundant by Samsung Galaxy, for whom he'd worked in a player/coach, chose to return to the game that launched his career and turned him into the icon he is today. And if roughly two months is sufficient time for Stork to get back in shape so much so that he reaches the top 8 of a StarLeague event, surely he'll make it back all the way to the top in due time, right? Well, we're still waiting to find out.

Stork's ASL2 run finally came to an end at the hands of Jaedong, who went on to take on Flash in a real slobberknocker of a TvZ. Things, however, took a real downturn in the following season, where Stork's tournament life was cut short in the Ro24 by Pusan and Guemchi. Narrowly making it out of the Ro24 in ASL4, Stork landed in a group of death alongside Soulkey, Rain, and Jaedong, and once again failed to match his ASL2 performance. Stork followed up with another Ro16 finish in ASL5 and an even poorer showing in ASL6, falling to Mong and EffOrt in the Ro24, and then missed out on the most recent season of the AfreecaTV StarLeague all together. Things are likewise questionable for his KSL performances: two PvP losses in the opening round of KSL1 and a failure to get through the qualifiers for KSL2.

But then everything changed in KSL3. Stork advanced out of the Ro16 in second place with 3-0 victories over both Jaedong and Last (having lost the opening match to reigning champion Rain), took another 3-0 over BeSt in the quarterfinals, and then finally ran into a wall against Mini. Stork seems to be finally coming into his own in the current landscape of professional Brood War, and he's gained a lot of momentum he'd best not lose now. Ride the wave, Stork, ride the wave!


Prediction:

Sharp > Hyuk on Multiverse
Stork > Calm on Multiverse
Sharp < Stork on Neo Sylphid
Hyuk < Calm on Neo Sylphid
Sharp < Calm on Neo Ground Zero

Stork and Calm advance to the Ro16!




Upset Bonanza
As of late, professional Brood War looks like it's trying very hard to turn on its head. With a bunch of big names going to the military and sudden surges or declines in form, there's been a significant influx of new blood and shifting of layers. This has inevitably led to upsets being so common that they should stop being called upsets. Group F is no exception in its upset potential. Spearheaded by a convenient favorite and three players that tend to produce unexpected results, there's no telling what could happen.
Best, the group's frontrunner on paper, returns this ASL again in hopes of the top finish that has eluded him ever since ASL2. He's basically the pinnacle of macro Protoss evolution and is considered a Protoss versus Terran specialist. His online win rates confirm this with a steady 60-65% against everyone except Flash and Last.
This is not good news for his Terran adversary and group underdog, JyJ. JyJ has improved lately to qualify for back-to-back tournaments while notably eliminating Snow 2-0 in the qualifiers for KSL2, but he has yet to win a match in the group stage. His online stats of 51.9% versus Protoss since June are not too reassuring either. Best should be considered the definite favorite to win, but he should not underestimate his less experienced opponent, lest he become another headline in the upset bonanza. Multiverse is a funny map with some luck involved in the starting positions, and JyJ should come prepared.
The other starting match is something of an opportunity for Terran veteran Light (after a brief stint playing Protoss) to redeem himself after a series of unexpected early exits versus Zerg. His failures against ggaemo, Modesty, and Where (his opponent again this week) seem to come from absolutely disastrous build order losses. Maybe he just hasn't adapted to the evolving world of TvZ yet.
He's been as tenacious as ever online, however, with win rates in non-mirror matchups above 65% on all maps with fairly large sample sizes of more than 150 games each month. He did lose 0-2 to Sacsri in the Seoul qualifier final, but in light of Sacsri's match versus Flash, this is not the upset it would have been mere months ago.
Where, for his part, is the complete opposite: he has zero sponmatches played since June, so it seems he's preparing his abusive builds in secret. His win against Snow and subsequent loss to Ample in their KSL3 group showed again that despite being dangerous early on, if Where fails at his initial aggression, he seems somewhat lost in a longer game. Multiverse is a map that is conducive to the funky plays he prefers, but Light is no doubt aware of the possibilities and I certainly hope he has learned from his past mistakes. It might come down to luck with positions and Light keeping his nerve, but I expect him to redeem himself and advance to the winners match.
Best versus Light on Neo Sylphid could be a funny match. Both players excel mechanically and have very strong macro, Best probably more so. But the map's flat nature and somewhat wider natural choke provide opportunity for early aggressive builds. Best lost to Sharp's brilliant tactics on Sylphid last season, but otherwise there are few results to help predict this matchup. Best can reasonably be expected to try to force the game to the Verdun-scale battles of attrition he excels at whereas Light might very well try to turn up the heat at any moment and opt out of the classic 2-1 push. I consider Best the favorite here by a small margin, but a Light win is not at all impossible.
The losers match should pit JyJ versus Where. The two faced before in the ASL7 losers match, and the Zerg player prevailed. Offline experience and general deviousness are on Where's side, but JyJ will definitely come prepared. Online statistics are not on his side, however, as he struggles to keep a positive win rate in the matchup. He currently sits at an unconvincing 45.6% since June, and while he did defeat ggaemo 2-0 in the Jeonju qualifier, Where overcame ForGG equally convincingly in Seoul. All in all, in the cutthroat ASL format, players like Where have an edge. Should JyJ navigate his way out of his opponent's aggression early on, he might have a decent chance at advancing to the final match, but still he should be considered the underdog.
A rematch between Light and Where does not at all seem out of place for a final match in group F. Standard rules apply for Where—he could easily take the game with a special build and a slip from Light—but Light has a convincing 69% win percentage on Neo Ground Zero and a definite advantage. Assuming no shenanigans, expect Light to qualify to the Ro16.
Prediction:
Best
> JyJ
Light
> Where
Best
> Light
JyJ <
WhereLight
> Where
Best and
Light advance to the Ro16!
---