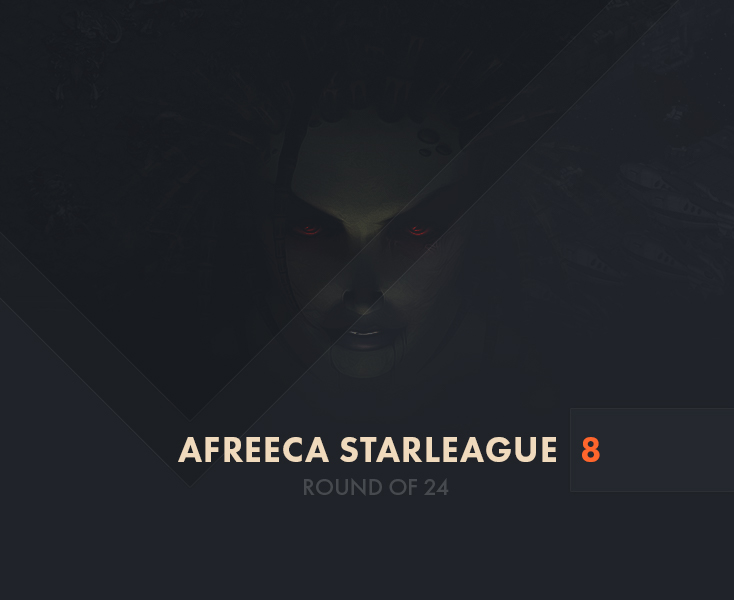 We're back with more ASL action! Week 1 of Season 8 was, well...interesting. The Ro24 is never pretty, but last week's games turned it up to a new level of messy with several upsets and wonky all-ins. All at once, the games were heart-wrenching, hilarious, disappointing, and exciting.

This week, however, promises (on paper) to be a little more predictable. With ASL regulars like Snow, Soulkey, and Jaedong, we're likely to see more consistent results. But never count on consistency. Either way, we'll have a blast watching the games this week! If you missed out on last week's games, check out Frudgey's fantastic highlights and banter videos below, featuring Cadenzie at the casting desk!




Table of contents


Jae-Ssang and the ZeLot in the Snow
Group C in an eclectic group with several familiar faces and some interesting matchups. I'll always hold out hope for Jaedong...but I'm getting ahead of myself. Let's get on with the predictions.
Snow vs ZeLot on Multiverse
Snow is the top Protoss on sponbbang right now, and looking at his gameplay online, it really shows too. With over 150 sponbbang matches in the last month and more than half of them against Zerg—against which he has a 66% winrate—he's doing really good for someone who used to branded as a guy who was only good at PvT.
ZeLoT on the other hand, while active, has not been as active as Snow, and his PvT results have been less than stellar. However, ZeLoT has always been a scarier offline presence with his hardcore super cheesy win-stealing playstyle that he manages to pull off. He's an agent of chaos sent to completely wreck the Bo1 group stage predictions.
The design of Multiverse tells me that ZeLoT's standard style of play may not work to his favor, especially if both players are on the opposite sides of the wall. But even if they were, I would still give it to Snow who will probably take his cool and more collected play to victory.
Jaedong vs Jaehoon on Multiverse
Jae-Ssang Rok! What everyone has always wanted but they never knew about it, until now!
Jokes aside, Jaedong has decided to only play ZvP and barely anything else, and while he is winning more than he lost, its not by that much (28-21). However, a 50% winrate against Mini and Rain and 60% against Horang2 is certainly a boost in my confidence for Jaedong, at least against Jaehoon.
Jaehoon has almost the exact opposite record in his PvZ (21-27) in the last month with most of his notable victories against Hyuk and Killer. Jaehoon has his moments, but I don't have much confidence in him here. Expect Jaedong to take this game, how well he does it might drive how the rest of the group goes.
Winners Game: Snow vs Jaedong on Neo Sylphid
Sacsri beat Flash, and Snow isn't even close to as scary as Flash. Snow isn't unstoppable, and I want to believe in Jaedong…but realistically, Neo Sylphid has played out much better for Protoss in its history, and nothing in Snow's recent history suggest that he could suddenly have a win taken from him. Maybe Jaedong can learn the secrets to beat Snow from Soulkey...because Snow finds him impossible to beat right now. But probably not. Snow should win and advance here.
Losers Game: ZeLoT vs Jaehoon on Neo Sylphid
On paper, this just looks like a match for the enigma to show himself, but the game would have to go very long, which probably won't happen. Expect ZeLoT to take it in 11 minutes max.
Final Game: Jaedong vs ZeLoT on Neo Ground Zero
This is tough, Both players haven't been ZvZing a lot on sponbbang. Jaedong does have the advantage, though. He's had wins against ZerO, and ZeLoT doesn't look like hes been able to get a practice partner as good. However, what he does have is really good mutalisk control, and well, Jaedong has been in a position where his ASL run was on the line over a ZvZ and came up really short...but like I said, I'll always hold out hope for Jaedong.
Prediction:
Snow and
Jaedong advance to the Ro16!
A Hodgepodge of Skill
The opening rounds of tournaments are often characterized by a stark contrast between competitors with clear favorites in every group that stick out like a sore thumb. This season is no different, but the ASL proves time and time again that its cutthroat Bo1 format is just as tough to handle for the seasoned veterans of the scene as it as for the amateurs who barely squeeze into the group stage. Pair the unforgiving group stages with Afreeca's obsession with wonky maps, and you've got a recipe for upsets.
Looking at the lineup of Group D, there's yet again one name that stands out and shouts 'get out of my way!' : Soulkey, a former KSL champion who is currently the #2 ranked player ELO-wise in Korea. Nonetheless, Soulkey tends to underperform in the ruthless format employed in the ASL. Save for Season 3, SoulKey's ASL runs have so far been rather underwhelming in comparison to his sturdy performance in the KSL. There's a lot can go wrong on Tuesday. Suppose Ample gets a Terran-favored spawn in their opening match on Multiverse, comes out with a build tailored just for this one occasion, and knocks SoulKey down to the losers' match. Suppose Action falls to PianO in similar fashion and then gets that one lucky Scourge connection. That's all it takes, lads.
Having come back to Brood War in late 2017, Action has become a mainstay of both professional circuits in Korea...but nothing more. Nonetheless, what he lacks in results, he makes up for with sheer tenacity and an unrelenting will to practice and keep moving forward. At the time of writing, Action has 47 sponsored matches listed in his sponbbang.com profile in July. And it's been just four days. He's played 29 games against Terran almost exclusively on ASL8 maps, winning a staggering 82.8% of them. Given the caliber of the Terran players in his group, I dare say the statistics are clearly in his favor.
In the post-Kespa landscape, making ends meet as a StarCraft professional is quite the challenge. With no regular salary to fall back on, players have been forced to look for additional avenues of bringing home the bread. And while many treat streaming as a side gig, PianO seems to have embraced the career change to the detriment of his own skill. He organized his own online league not long ago, and his mokbang streams are not too rare of an occurance, PianO even does the odd drunk stream every now and then. Perhaps that's why we haven't seen him in any of the KSLs so far.
On the other hand, I'm willing to give him the benefit of the doubt. He returned from the military not too long ago and maybe he's still taking his time readjusting. After all, he did manage to make it into ASL7, where he somehow avoided getting stomped into oblivion after a 2.5 year long hiatus from offline appearances. On top of that, PianO is currently ranked 10th on sponbbang.com and generally remains relatively active online. I'd argue his chances would definitely be higher if he'd landed in a less Zerg-heavy group, though. As predictable as he is (or at least used to be... please play something other than SK Terran for once), I venture he'll be hard pressed to find success this coming Tuesday.
Ample is (at least in my book) the most peculiar case in this group. Although records indicate he played for KT Rolster towards the end of the Kespa era, he's only just now coming into his own, and the most recent season of the KSL bears testimony to that claim. Who could have predicted Ample would advance out of a double elimination Bo5 group over the likes of Shine, MIsO, and Snow, let alone in first place? While his TvP ended up proving to be about as reliable as Deutsche Bahn or ice cream machines at Maccy D's, a top 8 finish is not a result to turn one's nose up at. Ample did miss out on the last three seasons of the ASL, and his sponmatch results are looking rather shabby—nonetheless, he's proven he has what it takes to stir things up.
Prediction:
Soulkey
> Ample
Action
> PianO
Soulkey
> Action
Ample
> PianO
Action
> Ample
Soulkey and
Action advance to the Ro16!
---