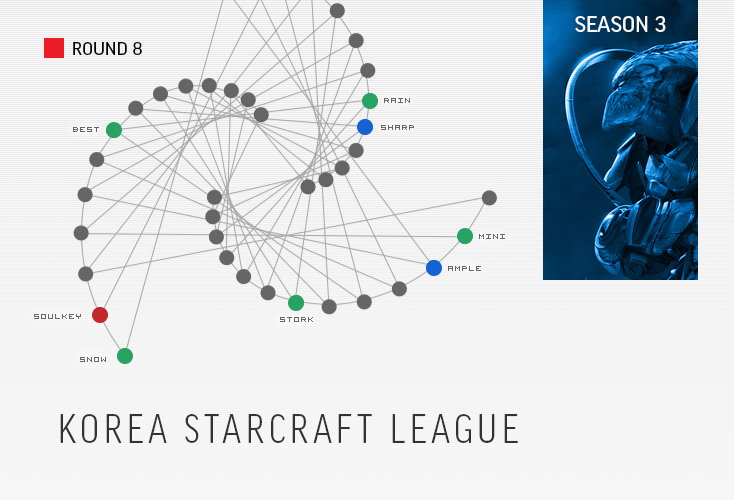 The Korean Starcraflt League Season 3 group stage has come to a close. The elimnation bracket is set and the race distribution...not so nice. Five Protoss players advanced, yet only one series will be a PvP. This is actually a story that has happened several times over the years. In previous KSLs, ASLs, SSLs, etc, protoss has found ways to dominate the bracket stage only for one protoss to advance to the semifinals. In just a few short days we will know whether this pattern remains true and if the crack TL writing staff can continue to make great predictions!

Here are the recaps from the final week of Ro16!







Press button to flip coin.
Stork
versus
Best
is a titan of a matchup, but before reading onward do one thing. Take that series of Stork versus Rain and dump it from your minds. It is impossible to feel the full weight of this matchup if you focus in on a tiny snapshot that does not represent Stork's career in PvP.
Stork was fielded in his first PvP back in September of 2004. He won his first match and continued on to win twelve of his first thirteen games. Stork has played more PvPs than any other player (219 games). He also has a dominating record against all the Protoss dragons, with the exception of his former teammate Jangbi. The stats are clear that Stork is arguably the most consistent and reliable PvPer of all time resting on his 61% overall winrate acros an entire decade.
Best may not have the gleaming resume that Stork boasts, but he can talk a big game as he is the holder of the longest win streak in Kespa history clocking in a streak of 16 wins. On top of that he does hold a 60% winrate versus Stork in the post-kespa era. If Stork is the Muhammed Ali of PvP, then BeSt is the Mike Tyson. In bursts, BeSt can the best of any Protoss player out there and that really applies to all matchups for him.
The maps really split well for each players strength. Stork is player who benefits from the longest possible walk ways between each base. He lacks the mechanical power and stamina these days to have long drawn out macro games but has the intelligence and creativity to play the shuttle harassment game. The advantage of long ground distances means that he can avoid heavy zealot or dragoon harassment for quite some time while he focuses on executing his game plan. He needs maps that will get him just barely to the mid-game, but not a moment further. Circuit Breakers, Fighting Spirit, and Eddy have been selected as Stork's forte maps.
Best conversely wants his games to go one of two ways. The first would be fast gateways into very aggressive dragoon attacks. He would benefit from superior micro and avoid even having to focus on expansions. Openers like 3 gate goon + obs can give him map control quick and never let Stork have any control of the game. Alternatively, he could also focus on strategies that take him to the late game knowing that Stork cannot keep up in macro and army movements. Maps that have easy to take naturals and largely on unobstructed ground pathway will allow BeSt to utilizes his strengths in the late game and pressure hard in the early game. BeSt's greatest opportunity to advance will be on the maps Medusa, Cross Game, and Colosseum.
The final map Overwatch is a nice mixture of all map charateristics. It's probably why it's a highly valued map that most Protoss players are comfortable playing on. Given that this is a best of five, BeSt knows Stork will be playing to outsmart him. In PvP, sometimes the best way to play is safe. If BeSt goes obs first builds, places good scouting pylons, and positions is dragoons well, then this series should be as good as his. Best also needs to watch out for manner pylons in his mineral line.
Final Prediction:
Best 3-1
Stork

The Royal Road of Sparks
While not technically his first premiere tournament,
Ample
's run so far in KSL3 certainly has all of the spirit and more of an incipient Royal Road. He's certainly commanded the spotlight as honorary Rookie of the Year by blazing his way into the Ro8. Have the sparks just about run out though?
Ample has fuelled his path off the underperforming backs of Miso and Shine. Now at the Ro8 there certainly won't be any excuses to be made of Ample's success because he's up against one of the best Protosses,
Mini
. This is after all the guy with a respectable 54% winrate vT in the past two months at #12, while Ample doesn't even register in the top 50 of the sponsored game rankings.
In addition, most of the maps including Overwatch, Colosseum, and Medusa are hard-hitters for Mini's abusive shuttle play. Overcoming Mini will demand of Ample a fighting stance that can take the punches and serve them back.
Unfortunately, Ample is more like a sandbag in that regard. Ample's TvP has always been plagued by his indecisiveness and rather dull, generic play. There's no stand-out quality to his macro, and he's been highly prone to meticulous aggression before. Getting picked apart is just a sight seen too often when watching Ample.
In that regard, Mini's level of toss abusiveness is what leaves doubt on whether or not Ample can handle the heat. His only hope would be Mini to make some crucial mistakes like his two prior Zerg opponents. Frankly, I don't see Mini crumbling under the pressure like he used to, especially when he prevented two reverse-sweeps against Effort, and most recently, Action.
All in all, it's just about high-time for this blaze of glory to burnout.
Prediction:
Mini 3-0
Ample

The Gauntlet
Snow
facing
Soulkey
in an elimination match feels somehow natural and satisfying beyond the fact that it's a high-stakes match between two amazing players. PvT monster Snow is apparently stuck with playing against Zerg and this time, it's going to be none other than reigning champion Soulkey, who is yet to face a Protoss player in the elimination stage of the KSL.
After seemingly overcoming his offline mirror match curse in the Ro8 against Larva, Soulkey capitalized on possessing mastery of the Zerg versus Terran matchup . He ruthlessly demolished then-defending champion Last 4:0 in the semi-finals of KSL season 2 and then comfortably took the final series against Sharp 4:1, earning himself his first premier tournament title that was arguably too long in coming. Indeed, Soulkey has long been one of the scariest opponents for practically everyone despite exiting tournaments comparatively early; but it's versus Protoss where his skills really shine, especially in the mid-to-late game with superb defence, macro and Defiler usage. Cunning and creativity, however, are what defines his rich, varied style, as Soulkey does not shy from throwing the occasional all-in or drop play into the mix. His ruthlessness is readily apparent from his online results: a ridiculous 71.4% win rate in the matchup since April, with positive balances against practically all the top Protoss players.
In the other corner we have Snow, who is apparently destined to play against Zerg time and again on the highest of stages - and he certainly does relish the opportunity to prove he's got what it takes. What was once considered his weakest matchup comprises roughly two-thirds of the huge amount of online games he plays and all this effort evidently pays off, as he sports a fairly respectable 58.9% win rate since April. Even though Snow came back to the big stage after famously eliminating Flash in ASL season 5, proving that he is a monster in PvT, it is Zerg players that have stood in his way in the KSL: he got eliminated by eventual finalist Jaedong in season 1 and after skipping a season, he had to play a total of 11 games in three bo5s against Miso (twice) and Shine to earn his Ro8 spot. To sum up, Snow did show us he likes to come prepared and we can really expect nothing less as tensions grow and opposition stiffens.
Snow and Soulkey do have something of a rivalry between them, dating back to the KESPA era as both players emerged at about the same time and had to face each other somewhat regularly. In the current era, however, they have played just one game in a big offine tournament - fairly recently, in ASL7, where Snow won with superb tactics and terrain abuse on Whiteout. Their most recent match was in the KCM race wars, though, where Snow won again after successfully defending against Soulkey's early mutalisk/scourge aggression. Other than those events, Snow has a negative recent online balance against Soulkey, winning four times in a total of nine games.
The opening map, which is Medusa, and both players' statistics lend themselves to speculation before the matchup. Soulkey has been undefeated online since April on Medusa, so Snow should definitely come prepared to defend against the myriad aggressive plays his opponent could throw at him. He played a stellar game against Miso in the decider match in their group, but facing Soulkey definitely raises the bar considerably. Assuming both players ban the map with the worst statistics, Soulkey should definitely ban Cross Game; Snow will probably want to avoid Circuit Breaker, as his opponent has not yet been defeated by a Protoss on that map in 2019 (which is outright ridiculous). Besides those two maps, statistics are skewed mostly in favor of the Zerg player, so Snow would probably need to win on Colosseum, Eddy and Overwatch if he fails to defend in the opening game. One thing going for Snow is that he apparently plays a ton of games with Action, who is possibly THE Zerg you would want to prepare with for a Bo5 with Soulkey.
All in all, this is going to be probably the hardest match Snow has had to play since eliminating Flash. Fresh from a win against Soulkey in the KCM and with huge amount of practice games, his situation does not seem hopeless as he continues to run the Zerg Gauntlet, but I feel this opponent has set the bar just too high for him to pass. Prediction:
Soulkey 3:1
Snow

Redemption
After last season's drama in seven sets,
Rain
and
Sharp
meet again in the elimination stage of the KSL as the former ASL champion is surely hungry for revenge against the reinvigorated Terran yogi.
Rain comes into the match fresh from having his (other) revenge with a solid 3:1 win against Last, even though he's reportedly in bad physical shape. Whereas in their previous encounter Last preferred to lean on his incredible macro and hit very tight timings, this time around the games were considerably more dynamic so Rain had to show off his immense tactical ability and small-scale control, besides squeezing in a perfectly weighted proxy gateway. He displayed commendable defensive play and all in all, Rain looked in fine shape against Last. His online results do not support such a statement at first glance, however: he sports a measly 44.7% winrate vs Terran since April in 47 games. The caveat is that half of his losses come from Flash (3-11) and Last (0-2), but still, those numbers are not too convincing.
His opposite number, Sharp, had to have his own revenge against Modesty in the elimination match and qualified to the Ro8 on the back of his arguably weakest matchup - Terran versus Zerg. Apparently, the finalist from last season is working hard to correct his deficiencies in the matchup and his efforts definitely did show; we haven't had the chance to see him play recently against Protoss in an offline tournament, however. His most recent offline match was an amazing game against Best on Neo Sylphid in ASL7, where he displayed the same tactical ability he's been known for, especially with MVP-winning science vessel usage. A quick look at his online statistics shows decent numbers - a very reasonable 60.9% winrate in the matchup since April, even though he doesn't have the best of records against the top Protoss players. Truth be told, he has clearly devoted the majority of his time on the versus Zerg matchup as 62% of his 256 games since April have been TvZ. Still, there is no doubt that a player of Sharp's caliber and work ethic is preparing for the match.
Sharp has turned into a thorn into Rain's side in recent tournament history, that much is certain. Starting from his shocking 4-3 win in last season's semi-final match, Sharp then managed to defeat Rain in the wildcard match for the ASL season 7, forcing him to go through the qualifier matches and undoubtedly the Protoss prodigy is eager to regain some of the ground lost. Funnily enough, the last time the two played online was in March. Unlike Last's macro-heavy optimized style, Sharp tends to rely a lot on his small-scale engagement control, tactical skill and the uncanny ability to sneak vultures whenever there's an opening in the Protoss defences and this proved to be Rain's undoing last season. Just like Last, however, Sharp did fall victim to his own greediness and Rain's star sense to put proxy a gate or two whenever his terran opposition opts for a Command Center first build, so there's something Sharp definitely needs to consider.
Map-wise, statistics can be of dubious value, seeing as how a sizable proportion of Rain's losses come from a single player. Furthermore, the opening map - Medusa - has seen very little use by both players, so map advantage cannot be assigned. The features of the map lend themselves to creative and bizzare play (see ForGG vs Mini for reference), so we can expect either player to try and end the game comparatively early with a designed build. It's hard to say for certain which maps will be banned, but Cross Game and Overwatch do not look too tempting for Sharp, so we can expect one of those - possibly Cross Game with its potential for reaver/shuttle play - to be removed from the pool. Because of the aforementioned bias in Rain's data, map preferences are tough to predict as he has a negative balance on most of the maps.
With all that being said, the outcome of this match is tough to predict on several grounds: the pretty close results whenever the two have played for the last several months and the lack of reliable statistical data because of bias among them. Rain demonstrated than on a good day he's as dangerous as any top player, taking down current ASL champion Last convincingly, but Sharp is a totally different beast. He's relentless in his aggression, always looking for - and finding - opportunities to engineer himself a tactical advantage. There was something very significant in watching Sharp after the games with Modesty in the decider match: he was really energetic and intense, almost electrifying. One thing is certain: Sharp looks hungry for wins. Whether or not he will deliver is as much a matter of one of them playing to the mind games of the other as of hard skills. Rain certainly will come determined too, eager for his chance at redemption, but still, I'll give the advantage of educated guesswork to Sharp again.
Prediction:
Sharp 3:2
Rain
---