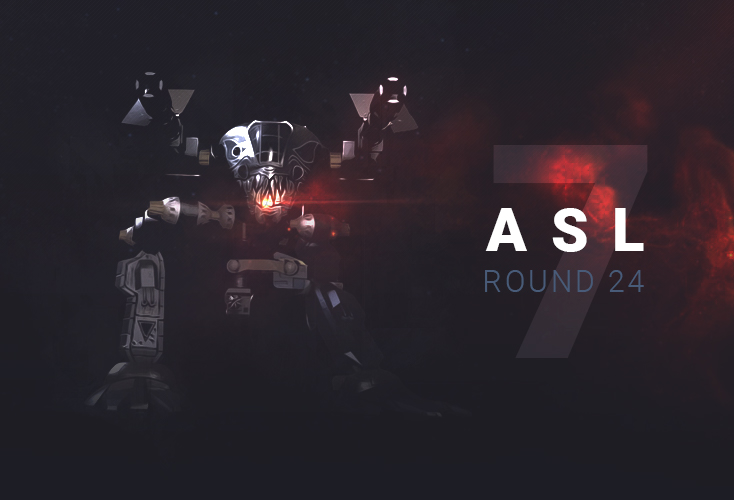 Welcome back to another exciting week of ASL! Last week's games were...interesting to say the least, and to avoid spoiling too much, we'll just say that there were a few surprise upsets. Luckily,
Frudgey's
got you covered with some new highlights and banter from Week 2!
This week's games are an interesting setup. We have two very clear favorites at the top of their groups: Rain and Soulkey. For everyone else...it's kind of a free-for-all to get into the Ro16. And honestly, without Flash, Jaedong, and Shuttle in this season of ASL, it's a good chance for these players to get a lot further than the Ro24. This is the chance they've been waiting for. But first they've got to nab second place in their groups. From veterans like Calm and GuemChi to amateurs like JyJ and ByuL, this week has a lot to offer in terms of storylines. So get your popcorn and get ready for some StarCraft action!
Group E is set to start in !
Table of contents

Knife Fights and PvTs
Group E has one very clear and obvious favorite: Rain. A monster in StarCraft 2 and now an ASL champion in Brood War, Rain has made it clear that he's Ro8 material in almost any tournament he enters. The real question in this group is who will advance alongside him?
Where AKA MisO has been having consistent results over the last few months and recently
jumped into the Top 10
of our monthly power rankings, but he still hasn't proven his worth. He has a good chance of advancing, but it's all going to hinge on his ZvZ ability against Calm.
On the other hand, JyJ and Calm are pretty much complete question marks. After becoming arguably the second best Zerg in 2009-2010 after Jaedong, Calm retired for several years with almost no practice. Back in the competitive arena, he also has to contend with newcomer JyJ. JyJ surprised everyone with an upset against Snow in the KSL2 qualifiers but has otherwise lost nearly every game on stage.
Rain vs JyJ on Block Chain
Eyes closed, Rain is the favorite every time in this matchup. Just imagine a replay of Snow vs Tinkle. Rain's drop-heavy style will no doubt benefit him on Block Chain and easily pull JyJ apart. It will be surprising if the game lasts longer than 10 minutes.
Where vs Calm on Block Chain
As far as results go, Where has more to go on. Yet, we have to remember that Calm made his name off an incredible ZvZ run in the 2009 Avalon MSL when he beat effOrt, Jaedong, and Kwanro all in a row at a time when his ZvZ was his "weakest" matchup. Calm is all about the mind games and early aggression, and even though he's been out of the meta, being able to understand the core mechanics of the matchup makes up for a lot for rusty mechanics.
This game will be explosive, but I definitely expect Calm to go outside of the realm of standard and play around with things like hidden lings, secret expansions, and early aggression. Where may have the mechanics to keep up with Calm's mind, but ultimately I predict a win for our legacy player here.
Winners Match: Rain vs Calm on Whiteout
This is where things get tricky. The tip of the hat goes toward Rain, but statistically (albeit really old statistics), Calm is at a bit of an advantage. Classically, Calm has a very good ZvP record (>60%) from the Kespa era as well as an edge with the current cheesy meta. If the stars align just right and Calm prepares well, there's a small chance he somehow makes it through the Ro24 in first.
However, Rain is such a solid player. Mechanics and game understanding have come such a long way since 2009 at the height of Calm's career, and a fresher take on both means that he's hands down the better player. Again, there's always the possibility that a surprise cheese catches him off guard...but with all of the cheeses that have happened so far, I don't expect Rain to fall for it.
Losers Match: Where vs JyJ on Whiteout
Where doesn't have the best track record vs Terran, but JyJ is still the underdog. We've seen a few underdog stories in the ASL7 so far (Sacsri and Modesty come to mind), but both of those players were Zerg players winning off of cheesy all-in strats to grab a win. The reciprocal is a lot harder to pull off. With maps that are more suited to aggressive openings and Zergs on the offensive, a bunker rush or all-in attempt from Terran is a lot more obvious. Therefore, I don't see JyJ taking this game. Miso's going to a rematch with Calm.
Final Match: Calm vs Where on Match Point
We have the rematch ZvZ, this time on Match Point. If the first game is any indicator, Calm will likely resort to his mind games again. Match Point in particular is a tricky map to scout on due to the double entrances to the natural and ample hiding spaces around the third base, which makes sneaking a few lings out early very easy. Where will likely be more prepared this time, but in the heat of the moment, it's still a difficult task to hold off everything while still reading your opponent correctly.
This game will be a knife fight with both players playing at their best to stay in the competition. However, I think that Calm's understanding of the matchup will eventually pull him through, even in the face of superior mechanics.
Predictions:
Rain > JyJ // Block Chain
Calm > Where // Block Chain
Where > JyJ // Whiteout
Rain > Calm // Whiteout
Calm > Where // Match Point
Rain and Calm advance to the Ro16!

Tales of Old and New
The strongest player in Group F is none other than Soulkey, hot off his KSL2 victory. Fans look eagerly to see if KSL2 champ Soulkey can continue his success or cut short the start of a promising reign of dominance in the new era. The rest of the group is a bizarre mixture of returning ex-pros and an amateur are caught in the toss-up. Among GuemChi, Tyson, and ByuL, who will come out alive in a scrappy battle among mice?

Soulkey vs Tyson on Block Chain

This is Tyson's first offline tournament in a very long time, having not participated in any previous ASL or KSL. However, he was responsible for the most memorable upset in perhaps all of the post-KeSpa era: defeating Flash in ASL Team Battle Season 1. He's quite literally defeated the best, and statistically speaking, he can do it again versus Soulkey.

However, what his form is like now since his Flash-slaying days is a mystery. Furthermore, his chances are hampered by the imbalanced nature of Block Chain that makes expanding a pain and defeating Zerg in the late game nigh on impossible. Soulkey will assuredly take the win after disarming Tyson's tepid 2-base all-in.

GuemChi vs ByuL on Block Chain

GuemChi, not seen since ASL2, makes his comeback appearance against spunky amateur ByuL. After a taste of the big stage in ASL6, ByuL returns for another chance at fame and fortune. He is also the first amateur to qualify for two consecutive ASLs—a sign of his determination.

However, I fear ByuL will be struck down again by GuemChi's infamous bulldog aggression. A map like Block Chain is perfect for GuemChi's style, which stretches Terran defenses thin between bases. Most of all, GuemChi is the seasoned veteran here, and we still have yet to see a complete amateur win.

Winners Match: Soulkey vs GuemChi on Whiteout

Soulkey will make quick work of GuemChi in easily the worst matchup for our hopeful challenger. His best chance lies in a specialized build, akin to Snow's reaver build vs Action. I see Soulkey as simply too solid to lose to whatever trick GuemChi may have up his sleeve. I expect another half-baked 2-base all-in that will probably be stopped dead. Or, we may just see Soulkey's signature hydra aggression stealing an early win.

Losers Match: Byul vs. Tyson on Whiteout

Tyson is held as the far greater of the two. Byul simply put is mediocre at TvP, dropping several games to his Protoss peers. Tyson meanwhile should have a fun time abusing the vision blocked forests of the map, forcing Byul to constantly scan. Again, the tides of fate ride against the aspiring amateurs of the ASL from taking a game off an ex-pro, much less going past the Ro24. With that in mind, I expect Tyson to take this game convincingly.

Final Match: Tyson vs. Guemchi on Match Point

In a charcuterie sample of just about every matchup, we finally arrive to PvP. There's little evidence of how strong either players' PvP is, so the game can go either way. They are also closely pitted in the sponsored game rankings. Match Point's long rush distance and numerous choke points makes the map macro oriented, so expect a longer game. Guemchi has displayed a relatively decent macro game, and Tyson recently has shown a habit of making severe misplays. I give the slight edge to Guemchi to take the final match.

Soulkey vs Tyson // Block Chain
Guemchi vs Byul // Block Chain
Soulkey vs Guemchi // Whiteout
Tyson vs Byul // Whiteout
Guemchi vs Tyson // Match Point

Soulkey and GuemChi advance to the Ro16!
---