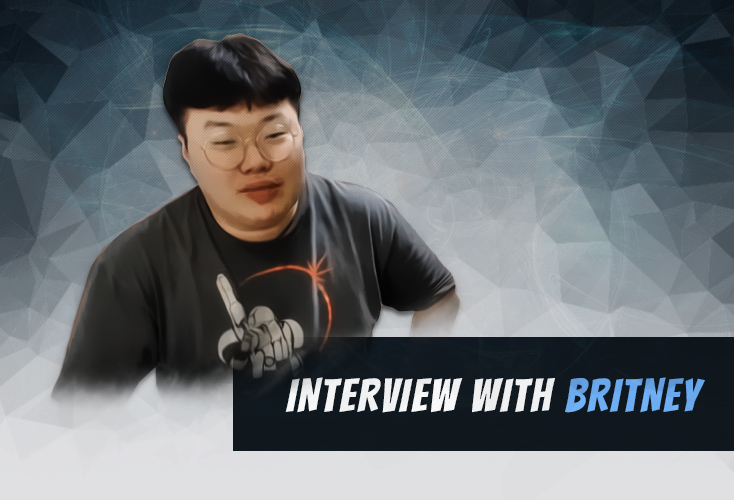 With some help from our friends over at AfreecaTV, we were able to get an interview with none other than Kim Bongjun (a.k.a. Britney), the man who funded and organized MPL. These days, he is better known as "King" Bongjun to viewers on Afreeca due to his enormous popularity and influence. He has been working hard on planning MPL2 and it is a project with ambitions worthy of his royal title. Read on to find out about the King's future plans for Brood War.
Q. Season 1 of MPL had very high production values. You could not have possibly achieved that all on your own. How many people worked on this project in total?
A: We had seven people on staff excluding the on-air talent. Four people worked on video production. One person exclusively worked on setting up and watching over the entire system. Two people handled various issues related to live streaming. I did the in-game observing myself.
Q: Recently, you said that Season 1 was consciously planned with Season 2 in mind. In particular, you said that much effort was put into collecting data during Season 1 that would be essential for Season 2. What did you mean by that?
A: First of all, I did not want this league to be a one-time event from the very beginning. I had plans for MPL2, MPL3, and so on. I recognized that, in order for MPL to be sustainable, the viewer and demographic data from Season 1 had to be attractive to potential sponsors. It is not just about finding sponsors. It is also about getting more sponsorship money to be shared among the players and even monthly salaries.
Q: On AfreecaTV, many people watched MPL via the players' streams instead of the official one. This must have presented a challenge to reliable data collection. How did you overcome this?
A: We could not get very precise data because of this since many people watched MPL through Flash, JD, and other popular streamers. I personally do not have any problem with this since some people just want to watch their favorite players. This actually helps overall viewership since it makes it easier for those viewers to familiarize themselves with MPL. As for the viewer numbers, I had several people on staff monitoring MPL viewers across all AfreecaTV streams in real time. This was tedious manual data collection but we were able to get reliable data on the total views this way.
Q: Players like Sharp and Shine really distinguished themselves during MPL1 and became stars. In fact, these two players saw greater increases in their popularity than they did after reaching the ASL finals. Does this sort of star-making power fill you with pride?
A: Many of the lesser known players both publicly and privately expressed gratitude to me for organizing MPL1. That really made me feel warm and fuzzy inside. In the case of Sharp, he told me that being named the MVP of MPL1 really jump-started his stream and things have been getting better every day for him since then. That sort of thing is what MPL is all about. I feel really proud of that.
Q: We heard that new team names will be chosen for MPL2 instead of recycling the old KeSPA team names. What was your thought process in this decision?
A: This is all about creating the basis for a continuously running team league. If MPL continues to be successful, then using the old team names may expose us to legal action on the part of the old KeSPA teams that possess the relevant trademarks, logos, and so forth. I also want MPL to go beyond exploiting the nostalgia of bygone years that will not come again. New team names will free us from the burden of the old story lines and old rivalries. What would happen if a player as central to the old KT team's identity like Flash were to enter military service? The KT team would no longer feel like KT to the viewers and kill interest.
Q: So...
A: New story lines will also be important. What if players like Flash and Jaedong had new teammates and wore new uniforms? Many people want to see that. I cannot emphasize this enough but this is about MPL3, MPL4, and beyond. Getting new team names is a must if we take the long-term view. It is best to make the change now before it is too late.
Q: Do you think that it would be possible to see something like a hot stove league (free agency and trades) between MPL2 and MPL3?
A: I hope so. That is one of the things I would like to see. We're working hard on designing the appropriate system for such activities.
Q: Since team sponsors may change from season to season, do you have any plans to trademark the new team names minus the sponsor names?
A: Yes. We are in the process of finding out how to do that now. Everything about MPL planning is about the long term. The thing that worries me most is how to keep the momentum going as key players approach their military enlistment dates.
Q: When will Season 2 of MPL begin?
A: MPL2 is set to begin around November-December. This is the ideal time because all the major individual leagues will have concluded by then.
Q: You said that team members will be chosen through a draft instead of relying on old KeSPA team associations. Will there be four pro players per team?
A: This is an aspect that our team is thinking hard about. If we maintain what we did in the past, then we would get five players per team. However, there are lots of pro players currently streaming on AfreecaTV without getting much attention if at all from fans. Ideally, I would like to find a way to include all of them in MPL2. Hopefully, we can find a good solution before Season 2 begins.
Q: Is it true that some players may reject the teams that draft them?
A: This isn't set in stone but we want to make the draft a suspenseful show with drama and surprises. That is one of the ideas we are considering. [Britney further explained that by setting player tiers by current strength and giving each team a one slot per tier, allowing the players to reject teams would not affect team balance too much.]
Q: The tier-based matchup rules in MPL1 allowed the participation of old players no longer at the height of their powers and even female gamers who had just started learning about the game. Do you think that we could see amateurs in future MPLs?
A: Many people made that suggestion. This is something to keep in mind. I want to add a lot amateurs to MPL in the future. Right now, we have not yet decided if we will have an old legend tier, an amateur tier, or a female tier.
Q: How do you feel about the continued participation of female gamers?
A: I know that there are many fans who enjoyed the presence of female gamers in MPL1. The online response has been overwhelmingly positive. In fact, according to our data, the viewer numbers for some women's games in MPL1 exceeded even that of some games between pro players. If we want to maximize the sponsorship support, this sort of thing is very important and also helps the pro players who participate.
Q: Did you have any contact with Blizzard regarding MPL Season 1?
A: We did talk to Blizzard before MPL1. They offered to promote MPL1 through Facebook. I was thankful for their offer but refused it to avoid potential legal pitfalls that have nothing to do with Blizzard. You see, we were still using the old KeSPA team names and logos in MPL1.
Q: What about AfreecaTV?
A: AfreecaTV provided about 5,000,000 KRW in prize money and let us use the FreecUp studio for the offline matches.
Q: Since you will be using new team names, do you think that we will be able to view MPL2 streams embedded into the Blizzard App?
A: I don't know. I know that Blizzard has some sort of partnership with Twitch. It is not clear to me that they would be free to embed MPL2 streams into the app.
Q: Cineplex, the largest operator of movie theaters in Canada, has made enormous investments into eSports, especially with a mind toward using its theaters, which are largely empty during the day for both holding and viewing eSports events. Do you think that sort of thing would work in Korea?
A: That seems like a great idea. Since Korea is the world leader in eSports, I hope that the major corporations here can get creative on the business side in that way as well.
Q: After MPL1, most people now say that Britney not Terror is the godfather of StarCraft on AfreecaTV. Indeed, you have made some very visible investments into StarCraft this year. Fans want to know if such large scale investments are financially sound ones. Did you make a profit from MPL1? Foreign fans loved Sonic for pouring money into Brood War but were devastated when it turned out that everything was a financial house of cards. What is the financial viability of MPL?
A: While I was not a successful pro, I was a pro nonetheless. I always had a dream that I would become rich one day and organize big time leagues. As you know, I keep in touch with other pro players and often heard from them the desire to play in team leagues. They often told me that I was the right person to organize one because I know everyone in the community. As far as profits go, I took a loss of 25,000,000 KRW in Season 1. However, that loss should be considered an important investment into the viability of MPL2, MPL3, and so on. It was because I invested in quality that we were able to fully show sponsors the potential of MPL as an advertisement vehicle. Please tell the foreign fans not to worry about me going bankrupt. Thanks to the success of MPL1, MPL2 and beyond will be financed by sponsorships and not my personal bank account.
Q: That's good to hear. Moving onto a different topic, if you want to watch high quality SC:BW today, you must watch AfreecaTV, which is the epicenter of StarCraft activity. Now that KSL is broadcasting exclusively on Twitch, can you imagine the scene moving from Afreeca to another platform in the future?
A: I cannot speak for the other players, but I guess I can speculate based on hearsay. As far as I know, some players like Light and Effort streamed on many different platforms in the past. According to them, not many viewers on other platforms watch Brood War. Most importantly, I have been told by several players that AfreecaTV system seems to generate more income for them than the other ones. Based on what my friends have said, I cannot imagine that the Korean StarCraft community will ever leave AfreecaTV.
Q: You are a Partner BJ, which means that you have obligations to AfreecaTV. Does that ever restrict your movements in anyway? On the other hand, does this help you at all with obtaining sponsorships?
A: Maybe it is because of the kind of events I run, but my movements have not been restricted in any way by my Partner BJ status. As far as sponsorships go, there is a systematic advantage for Partner BJs in the sense that AfreecaTV can send partnership offers to major corporations on my behalf. So far, I have already received many sponsorship offers from small to mid-sized corporations. However, major corporations don't know much about me yet, so it helps to have a well-known company like AfreecaTV be the first point of contact. While this advantage has not yet borne fruit, I hope that we will one day see major corporations sponsor MPL.
Q: Recently, you invited the Scottish female player Cadenzie to be on your team for an Afreeca StarCraft tournament. Many viewers enjoyed the storylines from that event involving cross-cultural exchange taking place through eSports. Do you plan to involve her in any future events?
A: Cadenzie has been staying in Korea since then. I heard that she's planning to stay here a while so hopefully something will happen organically. In the past, we had many foreign players like Grack, Nal_Draco, Luo Xian, and Pj play professionally in Korea but there are none today. I know that our Korean viewers really enjoyed seeing Cadenzie play because it is very intriguing to us that people who live thousands of miles away love the same game that we love. If there are strong foreign gosu players, I am thinking seriously about the possibility of asking one to participate in MPL. One of the reasons I responded to this interview request was to ask the TeamLiquid community about this possibility and find out if the best of the foreign gosus are interested. Let me know!!
Q: The Foreign All-Star Team (FAT) played team matches against old Korean legends (Team Ajae) several times in the past. While Team Ajae was clearly better, the matches were more competitive than you might think.
A: If that is the case, perhaps we can organize some event matches in the future, too. I will ask TeamLiquid for some help if we ever decide to organize such a match.
Q: What is your vision for MPL3 and MPL4?
A: My dream is to have big corporations known to every Korean sponsor MPL. I would also like to have the offline finals held at large outdoor venues like they were during the glory days of Brood War so that we can accommodate as many fans as possible. I think that the high quality casters we had for MPL1 also contributed to its popularity. However, there are many casters from the past who the fans want to see again. Hopefully, we can have a more diverse rotation of casters in the future to satisfy those fans.
Q: The time is soon coming when we will need the entry of young talented players to sustain the health of the professional Brood War scene. Do you have have any thoughts on how that might happen? For example, unlike KeSPA, the Korean Baduk Association was founded by Korean go players themselves in order to create a professional system that regulates the licensing of pros and become the hub through which all pro players could enjoy the benefits of corporate sponsorship. Surely some pro players must be considering similar ideas today, no?
A: Hmm. Since I talk to almost everyone who is active in the scene, I can say for a fact that virtually no player is thinking about such high-level issues. I personally think that the presence of KeSPA would create some complications should we proceed along the route you mentioned. Furthermore, the mindset that players have these days is that things are kind of good enough right now. They might question whether the effort needed for such an undertaking would be worthwhile. After all, many players are streaming 10-12 hours per day.
Q: Thank you for the interview. We look forward to seeing MPL2.
A: Thank you!
Questions by:
TL Staff
Translated by:
lemmata
Editors:
BigFan
Graphics:
v1