STX
mini "Fighting against strong opponents is always exciting"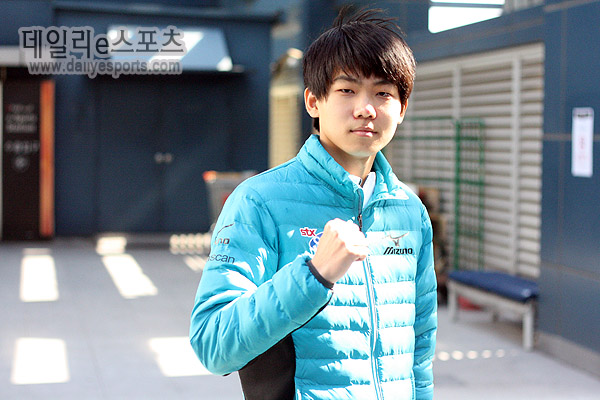 The manlots of love.
mini, who drew much attention and became nominee for Rookie King award by doing the unique strategy of building 'Battery of Love' in opponent's main, smiled widely after beating MSL winner
Hydra on the last match of this season- for not only had he ended his losing streak but also helped in teams' third consecutive victory.

Although the team failed to advance to play-offs, mini announced that there would be better performance next season. mini said "I like that strong player comes out whenever I play" and that "the challenge posed by meeting strong players frequently will be fertilizer for my continued growth in the future."

Q: Thoughts on your win.
mini: First I'm happy for breaking my losing streak. And the fact that I contributed to third consecutive victory of the team makes me happier.

Q: You might have been disappointed for the display of poor performance after the 'Battery of Love' game.
mini: I was confident initially, but after losing a lot I became really nervous every time I got sent out. I was able to play relaxed this game because it was last match of the season and our play-off chances were dead. That's probably why I ended up with good results.

Q: You face strong opponents whenever you come out.
mini: That's actually a big help to me. Meeting league winners like
EffOrt or
Hydra always make me excited.

Q: Why do you feel happy when playing against good progamer is more difficult?
mini: At the moment I have nothing to lose by losing. Also beating good players is more valuable than a single win. Therefore thinking about the future it'll be very good for my experience.

Q: Your judgment on today's match.
mini: I'm quite disappointed because of things like my initial poor corsair control and missing the upgrade for dragoon range.

Q: Did you prepare for the zealot drop in advance?
mini: No, it wasn't prepared strategy. I tried shuttle drop because I had to do some sort of damage after failing the DT harass. It does feel better when I end up winning like this.

Q: How would you score your sense in today's match?
mini: Well, I haven't really exhibited much sense in today's match. (laugh) I'll show it for sure on the next match.

Q: What did your team-mates tell you after the victory?
mini: They focused on indicating the mistakes I have made. (laugh)

Q: Any resoulution for the next season?
mini: I'll play many matches with good sense and try hard to get more wins than losses.

Q: Final words.
mini: I haven't gotten good record this season but I am thankful for everyone that cheered me on. I will definitely display good results next season so do pay attention to me.

[Daily e-sports Gang Sung Gill Reporter gillnim@dailyesports.com]
Source: Daily e-sports
*Together in an e-Sports world with SK Telecom (www.sktelecom.com)

---

I saw no one was doing this so I took the liberty to translate. Please feel free to make any suggestions, like how should I convert that accursed word '센스'.