As we roll into the penultimate week of the season, we take the time to look back on just what happened last week. Honestly, the week was been more than a little crazy. There were some amazing games played, some crazy upsets, oh yeah, and God died. The one thing that will probably stick out to most to people who've been following the games is Flash's demise, and the end of his fourteen game win streak, but to focus solely on that would be an injustice to the rest of the players who put up tremendous games this week.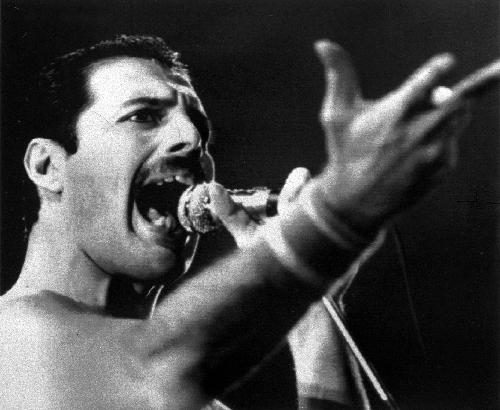 Dear God WHY!
Sniper Ridge proved itself to be the map of the week by a wide margin, producing some fantastic ZvT's and even a solid PvP. Roro and Sacsri were the stars, going all out on their Terran opponents and utilising almost every unit in the Zerg arsenal to secure their victories. With the season fast building to what looks to be a tight finish, it seems like a lot of the teams are leaving behind the cheese that defined earlier weeks in the competition. Now, we're finally getting to see just what 350+ apm and round-the-clock training in this wonderful game is capable of producing.
Looking at the leader-board at of the end of week three of the third round, the battle for the playoff spots is getting tense. While Khan and KT are practically assured their spots in the final four, the third and fourth place spots will be much more hotly contested. With SKT and Stars currently sitting at ten wins each in the third and fourth place spots, they'll need to pull out victories in the next week to have any hope hanging on to their positions. With CJ nipping at their heels with nine wins of only eighteen games played, those third and fourth spots start to look even tighter. Stars on the other hand has played nineteen games for its ten victories and, with a win/loss differential lower CJ's, Stars is depending on CJ to slip up if it hopes to hold onto its spot.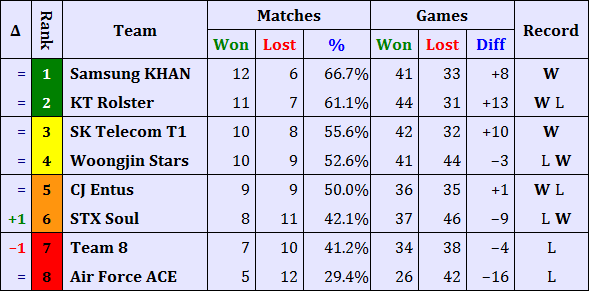 By contrast, SKT has a win/loss differential far in excess of both CJ and Stars. Moreover, SKT has only played eighteen games, meaning that its chances of grabbing that third spot are better still. The dark horse, from where I'm sitting at least, is STX. Though it's sitting at eight wins after nineteen games, a little luck could well see STX qualify for the playoffs. To summarise, we're in for a treat in the last two weeks of this season of proleague, and I cant wait to see which teams are going to make the cut for the post-season and a shot at the title.
Now it's time to take a look at what we've got for you this week in your regular Brood War content extravaganza. To begin with, we've had 2Pacalypse- sort the best of this week's play into a
top fives games list
for those who missed the games... or for anyone who just wants to see it all again (and who could blame you). We've got the usual
recaps of the series
played this week written by yours truly to help remind you of what happened or fill you in if you missed anything. Hyde has provided an excellent
Battle Report
of the exciting Roro vs Piano game and Kiett has provided some incredible art to complement it, adding to the series of Progamer-unit masterpieces that we've been featuring during this season. Finally, we had some community members pitch in and help us
preview the upcoming games
for the coming week to help give you a new perspective on the matchups that we'll be treated too.
Now, enough of me blabbering on, its time to get stuck in to the content we've provided. Click play, and enjoy!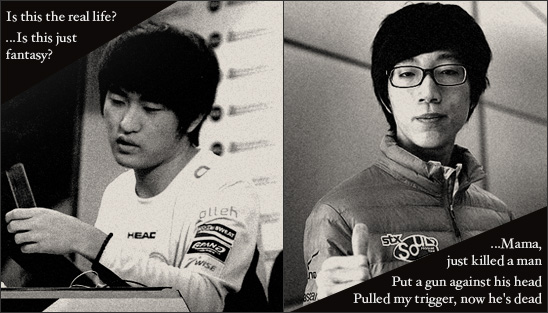 Top 5 Games • By: 2pacalypse
Recaps • By: Kiante



It was a tough week for fans of Team 8. The loss to CJ essentially means that, barring a miracle, the playoffs are no longer a realistic possibility.. All through the season, the weak links in Team 8 have consistently been Sea and Killer, losing games they shouldn't have on a regular basis and letting their team down. The series against CJ, however, started out atypically, with Killer showing the reason he used to be one of the top Zergs in SPL. He took down Snow in an exciting game, in which he showed just how powerful drops and lurkers can be against a Protoss opponent. Sea came out second for Team 8 and was unable to replicate Killer's success, allowing Hydra to kill him outright with a few zerglings because he was unable to block his ramp or scout effectively.

Jaehoon was sent out on Chain Reaction and was able to punish Movie for taking a fast expansion with a strong reaver push that easily broke up the ramp to take the victory. With Jaedong and Baby to come, it was hoped that Team 8 would be able to win and keep its playoff dreams alive, but unfortunately they were bested by Leta and Effort respectively. Leta caught Jaedong off guard with an interesting mech-into-bio switch that found Jaedong with his pants down and without tech capable of dealing with a marine/medic composition.

Finally Effort sealed the series with a quick and easy win over Baby, managing to force Baby onto one base with a strong two-hatch mutalisk build and smart zergling attacks. He finished him off soon after with some lurkers, giving CJ the victory three to two and leaving Team 8 looking like death on two legs.




KT impressed once again with a dominant performance to take down a sorely lacking Woongjin lineup with ease. Light was the only player on his team to win a game and most surprisingly it was in his worst matchup, TvP. Light went for a quick two-factory push and despite Wooki valiantly holding on, he was eventually overcome, with Light setting up a contain far too tight for Wooki to bust out of, giving us an 'I want to Break Free' moment to remember. KT struck back, with Crazy-Hydra taking down the eternally-upset looking ex-Hwaesung Protoss, Shy, easily defending his attempted zealot/archon/corsair push with good sim city and mutalisks and countering immediately to seal an easy victory.

Flash was the next player to be sent out for KT to claim his autowin, this time over Soulkey. Despite Soulkey scouting Flash's proxy eight-barracks build order, he never quite managed to capitalise. The game was an exciting one, with Soulkey showing some incredible micro and game sense to hold on in the face of Flash's onslaught, but eventually it was too much and he was overcome and forced to tap out of the game, proving, if nothing else, that it's a hard life.

Finally Barracks managed to claim a win over Hon_sin in a horribly drawn-out match, featuring a disconnect and remake. Barracks managed to retain his composure and in the second game, he played a solid TvT style that Hon_sin was unable to answer properly, eventually conceding defeat and thereby the series, one to three in KT's favour.




Khan retook its position at the top of the table this week with a strong and exciting victory over the out-of-contention Air Force Ace. Jangbi was sent out first for Khan and was sent back to the bench with a loss in short order, with Chavi showing that two-base Zerg play in ZvP is still viable, tearing Jangbi apart with drops, lurkers and other Zerg shenanigans. Khan hit back immediately, with Roro sparring with Piano in an epic clash, with Queens galore [inspiring, as you might have guessed, our theme for this week]. Despite Piano putting up an excellent fight, and the game see-sawing back and forth between the two competitors, Roro was eventually victorious, equalising the scores at one game a piece.

Grape was the next out for Khan and was pitted against Kal. Once again the game itself see sawed back and forth with both players looking to be in extremely favourable positions throughout the game, but eventually Grape was victorious, weathering the storm of Kals attacks and harass and putting him team one game away from victory in the series. Shine then came out and clinched the series for his team, managing to get mutalisks out a little bit faster than his opponent, Great, and seizing his advantage through aggressive play and superior micro. It was an exciting series all around, with almost all of the games worth a second, third or even fourth watch, particularly for Roro's killer queen play.




SKT managed a clean sweep STX without too much trouble to put itself in a good position to make it to the playoffs at the end of the round. Sacsri was the surprise first send out for SKT and he showed exactly why he earned his position at the top of the ticket. He fought against Bogus on the same map that featured the exciting Roro vs Piano game from earlier in the week. Sacsri utilised almost every unit in the Zerg arsenal, including queens once again to take down the STX Terran in a hectic game. It's a sheer pleasure to watch him tear it up like that. Fantasy was the next out for SKT and he took care of Calm, fulfilling his role as his team's anchor. While Calm put up a good fight, Fantasy always seemed to be a cool cat, in control of the game, and utilized his excellent mechanics and game sense to keep the pressure on Calm all game until Calm could take no more and was forced to GG.

Finally Best took out Dear in a quick game, with Dear completely misreading Best's build, and simply died to 2 DT's because his robotics facility was far too late. While SKT aren't ranked as highly as they were last season this close to the playoffs, they are definitely showing that they are a threat to any competition, winning three-nil without using Bisu.




Woongjin took out CJ to edge into the top four in what's heating up to be an extremely close battle for the last couple of playoffs slots. Shy was the first victor for Stars, taking down Effort whose cheese was brushed aside with ease. Shy won based on his superior economy once Effort was out of steam, reminding us that sometimes the best advice can be, "Don't try so hard." Soulkey, who has been one of the most important parts of Woongjin's winning strategies of late, was taken down by Leta, who fooled Soulkey into believing that wraiths were on the way, when in fact there were three barracks making bionic units that Soulkey was unable to deal with. Zero then came back and took revenge for his fallen Zerg brethren with a cute proxy hatchery strategy that meant he got a ton of zerglings into Hydra's main unexpectedly and Hydra was unable to deal with them.

Light was the next out for Stars and, once again, he hit his weak matchup in the form of TvP against Horang2. He made the mistake of not cheesing (like he did earlier in the week against Wooki) and instead played a passive three-base doom-push style that Horang2 was well equipped to deal with. Finally Stars sealed the victory three games to two with Flying taking an impressive win over Snow. Despite seeming behind once both players got onto two bases, Flying utilised the map and superior battle control to take some decisive victories and eventually breakthru to take the game.




With STX sitting near the bottom of the table and KT somewhere up near the top, most people expected KT to take an easy victory over the struggling lineup that STX has exhibited of late. Unfortunately, however, KT forgot to take into account the fact that Dear is actually really fucking good at PvT. While Stats managed to win the first game of the series with some impressive scrappy play with reavers, the real story happened in the second set. By now I'm sure anyone reading this knows that God died.

Flash was taken down by the rookie Protoss Dear in what could only be described as a one-sided stomp that will resonate as Flash's first (and who knows, possibly only) loss of the entire season. Dear took pains to hide his reaver tech, while researching shuttle speed. Flash scanned, cancelled his turrets and then Dear swooped in and ravaged his SCV's with some excellent reaver control. While most people would've been happy just killing a few SCV's and taking an advantage into a long game, Dear had other ideas. He produced a second shuttle and when Flash moved out to try and take his third base Dear pounced, bombing the tanks with his shuttles and overrunning Flash's defences to take the victory, and reverting Flash off the autowin setting that he has been on this entire season. If nothing else, Dear has taught us that, whatever else Flash might be, king of the impossible, a miracle, savior of the universe, in the end he's just a man.

Bogus came out next for STX and backed up his teammate's accomplishment with an easy victory over Wooki, who attempted to proxy-gate Bogus, but was unable to do any real damage and died soon after. Crazy-Hydra leveled up the series for his team with a quick build order win over Hyvaa. What was most puzzling however, was that Hyvaa didn't even really attempt to defend his main base from Crazy-Hydra's zerglings, letting his morphing sunken die without so much as a drone drill.

Last came out and, fortunately for his team, and perhaps for the hearts of Flash anti-fans everywhere, managed to seal the deal for STX with a decisive victory over Mind. Last simply made wraiths, while Mind was mindlessly producing only vultures, and the damage was far too severe for Mind to recover from. All in all, it was an exciting end to an awesome week of Brood War.

P.S. Nothing but a man.

Roro v Piano, a Battle Report • By: Hyde
Sniper Ridge is the stage for one of the most exciting TvZ games to be played this season. Players spawn in cross-positions, Piano in purple at one o'clock, and Roro in red at seven o'clock.
Roro opens with twelve-hatch, his overlord heading in the wrong direction. Meanwhile, Piano opts for a one-rax expand. Roro makes his third hatchery inside the main, while morphing a lair at his natural and making lings. Piano, having taken his natural, begins construction of a second barracks, takes his gas, and continues to pump out marines, later adding an academy. Meanwhile, Roro continues making lings and adds a spire as soon as his lair finishes.
Roro moves a small number of lings out, testing Piano's natural's defense. A few units are exchanged in a small battle and Roro backs off for the time being. Piano throws down two more barracks and an engineering bay, while researching stim.
Roro takes his third base at eleven o'clock as his mutalisks pop out, sending them immediately. Piano starts his +1 attack, adds a factory and starts erecting turrets around his main and natural. Roro dances his mutalisks around the medic-marine clump as it heads out, forcing them to stim several times without ever quite engaging. Roro makes a hydra den and rushes two hydras over to his third's ramp. Marines arrive to find a lurker egg blocking the entrance, stim, and start firing on the egg. Mutas and lings move into position to engage the marine force. The lurker egg buys just enough time for two other lurkers to hatch. They burrow just as the marines charge up the ramp. Lings and mutaslisks engage with the lurkers and annihilate the bio squad.
Buying just enough time
Piano acquires a starport and science facility, while another of his marine groups is torn apart by mutas and lings. At this point, Roro has already made a queen's nest and transitioned into hive-tech. A defiler mound is made and Roro morphs in a greater spire in preparation of the incoming bio and tank force.
Piano sends out a dropship along the northern edge of the map. An overlord spots the transport and Roro immediately sends out a muta-ling force to wipe out the dropped troops and the dropship.
Meanwhile, Piano sends out his bio force, now bolstered by tanks, towards Roro's natural. Lurkers and lings charge forward under swarm and deflect the attack.
Piano adds more factories as he transitions into mech. A third CC is started at his natural as he sends out another force in attack Roro. Marines and tanks approach Roro's unfinishedfourth, but two lurkers sitting on the ridge deflect the attack with the aid of a dark swarm. Piano takes another base [his third] at five o'clock, while attacking Roro's fourth. Guardians arrive and begin bombardment of the Terran force, picking off several tanks and marines. Piano orders a retreat before he sustains too many losses. He then acquires the three o'clock as his fourth base, his vultures already engaged, scattering mines around the map.
Guardians!
Two dropships are deployed, avoiding the scourge to enter Roro's main. Marines are dropped, taking out several drones and the extractor. Roro is quick to respond, throwing plague over a large number of the marines, making the marines easy prey for lings and lurkers.
Piano adds more factories and acquires a second armory, while Roro takes his fifth base at nine o'clock.
As vultures attack the spawning fifth zerg base, two dropships evacuate them to instead raid the mineral line at the third. Roro counter-drops at Piano's third with lurkers, scoring a number of SCV kills. Guardians rain destruction on Piano's fourth, killing many SCVs. Two lurkers planted at the ramp stop Piano's bio force from saving his fourth.
The harassment continues. Piano drops Roro's natural with two dropships, scourge manage to take them out, but not before one of them delivers its payload. Science vessels are called into service, and head out to irradiate the remaining guardian force. Piano, now making nothing but vultures and tanks, sends his mech force out to secure his fourth. Hydras run around the map, clearing mines almost as quickly as they're being laid. Roro ramps up his hydra and lurker production, and adds queens to his arsenal to counter those deadly +1 tanks.
Both players prepare to take another base. Piano runs his vultures past a small lurker field, killing a group of lings along the way and harassing Roro's fourth afterwards. Zerg units pour out of a nydus canal and deflect the attack. 22 minutes into the game, Roro is almost maxed out, his Terran foe now roughly 50 supply behind.
Ten more queens are spotted, hovering over an expansion as they gather the necessary energy to destroy tanks. Roro marshals his units, creating a fat red clot on the mini-map. The queens are mobilized as they lead the charge to the south of the map. Tank numbers are severely reduced by the queen's broodlings, while hydras and lurkers assault the now weakened defensive line, crushing more tanks. Piano rushes reinforcements down to cover the attack. Hydras move into Piano's fifth base, attacking the SCVs. Plagued tanks siege up above the ramp and defend the fifth, blowing the entire hydra group away.
You had to see it to believe how quick it was
The queens lead the science vessels on a chase, utilizing their speed and leading the vessels towards scourge. Piano, in an impressive display of micro and hand speed, manages to d-matrix his vessels just a split-second just before the scourge make contact, saving all but one vessel.
Piano moves his forces to secure the center expansion, keeping Roro busy with his vulture harass. Roro mounts an assault on Piano's center expansion. Queens destroy several tanks with more broodlings as the hydras rush in. Piano is quick to respond to the threat and calls in more tanks, forcing Roro to retreat, leaving mining operations at the expansion unhindered.
Piano sends a small mech squad to attack Roro's six o'clock expansion. Roro takes advantage of the weakened defenses at the center and mounts a second attack. Queens lead the attack once more, hydras storming in and SCVs being pulled to aid the few remaining tanks. Vessels irradiate a few queens and tanks are brought in to push the hydras out of the center. Roro uses a queen to infest the CC, stopping all hopes of Piano salvaging the expansion. Hydras push through the remaining tanks, temporarily securing the center.
Try repairing your CC now
After razing Roro's seventh base, Piano heads over towards Roro's sixth, with his 3-2 mech force finding no defence. Roro musters three control groups worth of hydras, wiping out the southern tank-line, and secures the six o'clock once more. Hydras continue to rampage through to Piano's fifth base, where the defense is light. Meanwhile, Roro's twelve o'clock expansion is wiped off the map by two goliaths.
Hydras continue their destruction at Piano's fifth. the CC is forced to lift and the SCVs are pulled to block the ramp. Queens fly over to aid the hydras, but without energy they can't achieve an awful lot. Hydras manage to break the ramp just as Piano's forces arrive from the back. Roro takes advantage of the immobility of the mech army and sends another wave of hydras and queens to the north, devastating more tanks and further reducing Piano's strength. Piano concentrates his efforts to secure the center expansion again with his 3-2 tanks. Roro attempts another break with queens, and sustains heavy losses as his queens run out of energy. A full retreat is ordered and Piano holds the center.
Both players are now mining from two bases each. Roro retakes his twelve o'clock, sending a large wave of hydras over to Piano's five o'clock. Piano pre-emptively lifts his CC before the Zerg units arrive, but Roro is vigilant and tracks down and destroys the slow-moving CC before it gets too far.
Piano is reduced to one mining base, that all-too-vulnerable center expansion. The Terran commander sends a tidy force to wipe clean the twelve o'clock Zerg expansion, leaving Roro with two(ish) mining bases. With a large number [two control groups] of queens still at Roro's disposal, he starts killing goliaths to lower anti-air and Terran unit numbers. Both players take another base in the race to secure more resources. Piano orders another attack at six o'clock, destroying several queens and hydras as they attempt to save the expansion. With another expansion erased, Roro is left with a little over one full mining base (the second mining base is very low on minerals).
As the arduous battle drags on, Roro rallies his units and mounts another strike on the center expansion. Two guardians and a group of hydras charge in, tanks exploding into broodlings as queens cruise by, forcing Piano to lift his CC. Queens continue to kill more tanks and goliaths, leaving Piano now 40 supply behind with his military strength fading quickly. Vultures run around the map harassing mineral lines. Piano, increasingly desperate for resources, starts mining from the center in a less-than-optimally placed CC. Roro divides his forces in two, sending one to defend his lower expansion, and the other to assault the center again. SCVs die swiftly as the hydras storm through the center. the CC falls, leaving Piano with one mining base and 50 supply behind.
Queens rocking Piano all game long
Piano continues his vulture harass in a desperate attempt to stay in the game. Hydras cover the entire map, leaving the vultures little room to move. Roro marshals his forces to organize a final attack on Piano's remaining army. Roro contiues to use his queens to destroy more tanks, further weakening Piano's chances of winning this game. Piano slips his vultures past some hydras and eviscerates Roro's mineral line, a devastating blow this late into the game, severely damaging an already fragile economy.
Roro continues to press his advantage, using his queens to chip away at Piano's army, while acquiring another much needed expansion. The queens continue their terror, and spawning broodlings set off mines that kill more of Piano's units. Roro, knowing Piano can't keep up any longer, attacks Piano's last base.
A vulture group runs around the map and scores more drone kills, but the attack is pointless as Piano's 26-supply squad will be no match for Roro's 147 supply army. Queens continue to pick off units piecemeal and Piano is soon reduced to three tanks and two goliaths. After putting up a valiant effort, the Terran commander concedes. Another one bites the dust.
Previews • By: Hyde, Kiante, Nikon, kjwcj, Bloodsh0t and Garrl
Current Proleague Prediction Challenge Progress:
Matches
Predicted
Actual
Gain/Loss
Current
2
Team 8 vs. CJ Entus
3 - 2
2 - 3
-1
Woongjin Stars vs. KT Rolster
3 - 1
1 - 3
-2
Air Force ACE vs. Samsung KHAN
1 - 3
1 - 3
+3
STX Soul vs. SK Telecom T1
2 - 3
0 - 3
0
Woonjin Stars vs. CJ Entus
3 - 2
3 - 2
+3
KT Rolster vs. STX Soul
3 - 1
2 - 3
-2
Final
3
If I predict the winner and the result correctly, 3 points
If I predict the winner correctly, and the result is off by 1, 1 point
If I predict the winner correctly and the result is off by 2, 0 points
If I predict the winner wrong, and the result is off by 1, -1 points
If I predict the winner wrong and the result is off by more than one, -2 points.
Saturday, March 3rd



Air Force ACE vs STX SouL

Hyde
— This week we saw the impossible unfold before us; we saw Dear take down God Young Ho, something we'd thought we wouldn't see this season. Then we saw STX dig deep, take it to game five, and beat KT Rolster. What I witnessed that day was that STX players haven't given up. Despite being quite low on the ladder, they still managed to muster the strength to topple a giant, rather than roll over and just accept their fate.
What we saw this week was STX's burning soul, its fighting spirit, a team that will go down swinging. Still riding that high from their win over KT, I think they've got a great chance at taking this series. There's no doubt that Dear is sitting on Cloud 9. I questioned his TvP recently and this week he showed me he's legit. He should dismantle any Terran ACE throws out. Last, who's 64% this season, has just come off a losing-streak. His weakness seems to be his TvZ, but I don't think it's so bad that he'd fall to any of ACE's Zergs, so should he run into one he'll likely be able to handle it. Bogus has been a little shaky this season and there's every chance he'll run into a Terran against ACE. The coach should try to avoid that match-up if he wants Bogus to win.
ACE for whatever reason, has held off using Firebathero and Iris for the time being, using Canata and Piano instead, both of who have brought mixed results. For ACE to win this, they're going to have to get their match-ups right, and not draw out players from a hat like I think they do. Iris and Firebathero are good choices this time around. Why, you ask? Firebathero's TvT is good and he has a decent shot at taking out Last, and Iris has a winning record against Bogus [3-0]. If I was the ACE coach I would be aiming to get these match-ups.
Kal has been a little shaky, and he's the only Protoss to play on ACE. He needs to avoid Calm, and both Sniper Ridge and Chain Reaction, which both have back-door passages, something Calm likes to take advantage of. Should he meet Mini or Dear, he'll have a good shot (if he doesn't throw it away at the end). ACE also has a number of Zergs at their disposal, none of whom I have much hope for, so, should they use any, their best bet is to get a ZvZ to maximize their chances of winning. Overall, I think ACE has it in them to take this to game five, and even win it. It's just that it will only happen when they start sending out the right players at the right time, something they haven't been doing too often, and probably won't start doing now. We'll have to wait and see what happens when they just play the game. It's only a shame neither of these teams will make the playoffs, but the show must go on.
My prediction:
Air Force ACE 1 -
3 STX SouLKiante
— While SKT's position going into the latter half of round three isn't exactly a strong one, its combination of a plus ten game score and being a loss ahead of its direct competitors (Woongjin and CJ) means it's well on the way to securing a playoff spot. That said, losing this week is not something SKT will be planning on, despite being matched up against the number one side in the form of Khan.
SKT hasn't had much success against the other Protoss powerhouse this season, going down one to three in round one, with a slightly closer result of two to three in round two. On both occasions, the Protoss line of SKT has been outperformed by the Protoss from Khan, with the SKT Protoss usually performing far worse in the PvP and PvT matchups. This weakness is not something that SKT can afford to bring to the table if it hopes to topple Khan in their upcoming game. With the Terrans from Khan looking particularly frightening of late, and their multitude of Protoss doing its part, it will be important for SKT to pick its maps carefully to avoid less-than-ideal matchups.
While normally I would predict the outcome of this match to hinge on the performances of the headline players (in the form of Stork, Jangbi, Bisu, and Fantasy) I don't believe that will be the case in this series; the real difference between the sides will most likely be most evident in the performances of their second-string players. If any of the Zergs on either team manage to scrape a win, their side will most probably end up the victors. In this case, as much as I like SKT, the performance of Roro and Shine will most likely outclass anything SKT has to offer.
If nothing else, SKT is...
under pressure
.
My Prediction:
SK Telecom T1 2 -
3 Samsung Khan
Sunday, March 4th



Team 8 vs Woongjin Stars

Nikon
— At first glance, the match between these two teams doesn't matter much; Woongjin has nearly secured their playoff spot, while Team 8 is practically out of contention. The situation, however, is deceptively simple. In theory, Team 8 could still earn a spot in the playoffs – a spot that will most likely be taken from Woongjin itself. In order to accomplish this feat, Jaedong and company must simply win all four of the matches they have left in the schedule for this season. It just so happens that the first of their last games is against Woongjin, but that doesn't make their task any easier in the slightest.
The head-to-head history between the two teams is 1-1, with each having picked up a 3-2 victory. It's worth noting that coach Ju Hoon has fielded the same five players both times, with Jaedong and Baby winning. Normally, this would mean that Team 8 needs just one more of their players to win. Sadly, not even Jaedong is performing consistently, and nothing is guaranteed. On the other hand, looking at Woongjin's recent games, things aren't looking sterling either.
That said, Woongjin did manage to beat CJ Entus but its key players have been dropping games that they shouldn't have. Given this circumstance, I cannot give Woongjin the advantage here; it's all going to depend on whether or not Team 8 can refocus itself for this game, and how motivated the Stars will be to win.
My prediction:
Team 8 3
- 2 Woongjin Stars
kjwcj
— In a season in which PvP has become the most played mirror match-up by a wide margin, CJ's overall record of 8 wins and 14 losses versus Protoss has been their undoing. A team featuring the likes of Horang2 (66.10% vP), Effort (65.67% vP) and Hydra (61.54% vP) should have taken to this map pool like a duck to water, yet somehow CJ has repeatedly lost important games in both PvP and ZvP. This sudden weakness against Protoss could well end up becoming a problem for CJ considering the despite the formidable Protoss line of KT perhaps faltering a little. Stats has been unable to maintain his early season hot streak and Wooki has looked a little inconsistent, but the majority of their losses come in PvT, a match-up that is unlikely when playing CJ.
CJ's loss to Stars was ultimately decided by this season's mirror du jour, PvP, but the key game of the series was that old Proleague favourite, ZvZ, and so it may prove to be again. Crazy-Hydra has emerged this season as KT's third best player and one who is capable of winning in all match-ups, against CJ however, it may be time to go back to his ZvZ sniping roots. Hydra has played more ZvZs than anyone else this season, but in his last game he was caught out by Zero's clever strategy and is possibly low on confidence due to what has so far been an underwhelming 11-12 season for him.
It's impossible to preview a KT match without mentioning Flash, even if speculating on whether or not Flash will win has in the past felt akin to speculating on whether or not the sun will rise. His streak has ended now, and STX has shown that if you can somehow beat Flash then you've basically beaten KT, but at the beginning of every game he plays the overwhelming, almost oppressive likelihood of a Flash victory remains. I doubt his programming will allow him to lose again this season. CJ are going to need a miracle, a
don't stop me now
moment.
My Prediction:
CJ Entus 2 -
3 KT Rolster
Tuesday, March 6th



Air Force ACE vs SK Telecom T1
Bloodsh0t
— With SKT coming out of a hard loss and a win that kept it in playoff contention, one can assume that the coaches had a stern talk to the team about this week. Fantasy looks very on form with a clutch win last week vs ZerO that cemented the victory against Stars.
Hopefully Bisu is out of his mini-slump and can come out with something that's not a build-order loss. Soo is on his own mini-streak, and looks in good shape to take on anything thrown at him. By contrast, Canata's form has been wishy-washy all season, and the same could be said for Kal. Still, Kal has the potential to pull out something with his on-again off-again results. The 'star' performers of ACE, Firebathero and Iris, are nowhere to be seen.
If ACE wins enough coinflips it could tip the scales their way, but I just don't see it happening, with a very motivated SKT and ACE left fighting only for its pride.
My prediction:
SK Telecom T1 3
- 1 Air Force ACE
Wednesday, March 7th



Samsung KHAN vs Team 8

Garrl
— Samsung Khan's Protoss line-up has built the kind of momentum that rivals SKT's in the last Proleague season. Add the recently spectacular performances of Turn to the mix and you've got a winning roster. Curiously, Kespa's Team 8 is also gathering some momentum of its own, having brought itself up in the rankings somewhat, though we shouldn't forget that it's still underperforming if you look at the pre-season expectations.
Predicting when either team's ace player – Stork or Jaedong – will play is a difficult task for the coaches; Jaedong is Team 8's only real versus-Protoss crutch, and all the maps are somewhat viable for Protoss. Given that Turn has been played on Sniper Ridge mostly, and that neither Baby nor Killer have played enough games versus Protoss this season to show off their true potential, it's fair to assume the possibility that Baby or Killer will attempt a snipe on Turn. Beyond that, Team 8 will have to pull out some magic from the tips of Jaedong's fingers to defeat Khan's terrifying Protoss lineup. This looks to be a game of gradually picking up speed, of momentum, of careful tricks to pull ahead of your opponent; bicycle races are coming your way, so forget all your duties, oh yeah.
My prediction:
Samsung Khan 3
- 1 Team 8
Art by fishuu
This edition of the SK Planet Proleague news write-up was brought to you by the amazingly talented SPL Writing Team consisting of riptide, HawaiianPig, Kiante, Mustaju, SirJolt, 2Pacalypse-, Carnivorous Sheep, Simplistik, Hyde, Kiett. Thanks to guest writers kjwcj, Bloodsh0t, Garrl and Nikon for their previews. We'd also like to give a special thank you to Antoine for his tireless help editing. Have a great week!