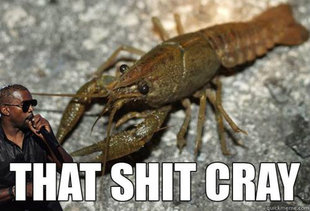 For the past year, I've been giving SlayerS`Jessica, from this point onward to be referred to as SlayerS`Yoko, the benefit of the doubt. I thought perhaps she was an extraordinary woman put into extraordinary circumstances, and that her various out-bursts and dramatic behavior may have been a result of being frustrated by things outside of her control.

But today, Yoko has thoroughly debunked that myth.
In her long form essay, which by the way was one of the most lulz-tastic piece of writing I've encountered in a long time, she addresses the platitudes of mishaps endured by Team Slayers and herself leading up to the disbandment of the beloved team.
Though these claims may hold some truth to them...it was the way Yoko presented them that really tips the scale on cray cray. The points she made were extremely one sided and/or seems exaggerated out of proportion.

The full translation can be found here:
http://www.teamliquid.net/forum/viewmessage.php?topic_id=376041#1

The following are some of the more lulzy parts of released statement.
Let's for a moment...pretend that everything Jessica Yoko is telling us is completely 100% true:


1. BoxeR told GanZi painfully that MMA is a cancer to this team

Really? Which MMA? The MMA that won 2 GSLs for Slayers, won the ace match for GSTL grand finals, the best player in the team, beloved by all fans (including team members) across the globe...that MMA?

fuuuuuuuuuuuuuuuuuuuck!


2. Alicia's complaint was that no right person dropped him and picked him up from the airport when he entered foreign tournaments. The reason was that it's annoying to be picked up and dropped off by someone else but Cella. I just sighed when he told me this. I sent him up to take a break. His complaint was not something that I did wrong and I thought he lacked some common sense.

Ask for a car ride from the airport? Gets put on probation from the team!

fuuuuuuuuuuuuuuuuuuuck!!

Totally common sense NOT to ask such a thing.


3. MMA firmly believed that I have embezzled his money from the personal sponsor and I was very disappointed. I cared every single one of them sincerely and loved them but they believed the manager...

DAT DODGE!!!!
mma: "did you take money?"
yoko: "how could you accuse me of such a thing?! I lob you gaiz!"

fuuuuuuuuuuuuuuuuuuuuuck!

4. More shocking thing was that no players told me about this. I was going to formally sue the manager but I couldn't because I didn't want to disturb young players with a court case.

"I totes would have sued, but I was afraid sueing would damage some of the players' feelingz"

Yes, because legal justice has no place when feelingz can be hurt.

fuuuuuuuuuuuuuuck!

5. Federation and SlayerS didn't get along from the start. We had Intel as the main sponsor and started off being the wealthiest team. That's when the federation wanted us to join but we weren't sure about what their goals and what they were after so told the federation that we will decide to join when we observe surrounding situations. That's when GanZi incident happened

"Why join the union of pro-teams (that everyone else did except us) when we already got teh money?"

fuuuuuuuuuuuuuuuuuuuuuuuuuuuuuck!

6. [Boxer's] passion as a manager and as a player were diminishing fast. I had hard time watching him too. He taught the players a more than ten-year period of experience inside and outside the game but the players didn't seem to appreciate that. That's when I suggested him to coach in T1 for remaining players, who may be able to fire up his passion again. After a few days of consideration, he agreed.

"It was all my idea!"
what a hero!

7. As you might already know, Alicia was a B-team player.

Got 2nd place in three separate grand finals in a row (MLG Spring Champ, MLG Summ Arena, NASL Grand Finals), gets called a B-team level player.

FUUUUUUUUUUUUUUUUUUUUUUUUUUUUUUCK!!!!


8. I felt unsecure about Clide hanging around with MMA.

Can't trust that MMA



@LGIMMvp
Out of all the progamers I've met over the years none of them have been as nice and sincere as MMA... I hope all the misunderstandings are cleared up as soon as possible.



What............?

fuuuuuuuuuuuuuuuuuuuuuuuck!

9. Taeja requested his transfer so I accepted. He wanted to move to a different team and continue playing and that's when TeamLiquid made an offer. I am really happy and proud that he is doing well every time I watch his games. He is not a player who tries hard to practise alot. Considering his performance if MMA is a practising machine then Taeja is really a genius style. If he is trained under a right regime, I think he can be the best player.

Is technically the best Terran player in the world from June to October, 2012...gets called lazy...

FUUUUUUUUUUUUUUUUUUUUUUUUUUCK!!!


10. But when Ryung behaved in a way MMA did, I was rather disappointed. When I asked him 'why are you being like that?' he also said 'I lost my faith in you at some point.' and when I asked him 'what have I done?' he couldn't answer

T_T



---


Ending on a serious note,

If you asked me, Jessica should have hired a lawyer to help her write this press statement.
Releasing this emotional, passive-aggressive article was the worst thing she should have done to damage her reputation. I have no doubt that Jessica meant well, and perhaps she's a genuinely good person deep down....but good god!

She CRAY.