Preface: I know they made a new one blah blah blah shut up I don't care.




Bionic Commando for NES is one of the classics of gaming. It is a classic because it embodies the platform genre. It has simple, fun gameplay with an interesting concept that separates it from other similar games. The concept is this: You can't jump, instead you use a magic grappling hook secret bionic arm to swing across obstacles.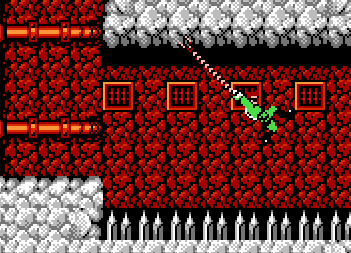 oh fuck

The grappling hook mechanic is strange at first, but it quickly becomes fun as you figure out different ways to use it.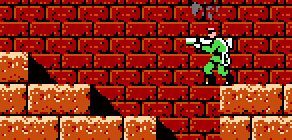 this is a suprisingly difficult place to get to

Another thing that makes this a wonderful game is because there are nazis. Any game where you kill nazis is automatically awesome. This is a hard and fast rule. As a child I actually never noticed they were nazis because they wear magenta uniforms. Most of the swastikas and assorted nazi paraphernalia were removed for the US version. The case for them being nazis would be this guy: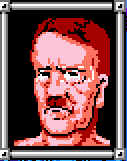 Yes, that's Hitler.

They changed Hitler's name to Master D but it's pretty obvious. Also I thought there was a giant nazi flag in area 8 but I couldn't find it, so I probably just imagined it. The enemies in this game, being nazis, are generally equipped with absurd weapons.


standard issue nazi helicopter jet pack

I feel I should mention this douchebag. Whenever you shoot at him, he pulls on the hook and goes up to the ceiling to return fire. If you use your grapple to go up to the ceiling and fire from there, he dodges it by going back to the ground. I imagine this guy ruined many people's childhoods.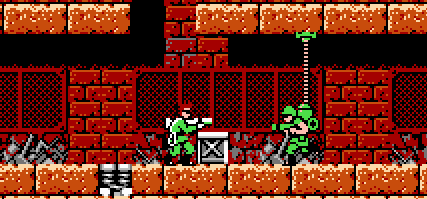 douchebag, pictured here

My personal favorite enemy is this guy: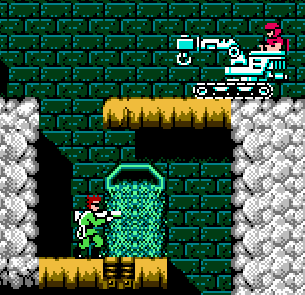 The crane driver will try to run you over or use the hook to block your attacks or just plain drop it on your head. When you blow up the crane, you see the true horror of the nazi war machine: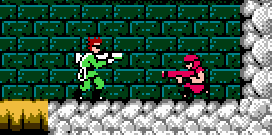 Crane-driving midgets are one of the reasons this game is awesome

In addition to midgets there are also pirates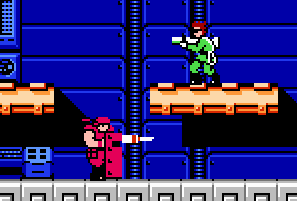 a pirate, obviously

The nazis also have a secret lab where they're making plants and animals into killing machines.



Damn those heartless nazi plants!

Nazi plants? That's not enough for you? OK fine, there are robots too. Robocop was an awesome movie, shut up.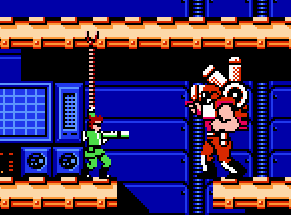 This guy is sort of like the nazi take on robocop and the grappling hook. I remember having a hard time killing him as a kid but now that I have a functioning brain he's actually fairly easy.



the famous (infamous?) robot drone boss dialogue

Of course you don't just fight nazis, you also must navigate their devious traps. Their traps usually involve spikes. Usually you swing past them with the grappling hook. Usually. Usually.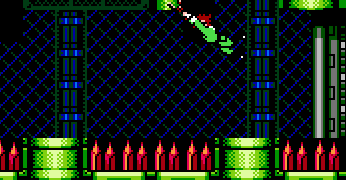 Swinging past usual spikes with the grappling hook. Those nazi bastards and their spike pits...

This picture speaks for itself. It goes on in that fashion for a while.



Other miscellaneous things that make this game awesome are blowing Hitler's head off with a rocket launcher (use your imagination) and the mild swearing at the end, pictured here.



I suppose I should elaborate upon the hilariously bad dialogue in this game.



plz to not explod i am have evacuate

The translator working on this game was particularly awful. Most of the dialogue makes no sense. Fortunately, this is a platform game, so all the plot and dialogue and story are superfluous.



we don't talk about the captain's gay nazi love child

Most of the dialogue is initiated through the communication rooms placed throughout the levels. You need to bring a special colored reciever (picked at the beginning of the level) to each comm room to hear the messages or wiretap enemy communications. If you bring the wrong communicator, you'll hear what seems to be a baby saying "GA GA GA"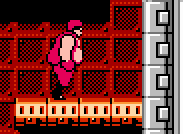 I didn't take a picture of GA GA GA so here's a fat guy instead

Initiating communications unlocks the door to the boss in some levels, so you need to bring the correct communicator or do the level again. As a child, remembering the correct communicator was a frustrating part of the game (OMG BRING THE BLUE ONE TO LEVEL 8). I still to this day remember which communicator to bring. (area 2 is the GREEN one)

Most of the weapons and items aren't very interesting, with a few exceptions. The rocket launcher, obviously, is a rocket launcher and it kills stuff. The other interesting item is the iron boots. When you swing into an enemy, you will either end up hurting yourself or stunning them if you hit them in the head. Wearing the iron boots makes swinging into enemies result in their death. It's a fun item to play around with.

There's a map where you can fly around in your helicopter and pick levels, pictured here poorly cropped. If you run into one of the little vans, there are mini battles where you kill people in a top view style.



There are neutral areas where you can go to talk to people and get items. If you fire your rocket launcher in the neutral area (did I mention he carries a rocket launcher? you kill nazis with a rocket launcher), the neutral army will parachute in to try and kill you.



the neutral force mobile paratrooper division, pictured here shortly before being wiped out.

The game also had state of the art graphics at the time, which is pretty LOL to think about seeing it now.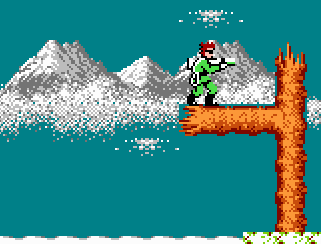 state of the art graphics, notice how the captain is in the same pose in every single picture

Each area has a different theme and design and they're all fun to play through... with one exception being area 7. Remember this part?


FUCK FUCK FUCK FUCK FUCK MOTHERFUCKER FUUUUUUCK

I'm running out of steam here, so barring terrifying editing errors, this is the end. Hope you enjoyed this and I hope you fire up the old NES (or emulator, you sneaky pirate) and relive the magic again! Or, if you're a noob, I hope you play the game for the first time!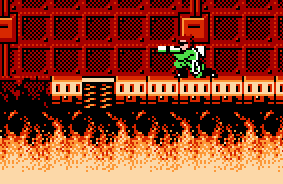 firing up the nes, literally


List of previous works:
Castlevania 3: http://www.teamliquid.net/blogs/viewblog.php?id=182450
Double Dragon: http://www.teamliquid.net/blogs/viewblog.php?id=170537
pre-blog Megaman 2: http://www.teamliquid.net/forum/viewmessage.php?topic_id=51878