Hello and welcome to the ninth installment of my travel blog.

I like to take this opportunity to say thank you to a fine commentator that we all know and love. Cheers Sean! Keep up the fine work.

=============

Click here to start at the beginning.
Click here for the previous entry.

=============

I woke up the next morning feeling terrible. I suppose the fine weather the previous day had led me to under dress, leading to me catching a fine cold. I had booked a hotel in Brugge for the weekend, but didn't feel up to leaving the house until after midday.

No troubles getting to the train station this time, and I didn't have have to wait long before I was on my way to Brugge.

For the second time since arriving in Europe, I heard a pair of familiar accents. They belonged to a pair of Australians who were nearing the end of their trip and needed to catch a train from Brussels to Gent in order to get to Paris (go figure). We talked a lot of our travels so far, places we'd recommend seeing and so forth. In particular, they recommended going to Prague, which they said was one of the most fantastic places they'd ever been. I hadn't really considered going before, mainly because I'd heard little about it. My feeling is that when much of my family did their European adventures, the city was still behind the Iron Curtain and so was left unvisited.

The Australians got off in Gent, which felt like about half way to Brugge. That left me with about an hour or so to look out the window and admire the countryside with it's rapidly melting snow. It really was beautiful, once again I cursed not having an amazing 5000 dollar camera to capture it with.

My phone is dead, since I have no way of charging it, and I haven't owned a watch in a number of years. Consequently, I had no way of telling the time, which became a fair annoyance throughout the weekend. In any case, it would have been early afternoon when I left the train. Grey skies, but relatively warm and dry.

Rather overestimating the distance it was into town, I took a bus in. While it's admittedly a very short way, I feel I must have fallen asleep standing up without noticing, as it felt like we just turned a corner and were in the center of town.

One of the main reasons I wanted to go to Brugge was because of a movie I'd seen a while back, but loved. The film was simply called "In Bruges". Quite apart from the story and other positive aspects of the film, the city it which it was set was shown to be absolutely wonderful. Ever since seeing the film, I've wanted to go to Brugge. Hence, you'll have to forgive my fanboyism and allow me to sprinkle a quote or two here and there, at least until we get past that awkward period where I have no photos.


I sightsaw first




Ray: Bruges is a shithole.
Ken: Bruges *is* not a shithole.
Ray: Bruges *is* a shithole.
Ken: Ray, we only just got off the fucking train! Could we reserve judgement on Bruges until we've seen the fucking place?



I got off at the main square, about a minutes walk from the hotel, the name of which I'm not even going to attempt to pronounce (or the name of anything else in Brugge for that matter). I quickly learned that dutch, perhaps the Flemish dialect in particular, was completely beyond me. Whereas I could get by in Paris and Brussels with what little French I know, I had to entirely rely on the English speaking ability of everybody during my stay.



Ray: What am I gonna do, Ken? What am I gonna do?
Ken: Just keep movin'. Keep on movin'. Try not to think about it. Learn a new language, maybe?
Ray: Sure. I can hardly do English.
[pause]
Ray: That's one thing I like about Europe, though. You don't have to learn any of their languages.



As they said in the movie, the place really is a fairytale town. I didn't get up to all that much at first, just wandering around. That seems to be what I do during my first day in any place. I don't intend for it to work out that way, just seems to each time. During my walkabout, I of course walked around centrum.

During my walk, I spotted a Salvador Dali exhibition. I was tempted to go in, but Kelly was arriving later on in the evening. I knew she liked Dali, and I thought I'd save it until the next day.


The central square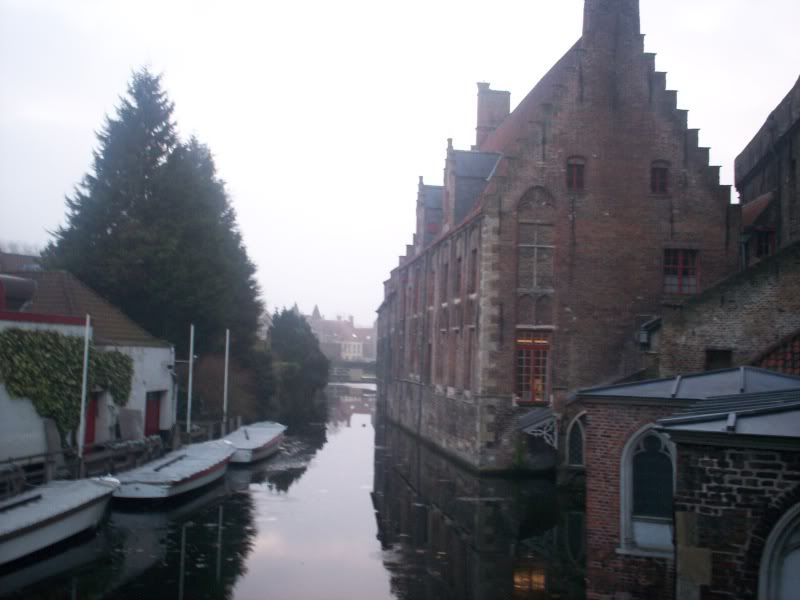 A canal, iced over



After wandering around for a bit, I strolled back to the train station to meet Kelly. The first rain since arriving in Belgium began to set it, and caught me unprepared, absolutely drenching me. My lack of a watch (or charged mobile phone), led me to arriving well before her train arrived. Feeling tired and hungry, I ordered some fries from a place inside the train station. I wasn't expecting much really, but upon eating them… I finally understood what all the fuss was about. Damned tasty Belgian fries.

I was feeling very ill by the time Kelly finally arrived. Despite being in the tremendously awesome city that is Brugge, all I really wanted to do was retire for the night. Kelly was feeling very tired and sick also, so after a small amount of night time sightseeing, we returned to the hotel for an early night.

Sorry to not have more exciting things to report!

+ Show Spoiler [Many day 9 images] +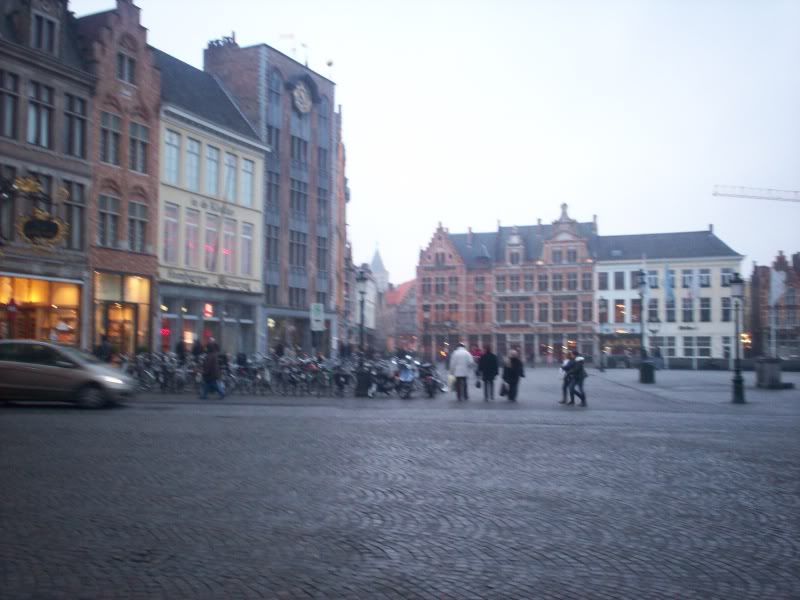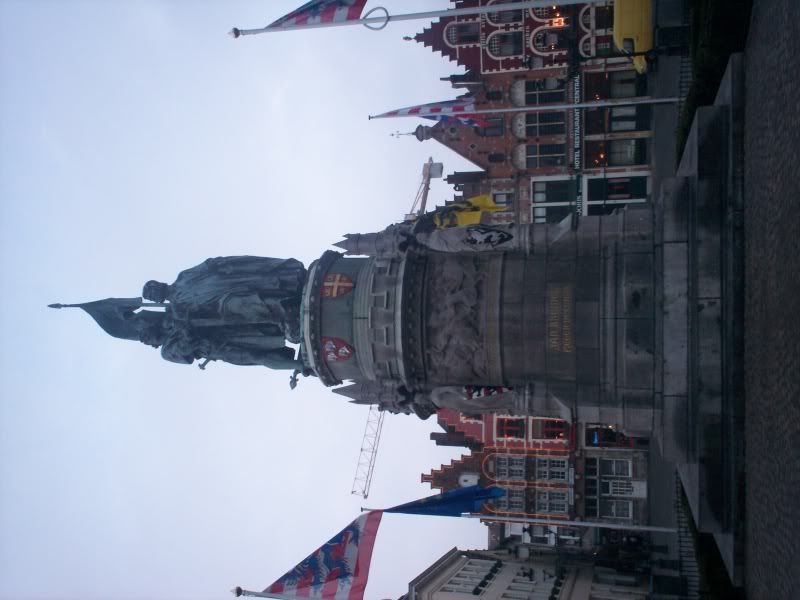 Statue in the middle of the square
The main street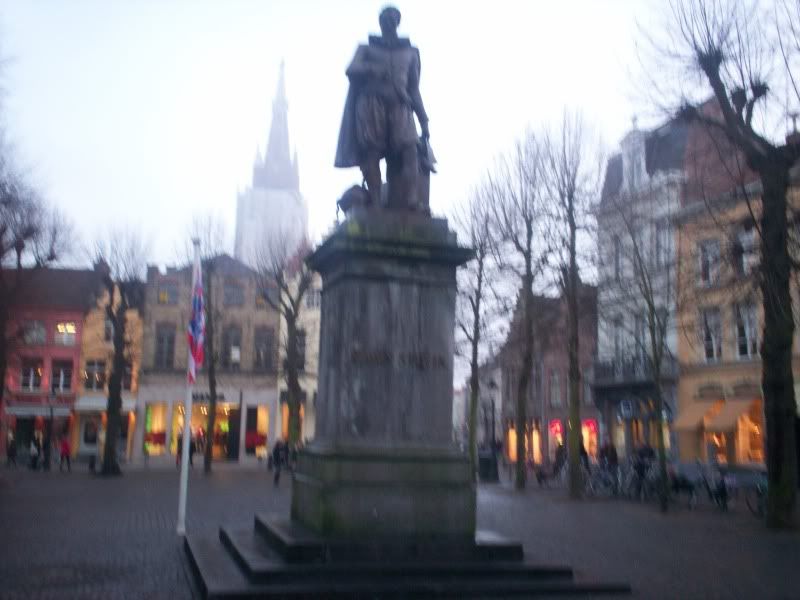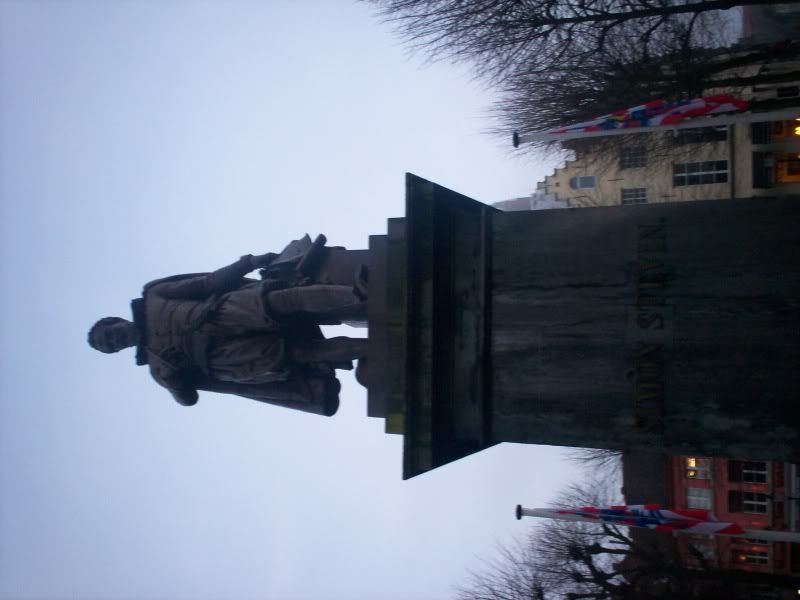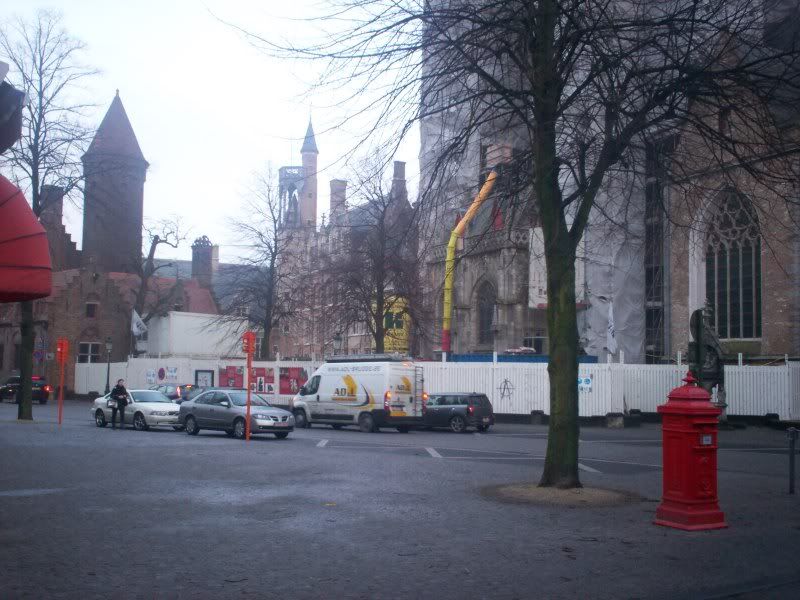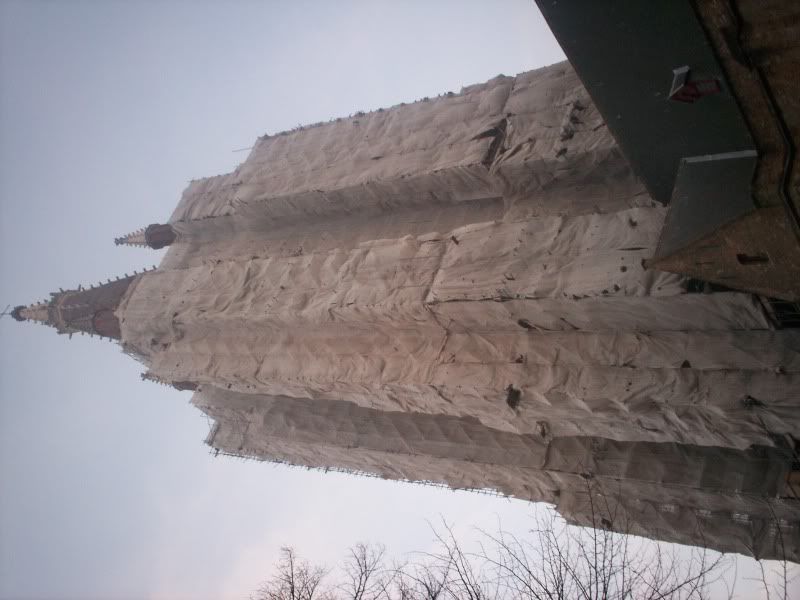 This building looked as though it would look fantastic, if one could see it!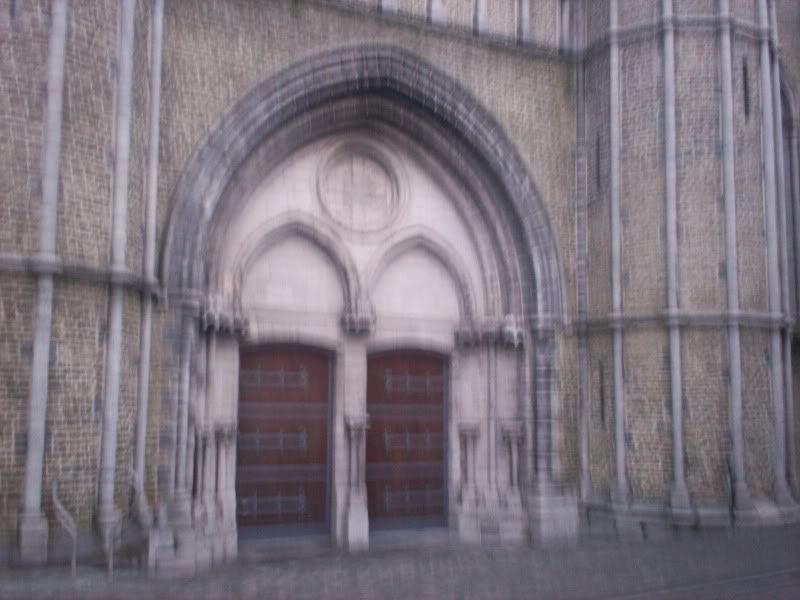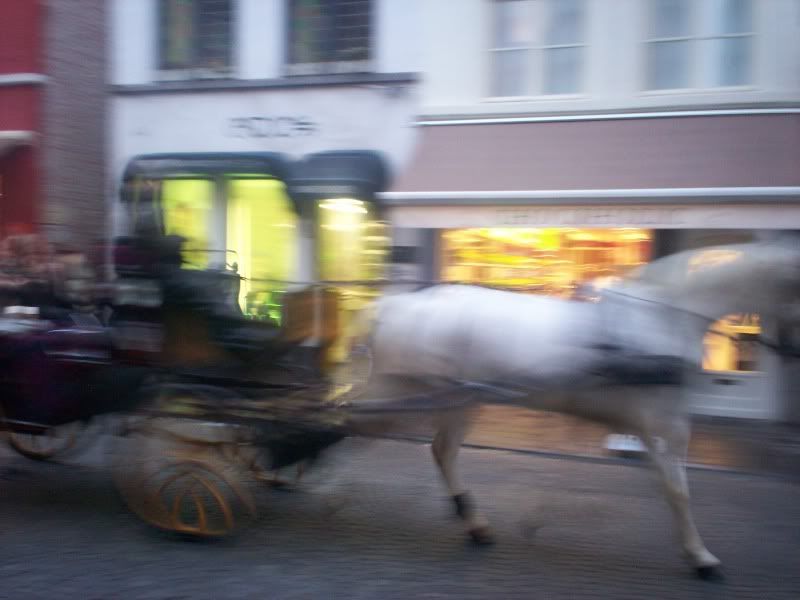 The camera isn't so good at capturing moving objects either. This is a horse drawn cart, which takes tourists around the town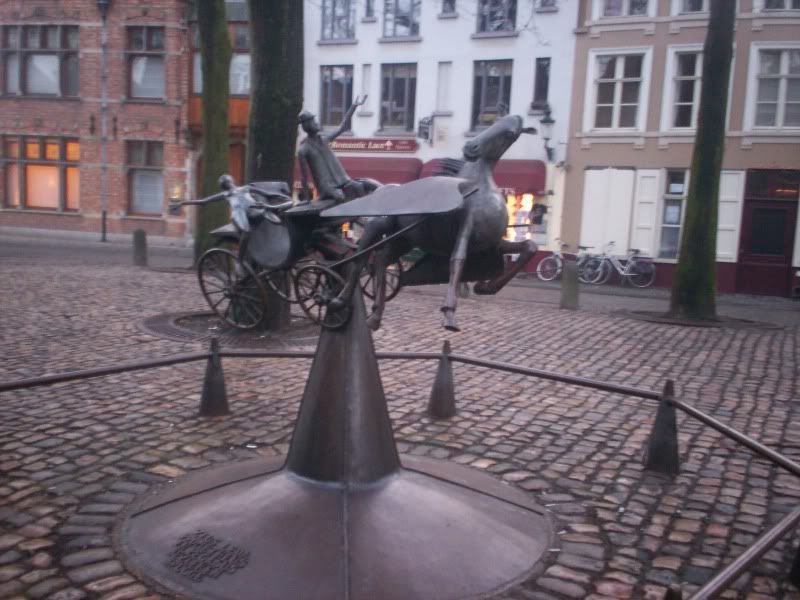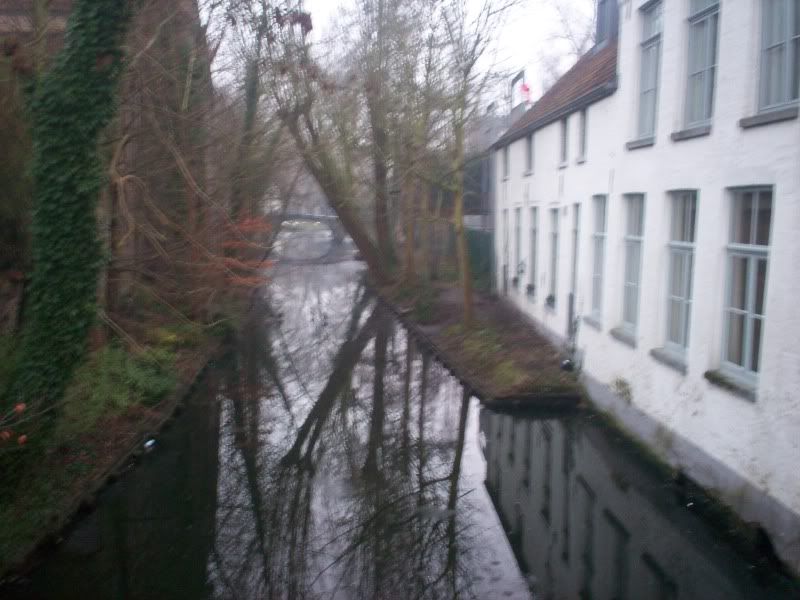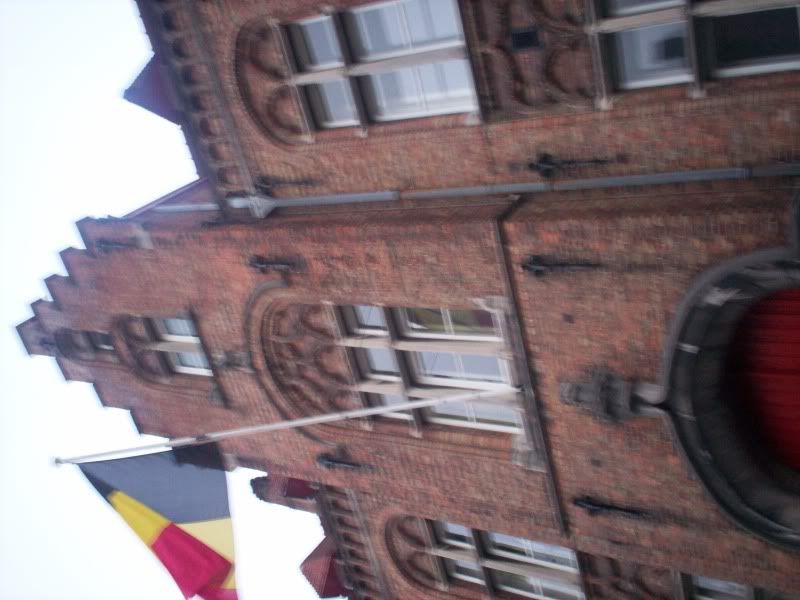 ===================

Click here to read about the rest of Brugge!

===================

Yep, that was a day[9] daily! :D

Until next time,
Alethios