World Team League - 2023 Summer Season
by: Nakajin
The World Team League Summer regular season is over!
Now, it's time to look over the final week of games and hand each team their report cards. Also, continuing a long-honored tradition, we commend the best players of the regular season with the TL.net WTL awards.
The WTL will remain on hiatus for another week, before closing out the season with the playoffs on
August 11-13
.
Week 11 Recap + Team Grades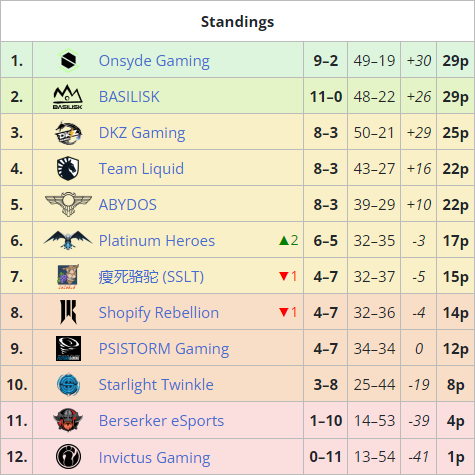 Top 7 teams qualify for the playoffs.
Bottom 2 teams must requalify.
Points are awarded as follows:

3 points for a victory in a series that does not require an ace match

2 points for a victory in a series that requires an ace-match

1 point for a loss in a series that requires an ace-match

0 points for a loss in a series that does not require an ace match
Invictus Gaming 3 - 4 Starlight Twinkle
Watch VOD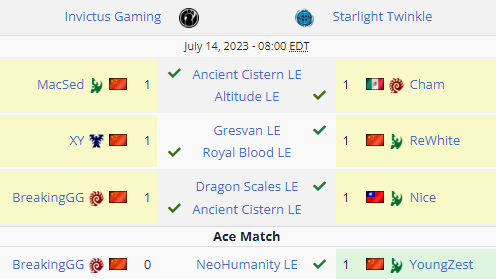 iG and BreakingGG avoid shutout at the last minute
The series started in predictable fashion with XY going for a massive Marine-Tank push off of three bases against ReWhite. The SLT Protoss chose to meet it with quick Storm and mass Chargelots. Resource-wise it was not a great trade for ReWhite, but it was enough to reset XY's Tank count and put him on the defensive for the rest of the game. ReWhite got a little too eager to close out the game and initiated some wasteful attacks, but a warp-in into XY's main was enough to unlock the Terran defenses in the end. Game two featured a more solid showing from XY, who evened the score in a fairly standard macro game.
The second BO2 between MacSed and Cham also resulted in a 1-1 tie. Game one saw MacSed hold off Cham's Roach strike, and then hit with a maxed-out army before Lurkers to get the first point. However, MacSed didn't find the same success in game two on Altitude, as his Stalker-Archon-Disruptor army was enveloped and wiped out.
In the third match, BreakingGG was playing as much for his own honor as his team's, hoping to avoid going 0-20 as an individual and prevent a 0 point season for iG. Nice didn't show any sympathy for BGG's plight in game one, continuously bullying the Zerg with 3 Oracles before winning in a straight-forward macro game. BreakingGG managed to avoid taking fatal early damage in game two, and eventually got his hands on Lurkers and Vipers. He had to keep fighting hard after that point, but some nice Abducts and backdoor attacks were enough to force the GG from Nice in the end. An ecstatic BreakingGG won his first map of the season and also guaranteed at least a single point for iG.
Perhaps carried by emotion, iG sent BreakingGG out as their ace player, while SLT decided to give the mysterious Chinese Protoss YoungZest a chance to make his WTL Code S debut (due to the lack of pictures or webcam, TL.net staff were unable to confirm if it was indeed a time-traveling Zest from 2014). In the rare position of being the favorite, BGG went for some standard Roach-Ravager-Bane play. It looked good for a while for BGG, but YoungZest was able to stabilize and force the game to go long. There, BGG completely misread the game, gearing up for a Brood Lord transition while his opponent was amassing Carriers. Sadly for BGG, and happily for the debuting YoungZest, this led to an easy Protoss victory.
YoungZest moved ahead of Serral with a 100% win-rate (this is a joke; calm down Serral fans), while SLT locked in a final record of 3 wins and 8 losses. As for BreakingGG, one could argue going 1-19 with an ace loss to YoungZest is mentally worse than going 0-20, but at least he let iG have hope for a second.
Regular Season Grades
Starlight Twinkle: C+
It was a slightly disappointing season for Starlight Twinkle compared to the potential they showed early on, but ultimately they finished where one would expect given that they lost ace player Spirit in week six.
Headed into the off-season, one has to wonder what direction the team will go in. They only managed to get three points in the last six weeks without Spirit, and never really seemed like a dangerous team to anyone but iG. If they run it back with the same squad, they would be closer to a fun Code A squad than a team that's guaranteed to earn a Code S spot (unless they have Firefly-like talent in the wings). Will they do what they did last off-season and show up with an unexpected free-agent? And will they actually be able to keep them on the roster for the whole regular season this time?
Invictus Gaming: E
Taking low expectations into account, it was still a very, very bad season for iG. At least they ended on the semi-positive note of forcing an ace-match vs SLT, but overall it was a season that continued a long trend of irrelevance. On the plus side, it wasn't iG's worst season in history, and one has to applaud XY and MacSed's longevity. However, that just feels like backhanded compliments, when you consider how projected relegation zone teams Platinum Heroes and Starving Camels both pulled off the 'miracle' of reaching the playoffs. Even Berserker managed to keep things interesting by earning four points, which made watching iG get curb-stomped get pretty old.
When they had Coffee, we could at least see someone on the squad that had the potential to grow, but now there just doesn't seem to be a path for iG to improve without making a big signing. I've been an advocate of iG for a long time, saying they deserved their place in WTL on legacy value alone. But for the first time, I find myself thinking it's time for the old guard to take a step back, and for new blood to take their place.
Berserker eSports 0 - 6 PSISTORM Gaming
Watch VOD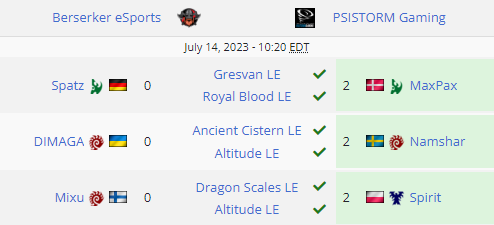 PSISTORM end a disappointing campaign on a high note as they look to regroup for next season
Opening the competition for Berserker, Spatz tried to surprise MaxPax with a proxy-Robo into Prism-Immortal. This strategy almost worked, but a timely pickoff on the Prism and good Battery placement from MaxPax let him hold the line and win the game. Probably thinking he could have done better, Spatz went for a similar proxy-Warp Prism strategy in game two, but this time with a Stalker follow-up. However, it was another defensive win for MaxPax, who held easily with Void Rays and Batteries.
Namshar knew what the deal would be with DIMAGA, and took game one by preempting his opponent's mid-game all-in with a slightly faster all-in of his own. Game 2 followed a similar progression, but DIMAGA managed to hold against Namshar's early attack with Roach-Ravager-Ling. However, DIMAGA misread the situation somewhat, giving Namshar plenty of time to Drone up, recover, and ultimately win the game.
Mixu didn't have an especially strong showing against Spirit in the last match that day. Spirit displayed his late-game expertise in the first game, with Mixu impaling himself on the Terran defenses until he had to surrender. The second game had him play from 20 Drones down after an early Hellion strike, and he was quick to GG out as soon as Spirit showed him an army.
Regular Season Grades
Psistorm Gaming: C-
I'm ambivalent about PSISTORM. On one hand, as someone who predicted them to finish fourth in the league, a 9th place finish can only be a catastrophic result. On the other hand, I'm not really worried for them going forward. They ended the year with the sixth best map-differential in the league, above Shopify, Starving Camels, and Platinum Heroes. Taking that into consideration, not making the playoffs was at least partially due to bad luck.
GuMiho's mid-season departure ended up being a lose-lose scenario, with PSISTORM tumbling down the rankings while GuMiho never found that better offer he was looking for. To make things even worse, SpeCial and Gerald's hot streaks ended almost as soon as GuMiho left, with both players putting in middling performances (at best) and ceasing to be upset threats.
In hindsight, the Spirit signing probably came too late to really salvage the situation, but it certainly didn't help that he made a disappointing impact. After going 7-3 for Starlight Twinkle, the Polish Terran only put up a 3-5 record in the back half with PSISTORM, killing any chance of a last-minute playoff run.
Of course, in the center of it all, MaxPax was having a stellar season, but his victories never lined up with his teammates' good days. In fact, Maxpax scored four 2-0's in matches where his teammates were swept.
That's a pretty disappointing picture, but I think as a whole they have all the pieces they need to be a strong playoff team. If we were to replay the season a bunch of times, PSISTORM's tailspin would probably be revealed as an anomaly. While GuMiho and PSISTORM rekindling their relationship would be great, even without him I expect a very different result for PSISTORM next season.
Berserker eSports: B
A 'B' grade for a 1-10 team? Well, yeah, I'd say for Berserker this season probably went a bit better than they could have hoped for. They didn't finish last, they beat iG, and they took Platinum Heroes to an ace match. Despite getting crushed most weeks, they still seemed to have fun showing up and giving everyone on the team a chance to play. Requalifying will probably be very hard, but in any case, I would say it was a success to have even one season in WTL Code S.
Team Liquid 3 - 4 ABYDOS
Watch VOD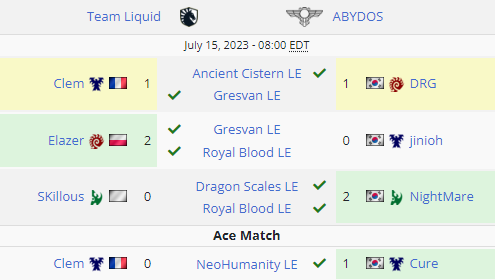 ABYDOS show their depth in a likely playoff preview match against Liquid
This match to decide 4th/5th place didn't feel especially urgent, as the penalty for being the low seed would be a playoff match against underdogs Starving Camels/Platinum Heroes. Thus, it wasn't surprising to see ABYDOS play their bench unit, which actually proved to be quite formidable.
The opening game between Clem and DRG took place on Ancient Cistern, where the Liquid ace mixed things up with a battlemech opening. However, DRG exposed the fragility of the composition when Clem lost a bunch of Hellions trying to cancel a Zerg expansion. DRG had Mutalisks on the way, and Clem struggled to make enough of both Hellions and Cyclones after his early unit losses. That opened the door for DRG to bust through Clem's defense with a bunch of Ling-Bane before sweeping in with Mutalisks to clean up. Things went much better for Clem in game two, where he started with an in-base 3-Rax Reaper rush that put DongRaeGu on the defensive all game long. DRG was stuck making an infinite number of Zerglings on a meager Drone count and got overrun when the first double drop hit the field.
Going up second, Elazer vs Jinioh was the stomp we expected when the match-up was announced. There was some hope for Jinioh in the first game, but his execution and mechanics were just not enough to beat a progamer of Elazer's caliber. Here's to hoping Jinioh can come back looking stronger in the future!
Liquid had already secured 4th place by taking three maps, but NightMare still put in a great showing to conclude a breakthrough regular season. In his first game against SKillous on Dragon Scales, he won by defending against Nikita's mid-game aggression with a cute Void Ray snipe on the Warp Prism from behind. Then, in game 2 on Royal Blood, he went for a one-base bust that found SKillous awkwardly entangled in his sim-city at the natural to earn the 2-0.
Unlike some other teams we'll talk about later, TL and ABYDOS took their meaningless ace match weirdly seriously. TL sent Clem as the logical ace player, while ABYDOS brought Cure off the bench. This was particularly perplexing for ABYDOS, considering they fielded Jinioh ahead of Cure when there was actually something to play for, only to send Cure out once the standings were decided. In any case, it was a fairly straightforward victory for Cure, as he just seemed ever so slightly better, faster, and stronger in TvT.
TL may have finished ahead of ABYDOS in the standings, but TL fans should be worried about the probable rematch. They somehow lost this match despite being handed two 'free' maps, and a tryhard-mode ABYDOS will only be more deadly.
Regular Season Grades
Team Liquid: B+
Finally, Liquid achieved a finish in line with their talent. Clem performed like a super-ace for the first time since his WTL debut season, Elazer was a worthy second banana, and SKillous proved to be the wild card Liquid needed by nabbing some important victories in big moments. Even Mana, so often the weak link of TL in the past few seasons, put up a great record for the team (while moving to a more managerial role at that). The playoffs will be much tougher for Liquid, especially since Clem is someone who is vulnerable to TvT sniping, but they definitely have an outside shot at winning the championship.
ABYDOS: B
I said at the start of the season that my biggest concern for ABYDOS was their commitment to the WTL. It was hard to tell exactly what was going on with the Team-Formerly-Known-as-NV, but part of its rebrand to "Club NV" and decision to compete in WTL under the ABYDOS name seemed tied to no longer being a 'pro' team (whatever that means).
Anyway, those fears turned out to be founded, with ABYDOS rarely fielding a full-strength side (although this was partially due to Cure suffering an arm injury a big chunk of the season). ABYDOS regularly left their best players on the bench and sent out unproven amateurs at critical times. What I didn't predict, however, was how well ABYDOS would perform regardless. NightMare and Creator dished out some of the best Protoss performances in the league, DRG and sOs pulled their weight, and even Mondo managed to win a very important map.
Overall, ABYDOS did just the bare minimum and still got a 'B,' which I'm sure some of our readers can relate to. Now that they've reached the playoffs, I expect them to take things more seriously and play their best line-ups. Given how well Cure has been playing in individual tournaments and considering the strong performances of NightMare and Creator in the WTL regular season, ABYDOS have the potential to threaten the big three at the top.
Platinum Heroes 4 - 2 Shopify Rebellion
Watch VOD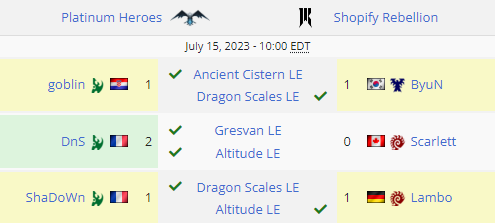 Platinum Heroes stun the league and eliminate Shopify with an all-time performance
This was one of the most anticipated matches of Week 11, with Platinum Heroes and Shopify Rebellion facing off in a playoff deathmatch. The winner would go to the playoffs, while the loser would very likely be eliminated. The Rebellion came in as the favorites, but a rocky campaign had some fans doubting if they could deliver in their most important match of the season (including yours truly).
ShaDoWn and Lambo kicked us off with a classic Franco-German duel. In game 1, ShaDoWn mesmerized Lambo with three Oracles into a Chargelot-Archon timing that the Zerg did not see coming at all, attacking at a time where there were no Banelings and very few Roaches. Lambo managed to defend the push after losing a bunch of Drones, but ShaDoWn was in the driver's seat. ShaDowN seemed a bit tense as he tried to consolidate his lead, and Lambo started to make some strides toward recovery by preventing expansions, cutting the Probe count to 50, and even getting a pickoff on a Nexus. But ShaDoWn retained the core of his army, which just grew bigger and deadlier. When he finally attacked again, his wall of +3 attack Gateway units supported by Disruptor and Archons ripped through Lambo's defenses to score first blood.
Lambo logically chose Altitude for the second map, upon which ShaDoWn try to unleash a Glaive-Adept timing. Lambo's star sense came to his rescue, as he scouted the map and found the proxy gate of his opponent. It was an easy hold after that, and while ShaDoWn fought valiantly from behind, he never really got back into the game. Lambo avoided the 0-2 disaster and passed the baton off to ByuN.
The Goblin vs ByuN series had a bit of controversy, being one of the first professional matches played on the 10-range Colossus "patch." In game one, Byun went for a 3CC-3 Rax build, while Goblin initially went Phoenix. The dishonorable Goblin refused to boycott the bugged Colossus, making a considerable number of the infinite-range laser tripods. More seriously speaking, 10-range Colossus may be good, but they weren't the reason Goblin won game one. ByuN's movements were clunky, with his first big push was crushed after being caught at a weird angle. After that, Goblin was in full control of the game, and ByuN kept helping him by tanking Novas with his face. Ultimately, Goblin wiped out ByuN's army mid-map to force him out of the game.
With the momentum of the match in the balance, ByuN showed an all-too-rare willingness to adapt to his opponent. A 3-Rax opening allowed him to set the pace of the game against Goblin's Phoenixes, even if it wasn't particularly successful in dealing direct damage. He then used cute multi-prong harassment to stop the Protoss deathball from coming together, all while amassing a big Marauder-Viking army. Even the most far-reaching Colossus couldn't deal with that combination, and ByuN tied the series at 2-2.
The WTL's sometimes annoying trend of playing matches out of order worked for the best in this scenario, as DnS took on Scarlett with both players having a chance to win it for their respective teams. The Canadian Zerg was far more battle-tested in high-pressure scenarios, but on that day, DnS was the one who came through in the clutch. DnS opened Oracles in game one, only to hide a Glavie-Adept switch behind it. This caught Scarlett off-guard and allowed the Adepts to massacre her economy. Scarlett was forced into a Roach-Bane attack that only managed to slow DnS down a little bit as he desperately teched to Hive. However, it was a futile effort in the end, as DnS marched across the map and took the first map.
With Shopify's life on the line, Scarlett completely bungled her early game on Altitude, with just a routine two Oracles and two Adepts from DnS killing 16 Drones. Scarlett managed to give some hope back to her teammates by clawing back into the game with a Roach-Ling-Bane composition, and even reached Hive tech with +3 upgrades. However, she barely had any money left over to actually make the Hive units needed to complete a comeback, and DnS was happy to let his economic advantage slowly win him the game. Eventually, Scarlett was forced to take a doomed defensive fight into a wall of Archon and Colossus, and stamped the deciding GG on one of the WTL's craziest results.
In the end, it was redemption for DnS, whose 0-2 defeat at the hands of Berserker's Mixu in Week 9 almost derailed a fantastic season for the Heroes. It was also a catastrophe for the Shopify Rebellion who ended a four-season playoff streak with one of their worst single-day performances. Finally, it was a triumph for both Platinum Heroes and Starving Camels (Platinum Camels? Starving Heroes?), the two plucky underdogs who shocked the league and battled their way into the playoffs.
Regular Season Grades
Platinum Heroes: A+
The roster of Vindicta, Goblin, ShaDoWn, and DnS didn't seem like much on paper, but they turned out to be a very disciplined and effective unit. The Heroes got obliterated by the five teams ahead of them, only winning five maps in all those matches. But, on the other hand, they were ruthless in winnable matches. Not only did they win the 6 matches against teams beneath them in the standings, they only let a single one go to an ace match (due to an unfortunate series of events against Berserker's Mixu).
It was quite a contrast to the Starving Camels' roller-coaster ride, and it shows that there's more than one way to find success as an underdog team. Overall, Platinum Heroes' preparation and effort made them more than deserving of a playoff spot, and they should be commended for creating one of the most unexpected results in SCBOY Team League history.
Shopify Rebellion: D-
At first glance, Shopify and PSISTORM's seasons seem similar. Both teams were predicted to waltz into the postseason, only to be shocked by the Platinum Camels.
Shopify's old WTL formula of having a strong, flexible core with no obvious weaknesses just didn't work for them this season. Previously, you could expect one of their non-ByuN players to step up and play at a co-ace level. This time, the entire rotation underperformed, and even ByuN himself played poorly with a 13-11 record.
So how did Shopify get a better score than PSISTORM despite finishing higher in the standards? Well, as mentioned above, PSISTORM got unlucky in terms of their players' best performances aligning. While there's obviously some skill/clutch factor in winning the matches that matter, it's kind of wild that PSISTORM finished below THREE teams that had a worse map differential than them.
Also, PSISTORM was proactive in addressing their problems and scrambled to turn things around with the Spirit signing. Meanwhile, Shopify never broke out of their bizarre, collective daze, to the degree you could smell their Week 11 collapse coming—even knowing they had a massive talent advantage against the Heroes. If PSISTORM seemed like a team trying their best to extract themselves from a bad situation, the Rebellion felt like a team frozen in place, staring at a train incoming at a hundred miles an hour.
瘦死骆驼 (Starving Camels) 1 - 5 Dragon KaiZi Gaming
Watch VOD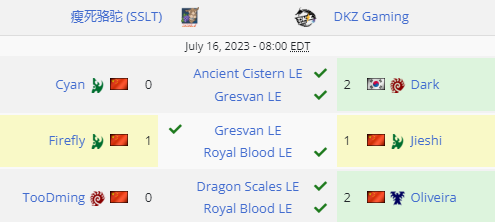 DKZ take care of business and lock in a third place finish
The Platinum Heroes-Shopify Rebellion stunner meant that a potentially intriguing match between the Starving Camels and DKZ became essentially meaningless (even the
WTL point standings
used for Master's Coliseum qualification were finalized at this point).
Dark kind of bopped Cyan in game 1 with Lings and Roaches, but played a more entertaining game 2 that was slightly reminiscent of Jaedong's
most thrilling (and heartbreaking) HotS game
. Dark proved more cunning than JD (or Cyan less cunning than Stardust, depending on how you want to see it), and caught half of the Protoss army out of the map before using his mass Mutalisks to demolish all the remaining Protoss buildings and eliminate Cyan.
Firefly fought back a little for SSLT, winning the first game by stopping Jieshi's Adepts and then killing him with a two-base Blink all-in. Like the Dark series, game two was much more entertaining as both players tried to one-base Immortal-Warp Prism bust each other, leading to a 10-minute one-base duel. Firefly transitioned to Glaive-Adepts while Jieshie went for Phoenix-Immortal, and Firefly's inability to shoot up ultimately cost him the game.
Finally, Oliveira just kind of curb-stomped TooDming in game 1, killing all of his army and two bases without even losing a single unit. Game 2 had him work a bit harder as the Zerg correctly sensed that something fishy was going on (Oliveira went for a 2-Rax Reaper into the 4-Rax Marine printer) and defended the Terran aggression. His follow-up Baneling bust looked promising, but Oliveira channeled his inner Maru to absorb the attack and get himself in an unlosable position.
Regular Season Grades
瘦死骆驼/Starving Camels: A+
What a crazy season it has been for the Starving Camels, as nothing could have prepared us for the roller coaster ride of emotions they took us on. For a month between April 18 and May 19, each weekend between 8 AM and 12 AM EST, Silky, Toodming, Cyan, and Firefly were transformed into unrecognizable versions of themselves. Versions where Silky beat ByuN in a macro-game, where Cyan took a map off Cure, and where Firefly was the best goddamn Protoss in the world. And then, the clock struck midnight, and the league's new fan-favorite team turned back into pumpkins. In the end, though, the prince arrived with his glass slipper, and the Camels effectively clinched a playoff spot with a clutch performance against PSISTORM in Week 10.
Not enough good things can be said about the players, who, simply put, played out of their f***ing minds. However, the Starving Camels' success is also a monument to the resilience of the Chinese StarCraft 2 scene.
Two years ago, we saw the rebranding of the Golden Series Team Championship into the World Team Championship, and with that the ending of what had been a cardinal policy of the league: the requirement of playing at least one Chinese region player in every match. That decision meant a lot of teams immediately dropped their regional player, and unsurprisingly, an all-Korean, Maru-led Team NV won the
inaugural WTL
. That season was also marked by the historically bad performance of the all-Chinese roster of Team LaoPauer, who may have had the worst season of any team in league history.
At that point, the writing seemed to be on the wall. Chinese players would gradually be phased out of the WTL, except for TIME's token presence on KaiZi Gaming and token punching bags iG reserving last place. And yet, here we are in 2023, where the world champion is a normal man from China, and an all-Chinese team led by a 22-year-old who has never even played a match outside of the country is one of the 7th best teams in the world.
From an outside perspective, it's hard to speak on the overall health of the Chinese StarCraft II scene, but you have to admire what their players and organizers have accomplished in 2023.
Dragon KaiZi Gaming: C+
DKZ, BASILISK, and ONSYDE entered the season as the clear favorites, and DKZ ended up being the team to lose this mini-competition at the top of the table. It's not been a bad season by any stretch of the imagination, but not really a good one either. At times, DKZ struggled to finish teams off, letting Shopify, ABYDOS, and TL take them to an ace match (and losing to ABYDOS at that).
This is not to say there were no demonstrations of DKZ's might. In fact, they were the only team to beat ONSYDE in a competitive match (apologies to BASILISK, but that RotterdaM-Crank ace match doesn't REALLY count). DKZ also went blow for blow with BASILISK, only losing to Serral in an ace match. Overall, there was never any real doubt about their top three finish.
Nevertheless, they will want cleaner performances from all three of their starters if they want to continue the DPG and KaiZi legacies with a 6th SCBOY Teamleague championship.
ONSYDE Gaming 3 - 4 BASILISK
Watch VOD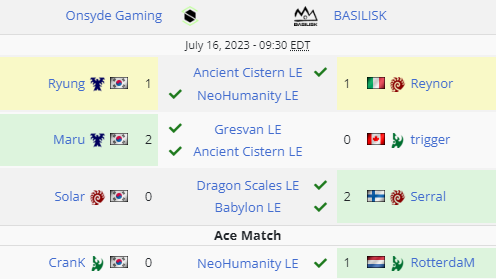 Ryung shines as ONSYDE win the regular season; Crank and RotterdaM close it out with a caster exhibition
With KaiZi and DPG merging into a single team, ONSYDE vs BASILISK was chosen to replace the derby match that traditionally ended the season. This worked out rather nicely for the WTL, as the two teams faced off with the regular season championship in the balance.
The opening match on Ancient Cistern saw Ryung get the build order lead on Reynor with an ultra-greedy 3-CC into 5-Factory battlemech while Reynor chose a prudent, middle-of-the-road, approach. That allowed Ryung to get quite a substantial edge in the game, notably when his Hellions killed a bunch of Drones at Reynor's fifth base. However, the ONSYDE Terran probably ended up regretting not forcing the issue. Once Reynor was able to get a firm economic setup, he unleashed Swarm Host-Nydus strikes that left Ryung scrambling on defense. Ryung couldn't adapt in time, and had to GG out after losing too much economy and units to each incoming wave.
Perhaps emboldened by this win, Reynor once again opted for a safe opening in game 2 on NeoHumanity, letting Ryung get the edge with another 3-CC mech opening. In typical NeoHumanity fashion, both players' early and mid-game efforts turned out to be largely inconsequential as they ended up splitting the map for a good old mech-Ghost vs Brood Lord-Infestor game. Ryung was surprisingly successful in killing bases of Reynor, denying him from taking the crucial corner bases. Reynor was still in decent position for a while, possessing a strong army and having amassed a big bank. And, despite partly tanking a nuke, he launched a very successful BL-Infestor push that allowed him to kill off two of Ryung's central bases.
In hindsight, Ryung should probably have backed off and consolidated his lead here, but instead he tried to shove his way further into Terran territory. This let Ryung fight him from a superior defensive position and kill every single Brood Lord. After that, Reynor felt the sting of an economy that was drying up, and was left with an awkward army that was absurdly heavy on Infestors. Ryung continued to make sure Reynor couldn't take any of the key corner bases, suffocating his economy until he was forced to run hopelessly into a sieged-up mech army.
With Ryung setting him up with a 1-1, Maru had a chance to clinch the regular season championship with a 2-0 against Trigger (ONSYDE needing just one point from the series). Despite Trigger's heavy underdog status, he made game 1 on Gresvan quite competitive. After his initial 2-base Tank push was thwarted, Maru switched gears to extreme turtling. While Trigger didn't have the strength to break through Maru's defenses, his good start let him go into the map-split from a good position. He even built up a Tempest-Shield Battery position way over over the 50/50 line, using it as an advance base to lay siege to Maru's outermost bases.
Maru gradually pushed the Protoss invaders out of that position with the help of nukes, which still left Trigger in decent position with plenty of money in the bank and control over the map. However, Maru showed exactly why he's the master of defensive Terran, cautiously advancing out to new expansions until he achieved the inevitable 50/50 split. Having already traded at a loss throughout the game, Trigger accelerated his demise by going for an adventurous attack with a Carrier-Disruptor force. He was woefully lacking in anti-air, and took heavy casualties from Maru's Vikings and Liberators. Maru used the opportunity to raze some precious Protoss bases, while Trigger had to expend much of his bank to replace his lost units.
Eventually, the grinding force of attrition proved to be too strong for Trigger to resist, and Maru stepped ahead with a firm lead. Trigger finally depleted his bank and couldn't challenge the mix of Liberators and assault-mode Vikings supporting the bio-army. After 30+ minutes, Maru, always the late-game positional master, had broken the will of Trigger, putting ONSYDE just one map off the regular season championship.
Maru gave Trigger no time to regain his composure in game two, going for a proxy-Raper into a Mine drop which put him massively ahead. His follow-up double drop into the main supported by a third base push was nicely met by Trigger, which allowed the Protoss to get back into the thick of it. Rather than try to play for another late game, Trigger pulled the "Trigger" on a push, but it backfired as it only gave Maru a chance to annihilate the Protoss army. Trigger conceded his second GG, awarding ONSYDE the regular season championship.
Serral hit the field with nothing to play for, but still locked up the best WTL regular season in history with a 2-0 destruction against Solar.
Rather than finishing the regular season with Maru vs Serral in a no-stakes ace match, the two teams decided to go for a different kind of exhibition by sending out their respective captain-casters in Rotterdam and Crank. In this once-in-a-lifetime battle of "E" ranked players, RotterdaM showed he deserved at least an E+ (or Crank an E-). Like the true PvP connoisseur he is, Rotti went for a Phoenix-Immortal two-base all-in which Crank probably had never seen in his life. Despite holding a
100% career win-rate against Serral
, Crank was unable to defeat BASILISK's
true
ace and conceded defeat. The man behind BASILISK protected their perfect record with one last win, even if it was just a decorative one.
Regular Season Grades
ONSYDE Gaming: A
ONSYDE did what they were supposed to do, riding their considerable talent to a 1st place finish. As a unit, ONSYDE looked like the most complete team by far, so it's not surprising that they'll be waiting in the finals while the other teams sort themselves out.
Maru was near-flawless as expected, and Solar actually matched him for the first half of the season. However, it was Ryung who impressed me the most. It initially seemed like a downgrade to swap Neeb out for the veteran Terran, but Ryung ended up finishing with one of the best records in the league at 14-6.
I can't quite give ONSYDE the top mark of A+ since they did lose to DKZ and were dragged to an ace match against BASILISK. While those are understandable results, it falls below their peak potential of winning the league with a perfect record. Solar, in particular, looked quite shaky in the back half of the season, which could mean trouble in the playoffs since they will most likely need him to conjure some ZvZ magic.
Still, you can't argue with their final regular season placement, and ONSYDE Gaming will have the chance to confirm they are the best team in the world on August 13.
Basilisk: B+
Despite finishing their debut season with a 11-0 regular season record, BASILISK had to settle for second place due to WTL's point system that penalized them for being unable to finish opponents off before an ace match..
It's fun to joke that BASILISK lost the crown due to their Week 8 decision to field RotterdaM against Starlight Twinkle, but there were far bigger issues that led to BASILISK's mildly disappointing finish.
Oviously, we can absolve Serral of any blame. The Finnish Phenom went 23-1, which is the best regular season performance in the five year history of SCBOY Teamleagues. However, his teammates were not as strong as one would have hoped. Trigger ended up being clutch in key moments (a 1-1 against sOs and Gerald at the start of the season, then a 2-0 against ByuN later on), but with a final record of 8-12, the Canadian Protoss' season was a net-negative with some glimmers of promise.
And, of course, you have Reynor. The "50-50 man" nickname is a bit of an exaggeration since the second-best European put up a 16-7 record, but there's a reason everyone remembers the 1-1's more. Reynor's 2-0's came against PAPI, Goblin, BreakingGG, and Kelazhur—hardly an impressive kill list—while the rest of his matches were 1-1 ties. It's hard to really understand why Reynor can't bring his best play to the WTL, but it's clear at this point that it's not just a one-off event.
Asking Serral to be near-perfect is not a reliable strategy, and that's something BASILISK will have to address next season. But, for now, they look to be the favorites to win it all in the playoffs. Any format that allows win-streaks is great for Serral, while Reynor has generally been better in the WTL playoffs than the regular season. The royal road dream is still very much alive.
At the start of the season, who would have imagined that Platinum Heroes' DnS would earn as many weekly MVP's as DKZ.herO? The Heroes' ace player may only have put up a modest 12W-11L overall record, but he came through with victories in the most important matches to help push his team over the finish line.
DnS saved his best performance for last, as the Heroes went up against Shopify Rebellion to determine who would clinch a playoff spot. With his two teammates scoring 1-1 ties, DnS took the deciding 2-0 over SR.Scarlett to send the Heroes to the playoffs for the first time. When you think of the sheer stakes of the match, it's hard to think of a more impressive performance in the entire regular season.
Weekly MVP's:
Week 11: PH.DnS

Week 10: SSLT.Firefly

Week 9: BASILISK.Trigger & ONSYDE.Ryung

Week 8: DKZ.herO

Week 7: SR.Lambo

Week 6: DKZ.herO

Week 5: Liquid`Clem

Week 4. PH.DnS

Week 3: Everyone on SSLT/瘦死骆驼/Starving Camels

Week 2: ABYDOS.Cure

Week 1: BASILISK.Serral
TL.net WTL Awards: Regular Season
Continuing a long-standing TL.net tradition, we're back with a series of awards to celebrate the best players of the WTL regular season.
[To avoid confusion: TL.net awards are separate from the official WTL awards, which are given by the organizer and come with prize money. However, the TL.net awards predate the official awards, so take that!]
The Pigbaby award for most awesome animal-themed Protoss: SSLT.Firefly
Firefly was already considered one of the stronger Chinese players in the WTL, but this season he truly lit up the league. The Starving Camel's ace recorded a 15-9 map score, which was better than far more illustrious players such as Solar, ByuN, Oliveira, Cure, Spirit, and Creator. The highlights of his season were getting 2-0's against Lambo and Spirit, and scoring 1-1 ties against Reynor and Maru.
While this has yet to lead to any breakout performances in individual tournaments, you have to think it's just a matter of time. If Firefly can keep playing at this level, Oliveira may meet his first true domestic rival in nearly a decade.
The XY award for most spirited player: OG.Ryung
I knew from his previous runs with Team GP that Ryung can be an ace-quality teamleague player, but I'm still in awe of what he achieved this season. Someone 13 years deep into his career could very much have cruised through the season as a decent third-stringer, hovering around a 50% win-rate. Instead, he outperformed expectations by more than anyone else in the league. He was well-prepared in every series, every build had a purpose, and every adversary was taken on with a conviction that he could beat them if he played his best (please, no one interview Ryung in case he says "lol I dunno why I won"). So often you see so-called underdogs turn to desperate cheese or a flimsy all-in in the hope of getting a lucky break, but Ryung showed us you don't always have to resort to such extreme measures.
Best regular season Terran: OG.Maru
Congratulations to Maru for winning his third TL.net award for best regular season Terran! The ONSYDE Gaming ace had a nearly spotless performance, going 21-2 to lead his team to the regular season championship. His incredible consistency was a big reason his team was able to take the crown, though it sure didn't hurt to get great support from Solar and Ryung.
The only blemish on Maru's season was his ace-match defeat at the hands of Oliveira (we'd be delighted to see a potential rematch in the playoffs). While that loss didn't cost ONSYDE the regular season title in the end, it did hurt Maru in the race for overall MVP.
Best regular season Protoss: DKZ herO
For all of herO's troubles elsewhere, he was a rock for DKZ with a 17-5 record. His highlight performance of the season came in Week 6, where he beat ByuN 2-0 before taking down Scarlett in the ace match. Another great contribution came in Week 8, where he 2-0'd Solar to set up Oliveira's ace match win over Maru. Besides that, he picked up 1-1's against Cure and Reynor, and was the only Protoss who didn't suffer a 0-2 loss at all.
MaxPax finished the season 18-6, and finished just behind herO in our award race. While his record was similar to herO's, his slate of opponents was just a bit easier. Combined with his 0-2 ace match record compared to herO's 0-1, it was enough to give the DKZ Protoss the slight edge.
Best regular season Zerg and overall MVP: BASILISK.Serral
In a season where Maru went 21-2, Serral was still the easy choice for MVP. Not only did he have the best performance THIS season with a 23-1 record, but he actually had the best regular season in SCBOY Team League history. For comparison, the previous best seasons were Dark (18-2) in 2022 Winter, Dark again in 2020 Spring (11-1), Cure (16-1) in 2021 Summer, and Maru (17-3) in Winter 2021. If we throw in the qualifier matches for good measure (albeit against pretty weak competition), Serral put up a combined 37-1 map score and 97.4% win-rate in the WTL.
The best player in the world also had quite a tough schedule of games, beating Cure, Elazer, Solar, Oliveira, and herO along the way. It's not just impressive that he beat those players, but also that he never looked threatened at all in doing so. The singular loss against Scarlett's cheese has deprived us of pure perfection, but fortunately for BASILISK, the team didn't lose any points because of it. Five years after becoming world champion for the first time, it seems like the gap between Serral and the rest of the field is again, wider than ever.
---
Credits and acknowledgements

Writer: Nakajin
Editor: Wax
Stats: Aligulac.com & Liquipedia
Images: SCBoy