World Team League - 2023 Summer Season
by: Nakajin
The last few months have been hard on the StarCraft scene, with many fans wondering if their favorite hobby would ever be the same. Would the players they had grown so accustomed to watching return to such a harsh climate? Would their favorite tournament organizers still have the will to go on?
But worry no more (or at least, a little less) for the WTL qualifiers are back! And with it, comes the reassurance that, yes, we can still watch a 4.8K MMR Chinese Zerg try to 12 pool the 14th best Russian Protoss on a shady stream.
The most dedicated SC2 fans relish such experiences, but this time, there will be some star power to gloss up the proceedings. Roster moves and newcomers mean that this qualifier isn't populated by just semi-professional squads, but some very solid teams that will look to challenge the new DPG-KZ super team in the regular season/Code S.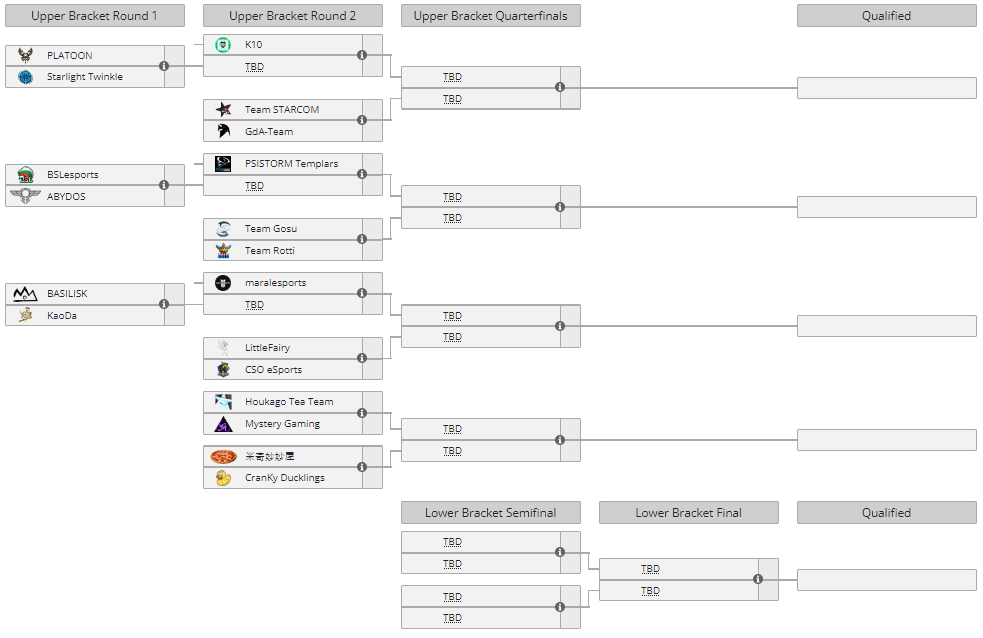 Qualifier Preview: Power Rank
There are many ways to preview a tournament, but TL.net tradition dictates that WTL start with a Power Rank.
19. BSLesport
: IlPrincipino, JCIPower, JirayaSama, msrm
Prediction: Death by Cure
Every power ranking must have a 'worst team' by definition, and BSL receives that dubious distinction that time around. What I would say for them is that the Bulgarian squad is probably better than last season's bottom-ranked teams, as their players aren't just a bunch of friends who signed up for fun. They actually have Liquipedia pages and some competitive history, even if it's mostly against each other in regional events.
#18. GdA-Team
: Rail, Quantel, Vaisravana, Damrud, Déca, Bubbas, Faint, Fienend, YellowFox
Prediction : Second round elimination
In
last season's qualifier power ranking
, I put GDA just in front of Senthex thinking the veteran Protoss Rail would put them over the top in their opening match. Instead, Rail was a no show and the French team lost 4-1. While Rail is still listed on their squad, I will assume that he also will not be playing this season, and without him their roster looks rather thin.
#17. Maralesport
: About ten Germans you've never heard of
Prediction: They're somehow seeded in the second round in front of Basilisk, what do you think is going to happen?
The spiritual successor to last season Senthex, Maralesport live in the wonderful underbelly of the European scene. In this world, Soon, Nomercy, and MariK play dozens of matches a month. I have no idea how one enters that world, but every time I do those power ranking, I'm surprised by its vitality. Last season Senthex did managed do beat GdA and progress to the second round of the qualifier (where they got trashed by Solar), but with Maralesport having lost their best player in the transition (HolyHit) and the higher average level this time around, it will be very hard for them to find a break.
#16. KaoDa
: ZergReStart, turn, WinterZerg, Ghost, MadeInHeaven, moonlight, noobs
Prediction: Taking a map off trigger
With Oliveira being crowned world champion of Starcraft II against all odds, it seems like everything is possible for the normal men of this world. Can Oliveira's countrymen live up to his credo and cut down Reynor and Serral hype train before it even gets out of the station?
No. The answer is no.
#15. Platoon
: Nikich, ArT, RazvaZAR, SilwerCrow
Prediction: Betrayed and left for dead by a superior officer
You should probably take two and a half hours of your life to watch Platoon, just maybe not this Platoon.
#14. Mickey Mouse Clubhouse (米奇妙妙屋)
: Eternity, YoGer, IMReady, KevinLiu, Zan, Rilakkuma, Shinobu, KnockKnock
Prediction: Overshadow by Donald Duck in a close match
I first had this team down as "Team Taiwanese Pizza'' due to their Liquipedia emblem being a delicious-looking pepperoni pie, but in a last moment of resolve I pushed myself to use Google translate and was rewarded with a blessed name. I'm happy to present to you: Team Mickey Mouse Clubhouse.
Sadly, the roster isn't as exciting as their name may lead you to believe. Among their players with a Liquipedia page, only Yoger, Eternity, and KevinLiu have played a competitive match in the last year. During that period, the group most notable victory would probably be Eternity's 2-1 victory over HonMono last June, which is hardly enough to satisfy the ambition of the great Mouse emperor
#13. Houkago Tea Team
: EnigmA, Fallenger, Shameless, Replicant and a bunch more Eastern European players
Prediction: Second round elimination
HTT have the honor of being the best of the teams with absolutely no chance at all, as in they have players I am somewhat familiar with. Also, I think EnigmA is not too bad.
#12. Team Rotti
: BabyMarine, CuKu, Fjant, Mixu
Prediction: Second round elimination
Team Rotti have been one of the most fun teams in the last few qualifiers, but with Goblin and Rotterdam himself no longer being available, the team has got quite a bit weaker. BabyMarine is the one looking the most consistent at the moment, but neither him nor Cuku, Mixu, or Fjant seems ideal to handle MeomaikA's crazy aggression in their first match against Team Gosu. We can at least hope Rotterdam's new affiliation with Basilisk doesn't prevent him from casting his boys.
#11. Psistorm Templar
: Bioice, Chess, Creed, Epic, Gref, MindelVK, Namshar, Nicoract, Snowden
Prediction: Second round elimination
PPSISTORM's B team is a fun pack of semi-pros that could have had a shot at a lucky run. Unfortunately, they got terrible bracket luck, and they're going to get annihilated by Cure and Co. Sometimes life be like that, man.
#10. K10
: ForJumy, HiGhDrA. HonMonO, Moja, Aristori, Eiger
Prediction: Second round elimination
K10 is a British organization that's a newcomer to SC2, and they will hope to punch above their weight against Starlight Twinkle in the first round. While it an upset seems a bit absurd at first glance, one can see how the WTL format could produce its very peculiar brand of plot twist.
Think about it this scenario: ForJumy gets the upset on Cham, someone is sacrificed to Spirit in a meaningless 0-2, and HonMonO or HiGhDrA manages to clean up against ReWhite. Now that is a bit of a stretch, but it's not impossible. Still, pulling off those kinds of upsets twice in a row is probably too much to ask, so qualification should be out of the picture
#9. Cranky Ducklings
: GogojOey, Erik, Bistork, Chappy, Oreo, Starduck, EnDerr
Prediction: Lower bracket semi-final elimination
The good news for the Ducklings is that they have already proven that they can make a miracle run to WTL Code A. The bad news is that Vindicta, PattyMac, and Dolan are no longer on the team after combining for 32 of their 33 wins last season. GogojOey and Bistork are acceptable replacements and should be enough to beat Disney executives, but neither have the peak-ability of the Americans and I expect them to fold once they hit a team with a star player.
#8. LittleFairy
: Cyan, FightingFrog, DyyS, yryf
Prediction: First round elimination
Once upon a time, the Gold Series Team League had a rule that mandated each team to field at least one Chinese-region player in every match, and that rule made Cyan one of the most coveted players in the league. His role on this team will be quite different—no longer is he 'one of the best of the worst',' but he stands as by far the best player on LittleFairy.
As arguably the second best player in China, Cyan's decision to join the WTL with this amateur team is a bit surprising. One would imagine that he could have just as easily joined Starlight Twinkle, Mystery Gaming, SSLT, or IG and given them a real shot at making WTL Code S. Instead, he's in a bit of a pickle and may even miss out on Code A. If the qualifiers were still all-kill/playoff format I would be more hopeful in the LittleFairy's chances. But playing in the regular season WTL format, they will have to hope FightingFrog and the other players catch a lucky break.
#7. CSO eSports
: Milkicow, Trifax, YoungYakov, Maro, mOsTeN
Prediction: Lower bracket semi-final elimination
Anyone who follows the up-and-comers in Europe scene will have heard of Trifax and YoungYakov, but it's Milkicow who's the highlight of the team. While not as active as he once was, he's nonetheless in a higher class than most of the players in this qualifier.
Last season showed the weakness of this top-heavy CSO squad. Despite Milkicow getting the 1-1 against Has (playing for the coalition team Hist & Toss), the rest of the team could not clean up against the much less intimidating BreakingGG. It may very well be that this scenario plays out again in their first match against Cyan and Little Fairy, but lower bracket qualification might be possible if Trifax and YoungYakov pull their weight.
#6. Team Gosu
: MeomaikA, Binski, Maplez, Reaper, RockEr, Kozan, Prototype, Haffey, Meowerdoom, ScrubbleS
Prediction: Lower bracket final elimination
MeomaikA has finally broken out of the Juggernauts and embraced his NA-style roots by joining Team Gosu. With guys like Maplez and Binski at his side, he can hope to have a bit more success this time around. Team Gosu have drawn a hard but manageable first match against team Rotti, but if they manage to get the matchups they want in the lower bracket after their inevitable loss to ABYDOS they should have a very entertaining date with Starcom for that final Code A spot.
#5. Team Starcom
: Wayne, Kas, BRAT_OK, Ashbringer
Prediction: Lower bracket qualification
The venerable Kas and Brat_Ok delivered one of the most memorable matches of last season's qualifier, pushing young Team Rotti to the limit (and almost giving him a heart attack). This time, however, they have enlisted the help of Wayne/Rattata/Vanya which makes them a whole lot scarier. With the draw having spared them from facing ABYDOS, Basilisk, or Mystery Gaming, they even have a shot at upper bracket qualification. However I don't think Wayne is a reliable solution against Spirit and Starlight Twinkle in a potential upper bracket qualification match, so advancement will probably come through the lower bracket.
#4. Starlight Twinkle
: Spirit, Cham, ReWhite, JoliwaLoves, Majinbu, Hyperion, HHH, Remila, YoungZest, 望夜的星星
Prediction: Upper bracket qualification
After two unsuccessful attempts at qualification that nevertheless gave us promising play from the likes of ReWhite, JoliwaLoves and Majinbu, it seems like Starlight Twinkle finally conceded to looking outside of the Chinese scene for reinforcements. Recently released from KaiZi and Team GP, Spirit and Cham are looking to prove that they can be big fish in the small pond that is the WTL qualifiers. But even with two veterans of WTL Code S, qualification may not be as easy as it seems. While Spirit should be an automatic 2-0 against most opponents on most teams, Cham is not immune to getting upset by a weaker adversaries. Without a reliable third player, things could get a bit dicey against a team like Starcom.
#3. Mystery Gaming
: Classic, DRG, Nice, Strange, SCV, naxiN, Lemon, Blueming, Mokou, Nanami
Prediction: Upper bracket qualification
The aptly named Mystery Gaming have made a few heads turn with their aggressive acquisitions in the off-season. DRG, Classic, and Nice now headline a team that is destined for Code A qualification, and with a solid backup in Strange they can account for any last second catastrophe. While the team will have a harder time in Code A/S, getting out of the qualifier should be pretty much a done deal.
#2. ABYDOS
: Cure, sOs, Creator, NightMare, Mondo, QuanTa
Prediction: Upper bracket qualification
Well well well, look what we have here. Behind the big news of the KZ-DPG merger and Basilisk signing Serral and Reynor to the WTL, ABYDOS quietly assembled a squad that's a serious challenger to shake up the WTL Code S.
When Cure got released from DPG fresh off of a flawless five-win performance in the WTL finals, no one would have expected him to come back to the WTL on a team in the qualifiers. But here we are! There might be some military issues for Cure coming up, but for now he's still active and playing some damn good StarCraft. He will be flanked by Nightmare and Creator, which is somewhat overkill for this qualifier if we're being honest.
Instead, I hope we get to see more of the biggest surprise on the roster: sOs. It's a bit unclear what the situation is for the three-time world champion, but it seems like he's making a limited return from retirement to play in some showmatches and alongside his old Team NV teammates in the WTL.
Looking ahead to the regular season, the seriousness of sOs' return and the timing of Cure's military service will probably determine if ABYDOS has a real shot at a high playoff finish. Alpha X and PSISTORM have proven that a well-rounded trio of top players can frequently overshadow super-ace teams in the WTL format, and ABYDOS will be looking to lean on that.
#1. Basilisk Gaming
: Serral, Reynor, Trigger, RotterdaM
Prediction: To the moon!
Four years after the first China Team Championship, the gang is complete. Reynor joined the league two seasons ago, last season featured Maru's return to team competition, and now, after years of hoping, two-time world champion Serral has finally thrown his hat in the ring. There are few things Serral hasn't won, but a WTL championship is one of them. By joining forces with his rival and friend Reynor, he may very well etch his name in history once again. All that said, a closer look at Basilisk does show some worrisome weakness in the long run.
Two seasons after being brought in as INnoVation's replacement on KaiZi Gaming, Reynor couldn't deliver a championship in the end. Last season was especially lackluster, as he put up a middling 12-10 record in the regular season. In the grand finals, KaiZi Gaming were on the ropes after DPG.Cure took down both Oliveira and Reynor, forcing a tough revive decision out of KaiZi. They opted to go with Reynor instead of the recent world champion, and it was a decision they would come to regret as Cure took out Reynor once more in the closeout game.
Basilisk's third player situation is also worrisome. Trigger has been hailed by myself and many others as the next great North American hope, but we must remember that before the scene produced one Neeb, we saw plenty of talented players like Arium, JonSnow, Kane, and Semper fall short of achieving real international relevance. Trigger will have an extraordinary opportunity to take the next step. If he does, Basilisk will be among a very short list of favorites, but if he can't, Serral will have to work some magic to take his squad to the promised land.
Unless maybe, just maybe, Basilisk have one last joker…
Missing in Action: Players Unaccounted For
With the new league season starting soon, there are still a number of high-profile free agents floating around. Will we see any of these players make mid-season appearances in WTL Code S?
GuMiho:
PSISTORM Gaming long-time ace player's Gumiho is still listed as teamless. Team owner KJ tweeted it was due to GuMiho seeking a higher salary, and one has to wonder what teams might have the capacity—or desperation—to pay up for the creative Terran. If Basilisk has the funds, GuMiho seems like the perfect piece to round out their squad for a championship run. You never know who has deeper pockets than previously imagined (who would have thought Mystery Gaming would assemble such a strong line-up?), so it will be interesting to see where GuMiho ultimately lands.
The Kwangdong Freecs:
Liquipedia tell me that the Freecs currently have a roaster of KeeN, Armani, soO and Stats. However, seeing as the team didn't sign up for this qualifier, one has to wonder how many of the members are actually competing seriously. One thing is for sure: these players would sure be welcome on a lot of teams in this qualifier.
Stats is the most sorely missed player of the bunch. The Shield of Aiur has always been keen to return to StarCraft II after military service, and it would be a welcome site to see him eventually end up on a WTL Code S roster. As far as his level, we've only glimpses of his play, but what we did see has been very promising. Scoring victories over soO and Zoun within a month of returning from the army is no small feat and on top of that he managed to take home a showmatch against another familiar face…
INnoVation:
Guess who's back? Back again.
Inno's back, tell a friends.
Oh yes, INnoVation it did feel empty without you.
He's arguably the best team league player StarCraft 2 has ever has, winning GSTL, Proleague, Acer Team Story Cup, and the Gold Series Team League (previous incarnation of WTL). However, he's only played in a single season of the World Team League where, despite a valiant effort, Lü Bu did fall at the White Gate, seemingly playing his last ever match in a pyrrhic victory over Team NV's Bunny in the league semi-final.
Ok, we don't really know if the Machine is back in a serious capacity. After all, he seemed to strongly insinuate he would not come back to professional StarCraft II after his military service, but that's coming from a man who could say to you with a straight face that 2017 mech was underpowered. So, who knows? Maybe he's just playing for fun, or maybe he's testing the waters ahead of a real comeback.
What we do know is that in the last two weeks, INnoVation played eight competitive matches. His results? Not great, but not terrible. He got wins against Cyan and Percival, and took some losses vs sOs, herO, Dark and the aforementioned Stats.
Are you likely to see INnoVation Monday morning when you open your stream? Not at all, but who know? He may just be bored enough to just go back to playing a video game all day.
---
Credits and acknowledgements

Writer: Nakajin
Stats: Aligulac.com & Liquipedia
Images: SCBoy