World Team League - 2022 Winter Season
by: Wax
Reigning champions Dragon Phoenix Gaming face a changed WTL landscape as they attempt to defend their title in winter season. The qualification process saw a mighty 'newcomer' join the league in the form of
ONSYDE Gaming.
However, its key players Maru and Solar are no strangers to WTL success, and instantly make the new side a title contender.
On the other hand, last season's runner-up squad Team NV has left the competition entirely after disbanding, and the Kwangdong Freecs declined to retain their spot. While this sees notable players such as Bunny, DRG, Creator, Armani, and soO depart the competition, there's a chance that they will find new teams and rejoin the WTL later in the season.
Overall, three spots changed between seasons.
In++
ONSYDE Gaming

Invictus Gaming

CranKy Ducklings
Out--
Team NV

Kwangdong Freecs

Platinum Heroes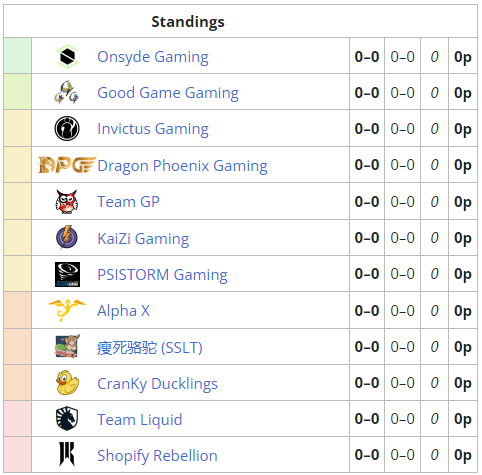 Top 7 teams qualify for the playoffs.
Points are awarded as follows:

3 points for a victory in a series that does not require an ace match

2 points for a victory in a series that requires an ace-match

1 point for a loss in a series that requires an ace-match

0 points for a loss in a series that does not require an ace match
Opening Week Power Rank
As is tradition, we begin a new season with a power rank of all the competing teams. I consider
last season's ranking
to be a resounding success, as I almost hit every team's final rank exactly (while that wasn't the original premise of the power rank, I've changed it retroactively to make myself look better). Can I improve on
almost
this time around?
Tier 4 (#12 - #10): Non-playoff teams
Unfortunately, with twelve spots in the WTL, there's bound to be a handful of teams that don't have a realistic shot of making the playoffs. These teams will be fighting among themselves to avoid last place, and trying their best to ruin a playoff contender's season.
#12: CranKy Ducklings
-
First time competing

PattyMac. StarDuck


Dolan, Vindicta


Eri, Oreo, Ryu
The Ducklings are this season's version of the Platinum Heroes, full of lesser-known players who haven't made much of an impact in major events. However, it's worth remembering that while Platinum Heroes finished with the worst map differential in the league, they still managed to pick up two series victories (vs Team GP and SSLT) to avoid last place. Given the roster, that seems like a realistic goal for the Ducklings to set for themselves.
Still, seeing as they already lost to SSLT and Invictus Gaming in the
qualifier tournament ("Code A")
, last place is the fairest position for them in this Power Rank.
#11: 瘦死骆驼 (SSLT)
-
Last season: 12th place

Firefly, Jim


KingSlayeR


Sakya, Silky, Toodming#10: Invictus Gaming
-
Last season: Did not qualify

MacSed


Coffee, XY


n/a
SSLT were Invictus Gaming's unofficial 'replacement' team in the last season of WTL, beating them in the qualifiers to earn their spot. Alas, they were unable to do much better than iG had done historically, finishing in last place.
This season, both all-Chinese squads have managed to make the main event, and even faced each other twice during the qualifier/Code A tournament. Both matches went all the way to an ace match, with iG narrowly triumphing both times (XY and MacSed were the aces).
All-in-all, I think these two squads are pretty closely matched, as shown by their tight clashes in the qualifiers. I have to give iG the edge for now, since they did happen to win both of those encounters.
Tier 3 (#9 - #8): Longshot playoff contenders
The major difference between Tier 3 and Tier 4 teams is the presence of ace players who could potentially carry their team to a win in any given match. They're still hard pressed to make the playoffs, but they shouldn't have to worry about being sent down to Code A.
#9: Good Game Gaming
-
Last season: 10th place

Cyan, Nice


Dream


Rattata
Dream's post-military career has been a roller-coaster ride of successes and failures, but he seems to have now settled into being a solid mid-tier Terran. That's enough to stave off relegation for GGG, but it's also not enough to carry them into the playoffs. Nice and Rattata are good support players, but it would take another unexpected resurgence from Dream for GGG to rise out of the 9th-8th place range in the final standings.
#8: Team GP
-
Last season: 9th place

Prince, NightMare, Sandcastle, StephenCurry


control, Origin, Ryung


Cham
Similar to GGG, Team GP are relying on their own military returnee Ryung to keep them above water. Despite a rocky start to his post-military career, Ryung has improved considerably in 2021 to become a reliable ace.
The addition of NightMare should help Team GP improve over last season. While he put up a sub 50% win-rate for Team NV in WTL Summer (3-5 record), that's still better than the dismal 23% and 22% win-rates for Cham and Prince. Ultimately, it's just a marginal improvement, and I don't see Team GP breaking into the playoff picture unless they somehow pull off an even greater miracle than in WTL Winter 2021.
Tier 2 (#7 - #5): Mid-tier melee
I see these teams as being near locks to make the playoffs, but lacking the super-ace players to really challenge for the top spots in the league. Still, it's important for them to try and finish as high as possible to improve their seeding in the playoff gauntlet.
#7: Team Liquid
-
Last season: 8th place

MaNa


Clem, Kelazhur


Elazer
Clem's erratic performances make TeamLiquid one of the hardest teams to rank in the WTL. In the summer of 2022, he recovered from his slump in individual events by winning DHM: Europe and placing second at HSC 21. However, his run of disappointing team league performances continued, as he recorded a mere 14-9 record (61% win-rate) in WTL Summer. I'm going to take a "I'll believe it when I see it" approach to a Clem revival in the WTL and project a similar performance from him this season.
Of course, TL did get a nice boost by adding Elazer, with the Polish Zerg putting up a 9-3 record after arriving midway through the season (he got mostly favorable match-ups, but TL desperately needed someone who could secure those 'easy' 2-0's). However, that's not enough for me to push TL ahead of some of the other teams in this tier.
#6: PSISTORM Gaming
-
Last season: 6th (5th place regular season)

Gerald, MaxPax


Epic, GuMiho, Nicoract, SpeCial


n/a
PSISTORM made the playoffs for the first time last season, thanks to everyone hitting a patch of good form at the same time. MaxPax was a fantastic ace, worthy of being called the second best Protoss in the league after herO. GuMiho continued to steadily improve, finishing the regular season with a 8-8 record. SpeCial flashed more of his 'can beat anyone on his best day' magic, although he once again had a sub 50% win-rate. Finally, Gerald proved to be a surprisingly solid rotation player, going 5-5 in limited appearances.
There's reason to think PSISTORM will be even stronger this time around. GuMiho has only continued to improve since, recently qualifying for the Code S playoffs while performing well in various online cups. On the other hand, Gerald went through an awful summer slump. While he's been recovering recently, it's hard to know where he's at exactly.
Ultimately, I'm not confident enough about GuMiho's growth to place PSISTORM higher than they were last season, but it's something I'll definitely be keeping an eye out for as a fan.
#5: Shopify Rebellion
-
Last season: 5th place (4th place regular season)

Harstem


ByuN


Lambo, Scarlett, TLO
Considering the happenings at Alpha X (more on that below), the Rebellion is now my official
'the whole is greater than the sum of its parts'
team of the season. It's quite plausible that none of these individual players will earn a seeded spot at DHM: Atlanta, but they could still combine to put their team in the top three of the WTL.
Last season was a great example of what depth can do for you: Lambo fell far short of his level in previous WTL events with a 2-8 record, but Scarlett picked up the slack with a fantastic 16-6 showing. The lack of a super-ace is definitely a concern come playoffs time, but the Rebellion remains a force to be reckoned with in the regular season.
Tier 1 (#4 - #1): The championship contenders
The all-kill elements in the WTL playoff format mean that having a strong ace is often more important than depth. However, this isn't always the case, as we've seen teams with balanced rosters make deep runs on a handful of occasions. While those teams have never actually won the title, they've come close enough that I'm expanding Tier 1 to include a team without a conventional super-ace.
#4: Alpha X
-
Last season: 4th place (3rd place regular season)

Astrea, Zoun


n/a


RagnaroK
It's time to give RagnaroK his flowers. He's reached the Code S playoffs for three seasons running, and he's been a top-three Zerg in WTL for three seasons in a row (by my reckoning). He's not some mid-tier Zerg who happens to play well in the WTL—he's just a top-tier Zerg player, period. In fact, though it might sound like heresy to some, I'd rather have him over Dark in the WTL.
…aaaand still, I can't give him that arbitrary 'super-ace' status yet (TL.net writing is partially an exercise in inventing new terminology, so at some point I'm going to have to give him a position between 'solid ace' and 'super-ace'). I might like RagnaroK over Dark in the WTL, but I sure as hell still like Maru, Reynor, and herO more.
Still, all-around depth and having a roster with no weaknesses can take you a long way. Alpha X very nearly won the title in
GTC Fall 2020
, and Team NV made a similar finals run last season. The teams ahead of Alpha X definitely have some roster flaws, so if Astrea, Zoun, and RagnaroK are firing on all cylinders, they might be able to win one for the 'little guys.'
#3: ONSYDE Gaming
-
First time competing

Crank, Neeb


Maru


Rex, Solar
Maru has returned to the WTL after a one-season hiatus, making his new team ONSYDE Gaming an instant title contender. Not only is Maru one of the greatest players in the SCBOY Teamleague's short history, but he was one of the greatest SC2 Proleague players before that. He's the kind of low-variance, elite player who's perfect for the format, capable of taking any other ace while rarely ever losing to the rank and file players.
ONSYDE also have a great #2 player in Solar. He's another historically great player in the SCBOY Team Leagues, and even during his recent slump, he grinded out a solid 10-6 record for KaiZi Gaming in WTL Summer.
The problem for ONSYDE Gaming is that third roster spot. Neeb has gone inactive as he's begun full-time university studies this fall, which means it falls on Rex to fill that hole. Unlike Maru and Solar, Rex is not a historically good SCBOY Teamleague player—in fact, his
all-time map record is 20-54
. Rex has improved somewhat during his training at the re-opened foreigner house in Korea, but I still think he's doomed to finish with a sub 50% win-rate.
ONSYDE will probably struggle somewhat in the regular season, where the format is more favorable to teams with depth. But come the playoffs, the Maru-Solar combination should carry them quite far—perhaps even to the championship.
#2: KaiZi Gaming
-
Last season: 3rd place (2nd place regular season)

n/a


Spirit, TIME


Hyperion, Reynor, Xiaose
ONSYDE Gaming damaged one of their fellow title contenders as they entered the WTL, taking Solar away from KaiZi Gaming. That's a significant blow to KaiZi who enjoyed both depth in the form of Spirit, Solar, and TIME, as well as one of the strongest ace players in Reynor.
It's not like losing Solar created a gaping hole on the KaiZi Gaming roster—Spirit went 8-6 last season and should fill in very capably. It's more that KaiZi loses the UPSIDE of Solar at his best, where he looks just as good as an ace player on one of the mid-table teams. Thus, I still rate KaiZi as a great all-around team with strong players in all three roster spots, led by an extremely strong ace in Reynor.
The final word I'd like to give on KaiZi is that they placed third last season with a
relatively
weak version of Reynor, one who is
merely
a top five player in the world. If Reynor should find a spark of inspiration midway through the season, KaiZi could easily vault up to being the strongest team in the league.
#1: Dragon Phoenix Gaming
-
Last season: 1st place (1st place regular season)

herO, Jieshi


Cure


Dark, F91
It speaks to the utter insanity of DPG's previous roster that they're still the strongest team in the WTL after losing Zest and Rogue to retirement. The triple Code S champion line-up of herO, Dark, and Cure is simply absurd to behold, even when you consider those three players aren't playing their absolute best StarCraft II as of late. Class, as we have often say, is eternal, and you have to imagine these three players will be very classy come the playoffs.
That said, there are definitely some concerns for DPG. They've been prone to lackadaisical regular season performances since their founding, and I don't think that's going to stop now. Furthermore, it seems like they may not even field a full strength roster every week, as Jieshi has been chosen to start in week one.
Ultimately, none of this may matter in the end. Last season was full of twists and turns, trials and travails, and DPG still came out with the championship in the end. But there's much less margin for error now, and DPG's position at the top of the WTL mountain has never looked more precarious.
Week 1 Preview
Detailed predictions will resume in Week 2
Saturday, Sep 30 4:00am GMT (GMT+00:00) Matches
ONSYDE Gaming vs Shopify Rebellion

Maru
< Cosmic Sapphire >

Harstem

Solar
< Waterfall >

ByuN

Rex
< Data-C >

Scarlett
Ace Match:
< Stargazers >
Prediction: ONSYDE Gaming 4
- 3 Shopify Rebellion
Good Game Gaming vs Team Liquid

Dream
< Cosmic Sapphire >

Clem

Rattata
< Waterfall >

Elazer

Nice
< Data-C >

Kelazhur
Ace Match:
< Stargazers >
Prediction: Team Liquid 4
- 2 Good Game Gaming
Saturday, Oct 01 12:00pm GMT (GMT+00:00) Matches
Invictus Gaming vs CranKy Ducklings

Coffee
< Cosmic Sapphire >

Oreo

XY
< Waterfall >

PattyMac

MacSed
< Data-C >

Vindtica
Ace Match:
< Stargazers >
Prediction: Invictus Gaming 4
- 2 CranKy Ducklings
Dragon Phoenix Gaming vs SSLT

herO
< Cosmic Sapphire >

TooDming

Jieshi
< Waterfall >

Firefly

Dark
< Data-C >

Silky
Ace Match:
< Stargazers >
Prediction: Dragon Phoenix Gaming 5
- 1 SSLT
Sunday, Oct 02 12:00pm GMT (GMT+00:00) Matches
KaiZi Gaming vs PSISTORM Gaming

Spirit
< Cosmic Sapphire >

MaxPax

TIME
< Waterfall >

SpeCial

Reynor
< Data-C >

GuMiho
Ace Match:
< Stargazers >
Prediction: KaiZi Gaming 4
- 3 PSISTORM Gaming
Team GP vs Alpha X

NightMare
< Cosmic Sapphire >

Zoun

Prince
< Waterfall >

Astrea

Ryung
< Data-C >

RagnaroK
Ace Match:
< Stargazers >
Prediction: Alpha X 4
- 2 Team GP
---
Credits and acknowledgements

Writer: Wax
Stats: Aligulac.com & Liquipedia
Images: SCBoy