World Team League - 2021 Winter Season
by: Wax
The WTL Winter Regular Season came to a thrilling conclusion in week eleven, with Team Liquid and Afreeca Freecs clinching the final two playoff spots at the expense of Team GP and PSISTORM Gaming.
The Liquid vs Team GP deathmatch was the highlight match of the week, living up to the hype by going all the way to an ace match. It even served up some drama outside of the actual games, with Clem being a last minute scratch due to a scheduling dispute.
Higher up the bracket, Team NV clinched the #1 overall seed with a solid win against PSISTORM Gaming, simultaneously bouncing PSISTORM from the playoffs in the process. Shopify Rebellion capped off their amazing regular season with a victory against PREP eSPORTS, cinching a well-deserved #2 seed. Despite a rocky start to the regular season, Dragon Phoenix Gaming still managed to finish in 3rd place, thanks to a final victory against rivals KaiZi Gaming.
Alpha X finished their season with a victory as well, taking down GGG to finish in fourth and return to the playoffs after a disappointing WTL Summer campaign. The only playoff-bound team that didn't get a week eleven win was #5 KaiZi Gaming, who lost their aforementioned match against DPG.
The WTL Winter playoffs are scheduled to be held on January 21-23
Week 11 Results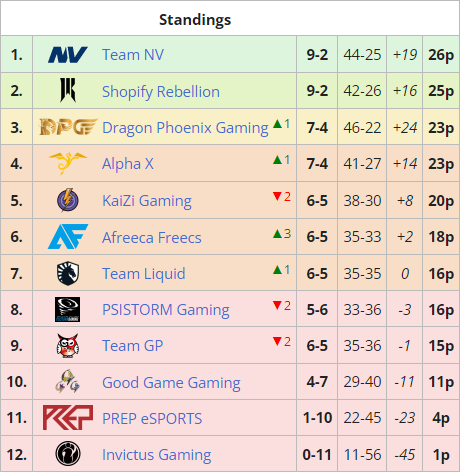 Top 7 teams qualify for the playoffs.
Points are awarded as follows:

3 points for a victory in a series that does not require an ace match

2 points for a victory in a series that requires an ace-match

1 point for a loss in a series that requires an ace-match

0 points for a loss in a series that does not require an ace match
Team GP 3 - 4 Team Liquid
Watch VOD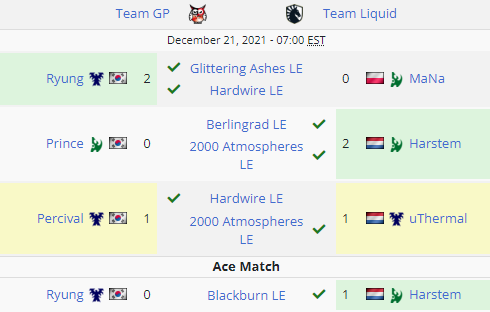 Team GP vs Team Liquid was the key match of the week, with the winner having a very high chance of clinching the seventh and final playoff spot. Unfortunately, the drama began before the first match was even played, as Clem was abruptly scratched from Liquid's gameday line-up.
The initial roster submissions from the two teams had set up Clem vs Ryung as the first match, but Clem had a scheduling issue that made him unavailable to play the match live. Liquid requested the match be played earlier and broadcasted from replay (as has happened before in the WTL), but Ryung and Team GP were unable to accomodate the request. TL offered Team GP to pick a player to play instead of Clem, and MaNa was selected. There were several complicating factors throughout the process (
read the live report thread for details
), including the timing of communications between the teams and WTL admins, the specificity of information given at any point in time, and rules regarding how often a team can request a play-from-replay match.
Ultimately, Liquid's victory allowed fans to brush off the events as a misunderstanding, but WTL would have faced a major controversy had Team GP had won on the back of their advantage. Going forward, WTL will have to implement clearer rules and processes regarding the scheduling of matches to avoid any potential issues.
The playoff deathmatch began with
GP.Ryung
proving that he had been wise to pick
Liquid`MaNa
as his opponent instead of Kelazhur, taking a strong 2-0 victory. Ryung got his first win in straightforward fashion on Glittering Ashes, using a two-base Marine-Tank push to demolish MaNa's defensive Phoenix opener. Game two on Hardwire went on for quite a bit longer, with neither player able to take a significant advantage as they headed into the late game. The arrival of Liberators for Ryung broke the deadlock, as they allowed him to push forward and deal significant damage to MaNa's economy. While MaNa did eventually assemble a powerful army of Disruptor-Stalker-Tempest, Ryung deftly maneuvered his forces to avoid any head on engagements and closed the game out by continually razing Protoss bases.
Fortunately for LIquid,
Harstem
was there to save the day. His first game against
GP.Prince
featured some wild swings early on—initially it seemed Harstem had taken an insurmountable lead after stopping Prince's early Adept pressure and then shooting down a Prism meant for a DT-drop. However, Prince's plan B of walking his DT's in by foot worked out just as well, and he did enough Probe damage to make the game fairly even headed into the mid-game. A passive mid-game build-up saw Prince almost get away with a fast transition to Carriers, but he blew it in one of the more painful ways possible. Reacting to some of Harstem's own DT harassment, Prince recalled half of his troops away... ...just as Harstem's main army was charging in for a fight. In the aftermath, Harstem was able to kill off a big chunk of Prince's army, destroy a key expansion, and buy himself enough time to get Tempests. There would be no more momentum changes from there, as Harstem solidified his lead into a victory.
Game two on 2000 Atmospheres was much cleaner for Harstem. Playing a more passive macro style, Harstem defended quite capably against Prince's early Oracle and Stalker attacks. Harstem turned his advantage into a slightly higher Stalker count, which he then turned into a higher Disruptor count as well. The slow snowball for Harstem accelerated abruptly when he got a great Disruptor flank that killed a huge chunk of Stalkers, and from there he strolled to victory.
GP.Percival
and
Liquid`uThermal
were up next with a chance to end the series, but neither could finish the other team off as they went 1-1 in a series of exciting games. uThermal got off to a good start in game one on Hardwire, countering Percival's fast Marine-Tank push with a Hellion backdoor that roasted a ton of SCV's. Unfortunately for uThermal, disaster struck when he tried to go for a counter-push: Percival's superior positioning allowed him to win decisively on defense, while he launched a backdoor attack of his own with Marines. The supply count swung in Percival's favor in the blink of an eye, and uThermal gave up a quick GG.
Backdoor attacks featured heavily in game two as well, with plenty of early game action to start. Percival's Tank drop opener went up against uThermal's Reaper-Hellion, with both players dropping their guard to attack each other. While Percival got the better of the first exchange, things turned south for him when he attempted a follow-up Tank push a few minutes later. Another Hellion backdoor from uThermal racked up the SCV kills, while micro mistakes from Percival saw his push get completely crushed. The roller coaster ride didn't stop there, however, as Percival loaded up for a desperate drop to get himself back in the game. This ended up being a rare case where a last-ditch measure actually worked, as Tanks and ground-mode Vikings wreaked havoc in uThermal's main to give Percival a foothold in the game.
The back and forth momentum shifts couldn't go on forever, though, and uThermal responded with a move that gave him the advantage for good. Noticing Percival had expended all of his Vikings in the attack, uThermal seized control of the skies with Vikings and Liberators. Percival got tripped up in the chaos of trying to go for more drops while also defending against uThermal's Liberator harass, which only led to him taking massive losses on both offense and defense. With a very comfortable lead in hand, uThermal methodically closed the game out with Infantry and mass Ravens.
With the score tied 3-3, it all came down to one final ace match for a likely playoff berth.
Ryung
, GP's most consistent player on the season, was the obvious choice as the Gon Pack's ace. For Liquid,
Harstem
was also an easy ace pick in Clem's absence—he actually had a better statistical record than Clem on the season (12-8 compared to 12-10), and had already played as ace once before (interestingly enough, Clem wouldn't have been able to play the live ace match anyway, even if he had been allowed to play his match against Ryung at an earlier date).
The two players headed to Blackburn to decide their teams' fates. Harstem opened up with an Oracle while Ryung went for expansion into 3-Rax infantry, with both players looking to build up passively on their respective halves of the map. Things started to heat up once Ryung amassed a sizable bio force aided by Tanks and Liberators and encroached into Protoss territory. Rather than engage Ryung in direct combat, Harstem gave up some of his outer bases, picked off stray tanks with Disruptors, and generally tried to buy time. All the while he used Blink-DT's on the other half of the map, taking down a handful of expansions to keep the economies fairly even.
Still, it seemed like Harstem wasn't delaying with any particular end goal, as he wasn't teching up to Tempests to counter the Liberators. With Advanced Ballistics completed and the Liberator count growing, it was only a matter of time before a critical mass of Liberators would overrun the ground-based Protoss army. Or, at least that's how the situation looked from the outside—Harstem would take advantage of Ryung's mistakes to take care of the Liberator problem. Perhaps getting a little too overconfident in his Liberators, Ryung took up some less than ideal positions where his Liberation zones were spread out in wide open space, instead of using them to control narrow corridors. Harstem had plenty of room to maneuver his units around the Liberation zones, and he pounced on an opportunity to attack from an angle where Liberators weren't a serious threat. Harstem was able to take a crushing victory in a key fight, leaving Ryung with no choice but to GG out minutes later.
With the 4-3 victory, Liquid had put one foot into the playoffs. The only thing left was to watch Afreeca vs iG and Team NV vs PSISTORM, and hope that NV and Afreeca would live up to their billing as heavy favorites.
Good Game Gaming 2 - 4 Alpha X
Watch VOD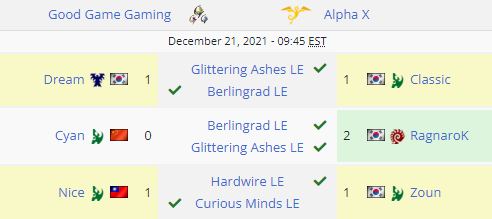 GGG went into this match with their 10th place finish 100% confirmed, so they had nothing to play for except pride. Meanwhile, #5 Alpha X had plenty to play for, with even a 3rd place finish possible if all the results broke perfectly.
The series started with a duel between two military returnees in
αX.Classic
and
GGG.Dream
. Classic drew first blood on Glittering Ashes, taking some damage from Dream's mid-game drops but still assembling a strong enough Zealot-Archon-Immortal-Colossus army to end the game with a head-on attack. Dream evened the score back up in game two, finishing Classic early with 3-Barracks infantry. Classic had played a rather unorthodox style where he got two quick Void Rays and went for all three branches of Protoss tech, which left him with a paper thin defense.
αX.RagnaroK
got what ended up being the series deciding 2-0 win in the next set, taking down
GGG.Cyan
rather handily. Game one on Berlingrad saw Cyan deal some decent damage to the Zerg economy with Glaive Adepts, but sacrifice too many units in the process. A big Ravager-Queen-Ling counter-attack was enough to take down the depleted Protoss. Game two on Glittering Ashes ended up playing out as mass Stargate units vs mass Spire units aided by Queens and Infestors on the ground. RagnaroK struck before the Protoss armada hit critical mass, forcing the second GG out of Cyan.
αX.Zoun
showed no mercy to former Golden Dragon
GGG.Nice
, pulling out a Cannon rush to start the series. Nice tried to counter by going for proxy Void Rays to force a weird base trade, but Zoun sniffed this out and demolished the Stargate's supporting Pylons with Probes and Zealots. With his main Nexus coming in the range of Cannons, Nice GG'd out. With the series already decided in Alpha X's favor, Zoun gave up a consolation point to Nice in game two. Nice hit a deadly timing with mass Chargelots, trampling Zoun's more tech-oriented army at a weak timing.
Team NV 6 - 0 PSISTORM Gaming
Watch VOD (CN)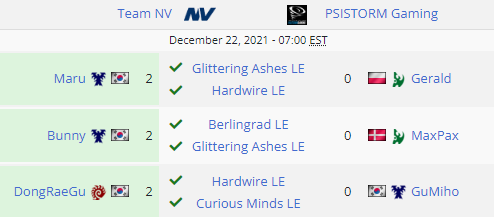 Liquid's earlier victory over Team GP gave them a tentative spot in the playoffs, but PSISTORM had a chance to snatch that spot right back with an upset victory over defending WTL champions Team NV (technically, it was also possible for both TL and PSISTORM to advance in the extremely unlikely scenario where iG beat Afreeca later in the week). Unfortunately for PSISTORM, Team NV had every incentive to win the match as well, as a victory would secure them a first place finish in the regular season. Ultimately, Team NV lived up to their vaunted reputation, virtually eliminating PSISTORM from playoff contention with a crushing 6-0 sweep.
It was another day at the office for
NV.Maru
as he dispatched of
PSISTORM.Gerald.
The Polish Protoss actually looked like he was doing okay in game one, dealing some solid SCV damage with his Phoenix opener and safely teching up to storm. However, that didn't matter when Maru came knocking with Marines and Tanks, as Gerald crumpled like a house of cards. Game two played out somewhat similarly, with Gerald looking like he was in a decent macro position until Maru just decided he was going to kill his opponent with drops.
With Gerald losing to Maru being a rather predictable outcome, a lot of pressure fell on
PSISTORM.MaxPax
to get a 2-0 against
NV.Bunny
and keep his team in the series. Unfortunately for PSISTORM, it was actually Bunny who came through in the clutch, delivering a fast victory for his team with a 2-0 win. Game one on Berlingrad saw the two players tussle from the very start, with Bunny harassing early with Reapers while MaxPax's Gateway units tried to get damage done on the other side of the map. Bunny came out slightly ahead in these exchanges, setting up his relentless mid-game bio attacks. While MaxPax did successfully tech to Templars and storm, he couldn't weather the constant waves of Terran bio and had to GG out. The second game on Glittering Ashes saw MaxPax bring out an aggressive 4-Gate Blink build, which he used to inflict SCV damage at the cost of Stalkers. However, MaxPax lost a few too many Stalkers than he could afford, and he was unable to stop Bunny's counter-attack with stimmed infantry.
The outcome of the match was already decided, but
NV.DongRaeGu
threw in another 2-0 for good measure. He actually gave up a massive mid-game lead to
PSISTORM.GuMiho
in their first game on Hardwire, losing an expansion and tons of units to a two pronged push/drop with bio. However, GuMiho had trouble getting anything done with follow-up attacks, losing troops wastefully and giving DRG the breathing room to tech up to Lurkers. The Lurkers ended up catching GuMiho completely flat-footed, and rapidly closed the game out for DRG. Things were much easier for DRG on Curious Minds, as he used a quick Queen-drop assisted Roach-Ravager bust to smash GuMiho's mech before it could get entrenched on defense.
PREP eSPORTS 2 - 4 Shopify Rebellion
Watch VOD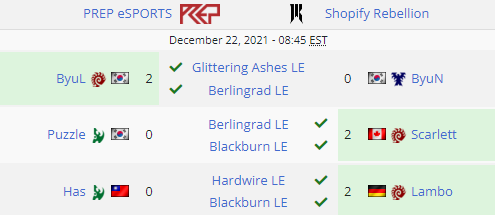 Team NV playing their match earlier clarified the stakes for the Shopify Rebellion as they headed into their final bout: first place would be impossible to retake, but the #2 seed could be cemented with a victory. As for PREP eSPORTS, their fate was already sealed, with a 11th place finish guaranteed no matter what.
Despite the lack of stakes for his team,
PREP.ByuL
put in a great 2-0 performance against
SR.ByuN
to start the series. A big theme for ByuL this season had been his monstrous mid-game and lamentable late-game in ZvT. While other players had turtled up and allowed ByuL to self-destruct, ByuN did him a favor by engaging him in Lair-phase combat. Game one saw ByuL run rampant with a Hydra-Ling-Bane comp, using it to take a lead before finishing ByuN off with Lurkers. ByuL then went for his signature Muta-Ling-Bane style in game two, using it to surgically pick ByuN apart.
Fortunately for Shopify, their success this season had been due to a whole-team effort, and it was no surprise that Scarlett and Lambo were able to pick the slack up for ByuN.
SR.Scarlett
took a quick victory off
PREP.Puzzle
to start their match, using a 6-minute Queen walk to punish her opponent's 2-Stargate opener. Game two was a much more dicey affair for Scarlett, as she nearly lost to a fast 2.5-base all-in. Puzzle managed to slip a Prism into Scarlett's main, with plenty of Sentries to force field off the ramp. Yet, somehow, Puzzle failed to make the best of this amazing situation, allowing most of the Drones to escape while Scarlett somehow recovered at her natural and third base. Puzzle was on such a low Probe count that 'merely' killing the Zerg main wasn't enough to put him ahead, and he eventually tapped out to Roaches and Ravagers produced from Scarlett's superior economy.
SR.Lambo
then sealed the deal with a 2-0 victory against
PREP.Has
. Despite his repertoire of zany openers, it's been a years-long trend for Has to fall back on A-moving mass Chargelot-Archon once he actually reaches the mid-game phase in PvZ. Lambo seemed quite aware of this, and handily crushed Has with Roach-Ravager-Bane in game one. Similarly, Lambo seemed rather unperturbed that Has took a fast gold base in game two on Blackburn. Knowing that those minerals were just going to go into yet more Zealots, Lambo played a regular macro game while going for Roach-Ravager-Bane again. Lambo actually did stumble a bit as he was caught off guard by Has' surprise DT's, but ultimately he had no problem defeating Has with Roach-Ravager-Bane in the mid-game.
Invictus Gaming 2 - 4 Afreeca Freecs
Watch VOD (CN)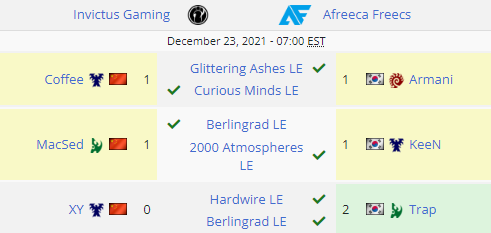 iG vs AF was the final match of the week with serious playoff stakes: a win for Afreeca would usher them into the post-season, and also officially eliminate PSISTORM from playoff contention. In the case of iG, there was nothing to play for here but honor and pride, as a last place finish was already confirmed. Even though this match could have been considered a mere formality beforehand, iG actually managed to make Afreeca sweat a little by tying the first two series before Trap finally closed it out.
AF.Armani
took the initial lead on
iG.Coffee
, playing his favored fast double-upgrade style of Muta-Ling-Bane and overrunning Coffee in the mid-game. However, Coffee got Armani right back in game two, using a 2/1/1 to apply heavy pressure and prevent Armani from Droning up at will. Coffee actually established a stronger economy as the Terran side in TvZ, and leveraged this to batter Armani into submission with continued frontal attacks.
iG.MacSed
kept the ball rolling for his team in the next game, getting a solid early lead by shutting down
AF.KeeN's
Hellion drop + Marine combo with defensive Phoenixes. However, MacSed played a little too passively from that point, seeming content to defend and prepare a late-game transition to Carriers while KeeN was free to do whatever he wanted on his side of the map. The Carrier transition was almost MacSed's downfall, as KeeN went for a frontal attack at a dangerous timing when the Carrier count was still low. Fortunately for MacSed, he managed to fight well enough on defense to make the trade a wash, leaving both players to lick their wounds and build up again. This time, MacSed actually got to build the Carrier-Disruptor-Stalker army he wanted, and he moved out on the map looking for some action. With KeeN wary of fighting the Protoss army head on, the game spiraled into a chaotic basetrade scenario. Though KeeN had a superior economy and more expansions, he simply didn't have an answer for the sheer firepower of MacSed's force, and GG'd out after losing base after base.
Few would have expected iG to be up 2-1 halfway through the match, but KeeN managed to save the Freecs from the total disaster scenario by defeating MacSed in the next game (Wardi had some stream issues during this game, so I recommend watching the
Chinese VOD
). Facing MacSed in a straight-up macro duel of Infantry vs Templar + Gateway units, KeeN sent his forces charging forward into a series of bloody battles. KeeN proved to be just a bit better at mid-game combat, and he eventually broke through the Protoss defenses to take the game.
While iG played well to get the score to 2-2, the feel-good story ended there as
AF.Trap
ruthlessly stomped out
iG.XY
in the final series. Similar to Maru vs. Gerald earlier in the week, both games followed the general pattern of "random stuff happens in the early-game" into "Ex-Jin Air player decides to win." Game one saw XY try to get cute with an Armory-assisted Widow Mine drop, but he ended up losing the Medivac without even unloading the mines. From there, it was all too easy for Trap to win in a macro game. Game two saw Trap get an early lead again, with his delayed DT drop hitting exactly when XY had no scan energy. Once again, Trap had no problems snowballing his advantage into a victory.
Dragon Phoenix Gaming 4 - 2 KaiZi Gaming
Watch VOD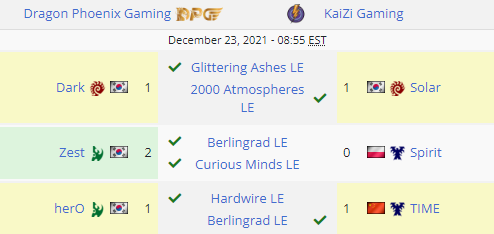 Just as in WTL Summer, the Chinese rivalry match of Dragon Phoenix Gaming versus KaiZi Gaming closed the curtain on the regular season. With playoff seeding on the line, DPG made the interesting decision to send out herO while leaving Cure and Rogue on the bench. herO (8-2 record before the match) had actually outperformed both Rogue (6-5) and Cure (9-5) in WTL Winter, making it a clear choice of favoring results over reputation.
The series began with an exciting game between
DPG.Dark
and
KZ.Solar
on Glittering Ashes. A committed one-base Ling-Bane all-in from Dark did just enough damage against Solar's fast expansion opener to make the game strangely even, and the two players proceeded to play out a macro game after the fiery start. Solar opted for Mutalisk tech against a groundbound Dark, but found limited windows to harass or do any significant damage. With Dark's army growing more powerful by the minute, Solar made a drastic tech switch into Lurkers himself, belatedly trying to catch up with Dark in the Hive arms race. A typical Viper-Lurker stand-off situation ensued, with both players getting Nydus Worms to try and break the deadlock. Solar made a crucial mistake here, sending his remaining Mutalisks to kill a probing Overseer from Dark but not actually confirming the kill (it seemed like a classic case of A-move and forget). The lucky Overseer allowed Dark to Nydus into Solar's main and flood it with Lurkers, wiping out key tech buildings. Solar couldn't recover from this brutal blow and GG'd out after losing the Lurker wars.
The second game on 2000 Atmospheres was much more straightforward, with Solar getting off to a slight lead after holding off some early Ling-Bane aggression from Dark. Solar followed up by launching a counter-attack with Roaches, catching Dark Droning a bit too hard to end the game.
DPG.Zest
vs
KZ.Spirit
was the decisive set for DPG, with Zest's 2-0 leading his team to victory. The first game on Berlingrad saw Zest open with a hidden Dark Shrine, which annoyed Spirit but failed to deal much direct damage. Spirit got a lot more done with his own Cloaked units, as a duo of Banshees dealt significant Probe damage in the mid-game. Despite this, Zest still managed to assemble a huge army of Stalkers and Zealots, which crushed Spirit GG he attempted to take his third base. A DT-drop vs Mine-drop scenario played out in game two on Curious Minds, with Zest getting the far better end of the exchange. Zest was able to consolidate his early lead with brutal efficiency, going on to defeat Spirit in a macro game.
With DPG up 3-1,
DPG.herO
repaid his team's faith in him by quickly finalizing his team's victory against
KZ.TIME
. Playing on Hardwire, herO went for a slightly proxied Gateway at his third base to apply some Zealot + Adept pressure early on. This worked beautifully against TIME's Mine drop opener, which gave him just two Reapers to defend with early. Thanks to some great micro from herO and a really painful supply block from TIME, herO somehow took a four minute win with 1-Gate Adepts. TIME did manage to get the consolation point in the following game, however, getting a fast win of his own with a Marine-Tank push off of two bases.
The final weekly MVP goes to
Liquid`Harstem
, whose 3-0 performance against Team GP dragged Team Liquid over the finish line and into the playoffs. Now, I've been pretty adamant this season about ignoring narratives and giving the weekly MVP to whoever beat the toughest opponents. By that standard, Harstem's 2-0 against Prince and 1-0 against Ryung wasn't as impressive as
PREP.ByuL's
2-0 of ByuN or
NV,Bunny's
2-0 of MaxPax.
However, considering that this was the final week of the season, and because the stakes of the match were so high (almost a direct play-in match), AND due to Harstem having to step in as ace for an absent Clem, I'll give the captain the sentimental nod for coming through in the clutch. Honorable mentions go to the aforementioned ByuL and Bunny—ByuL would have been my MVP pick in any other week.
Weekly MVP's
Week 1: GP.Cham

Week 2: NV.Bunny

Week 3: PSISTORM.MaxPax

Week 4: GP.Prince

Week 5: AF.Trap

Week 6: AF.Armani

Week 7: DPG.Dark

Week 8: NV.Maru

Week 9: NV.Creator

Week 10: DPG.Zest

Week 11: Liquid`Harstem
Regular Season Awards
Now that the regular season has wrapped up, it's time to acknowledge the best and most notable players from the round robin phase of the tournament. These awards are given out at the sole discretion of TL.net. and may differ from any official awards given by SCBOY.
Regular Season MVP: NV.Maru
This award will hardly come as a surprise to anyone, as
Maru
put up a whopping 17-3 record for a 85% win-rate. It's crazy to think that this statline could have been even more absurd if Maru hadn't sat out of two easier matches against PREP eSPORTS and Invictus Gaming. For comparison, the second best win-rate in the league was 75%, shared by Zest (12-4) and herO (9-3).
Maru's monster performance was crucial to Team NV's 1st place finish in the regular season, with none of his teammates recording more than a 60% win-rate. If one had to nitpick, Maru's
match-up
luck was on the fortunate side, with his singular ace-match win against Trap being his only bout against a championship-caliber player. However, even taking that into account, there just wasn't anyone else who came close to challenging Maru for the MVP award.
RagnaroK
had an excellent Winter Season that went somewhat under the radar, as he put up a
14-7 record
that helped Alpha X finish in fourth place. It's a bit hard to shine on Alpha X as the team has traditionally relied on even contributions from everyone, but I think RagnaroK pulled the most weight. He took care of business against weaker players with 2-0 wins, and forced 1-1 ties out of top-tier players like ByuN, Cure, and Clem. Overall, RagnaroK had one of the tougher slate of matches in the league, and it's very impressive that he finished with a 14-7 record.
SR.Scarlett
is the runner-up by a paper thin margin, going 15-7 to be Shopify's best performing player in the regular season. Scarlett actually had quite a similar season to RagnaroK, excelling on a team that got strong contributions from its entire roster. While Scarlett won one more map than RagnaroK, her
slightly softer list of matches
puts her just barely beneath RagnaroK by my reckoning. Honestly, this one was close to being a toss-up, and I wouldn't argue with anyone who had Scarlett as the best Zerg.
Trap
might have been the player who did the most with the least help. With both Armani and KeeN recording sub-50% win-rates, Afreeca needed every part of Trap's heroic
16-8 performance
to limp into the playoffs. Trap's season-saving heroics against DPG was especially noteworthy, as he went 1-1 against Zest before finishing Rogue in the ace match. If Trap had also won a later ace-match against Maru, then he might have even been a serious contender for overall MVP.
αX.Zoun
is the runner-up in the Protoss category, having the distinction of being one of the few players who
didn't give up a single 0-2 loss
as he racked up a 15-8 overall record. However, Zoun was a bit hard to rate as he played a disproportionate number of his matches as Alpha X's final player, with many of those wins and losses being recorded after the series outcome was already decided. Both
herO
and
Zest
deserve some credit as well, but both played in too few matches to be seriously considered for this award.
Well, obviously it's Maru, since he won the overall MVP award. However, if we use SCBOY's award rules and hand this off to the next best Terran, then the honor would have to go to either
SR.ByuN
or
KZ.TIME.
The Shopify Terran recorded a
solid 15-9 record
, while TIME was a bit better at
15-7
. Overall, both players were solid but not spectacular with a lot of 1-1 draws, while neither of them recorded a particularly impressive 2-0 over an ace-tier player. Ultimately, I give TIME the small edge, as he managed to survive the season without a single 0-2 loss. Even though he didn't get a signature win, it's almost as valuable that he didn't give up any disastrous losses that hurt his team.
Best Player in my Heart: PREP.Has
The pandemic format of DreamHack Masters has really hurt
Has
fans around the world, as his limited international appearances feature him getting outclassed by top-tier players in the Season Finals. We forget that if he's allowed to face players who are just slightly closer to his level, all of the Has insanity and brilliance comes roaring right back (I mean, I guess you could just watch DHM: Taiwan/HK/Macau…).
WTL Winter was the big Has showcase we had been missing for the last two years, with the mad scientist winning with a slew of weird builds. In particular, my favorite games were Has's
fast DT into triple-expand against Rattata
and his incredibly blatant "I am going to cheese you"
proxy-Immortals against Solar
. Neither of those strategies made much sense, but Has managed to win nevertheless.
Amusingly enough, Has actually put up a positive record of 11-9 over the course of the tournament, proving that he's still a very dangerous player as long as he's not facing world champions.
Most Magical Team: Team GP
There's no way to talk about the WTL Winter Regular Season without mentioning Team GP. The miracle-makers from Korea almost single-handedly turned what had previously been a very predictable teamleague into a maelstrom of utter chaos, taking out DPG, KaiZi, PSISTORM, and Team NV in ace match victories. What's even more unbelievable was how they won each match: a different player came through every single time with a clutch performance, with
Cham
,
Ryung
,
Prince
, and
Percival
ALL getting an ace-match victory under their belts.
There's no easy way to explain Team GP's incredible success. Sure, it must have helped that they were underestimated by their opponents. Also, it's likely that they were much better prepared for WTL than players who were competing in several other events at the same time. But even taking that into consideration, it's still mind-boggling that a collection of non-Code S players could punch so far above their weight class. Really, "magic" might be the best way to understand what happened.
While Team GP's magic sputtered out in the latter half of the season, and though they did blow their final chance to qualify for the playoffs against TL, there's no doubt that this season was a huge success. They improved from 2-9 in WTL Summer to 6-5 in WTL Winter, and found a very solid foundational player in Ryung (he ended the season without a 0-2 loss). Percival and Prince are still works in progress, but they showed how they might be successful, preparation-oriented players in a teamleague setting. And while Cham wasn't fielded during the latter half of the season, he showed glimmers of being a strong teamleague player as well.
Of course, the Shopify Rebellion also deserve a shoutout. After finishing the Summer Season in fourth place, the Rebels turned things up several notches in the Winter by ripping off a seven week stretch at the top of the standings. Now, that streak ever so
slightly
overstates Shopify's abilities, as they benefited from a backloaded schedule, as well as Team GP knocking down everyone else a peg. But there are absolutely no caveats about Shopify's 9-2 record and 2nd place finish in the regular season: everyone on the team leveled up significantly in the winter, and they're fully deserving of their great result.
GuMiho Award for most GuMiho Player: PSISTORM.GuMiho
Finally, I just want to give some credit to another one of my personal favorite players in GuMiho. I gotta be honest: I was pretty worried for him in the first few months after his return from military service, as it seemed like he was struggling to adapt to the new environment. However, the WTL gave him a chance to remind us of exactly why he's a former Code S champ, as he 2-0'd Cure in straight-up macro games and
smacked down RagnaroK with his famous Thor-mech
. His final record of 7-7 wasn't the best, but he gave us plenty of reason to be optimistic that he'll be even better in the future.
---
Credits and acknowledgements

Writer: Wax
Stats: Aligulac.com & Liquipedia
Images: SCBoy