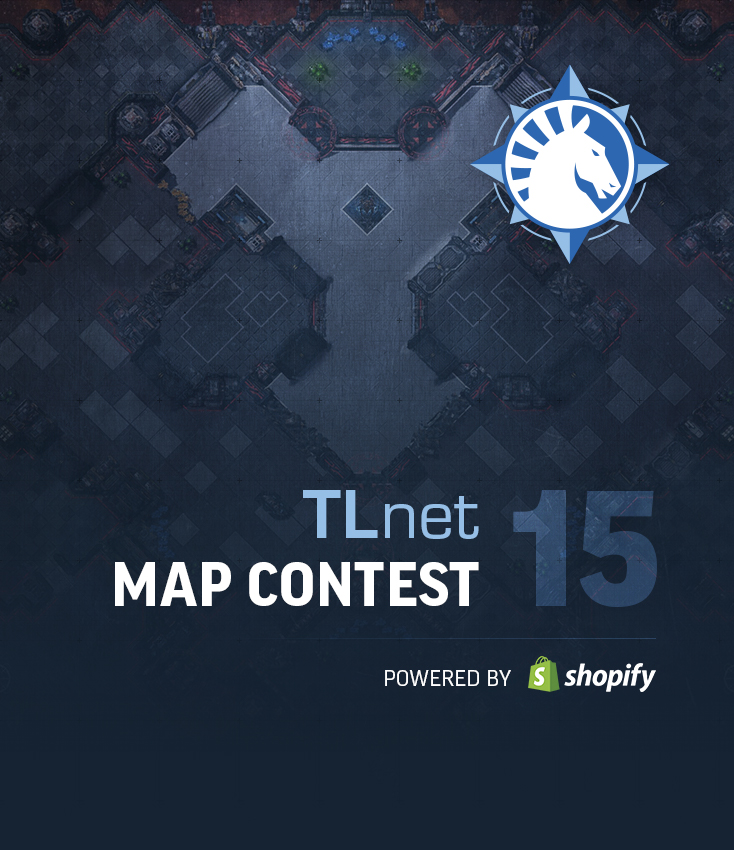 Voting has closed and the ballots have been counted. It's time to announce the winners of TL.net Map Contest #15!
We'd like to thank all the mapmakers for their map submissions, the TLMC judges for selecting the sixteen finalists, Wardi for running another fantastic TLMC tournament, the players who participated, and Shopify, ESL, and Blizzard for helping us hold another iteration of TLMC. And, of course, we're grateful to all the fans who voted on the final sixteen maps.
Mapmakers will receive $200 per map that finished in the top sixteen, and receive additional prize money for maps that finish in the top five as chosen by public vote:
1st place - $800

2nd place - $500

3rd place - $250

4th place - $150

5th place- $100
We'd also like to remind the community that the top placing maps in TLMC #15 are
not guaranteed
to be added to the competitive ladder. ESL and Blizzard will reference TLMC #15 and choose which maps to add at their own discretion.
Full Results
Congratulations to all of the winners and finalists! We look forward to seeing your maps on the ladder in the near future.
Oblivion

Aqueducts

Yamatai

Pride of Altaris

Treadmill

Iliad

Enchanted Isle

Curious Minds

Bulwark

The Scavenger

Sanguinite

Undercity

Fountainhead

Tidehunter

Berlingrad

Jacaranda
Read our
finalists post
for detailed views of all sixteen maps.